Lollapalooza is the mecca of all music festivals in Chicago. For the past 30 years, hundreds of thousands of music lovers flood Grant Park to enjoy music of all genres. Every other event in Chicago has its lineup compared to Lollapalooza and most fail to impress because Lolla (what most people lovingly call the event) is a juggernaut with a plethora of artists it brings. Even in a "down" year, Lolla can still put together a phenomenal show. People always compared the lineups to previous years' showcases, but regardless Lollapalooza will always be the place to be if you love music. In fact, the only hurdles attendees have to deal with are the walking distance between stages and figuring out which artist to watch when sets overlap.
For those who don't know, Lollapalooza was originally a heavy metal punk show and the festival has endorsed other music genres over the years to gain a wider audience. However, they never forgot their roots, and this year they brought back rock legends Green Day and Metallica. Both of whom recently played at The Metro showing that they are willing to pay homage to their humble beginnings. The theatrics of Lolla allowed both bands to put on grand performances.
Metallica began their set with a video montage of Ennio Morricone's "The Ecstasy of Gold" from Clint Eastwood's The Good, The Bad And The Ugly. Once the band came on stage they wasted no time by performing "Whiplash." They asked the rowdy crowd whether they were diehard fans or newcomers, but welcomed both. The band continued by playing classic songs from their catalog like "Die, Die My Darling" and "Enter Sandman." Metallica's James Hetfield joked, "I bet you are all wondering what are we going to play now that with finished all the good songs." They then proceeded to play songs from the less critically acclaimed St. Anger before going back to the typical hits.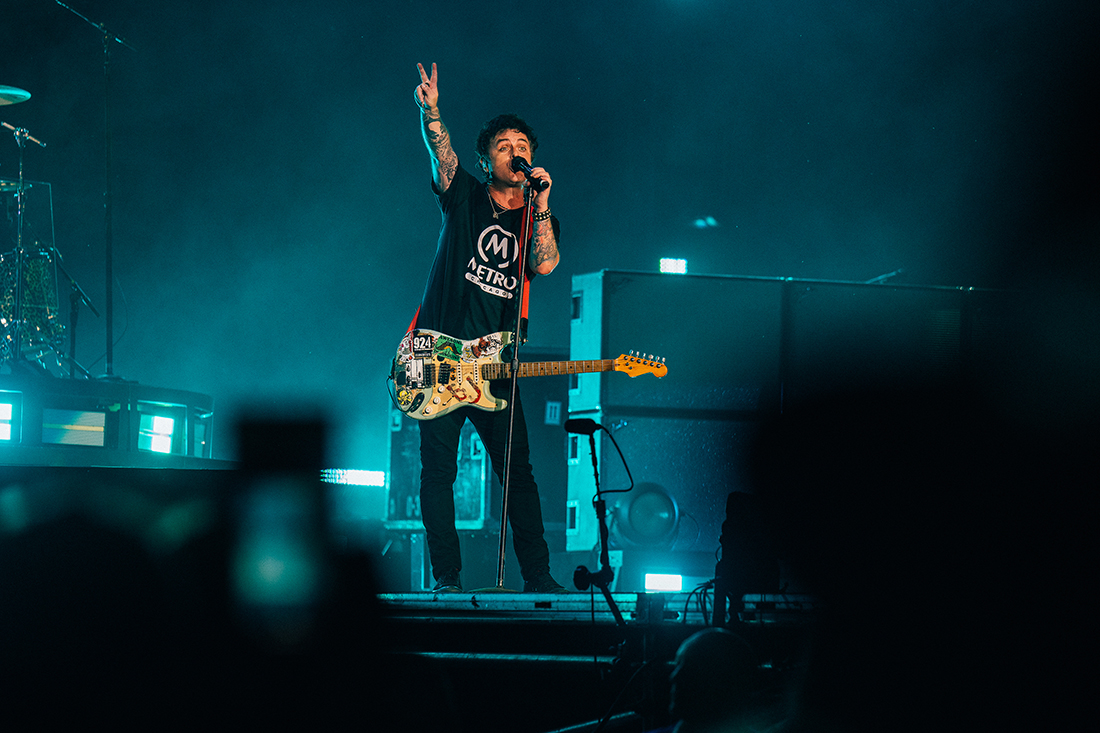 Green Day by Charles Reagan for Lollapalooza
Green Day was the only other band that could go toe-to-toe with Metallica, both in audience attendance and song list. Green Day have gotten a lot of flack over the years as fans debate their "punk" status but there is no denying the band's impact on the genre during the 90s and early 2000s was immense. The more melodic sound and mainstream attention make an argument about them being punk or pop punk but in the end, Green Day have some bangers. Playing songs off Dookie and American Idiot took listeners back to yesteryear, especially the later album. Hearing "American Idiot" and "Boulevard of Broken Dreams" was a reminder of the emo craze. Some of us still haven't left that phase (Sigh).
The older I get the more I'm turning into an EDM fan. I still enjoy rock shows but I'm too old to get thrashed around in the mosh pits; you wake up the next day, body all sore from the intensity. So naturally, Perry stage is where I spent most of my Lollapalooza journey. It was safe, people weren't pushy, there was much more of a positive vibe, and most importantly the music was fun to dance to. It was great seeing DJ's I've seen before like LP Giobbi and Liquid Stranger, with his visual display blending modern EDM, all that heavy bass, and head-bobbing electronic tunes. However, the best DJ set I saw over the weekend was John Smith. His style aligns with more traditional house music making for a pleasant experience from start to finish. His vibrant light show plus consistent heart-beating tempo kept the field dancing through the entire set.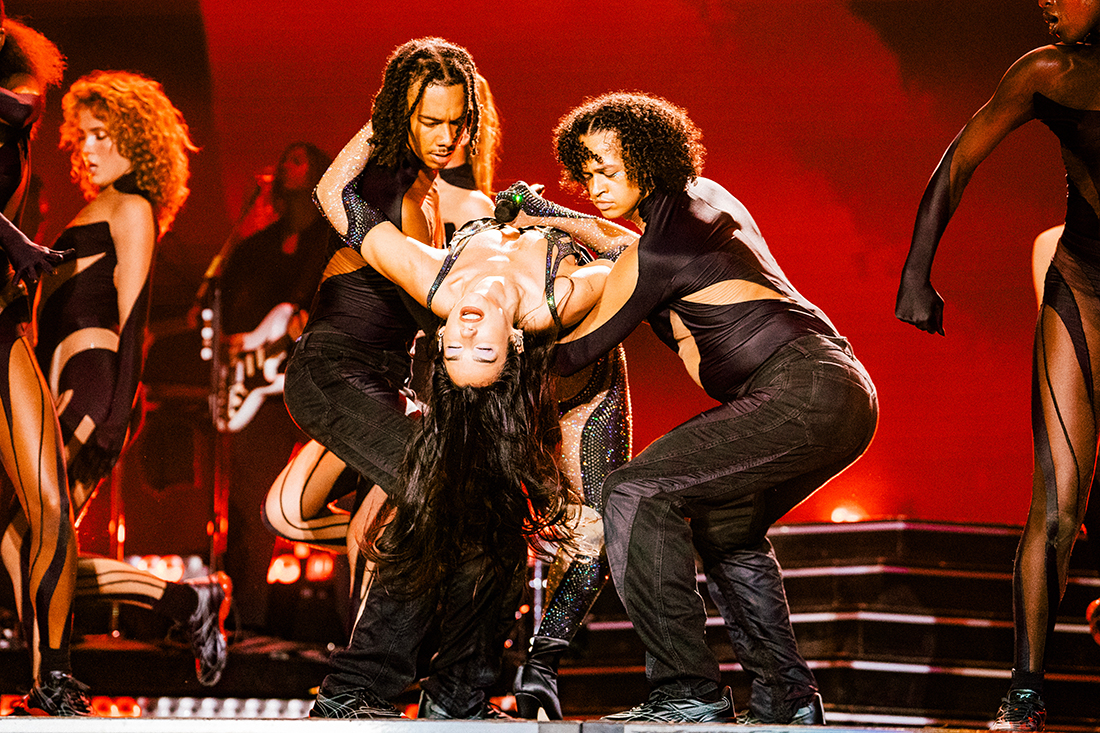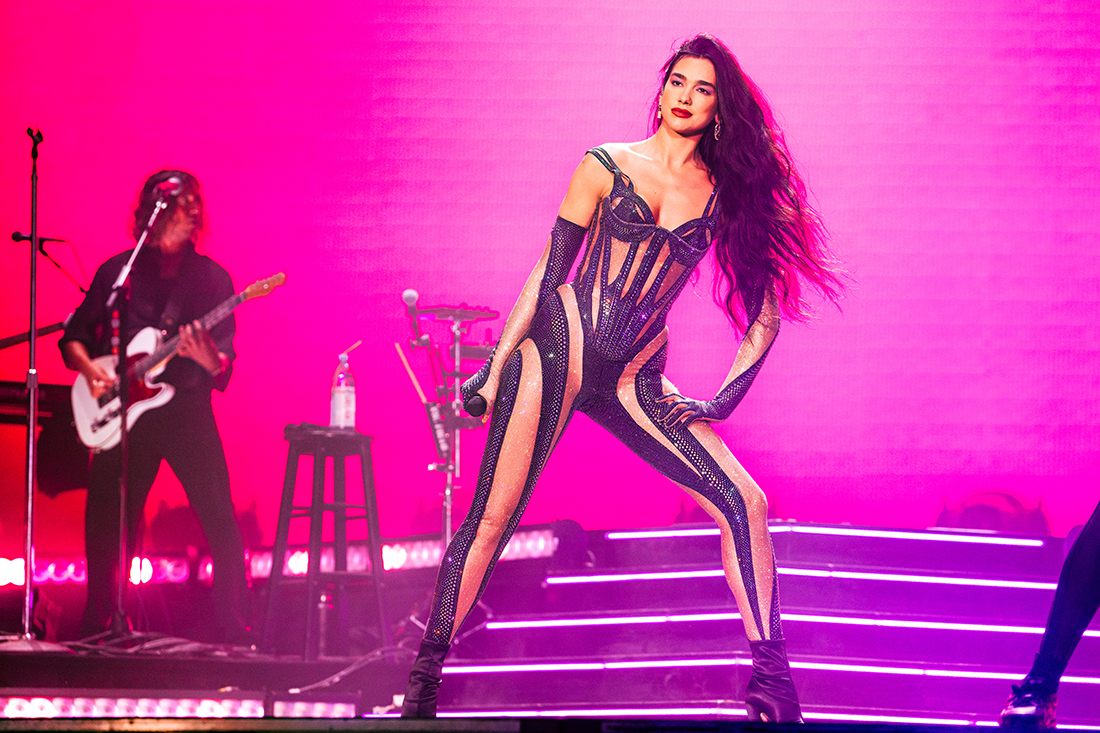 Dua Lipa by Pooneh Ghana for Lollapalooza
Dua Lipa absolutely slayed her performance. Adorned in shimmering black and clear spandex, the English singer got to work with "Physical." As she sang her lyrics, you can tell she took over the crowds' imagination with her performance. Over the weekend I went to a Dua Lipa pop-up event, in collaboration with Puma clothing line, the fun interactive set pieces were great for fans to take selfies with, and not going to lie, the clothes were looking pretty fly too. Hearing her music playing in the background took me back to seeing her live. Fans sang along to the tunes of  "Boys Will Be Boys", "Electricity" and "Hallucinate" before ending her set with "Don't Start Now" with a crazy firework show! Watching her hypnotizing dance moves, hearing the beautiful vocals, and observing the showmanship of the entire performance, I definitely became a fan of Dua Lipa.
My heart will forever be in love with hip-hop. Pi'erre Bourne, the former producer of Playboi Carti, had an instrumental set; his sound is mellow and chill yet fans still found a way to mosh to it, which I found hilarious. The beats do go hard and can be headbanging-worthy but people love a reason to start a mosh pit these days. Luckily, I was more in my element when Big Sean and J. Cole performed. Both rappers played back to back on the same stage so most of us didn't have to move. The adrenaline Big Sean brought went hard on "All Me", "Blessing", and "I Don't Fuck with You".  J. Cole kept it more chill with his verse from 21 Savage's "A Lot" and "No Role Modelz". It was a nice balance of high energy and chill vibes.
Cole by Brandy Fik for Lollapalooza
Denzel Curry was another rapper that put on an amazing show. Doing most of the tracks Melt My Eyes See Your Future like "Troubles", "Ain't No Way" and (IMO) the best song on the album "Walkin". I actually got to meet Curry in the media lounge and talk a bit, it wasn't until during his set that I regretted not asking for a picture.
Maxo Kream had one of the best performances of the entire festival. Not as highly known as his contemporaries Maxo Kream can make an impact on anyone who gives him a listen. Maxo Kream didn't bring together a big crowd but those that gathered were diehard fans that rapped along to all the lyrics. He's a goon from the slumps but songs like "Roaches," "Grannies," and especially "Meet Again" paint the image of a rough life some of us can relate to. It's not glamorous or something to brag about, it's simply real. I enjoyed seeing Maxo Kream perform so much that I rushed to Reggies Pub to catch his after-show.
Lollapalooza has set the bar high when it comes to music festivals. It could be hard for them to consistently outdo themselves year after year yet the organizers always find a way.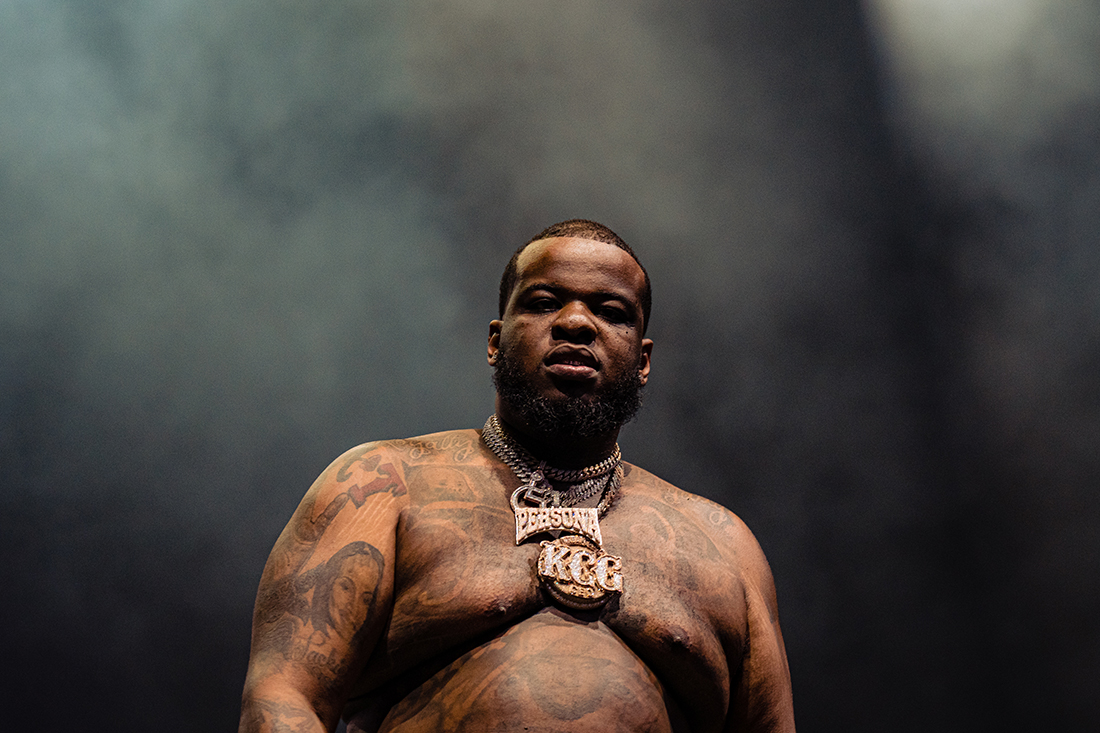 Maxo Kream by Greg Noire for Lollapalooza 
cover image: Big Sean by Keenan Hairston for Lollapalooza