Nevada-raised and now California-based rock band Surf Curse is riding high with the release of their fourth album Magic Hour. For nearly a decade, the duo of Nick Rattigan and Jacob Rubeck gathered loyal fans with their enduring catchy, garage punk tunes. Now the two have added new talent Henry Dillon and Noah Kholl to the band, "to push their already ambitious songcraft even further than ever before". During their current North American tour, the band made its way to Chicago for the first time since 2019.
The anticipation was clear as fans sold out The Vic Theatre with a line stretching down the street. The classic theater setting has an open space on the main floor whereas seats on the second-floor balcony overlooking the stage. Most people, however, choose to be on the main floor even if it meant actually being further in the back of the room, closer to the bar than the stage. Those would be the mosh pit dreams, I suppose.
When Surf Curse stepped out on stage they were greeted with thunderous applause. The band wasted little time with introductions and instead went straight into the music. They opened up with one of my personal favorites, "All Is Lost". Rattigan illustrates his greatness as a musician, playing the drums at a frantic pace while clearly singing the lyrics begging a loved one to stay when leaving is probably best for both parties. Near the end of the track, Rubeck softly helps on backup vocals as Rattigan repeatedly screams his pain during the chorus, "Cause I lost you again!" Gives me chills each time.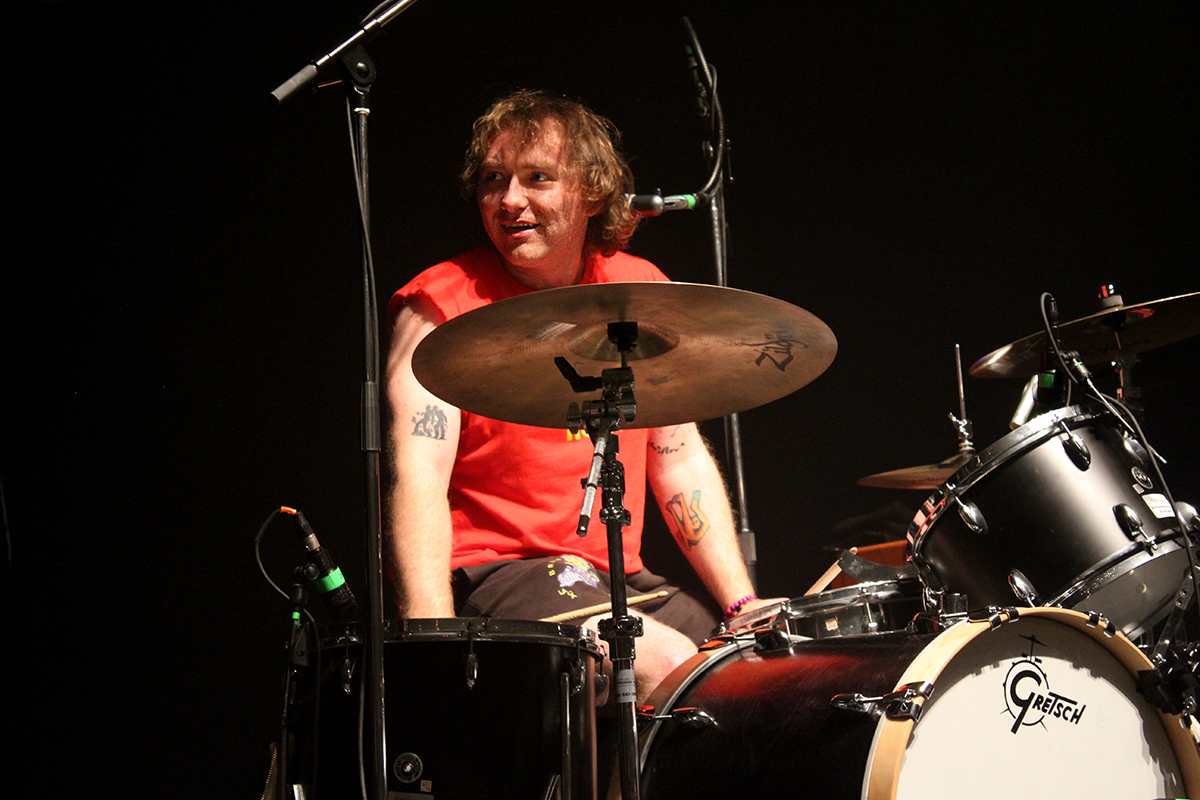 Surf Curse continued getting fans riled up, playing throwback tracks from their album Buds. Songs like "Heathers" and "In My Head Till I'm Dead" took me back, reminiscing over my early 20's. The crowd was more energetic than I was because they began moshing instantly. The space on the main floor was tight, but that didn't stop people from finding a way to crowd surf. I tapped out and went upstairs for an open seat to catch my breath and watch the show from up above in peace. 
Once seated, Surf Curse coincidently switched up the pace by performing songs off Magic Hour. Overall the album is much slower than their earlier work, which again shows the duo's growth as artists, and how adding Kholl and Dillon gave the tunes more dynamics. "Self Portrait," for instance, has a more complex progression compared to some of their poppy tunes that fans fell in love with. Luckily, the band was aware of this so they struck a nice balance during the second half by performing a classic followed up with a new track. For example, the band performed "Goth Babe" and then slowed things back down with "Randall Flagg".
Of course, fans would've rioted if Surf Curse didn't perform "Freaks," a song that has found a second life as people continue to connect with it over the years. Thankfully for everyone Surf Curse obliged their adorning fans. Though Nick Rattigan sang, he didn't need to. Fans passionately sang the lyrics in unison:
"Don't. Kill. Me. Just help me run away, from everyone. I need a place to stay. Where I can cover up my face. Don't cry, I am just a freak!"
It was beautiful to hear.
The band ended their set with "Sugar", the first single dropped off their latest project. Once they left the stage fans right away began chanting: "Disco! Disco!" Surf Curse quickly rushed back for an encore performance of "Disco," a vibrant tune and my favorite song off their album Heaven Surrounds You.
As you can tell from my enthusiasm, I'm a huge fan of Surf Curse. I even bought Magic Hour on cassette to go along with their other tapes. Biasness aside, however, the band did put on a great show. The first hour was lively when they were playing their early hits. The second half blended old songs with new tracks so the pacing felt like a wave. Almost like you were surfing. The energy of the crowd was also contagious and stayed consistent throughout the entire night. Everyone was there to have a good time and Surf Curse did not disappoint.