The Red Bull Music Festival Toronto closed out its 2019 edition on a high note with an intimate and impassioned performance by homegrown R&B artist, Jessie Reyez. The sold-out show was held at the Winter Garden Theatre, a strangely sophisticated venue for such a hard-hitting concert. While at first it all seemed a bit too bumping to be a sit-down affair, with plush seats and fancy décor, it was soon made clear why this was the perfect spot for the event, billed as "One Night Only with Jessie Reyez." Leaning into the theatrical essence and capabilities of the space, the show featured dramatized elements with actors throughout, punctuating the stories laid out in her heartfelt lyrics, adding an extra layer of creativity that wouldn't have been possible in any other room.
A truly authentic artist who sings from the gut, Reyez stunned the crowd to silence many times with her hauntingly beautiful vocals and emotionally-wrought performance. A fusion of hip hop, reggae, R&B, soul, and Latin flavors, the night went from reverberating and syncopated basslines to touchingly personal, stage-side moments.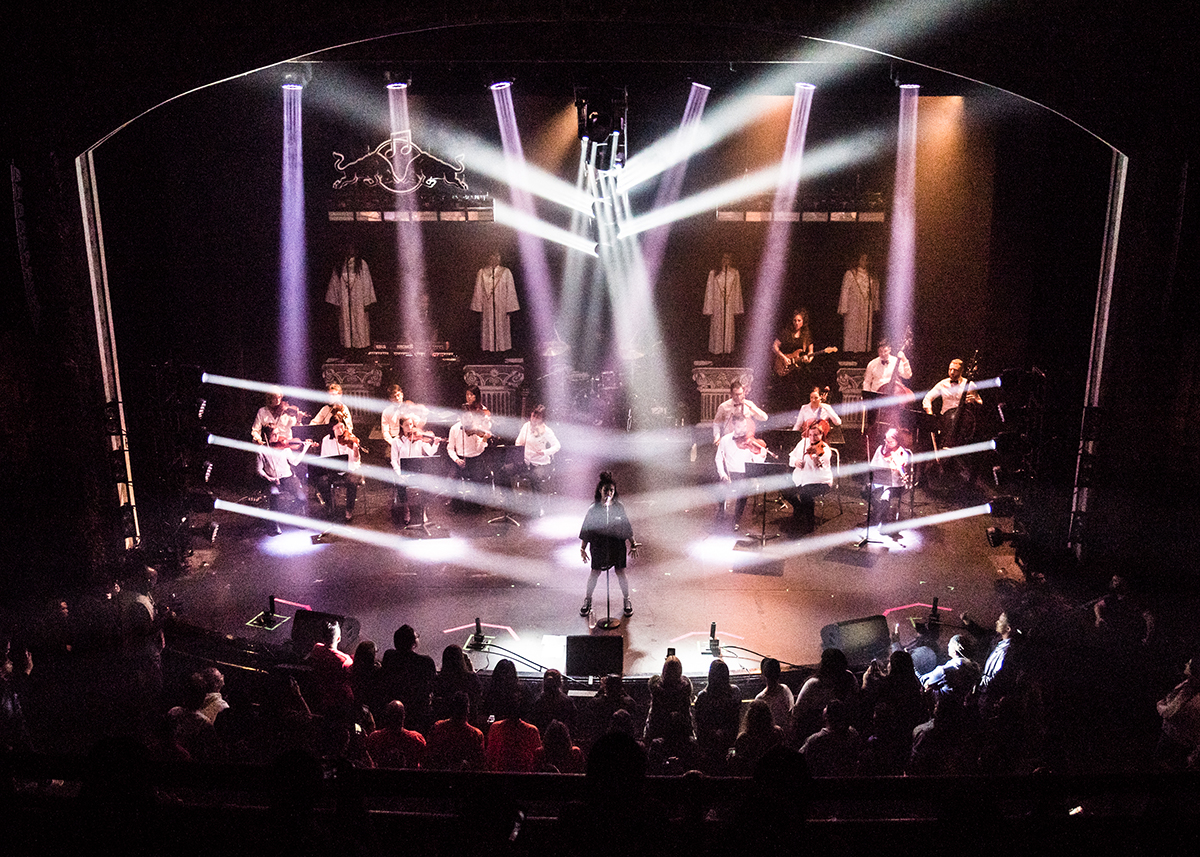 She kicked off the night with the aggressive, carnivalesque "Shutter Island" and sang the lyrics 'my straightjacket's custom made, though!' with a thunderous intensity that carried into the rest of the night. Dressed mainly in an oversized t-shirt, shorts and sneakers with her signature half-up hairdo, she stomped across the stage with a playful authority that told the audience that, while her music can be deeply personal and hold a weighted message, she's here to have a ton of fun!
She continued to rev up the crowd with explosive renditions of more tunes from her two EPs Being Human in Public and Kiddo, like "Gatekeeper," "Fuck It," and "Dear Yessie."
But amidst all of this in-your-face intensity, Jessie didn't shy away from sentimental, personal moments. Revealing a more vulnerable side, she gazed upon an ex-lover embracing another woman while singing the mournful "Cotton Candy," and sits at the lip of the stage to sing a tender acoustic version of "Sola," the only song of hers written in Spanish. I was even brought to the brink of tears when, as part of one of the dramatizations, a young mother screamed as three members of ICE ripped her child from her arms, leading into the heartbreaking R&B track with a political message, "Far Away."
Jessie Reyez is an honest musician who knows how to create emotional levels through her live performance and delivered a truly special show This concert took me from extreme, adrenaline-pumping highs to touching, contemplative lows. Her full-length debut album is dropping in 2020, and I predict incredible things! A gifted songwriter and intuitive musician with a piercingly expressive voice that will wrench your soul, she is destined for greatness. I can't wait to tell people, in five years when she blows up (if it takes that long), that I saw her in this cozy 1500-seat theatre, "way back when."
Images by Drew Yorke for Red Bull Music Festival