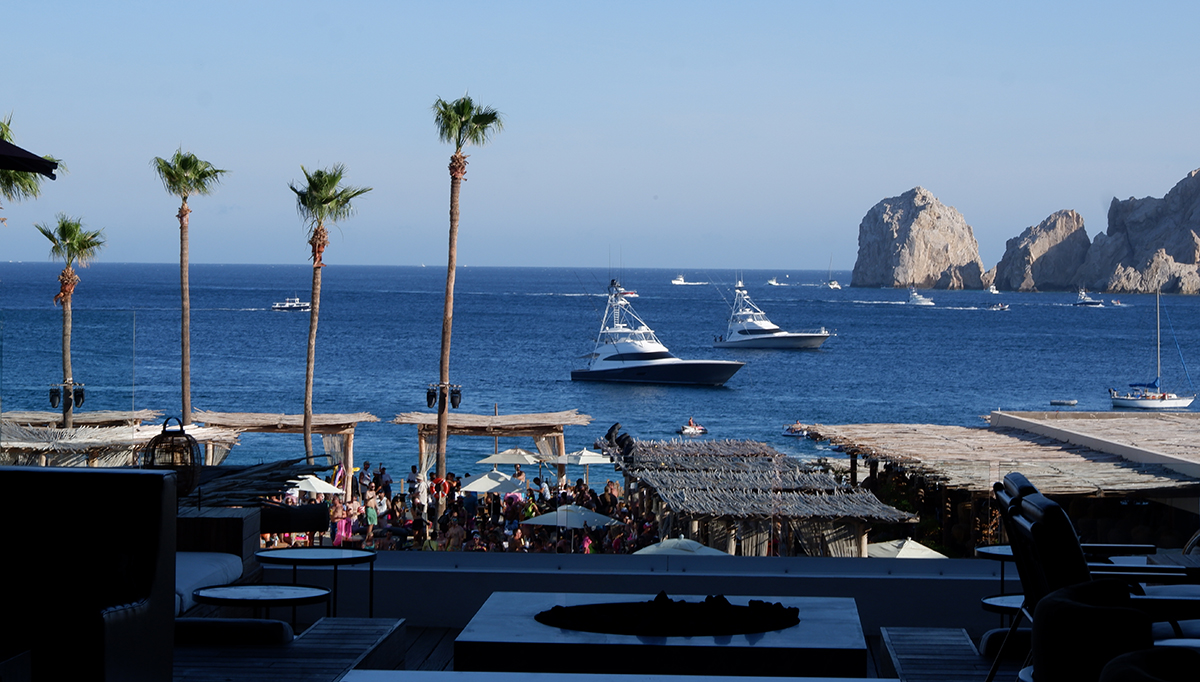 In the world of music festivals, there are many unique kinds – some are in the woods, some are on a campground, some take over hotels, and some are on a massive boat. For this experience, our team boarded the latter. I'll be first to admit that cruising isn't quite in my travel plans (just yet) but when the news of Groove Cruise Cabo San Lucas (GC) made its way into our inbox my interest was piqued.
The festival is well known for having a friendly, inclusive atmosphere, so much so that people board the boat with the full intention to reunite with their 'Groove Cruise Family' members, aka #GCFam, from previous years.
"This is our 10th GC," a festival attendee shared holding up both of her hands to visualize the 10, "we do both, this one and Miami".
The festival is unlike anything you might experience. GC takes over the entire cruise ship (Norwegian Jewel this time) transforming it into a floating 24/7 festival city. It is easy to get lost early on, but once you figure out how to navigate this beast of a boat it turns into a familiar neighborhood. The experience, however, is not always all smooth sailing. In addition to the general lack of clarity in communication (around boarding and programming), there was a range of mixed issues around scheduling, pricing of things, WiFi issues, and general logistical mishaps, which I suppose are common at most large festivals. But we are at sea and it takes a lot of people to keep this festival moving. It is what it is, you get what you get. If you pay extra you will naturally get more.
The stay at this floating hotel is quite pleasant. The rooms are newly renovated and cozy. There is a wide range of dining options available (included and extra), an entire 'strip of bars' (aka Bar City), an actual casino, and an elaborate theatre. Music naturally happens everywhere. The top-deck tennis court was converted to the After Hours where you would hear a mix of DJs greeting the sun every morning. Smaller stages were scattered all across the boat while main events took place on the pool deck during the day and in the theatre for evening headliners.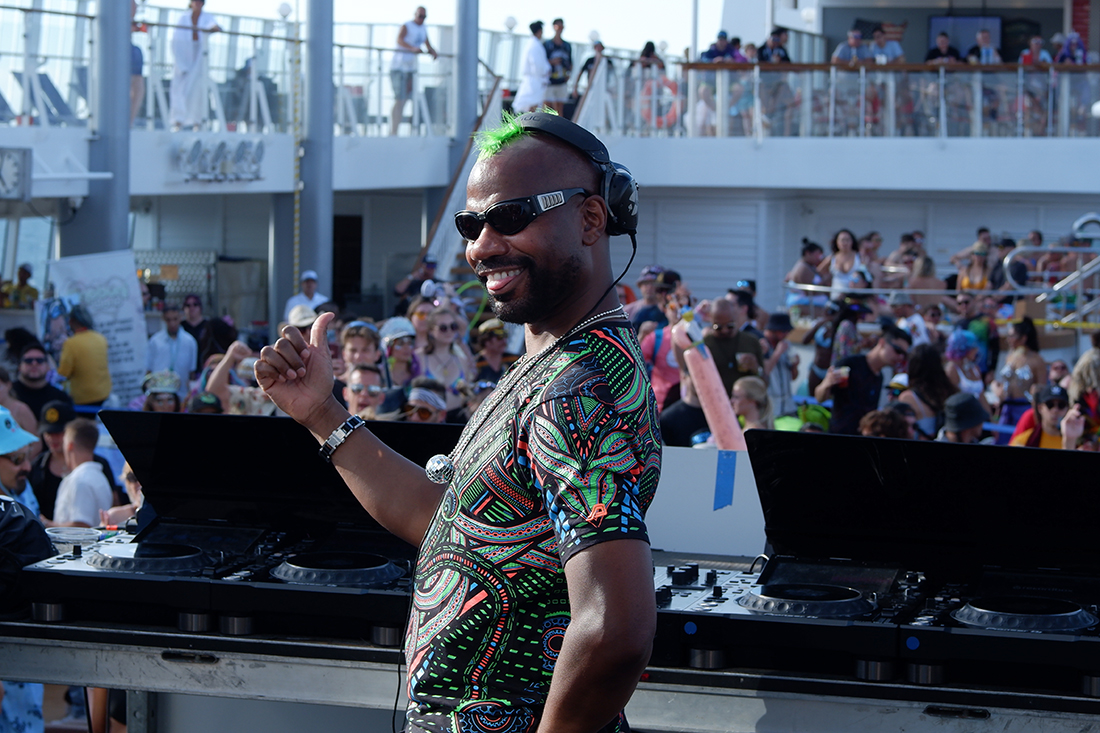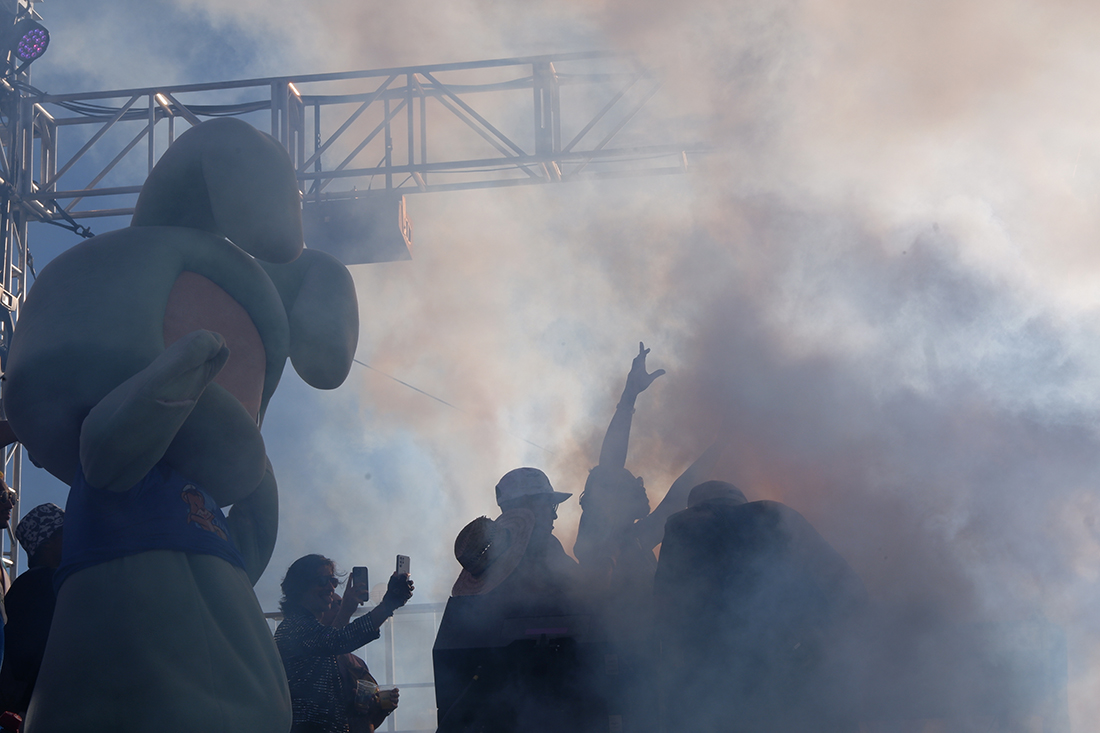 Many performances took place on the pool deck but non were as entertaining as Green Velvet's Saturday afternoon set. Veteran house DJ and producer Curtis Alan Jones came with friends, and friends of friends were also invited. A tight squad of people was vibing behind Curtis while a mixed couple of dancers would step out to the front of the stage showcasing their moves. For two full hours, we danced to Green Velvets' upbeat portfolio of tracks while masses of costumed people were causing a small fun-riot on stage. Eventually, even the stage security gave up, everyone was welcomed up.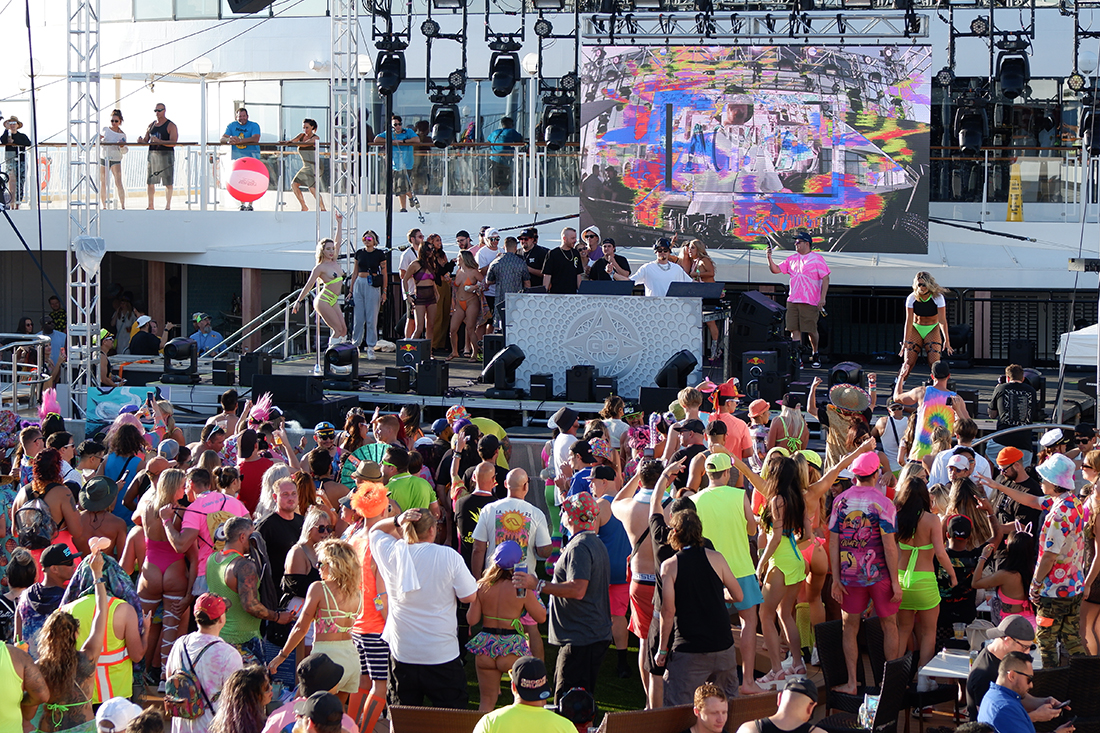 The daytime stage also featured Charlie Duncker, better known by his stage name Acraze, for an upbeat hour-long set featuring his hottest singles, remixes, and throwbacks like Alice Deejay's "Better Off Alone". San Diego's Casmalia played a handful of sets throughout the weekend showcasing her melodic blend of house, tech house, and disco infusions. In a similar manner, Chicago's NEZ (Chuck Roberts) also played a number of sets sharing his authentic Chicago sound – a bit of classic house, a bit of ghetto house, and a dash of rap. A fun new discovery for this team was DJ Susan whose magnetic personality, giant smile, and infectious beats stole the show on Thursday afternoon.
For most of the weekend, the Bar City stage was taken over by the Martian Circus, an art collective offering an immersive '5D' experience. The stage was decorated floor to ceiling with glow-in-the-dark art installations, an on-site shop, and naturally a very colourful stage. Nearly every night people gathered here for vibrant, occasionally psychedelic performances by a multi-instrumental cosmic soul house band. For those looking for a more personal experience, however, there was also a silent disco, curated by San Francisco's Rizzo + Vassalo. Between the two channels, participants got quite a range of music which was nice, but the true charm of a silent disco is seeing the people dance to their own beat in a dark quiet room.
On Friday we reached Cabo San Lucas. A short boat trip followed by a bus ride took us to ME Cabo for a day-long pool party. A mix of DJs took over the rooftop bar for a more intimate party while the main pool raged all day to the sounds of Ekonovah (aka Stephen Scotti), Sam Wolfe, Scooter & Lavelle, Gem & Tauri, and the headlining performance by Blond:ish. Here the DJ booth was nested in an elevated hut, much like a bird's nest overlooking the ocean and our floating home from a distance. Fans and friends took refuge in the surrounding area, tanning, dancing, soaking in the pool, indulging in hotel cuisine.
Ekonovah's early set was perfectly fitting to the time and place – upbeat, melodic, and transformative in a way. Scotti even tried a few new tracks with the attendees but more on that later (interview coming soon). Sam Wolfe, who was up next, took things up a notch (or two) with his deeper and darker techno beats. But in time Blond:ish stepped up and balanced it all out by playing her catchy original tracks (ie. "Sete") and dance floor favourites like Volaris' "Slow Motion" and Disclosure's "You & Me". As the sun went down the fired-up entertainment began, and I mean it literally. There was fire in the pool, people in the air, and fireworks shooting out of the Norwegian Jewel. Oh, so many fireworks you could see them on the other side of the bay.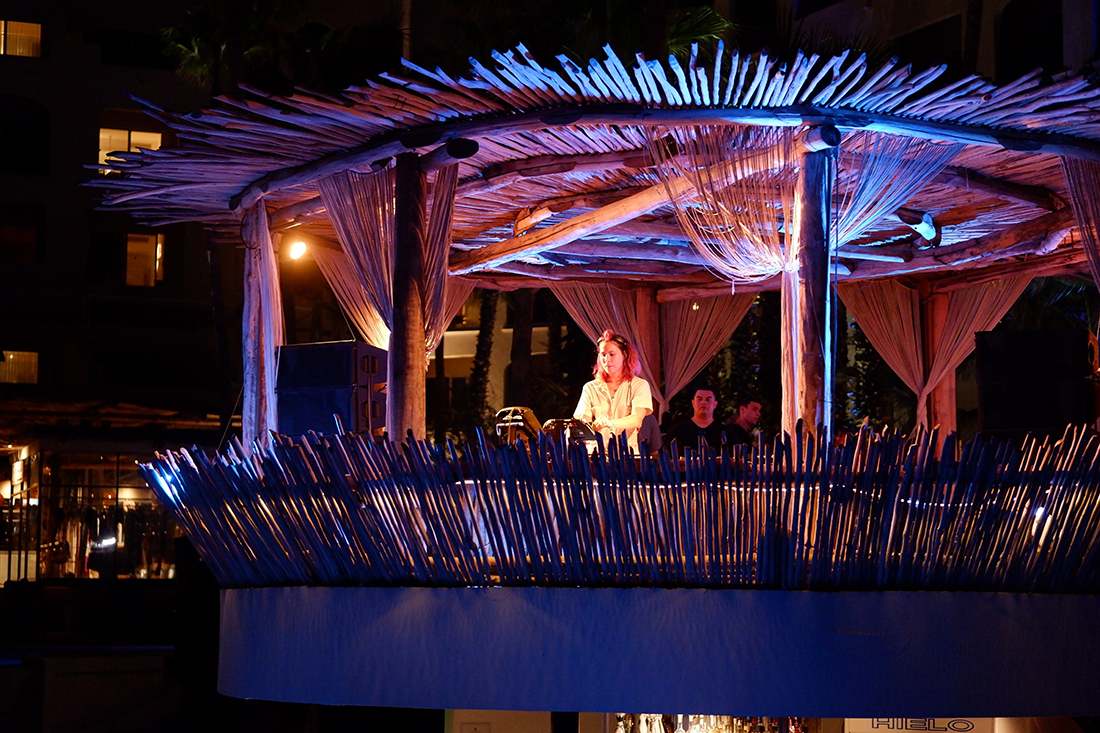 A range of theme nights took over the Atrium stage throughout the week including a full night of old school hip hop DJ sets by the likes of DJ Smiles, Discopill, Chris Duano, and a 3-hour set by Scooter. Sunday's highlight event was the Deep House Brunch party at the back of the ship, set in the shade of a crochet curtain forest. A mix of old-school and Chicago house was a very welcome change on this final day of the cruise. This set was properly followed by the highly anticipated performance from Said The Sky.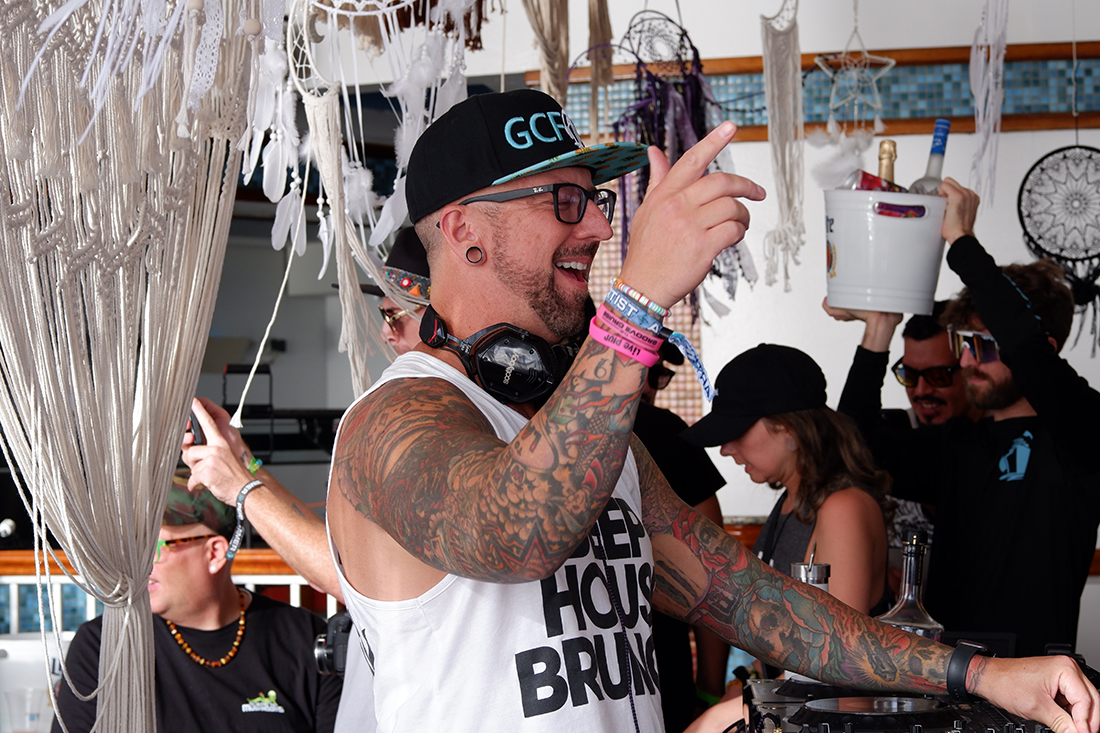 One of the perks of staying on the ship with the artists is that the said artists are there, just wondering about the boat. Embracing this cohabitation the festival team curated a wide range of experiences inviting fans and artists to play and eat together. A quick sign-up form or a visit to the captain's desk (festival support) allowed attendees to sign up for up to 3 artist-hosted activities and as many dinners as they want.
Having chatted with Acraze pre-event we decided to join him for a guided wine tasting. It was an hour filled with jokes and loose wine education. On a separate night, a small group of friends and fans gathered for a teppanyaki dinner with MitiS who also hosted a pub crawl that turned into an impromptu DJ set. And for something more different,  Kristina Sky brought her infamous 'Champagne and Pizza' party to the arcade for a short yet sweet casual hangout. It is worth mentioning though that some of these activities come at an additional cost which was not disclosed in any manner prior to the event's end.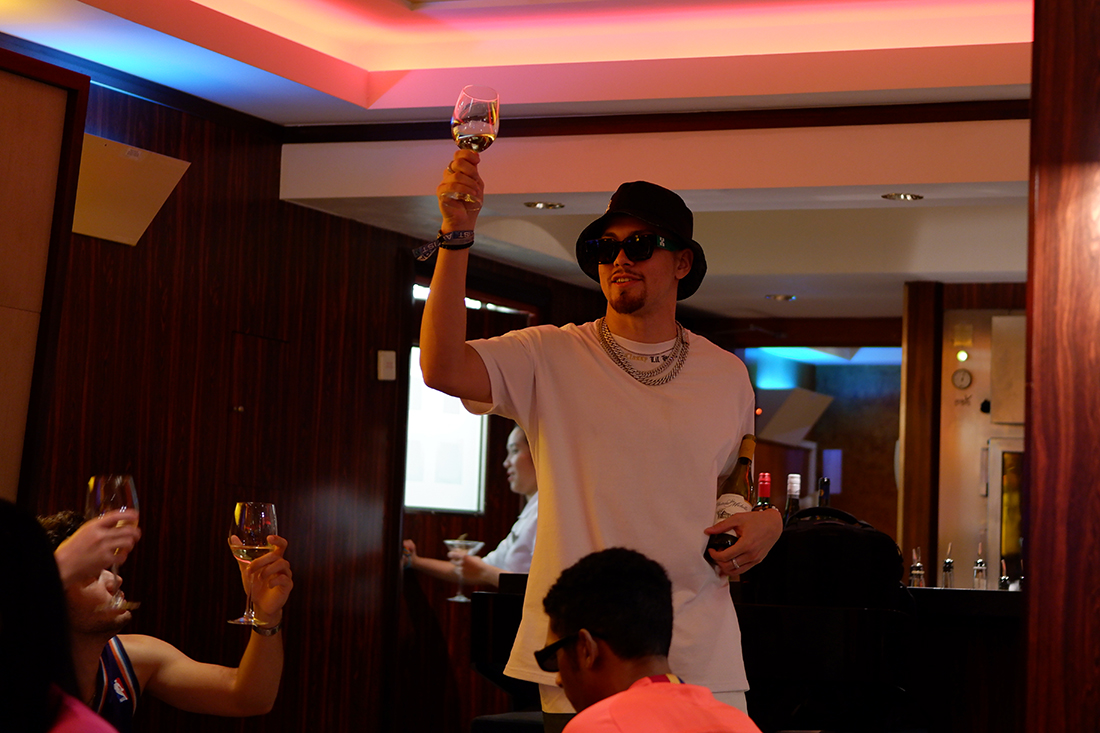 All in all, Groove Cruise is a truly immersive festival experience. A unique way to travel and a unique place to dance. It is also an excellent place to make friends with attendees and artists alike.