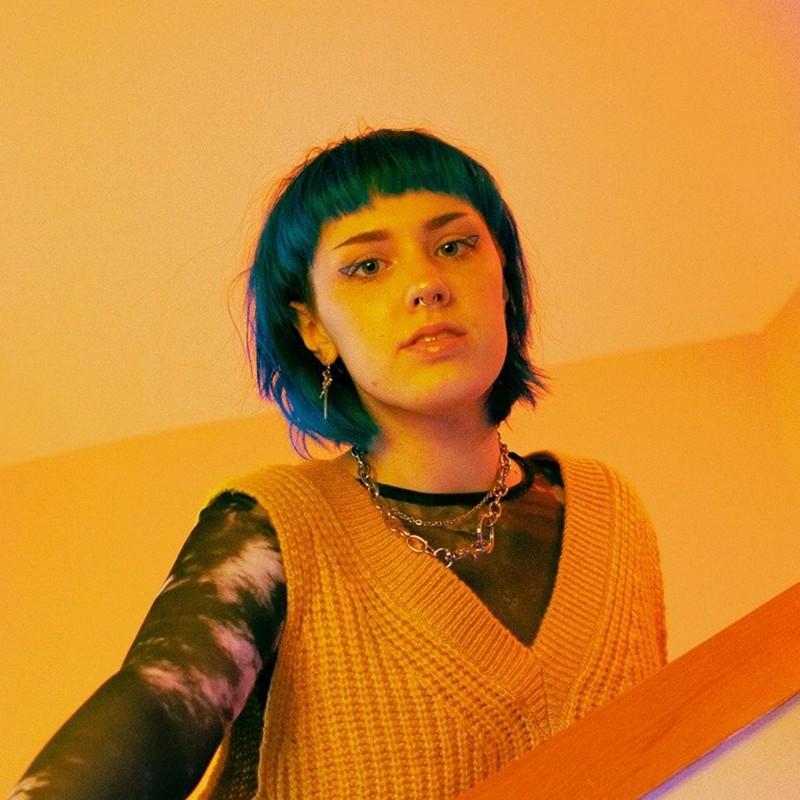 Frances Forever opened up for Misterwives at the Wonder Ballroom in Portland on Friday, November 26th, but in many ways, they stole the show. Frances and their band played a couple of new tracks from their new major-label album paranoia party (released July 19th on Mom + Pop) and a few older cuts from 2018's self-released pockets. 
It's interesting that someone could deliver a song called "depression" and make it sound joyful and hopeful, but that's just what Frances did to kick off the show. They nailed the vocal harmonies that start the song, immediately bringing the already nearly packed Wonder Ballroom's full attention towards the stage. Next, they ripped through "cry inside my car", a wonderfully crafted pop song off of pockets that could easily be placed somewhere in the Bedroom Pop Hall of Fame. Here, Frances took full opportunity to show off their impressive vocal range, capturing live the harmonic melodies that make it such a great song. They followed up the lighthearted and catchy "cry inside my car" with "my condolences to myself", one of the standouts from paranoia party. This song sounded much heavier live than it does on the record, as the bass boomed through the venue with Frances' ever captivating and melodic vocals still echoing over top.
Continuing the mix of old songs and new, Frances then delivered a charming version of "fuck u", telling the Portland crowd to sing along the phrase with them and many did, in somewhat of a cathartic release sort of way. Frances' many young fans who were crowded in the front rows threw up middle fingers as they sang their hearts out. One got the sense that Frances and their music truly means a lot to those (mostly) youngsters pressed up against the stage, and for many in the over 21 section of the venue, it was clear that there would be some Spotify prowling to find out more about what Frances Forever has to offer.
Frances followed up with "daytime" and "Frankenstein Wannabe" before launching into "paranoia party", a mellow, slow-tempo ballad that showcased their penchant for writing memorable hooks and relatable, melancholy yet hopeful pop tunes. Before performing the viral hit "space girl", Frances declared that "if you know my name, you know this song". The uptempo, rocking bedroom-pop gem has a Frankie Cosmos-esque sound and allure that instantly got the audience moving.
It isn't tough to envision Frances soon being mentioned in that same category as Frankie Cosmos, and their songwriting chops can certainly propel them further and further not only into the mainstream but into that elusive category of songwriter that truly means something to their fans. A songwriter whose hooks, melodies, lyrics, and performance relates on a deep level with those who engage with their music. 
It was obvious to see the joy radiating from Frances as they performed, and the tightness of their band made for a truly impressive performance. It was exciting to be in the crowd because it's clear that big things are coming for Frances, and it'll be exciting to see where they take their sound next. The young audience in the front followed their every move with rapt devotion, and with that on an artist's side, the sky is the limit.