There have been many first shows over the last couple of years. Due to multiple closures and subsequent reopenings happening in a loop, one after the other many bands have not been able to play in the city. But for this, yet another first show since reopening we couldn't have asked for a more seamless performance. 
Ninja Tune's Bonobo and Jordan Rakei have been on a 22-date North American tour since February and the two of them make perfect cohesive sense as duo headliners. Opening the doors to History, one of Toronto's newest music venues, you could feel the excitement in the air. It was a slow start with arrivals but with a slight delay, the stage went dark for Jordan Rakei just as the room began to get denser. This is not Rakei's first time in Toronto, he's been here before and this vocalist, songwriter, producer, and multi-instrumentalist has a strong fanbase in the city.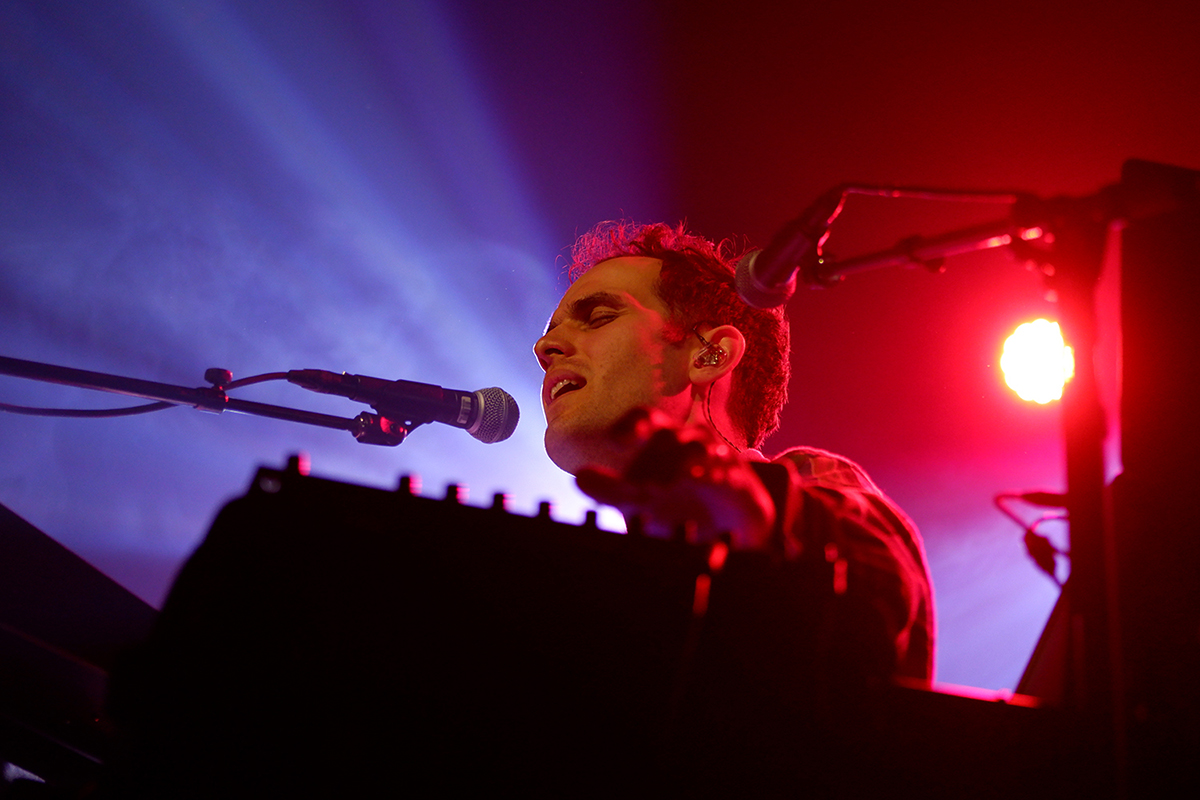 Jordan Rakei is best known for his sultry, composed, shiver-inducing voice, and so naturally his songs are smooth and touching, with hints of blues and jazz.  Earlier this month Rakei released a 4-track EP Bruises as a follow-up to his critically exclaimed 5th studio album What We Call Life (2021) and people's favourite Origin (2020). The new EP is a very collaborative effort (which he is no stranger to): "Defection" was co-written with Oli Rockberger, strings for "Bruises" were done with Amika Quartet, and "Lightning" is written by Georgia Potter (aka Moreton). It is also worth noting that this collaborative theme will quickly become the theme for the evening and I suppose in retrospect, it always is when it comes to Ninja Tune artists. 
For this performance Jordan was on stage alone, situated in the center under a blue spotlight, occasionally adding guitar into the mix for songs like "Sorceress". Tonight's hour-long performance was a mix of old and new tracks, highlighting "Defection" and "Bruises" from the latest EP. Rakei's live performances take on a life of their own, "Midnight Mischief," originally created with Tom Misch, took on a much more jazzy, abstract perspective. This tasty twist continued through other tracks as well, "Say Something" and "Family" specifically, while "Mind's Eye" built up slowly to a powerful conclusion, bursting the room into applause.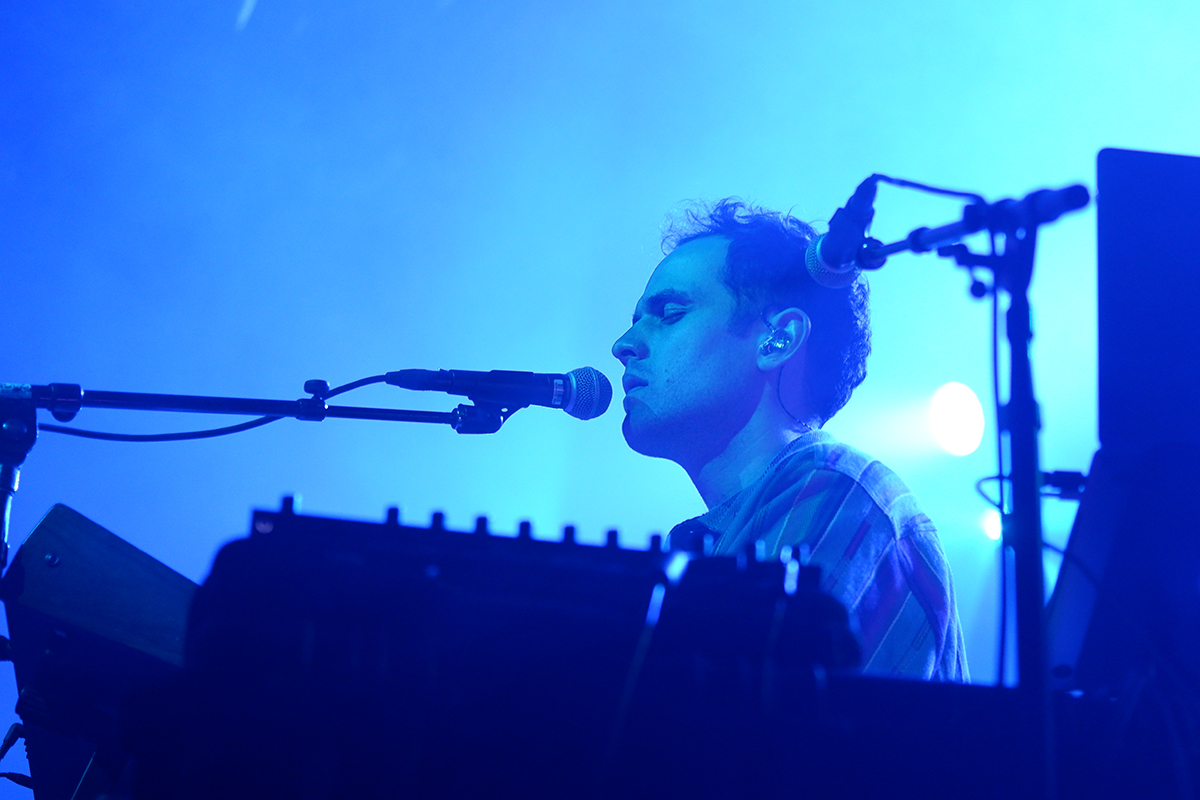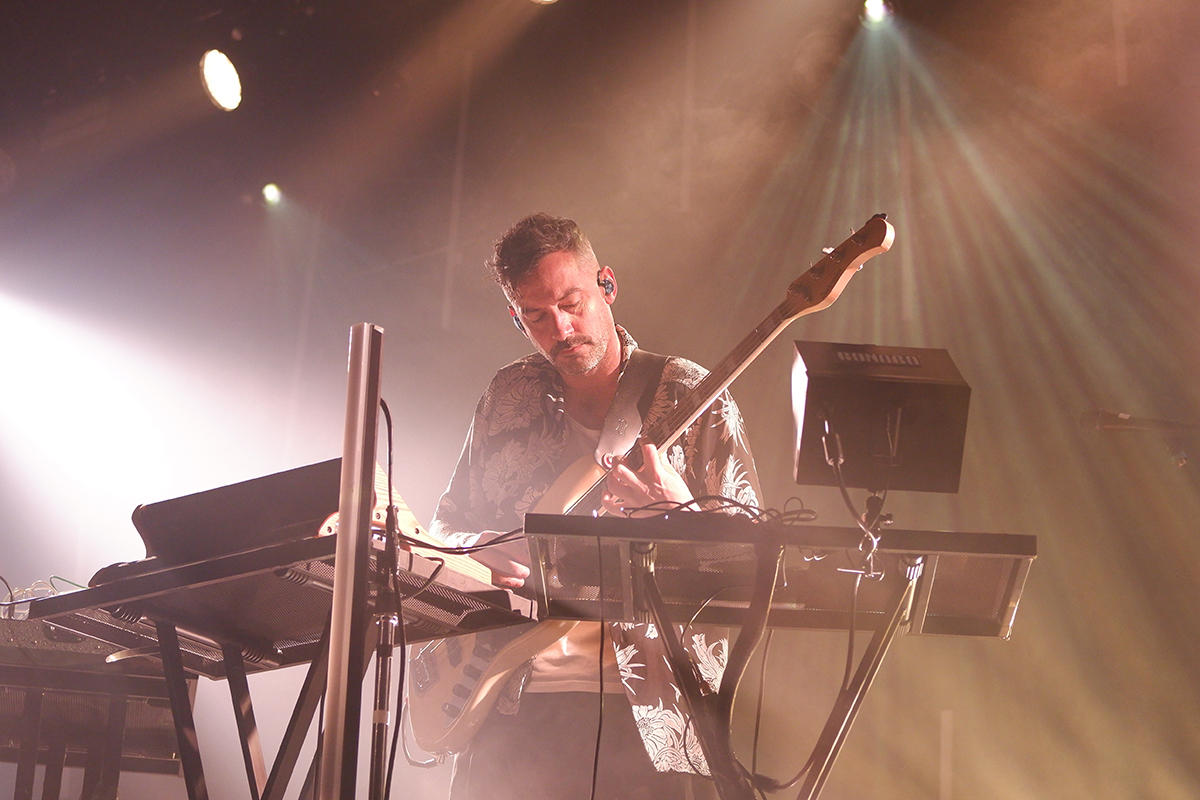 After a brief break Simon Green, better known as Bonobo, took the stage accompanied by a full band. Green's latest release Fragments (2022), is a work of art but was a struggle to make. Pandemic had a massive impact on his creative process, there were no clubs to test-drive the tracks in, isolation took its toll, and at times he was not even able to go home. For Bonobo, this was "the most emotionally intense record yet to create," but these broken processes gave root to experimentation and collaboration. Ideas came from all directions and in time bonded into a cohesive record that Ninja Tune called "crossover electronic records of the year". Now, having lived out in the wild, the record is a triumph over personal and collective struggle and a "surging, joyous return" to enjoying live music together.
Green has been performing with a live band for a few years and this band, flute and trumpet included, is a force to reckon with. The skill of each individual band member was showcased at one point or another throughout the set but combined their sound will rock any stadium. Set in front of a full-size screen projecting visuals from the record and Green's escape into the wild the concertgoers were transported to the Canadian mountain ranges and Utah valleys in kaleidoscopic and slightly psychedelic visual plays.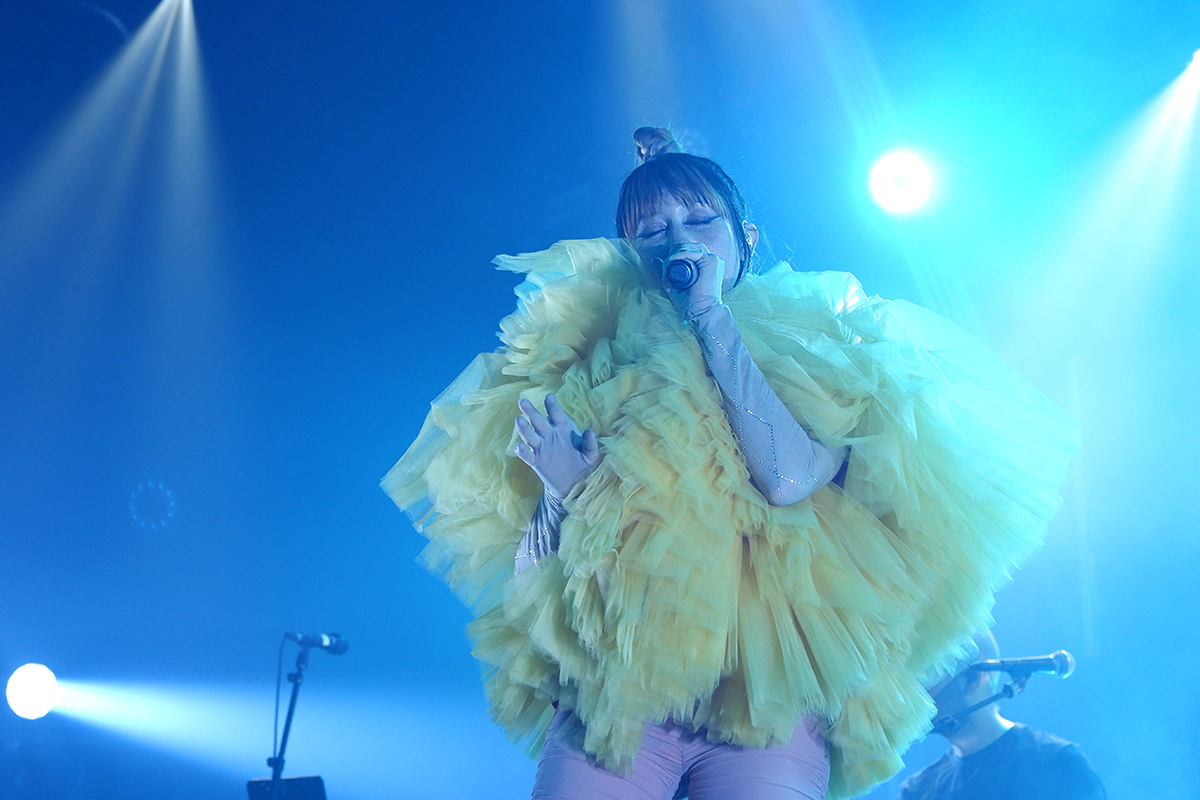 Naturally, the set began with songs from Fragments ("Rosewood" "Counterpart") but soon enough the band was joined by singer Nicole Miglis for "Surface" (Migration, 2017). Dressed in pink bell-bottom pants and an oversized ruffled yellow top Miglis looked like a dandelion in full bloom, floating across the stage, occasionally hiding her hands in the yellow petals. The set moved across
Green's entire repertoire of songs in no particular order from "Kiara" and "We Could Forever" (Black Sands, 2010) to "Cirrus" (The North Borders, 2013), to "Outlier" (Migration, 2017) and back to most recent releases with "Tides" (originally performed by Jamila Woods). Jordan Rakei came back out for the soul-wrenching "Shadows" and Nicole Miglis graced the stage for "Break Apart" (originally performed by Rhye) and "Day by Day" for the encore (originally performed by Kadhja Bonet). At one point Miglis' dress lit up like a Christmas tree, pulsing tiny lights to the beat of the music, in an oddly classy kind of way she became one with the light show while belting out the lyrics with grace, palm reaching out to the sun. 
A handful of songs ("Kiara," "We Could Forever," "Bambro Koyo Ganda") built up into heavy dance tracks, accented by pulsing strobe lights and constantly moving background images. Here we are, on a wilderness adventure together, journeying to the sounds of "Kerala", exploding into cheers and applause as the song, and the show come to an end.
Seeing Jordan Rakei and Bonobo again, and on the same bill, was a truly tasty treat and a fantastic start to what will hopefully continue to be a fresh new music season.