Alan Walker has been very busy. Earlier this year British-Norwegian dance producer shared his first installment of his two-part album WalkerVerse Pt I and is currently working on Pt II while touring. The summer festival tour is promptly followed by the fall WalkerVerse tour and all new things are packed with surprises. 
We met Alan Walker at Osheaga in Montréal. Music was flooding the enclosed media area from all sides and Canadian wildlife was roaming the grass offering side-show entertainment. Alan is seated at a picnic table, journalists swapping out every 10-15 minutes like it's a media speed-dating event – I do not envy the work it takes on his part, staying focused for so long between planes, trains, busses, and sound checks. Walker has a gentle presence and is noticeably humbled by his success. His fall tour was already selling now, with new dates being added in multiple cities to satisfy fan demand, his reply to this success is a timid "it's amazing". 
A couple of hours after our chat Alan took his place on the Coca-Cola stage, the stage that was rolling some of the world's best electronic producers and DJs all weekend. The crowd here was always on the full side but today, for this set, it got thick with people spilling out onto the main road. Dressed in a yellow hoodie and his signature black mask the Alan Walker we saw behind the decks was a completely different person, energetic, vibrant, feeding off the energy of the crowd. It really is impressive and mesmerizing how his personality turns up on stage.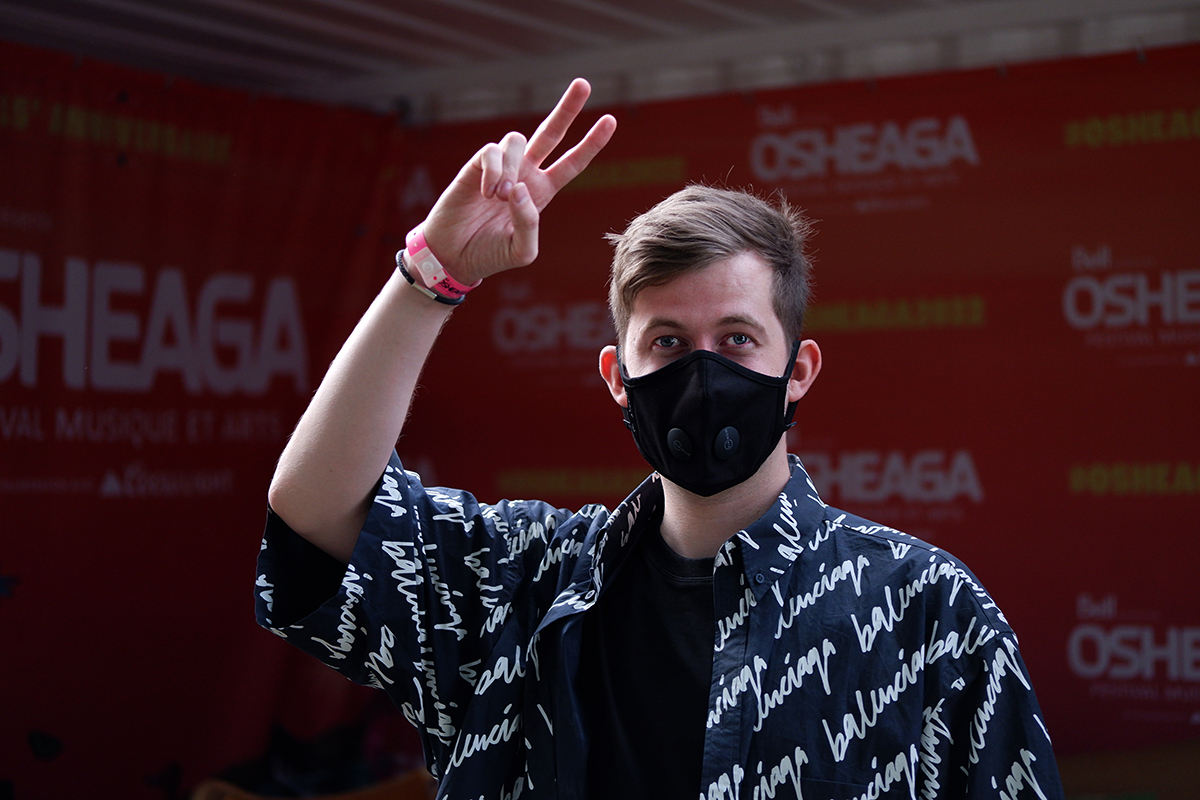 Kateryna Topol: Hello Alan, how's your day going so far?
Alan Walker: So far so good, I just got in a few hours ago. We did Toronto [Veld] yesterday, here [for Osheaga in Montreal] today, and then going to Faro Islands tomorrow.
KT: Welcome to Montréal! Let's go back a little bit how did you first get into music?
AW: That was random,  I came across a YouTube channel sharing some crazy music when I was like 12-13 years old. And it was so awesome I was like, hey, how do you make the music that you put out and then he responded to me and me that he was using a program called FL Studio and then he helped me with getting FL Studio by teaching me different basics, and showed me some YouTube tutorials and so on. So that's pretty much how I got started, I had no musical background just the pure intent of just trying to make music without financial gain whatsoever, never really even thinking about getting famous.
KT: So like a curious hobby that turned into this whole career
AW: Yeah, 'cuz when I was younger, I was also very interested in programming, interested in figuring out like, how do websites work, why can't a website remember my username and password and all that sort of weird stuff that interested me when I was younger, random.
KT: Was music around in your house?
AW: Mom used to play a lot of piano and my sister did too; my brother was also born in technology so I never thought I would be working or be as much into music as I am today. And it feels amazing… Now it's like music is what I love. It's like literally my mission, getting to work on a full-time schedule was like a dream.
KT: And what about your parents or were they surprised?
AW: Yeah, they've said it many times that they've never expected it but they've always been really supportive about it because when I was younger they didn't really understand what was going on. I was just stuck in my bedroom every day writing all these songs and putting them up on the internet and then one day I come running down to my dad and go like "Hey dad you gotta sign this contract" because I was 16 years old and he was like "ok I'll sign it" and that was the start for my music beginning to get recognition.
KT: So you weren't old enough to play some of the venues that you played in back then? 
AW: Yeah and like for example in the US and all that we would say no nightclubs and I use to only be allowed to go in as soon as my intro starts and then I was kicked out as soon as the last song is done. 
KT:  So this YouTube community and other kinds of online music communities on Facebook were a huge part of your early career. Is that something you still participate in?
AW: Not as much as I used to because Facebook got a bit overwhelming for me, but back then it really helped me build a friend community within the music industry, just a bunch of up-and-coming music producers were connected in this small Facebook group. I made friends in Canada, the US, Portugal, like all over and it was amazing, such a nice way to get feedback on what you should and shouldn't do, tips and tricks, and so on 
KT: Do you still keep in touch with any of those people?
AW: Yeah some of them. Some of them I also bring out to shows, like for example there is this one guy he lives in Barcelona and so when I go to Barcelona to perform I always bring him out because he was the one who inspired me in the very beginning and so I bring him out to show gratitude. You know, it's like all of this craziness, like we went from being bedroom producers located in different parts of the world and now we can meet up because of music.
KT: Music can for sure bring people together. Ok, jumping to the current year –  congratulations on the release of WalkerVerse Pt 1 EP, it's a great record, what was the process like?
AW: I decided to split it up into two pieces because some of it was ready and some tracks were not, so instead of putting them all out when they are not completely done I decided to take time to rework them, part two is planned for the fall.
KT: And how is it going, fall is very soon, are you working on the record while you're on the road?
AW: Yeah, it's the only way, just right now we're doing about 100 shows this year. And after August, we're starting WalkerVerse tour so it's like non-stop touring. For the WalkerVerse tour we are creating an entirely new show, brand new visuals, a brand new stage, new runner setup for everything – never seen from Alan Walker before. I think it's going to be critical.
KT: That's exciting. There are quite a few strings and orchestral elements on this album and from what I understand you kind of do it all yourself on a computer?
AW: Yeah, and also I work with producers as well, to assist me with for example creating more orchestral stuff because it's been a more like a cinematic universe I've been trying to dive into. And I think we've been able to create something magical.
KT:  The first track "Adventure Time" sounds like a soundtrack or a movie theme, let's say if it was a movie soundtrack, what would the movie be about?
AW: [Laughs] Good question, I have no idea 'cause usually when I've been asked what kind of movies I would like to make music for, I would say action movies. So I think that would make the most sense.
KT: Like an adventure action movie or like a James Bond action movie?
AW: It could be both [both chuckle]
KT: Au/Ra, who is joining you on the WalkerVerse tour, has been a long-standing collaborator for you, how did that come about?
AW: It started when we did "Darkside" together and no we've done five collaborations in total, she's joined me for some other shows and I'm excited to bring her along because she is an amazing talent. We recently wrote some new songs in the Bahamas, I normally work on the music production side and she helps with the lyrics.
KT: Do you find the environment influences your music production at all?
AW: I mean, sometimes. But I feel like this inspiration is just a soundbite. I could just be laying in bed, just hearing it in my head, and I'm like 'Oh, let me just try to do something with it,' play with it and record it on my phone first, and the next day I might be trying something with it on my computer.
KT:  It's been a few years since your breakout single "Faded" came out, I've read that you are trying not to lean on that track's success and are just trying to make new music independently from it 
AW: Yeah, yeah, because it could be scary to constantly think that I need to create a new "Faded" or something that's better than "Faded" because if you have that mentality you can just trash the next potential upcoming project that could be another hit so instead I just create what I love.
KT: So in terms of what's next – WalkerVerse Pt. II is coming out, and the tour … 
AW: For the tour, we're doing about a month in Europe and on a month in North America, and then we're doing some shows in Asia so it's pretty much until November. I'm very excited, it's been a long time since I've done my own headline tour in all these cool places around the world. 
The first track from the new EP, "Extremes," is out now. It is a collaboration with Trevor Daniel, yet another club banger, radio-ready pop-infused electro track.  
KT: Is anyone in particular opening for you on tour?
AW: We usually bring in local acts, we don't necessarily have a main opener. I think it's really cool to work with local talent, sometimes it is someone up-and-coming, sometimes bigger but yeah… 
KT: Giving people a boost while you are there
AW: Yeah, exactly, giving people a platform and a chance to shine and do something with their career, I think is really good and I always like to support other artists. 
KT: Nice, as a parting thought, is there anything that would be fun for people to know about you they might not know?
AW: Oh yeah, I love go-karting. We were considering going on today but the crew had to go to the venue so maybe next time I'm in Montreal 
KT: What has been the coolest go-karting experience you've been to?
AW: I think in Copenhagen they have the world's largest indoor go-kart track cloud, it was a good track.
* * *
Alan Walker is currently on tour:
6th October SPORTHALLE HAMBURG Hamburg, Germany
7th October MITSUBISHI ELECTRIC HALLE Düsseldorf, Germany
8th October TAURON ARENA Krakow, Poland
12th October ST MARX HALLEN Vienna, Austria
14th October HALLE 622 Zürich, Switzerland
15th October FABRIQUE Milan, Italy
19th October AFAS LIVE Amsterdam, the Netherlands
20th October ZENITH Paris, France
21st October ROCKHAL Esch-sur-Alzette, Luxembourg
22nd October JAHRHUNDERHALLE Frankfurt, Germany
3rd November SOUTH SIDE BALLROOM Dallas, TX, USA
4th November CONCOURSE Austin, TX, USA
5th November BAYOU MUSIC CENTER Houston, TX, USA
8th November BUCKHEAD THEATER Atlanta, GA, USA
9th November ECHOSTAGE Washington, DC, USA
11th November GREAT HALL Brooklyn, NY, USA
15th November HOUSE OF BLUES Boston, MA, USA
16th November MTELUS Montreal, QC, Canada
17th November LONDON MUSIC HALL London, ON, Canada
18th November REBEL Toronto, ON, Canada
19th November RADIUS Chicago, IL, USA
25th November HARBOUR EVENT & CONVENTION CENTRE Vancouver, BC, Canada
26th November ROSELAND THEATER Portland, OR, USA
29th November MISSION BALLROOM Denver, CO, USA
2nd December HOLLYWOOD PALLADIUM Los Angeles, CA, USA
3rd December BILL GRAHAM CIVIC AUDITORIUM San Francisco, CA, USA
Cover image of Alan Walker, image by Benoit Rousseau, Osheaga