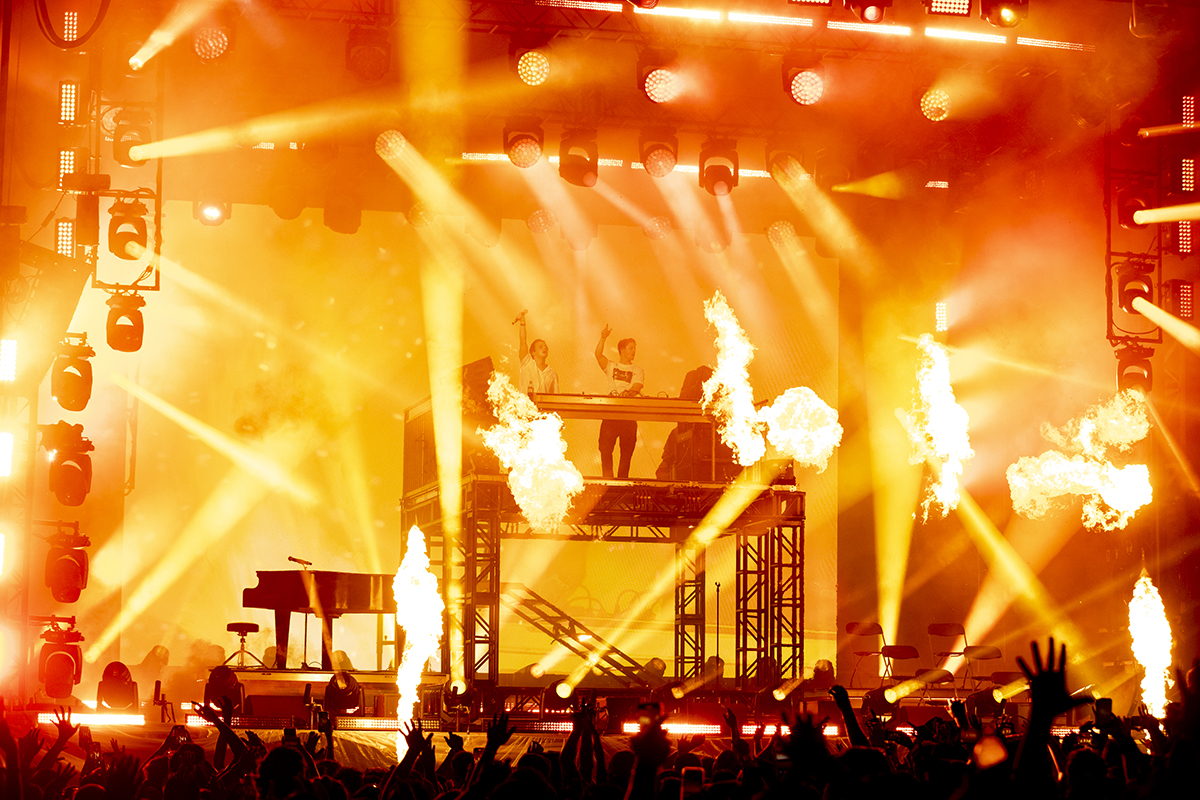 Image by Tom Snow, Osheaga
Osheaga Music and Arts Festival finally returned to Montréal for its 15th-anniversary edition after a forced 3-year break. Between July 29th and 31st, Montréal's île Sainte-Hélène (Parc Jean-Drapeau) was the centre for music fans from the nearby areas and abroad; a total of 120,000 attendees made their way to the festival over the 3-day weekend.
The area near the festival grounds becomes so busy the city has to bring in extra police forces to manage the metro traffic. As the music fans spill out of the train stations at Parc Jean-Drapeau the sounds of Osheaga immediately grab their attention, funnelling the crowds into different entrances all of which were getting progressively busier leading up to Sunday.
A roundup of one hundred artists played over the weekend, needless to say, it would be impossible to see them all but given the different genre representations, the crowd was always divided into fluid groups: those mostly staying at Coca Cola stage for electronic music, indie band fans at the SiriusXM stage tucked away on the side, top40 headliners were split in the main area between two stages, and the close follow up performers were on the other side of the park. A total of 6 stages is a lot of ground to cover so between them, and the bathroom lines or drink quests, we all got our steps in for the week. 
Music is what people come here for but there is a lot to do between the sets. Various artists were working on installations throughout the weekend creating living backdrops for all those insta shots. Food stations (from niche trucks to hot dog stands) were located within close proximity to every stage, some were full-on restaurants. Hammocks and mixed resting areas were filling in the gaps while elevated VIP areas were located near the main stage, looking over from the side and in some instances, allowing concertgoers to go as close to the stage as the photo pit.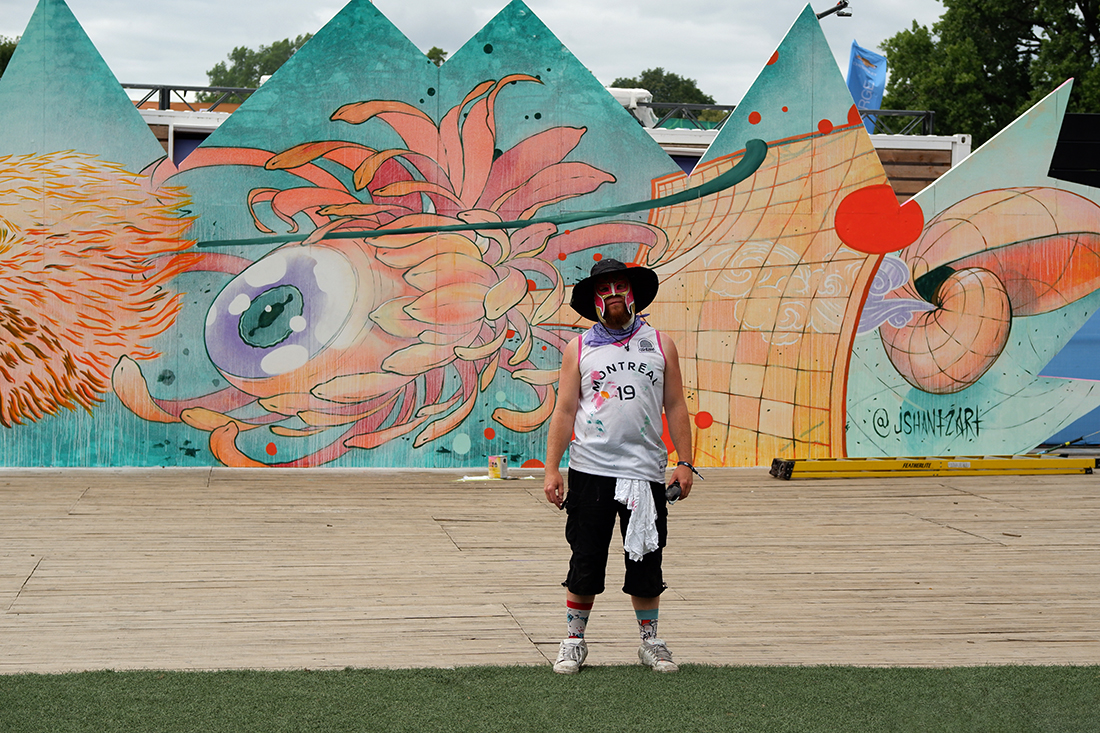 J Shantz Art in front of his mural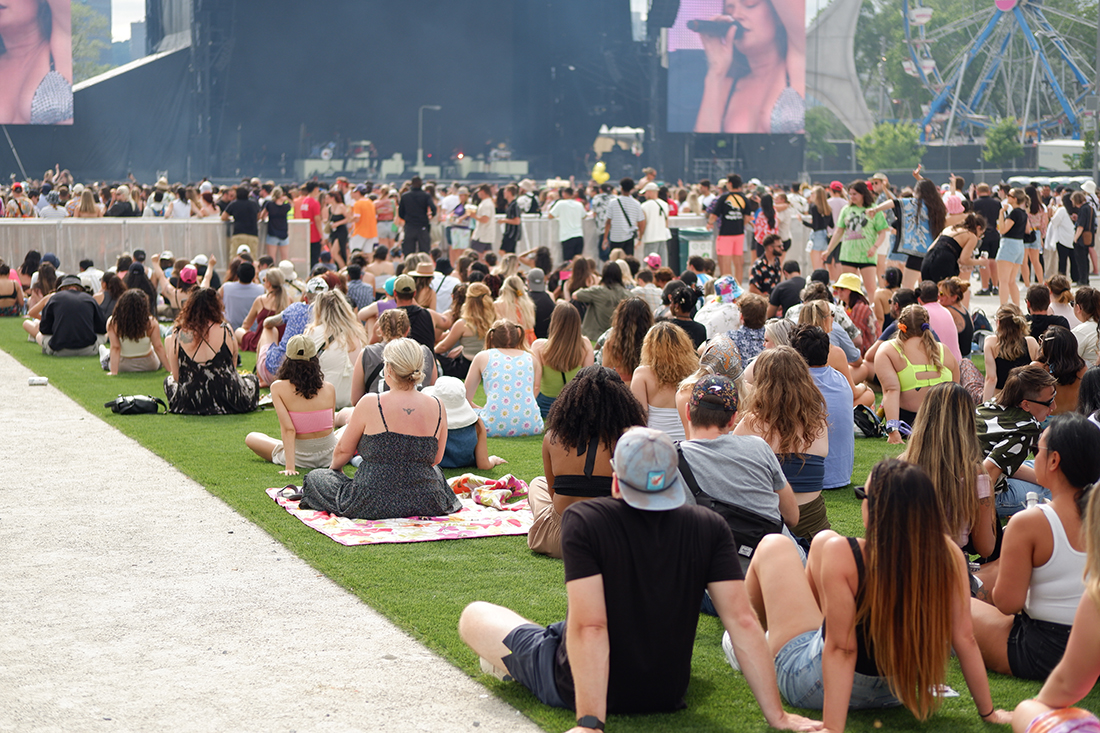 Sunday crowd relaxing to Tove Lo
People napped on the crisp green grass while waiting for their favourite artist to start, sipped on Apparel Spritz, played games in various branded activation booths, made TikToks, and gathered in groups around moving minibars (1-2 people passing through the crowds with coolers and premixed cocktails). Every day I would still find something new – a new bar, a new area, a secret bathroom. Parc Jean-Drapeau turns into an Osheaga city for 3-days and once you get past the sheer size of it, it becomes a home. 
This year's performer lineup brought together a wide range of artists across genres and from around the globe. Crowds gathered to see Kygo (and friends) and hear party anthems like "Stole The Show," "Freedom," and "Forever Yours" Avicii tribute with a dash of "Satisfaction" by Benny Benassi. Elevated to the centre of the stage on a platform Kygo was easy to spot from anywhere on this side of the park, he danced, talked to the fans, and was generally a really fun set to see, despite the rather quiet sound delivery.
French electronic music duo Polo & Pan performed on the nearby stage and came with their latest tour set up, disco ball and vocal performances by Victoria Lafaurie included. But most electronic music fans stayed put at the Coca-Cola stage, tucked in between two main areas and away from the main crossing path. During the day we got to hear Chicago's John Summit,  playing his mix of feel-good dance tracks and classic house music tunes, and the Italian songwriting/DJ duo Giolí & Assia who put all their musical skills on display with tracks like "I'll Be Fine," "Fire Hell and Holy Water," and their edit of the "Creep" (the duo have also just released a new single "Playing Chess"). 
Giolí & Assia, image by Benoit Rousseau, Osheaga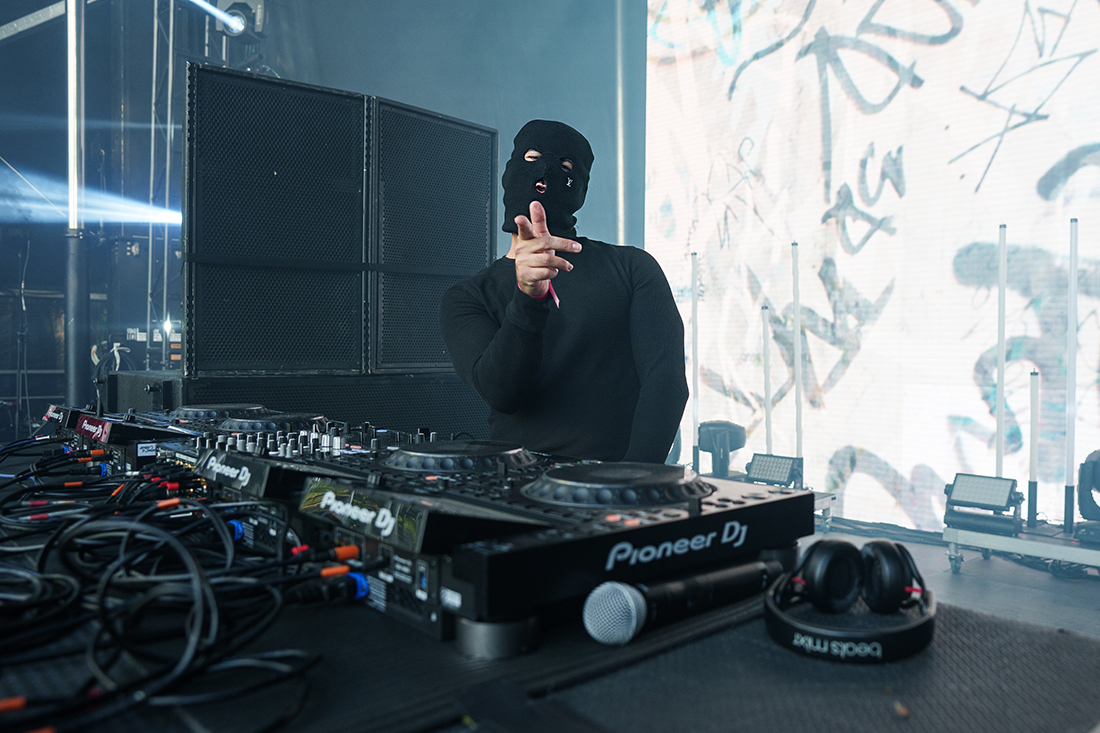 Malaa, image by Benoit Rousseau, Osheaga
In the early twilight hours, the party picked up with French electronic DJ/producer Malaa. Geared up in his usual black balaclava Malaa immediately got dark and deep with tracks like "How It Is" but pivoted his set to suit the sunny summer vibes matching the bouncing pool noodles with his cover of Moby's "Natural Blues".  Sébastien Léger's Modular Live set was certainly one to remember. For 90 straight minutes, Léger played banger after banger in the peal afternoon sun. AURORA's "Running With The Wolves" was an anthemic song to hear in this setting and a perfect bridge to take us into the evening.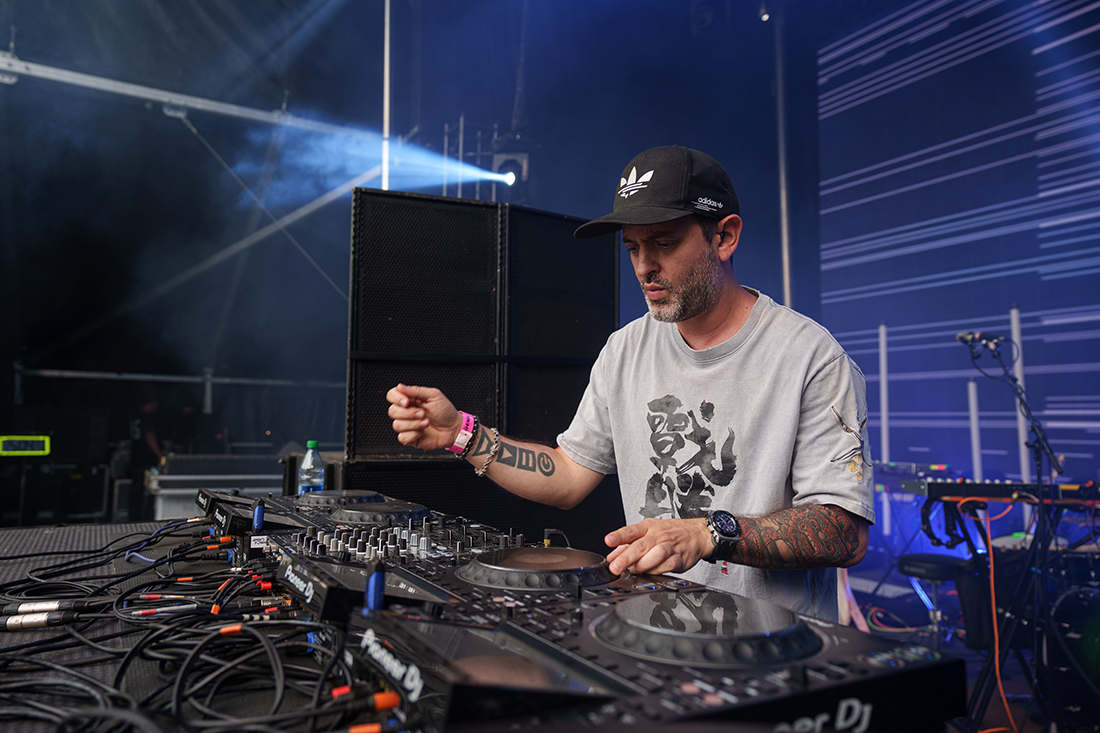 Sébastien Léger, image by Benoit Rousseau, Osheaga
Sunday standout electronic performance was by the British-born Norwegian DJ Alan Walker. This was by far the busiest stage all weekend with bodies packed in shoulder to shoulder at the edges of the stage corridors. Dressed in a yellow hoodie and his signature black facemask Walker owned the stage like the pro that he is, commanding the audience's participation throughout the set. Fans got to hear a range of tracks of his latest release Walkerverse, Pt. I and some juicy remixes and older songs like Eiffel 65's "Blue (Da Ba Dee)". Having chatted with Alan just an hour before his set it was amazing to see his personality animate on stage. Stay tuned for the interview.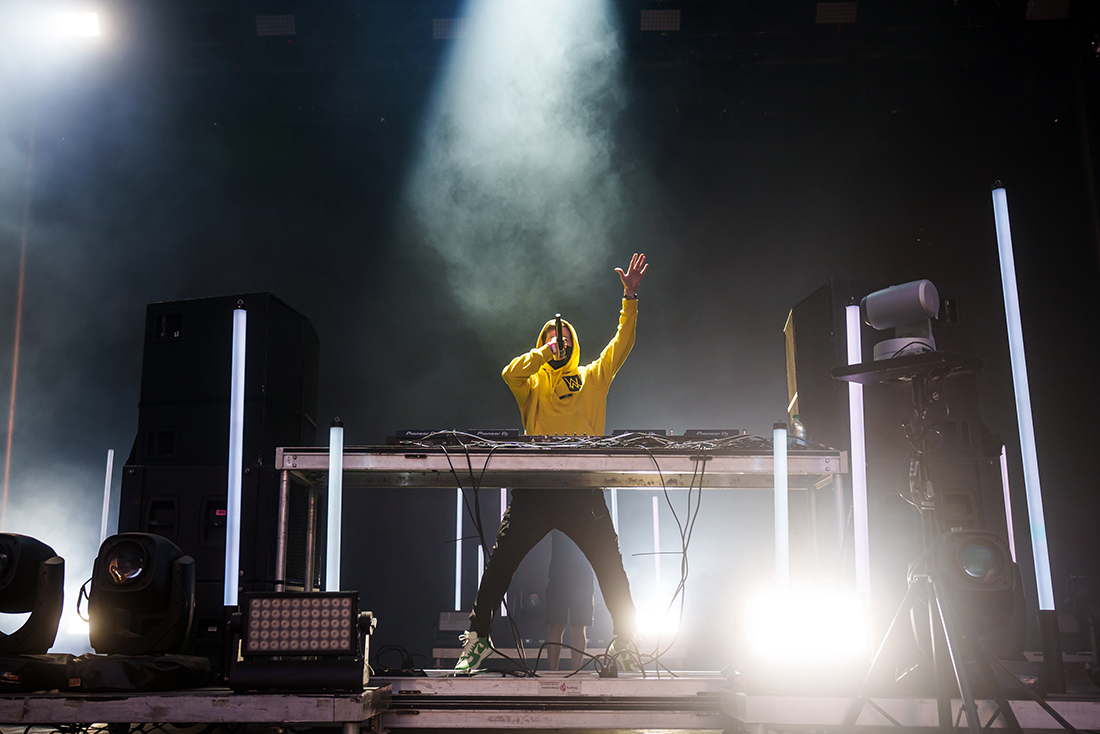 Alan Walker, image by Benoit Rousseau, Osheaga
For the second year in a row Glass Animals walked out on the Osheaga to some misfortune: last time the band got rained out and today they were faced with some technical difficulties. Dave Bayley did his best to entertain the audience but a small break was necessary to course correct the stage. Soon enough Glass Animals came out for take two and proceeded to own the main stage much like one of their odd music videos. We all joined the band in their universe for a short time and were taken on a journey, hand-held by Dave Bayley who really blossoms in the spotlight. Naturally, Dreamland was the main focus of this set but we did get to hear "Gooey" (2014) and as one of the long-term Glass Animals fans I was here for every bit of it.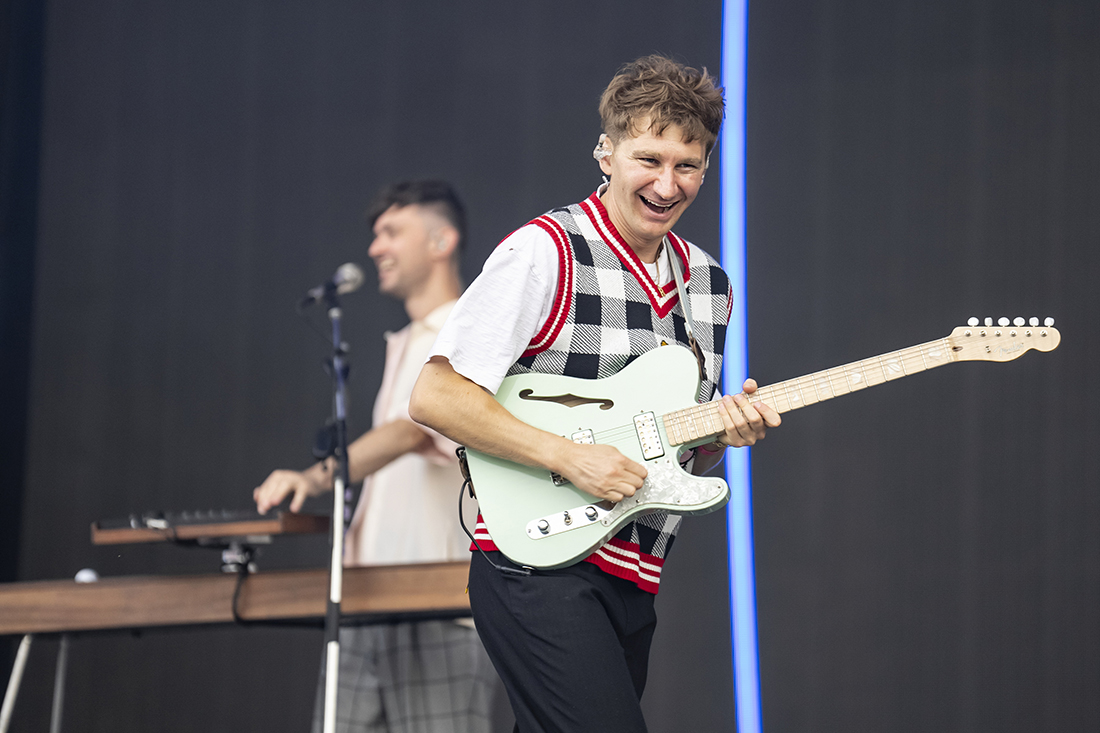 Glass Animals, image by Pat Beaudry, Osheaga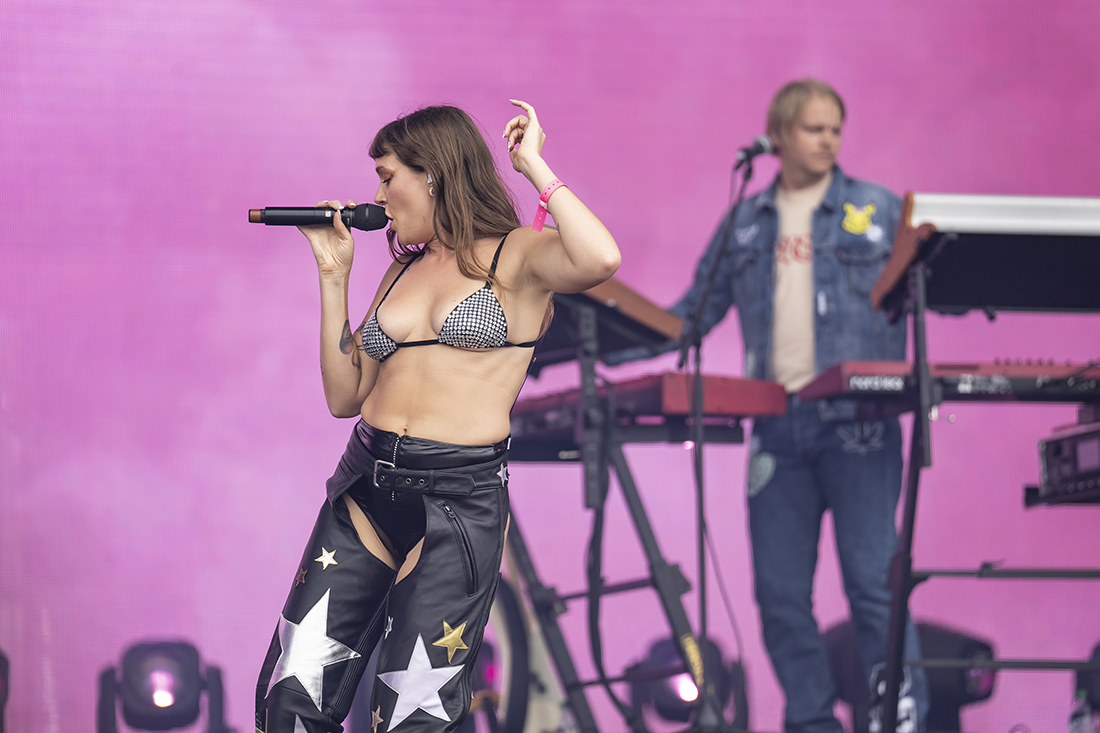 Tove Lo, image by Pat Beaudry, Osheaga
Pop queen Charli XCX, joined by two dancers, had a very engaging and fairly complex set, it was kind of hard to tear your eyes away from the world of Charli XCX. Tove Lo took the torch the following day, quite early in the afternoon. Her set time certainly caused some traffic around the metro stations but the entry lineups were worth the wait. Tove Lo, dressed in leather chaps and embellished bikini set, was constantly dancing and teasing the crowd, causing roars of applause. Yeah Yeah Yeahs' return tour was also a memorable one. The songs themselves are quite catchy but what stole the show is Karen O's outfit (costume?) which with its many thrills and layers of complexity kept surprising us all.
Yeah Yeah Yeahs, image by Pat Beaudry, Osheaga
And then there was Burna Boy. It certainly felt like maybe Montréal is not his biggest fanbase but a good few of us fanned out to Damini Ebunoluwa Ogulu like it was a Christmas morning when "Last Last" came on. Suited up in bright orange pants Burna Boy danced around the stage in front of a burning fire projection and other fast-moving visuals. Dancehall and Afrobeat is a heavily underrepresented genre at Osheaga so this was definitely a treat and hopefully a path to better representation next year.
The rap and hip hop lineup highlights featured the legendary likes of Future who came with his own t-shirt gun, Big Sean who managed to rise above his sound issues with tightly dialled-in vocals, Sampa The Great with a fantastic live band, and French rapper Laylow who brought his own thunder to the Osheaga stage.
Houston music trio Khruangbin played the main stage and their sound certainly carried well through this space. The band took us on a musical adventure back in time to when music festivals and psychedelics were joining hands as one in America's flower fields. There was no chit-chat or commentary, just song after song fluidly mixing as the band members vibed with each with completely unmoved facial expressions.
While there were quite a few options for the weekend close out I followed some friends to see Bristol's Idles, a five-piece rock band that had a much smaller but a very, very dedicated audience. Vocalist Joe Talbot, who came out kind of looking like a small town preacher, is a force to reckon with. Talbot spent his time sharing his various opinions, shutting down drunkens in the crowd making absurd demands of him, and just generally kicking ass. The band was not far behind – the entire five-piece was very engaged, jamming, crowd surfing, and dripping pure musical energy sweat. Meanwhile, people were blissfully spinning away on a carousel at the back, enjoying the Montréal skyline.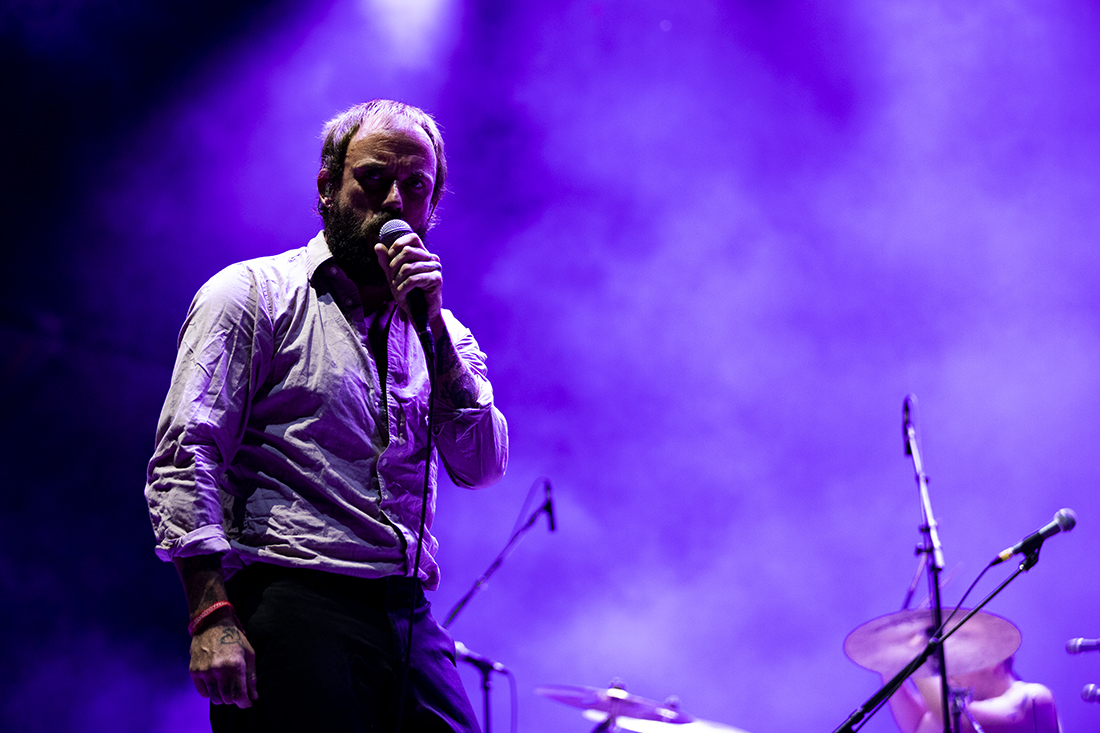 Idles, image by Tim Snow, Osheaga
Much like the two days prior people flooded out of the festival grounds into the metro station. This train ride was a flow of controlled chaos with buskers playing Beatles' "Come Together" in the halls, drunk and tiered people singing along. It's a cheery time for anyone who is not trying to get home from work. 
When "reflecting on the weekend festival representative Nick Farkas shared: "It is hard to describe the feeling we had when the gates opened – there has been so much planning to make this an unforgettable 15th anniversary, and when we saw the joy of all these people returning to their favourite festival, it reminded me of exactly why we do this. It is just so great to be back, but most of all to be back, TOGETHER!" and it was certainly nice to be there to witness this comeback.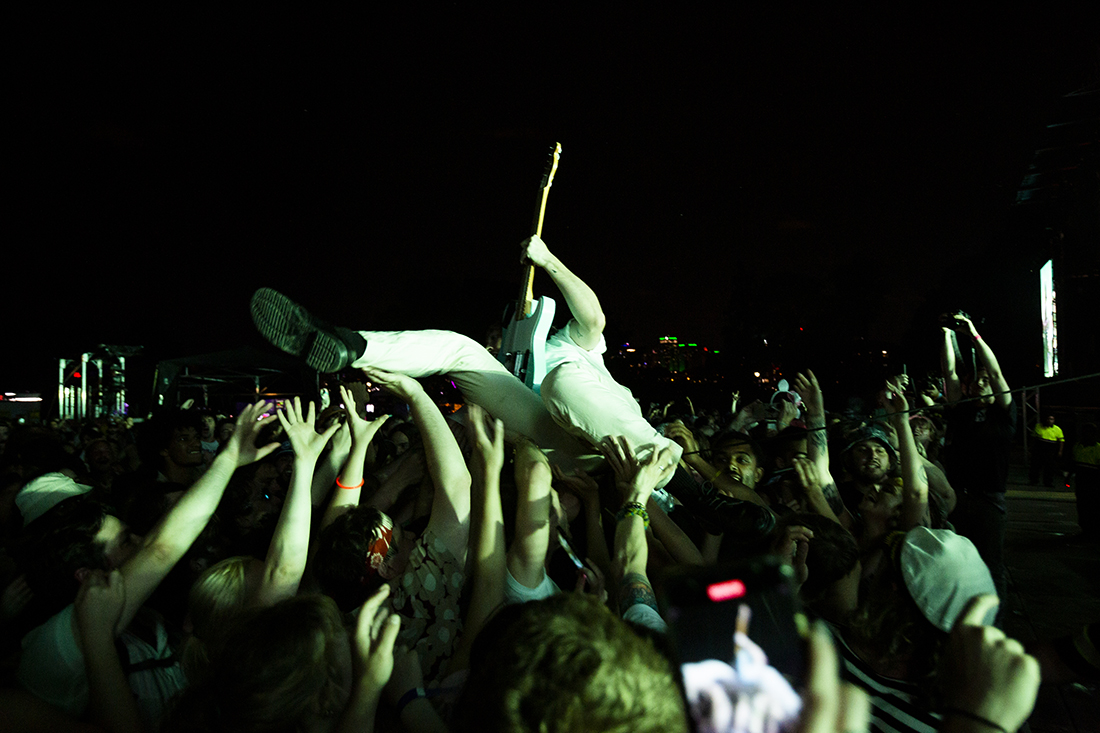 Idles, image by Tim Snow, Osheaga