PRYSM is one of the hottest nightclubs on Chicago's North side. They're known for going late into the early morning and for bringing in fantastic artists to perform. To no surprise, the club owners continued that trend by having New York-based duo Truth X Lies (Ian Bertles and Ryan Howard) take the stage this past weekend.
The atmosphere in the venue has a modern look with two floors serving up drinks from the back of the room. Tables align on the side with individual couches offering bottle service while the balcony on the second level overlooks the main stage and DJ booth. 
With the lights turned low, the Truth X Lies logo popped up on the large screen illuminating the room. The crowd began to scream with applause, finishing up their drinks and rushing to the dance floor ready to let loose.
Truth X Lies took over the stage with Bertles wearing an Argentina soccer jersey and Howard stylized in colorful Adidas gear. The duo fed off the energy of the crowd and kept it going all night. What I appreciated from their set was they played classic jams from the early 2000s. Taking us back to yesteryear with great throwbacks like Don Omar's "Dile" or Jagged Edge's "Where the Party At?" mixed up with a modern EDM twist getting the crowd bumping and popping bottles. The duo kept the dance floor grooving with funky change-ups like KRS-One's "Rappers Delight" sped up to a frantic pace. It was great seeing both Bertles and Howard having fun taking turns on the turntables and egging the crowd on to keep moving.
Once the set was over Truth X Lies were exhausted but radiating with pure adrenaline after the performance. The duo were nice enough to take the time to sit down with me and talk a bit about their musical journey up to this point. Here's our conversation.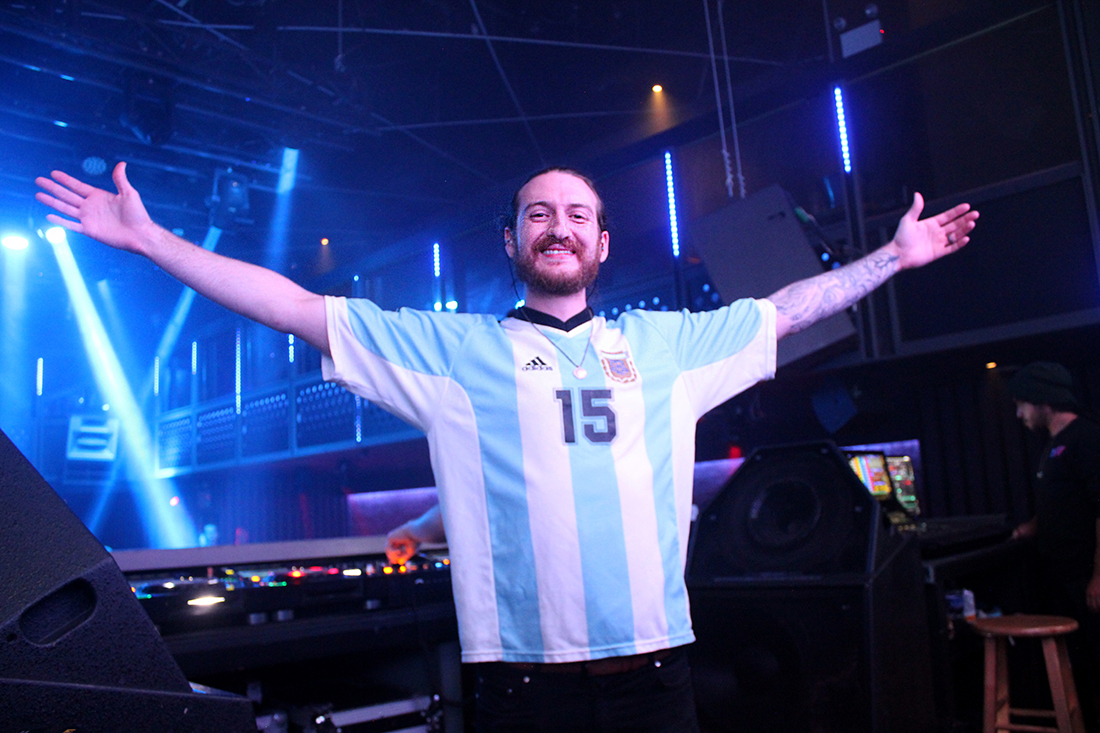 Vidal Granados: Thank you so much for taking the time after an awesome performance. First off I want to say happy birthday to Ryan! You just turned 21 right [laughs]
Ian Bertles: 75!
Ryan Howard: No just 21, never had a drink in my life so let's go!
VG: Is this your first time celebrating out of town or just another day as an artist?
RH: No not my first. But the first time I celebrated out of town I was stuck in the Atlanta airport. It was miserable. This is way better!
VG: Where did you celebrate while you were in Chicago?
IB: We went to this place called Girl & The Goat. Fire!
VG: In the West Loop! Did you get the pig cheek?
RH: Sadly, they didn't have it. We had the goat belly with goat cheese. It was good though.
VG: That's pretty solid as well. So to start off, you guys grew up in different parts of the country but both were involved in music at an early age. Can you give a brief background history?
RH: I grew up in St. Petersburg, Florida area. I went to music school studying classical music for many years. I got a Masters's Degree in playing the trumpet. Once I graduated I didn't know what I wanted to do so I started music production. 
IB: I grew up right outside of New York City. I've been playing drums my whole life. I grew up playing jazz drums. Then I went into audio engineering school and then got into DJing and then got into music production school. It's been quite a musical journey my entire life.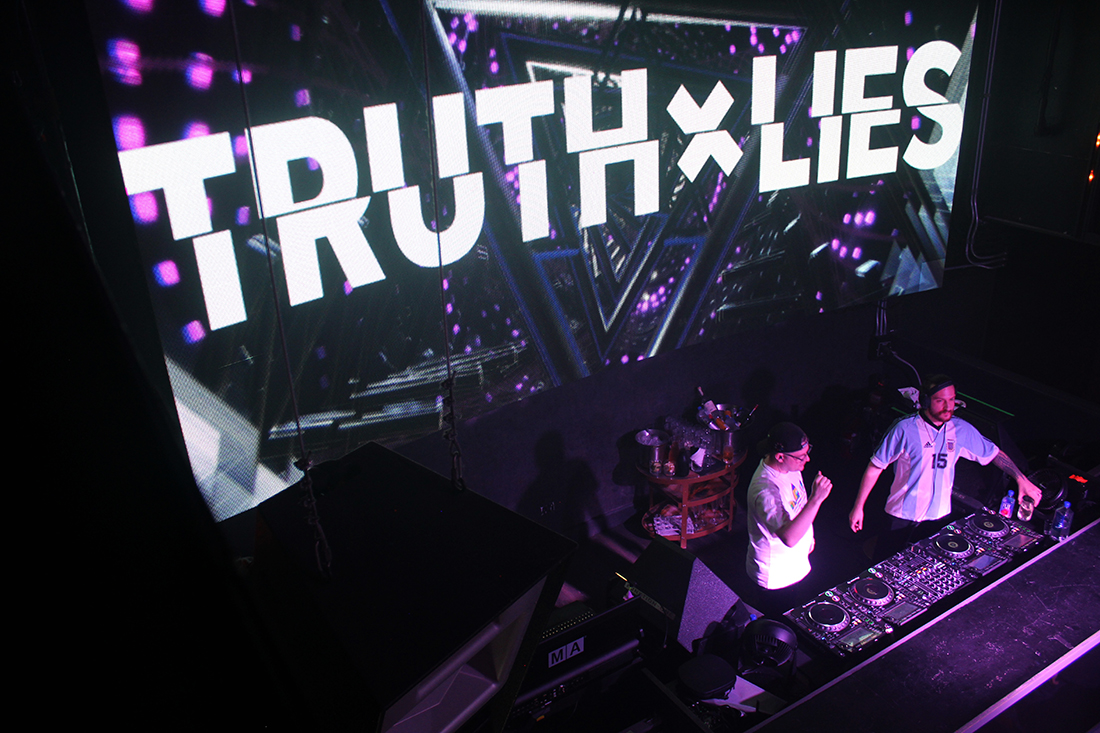 VG: How did Truth X Lies form? What has the experience been like working together for a number of years?
RH: I was playing trumpet in orchestras in New York Broadway shows for a period of time. I got really burnt out being in that environment. I had been DJing for a little while to make some extra money on the side. I was throwing events with a guy who brought in Ian. And we started working together in 2014. It was good for us cause we learn a lot about the industry during that time but also not what we wanted to do in the end. We'd throw parties every Saturday, 10 pm – 4 am. Then clean up everything afterward before going home and all the promotional work. It was exhausting! We worked, played local shows, and made bootlegs. We dropped our "official" release in 2017. And in 2019 we put out our first Tech House track. In 2020 we put out a bunch of music, which helped us get ready to tour once quarantine was lifted. Now it's all music. Getting to travel, meeting great people, and eating great food everywhere. We love it!
IB: We both had a background in this industry before we started writing music together. We started throwing parties together in Manhattan. We did black light paint parties and such. It definitely helped us on each end of the spectrum as both a consumer of EDM, which we are, but also as people who've hosted events. We've switched genres throughout the years trying to figure out what we wanted to produce. We've made everything from Trap type beats and different s**t. Then got addicted to making house music like Deep House before going with Tech House because it's fun for a live audience to perform and we just took it from there. During quarantine, we really buckled down and started writing a bunch of music and were able to tour right after quarantine lifted. We've been touring for the last year and a half. This is our second time in Chicago, we played in the city last New Year. Fucking love Chicago!
RH: Love Chicago!
VG: That's a lot of hard work you guys put into this. What advice would you give anyone trying to pursue their art?
IB: Don't ignore the branding! Really work on it through social media because it's just as important as the music. Also, do a shit ton of networking within your industry. Don't be discouraged; keep going. Even if you're not seeing results right away, push through. But also listen to your body, and respect your limits. You need that work/life balance or else you'll burn out and that's really hard to figure out. But you have to fall in love with your craft first of all. Stay focused but also learn to love yourself.
RH: I agree 100%. The other thing that is important to note is you have to be brutally honest with yourself. If your music isn't good enough, why isn't it good enough? Why am I not meeting people, not getting books, etc.? You have to put your entire life into it. You have to commit really hard to it. Otherwise, if you don't commit to it, you won't go further than a local DJ/artist. Get into a routine and set goals. Weekly, monthly, or whatever. Commit to them so when you look back you can see what you achieved. It's the best thing in the world when you achieve a goal! Put the time in but make sure you take care of yourself.
VG: Thank you so much for taking the time to talk and for the great show!