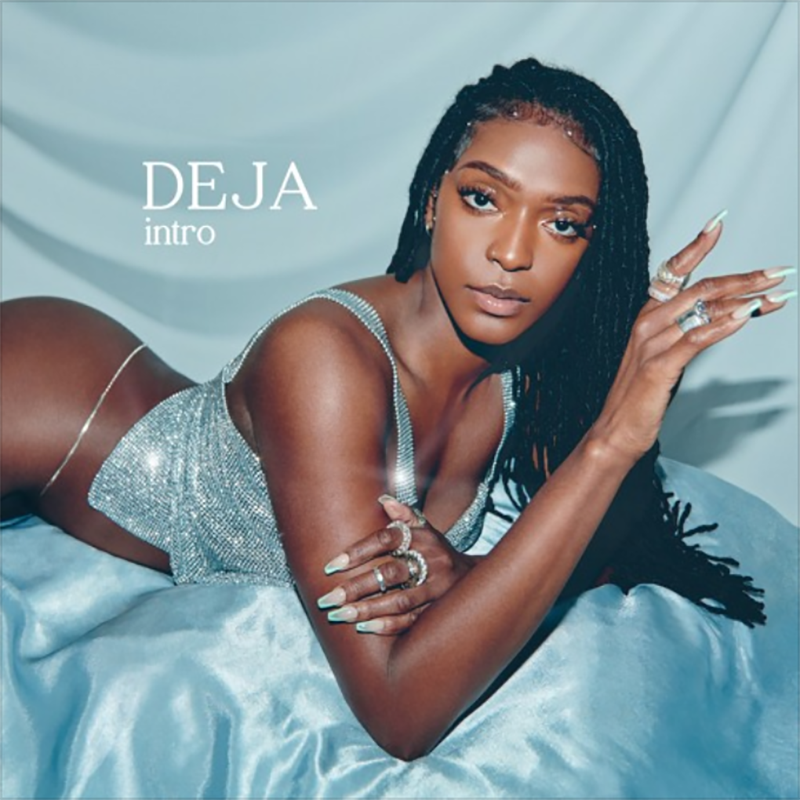 text by Sarah Thomas
R&B has come a long way from trios of men in satin shirts singing their hearts out in the rain. It is no longer just about waiting around for circumstances to change with a no-good lover – R&B it has evolved. DEJA is gliding into the scene on a silver, pop-infused cloud. Her aptly named debut album, Intro, is a homage to owning your own feminine power, all set to sultry tracks and snappy lyrics.
Intro starts out with "ted talk", a track that celebrates that messy and powerful feeling that comes after a perfect drink. The chorus starts off with DEJA crooning, "They try to tell me how to live, I don't care I'm the best I've ever been." This paired with perfectly timed bass, and watery sounding synths make for a track that has its place in both a "Grown Folks" bar and on playlists with the phrase, "Bad Bitch" in the title. DEJA mixes in breathy harmonizing which keeps the overall song very soft. It's about being completely fed up and the release that comes with reaching that point.
Skipping one track down to "Sit Down", DEJA keeps up the theme of power and assertion while crooning, "You can never walk a mile in these heels." Underneath the vocals is a subtle trap beat that adds bite to DEJA's sensual voice. Following a drum breakdown that leaves few elements besides the vocals, the listener is set up for a change in the song. A delightfully creepy section of harmonizing starts up at the midpoint of the track, all while the trap beat still plays underneath. What is created here is a stylistic ode to horrorcore hip hop, a la Three 6 Mafia. DEJA continues to repeat, "You could never walk a mile in my heels, sit down" through the end of the track. What's great about this track is that it experiments with many different elements. From isolating parts of the underlaying bets to weaving in otherworldly harmonizing, DEJA takes R&B to a haunting new place.
The next track is made for slithering around the dance floor. Reminiscent of Sade, but with a sound that is all DEJA's own, "Last Dance", is as smooth as butter. It is melodic and steady, a stark difference from the intro of the song in which a computerized voice asks, "Please may I have this dance?". DEJA's vocals are lush and carry the listener through the song with repetition. Her repeated line, "I saved the last dance for you," is more of a question as she invites her partner to join in the hypnotic rhythms. A slower counterpart to the EP's empowerment jams, "Last Dance" highlights DEJA's siren-like voice, and ability to write a simple yet timeless R&B track.
Continuing onto the next track, "Control" opens with a broken down drum section that includes what sounds like conga drums in the arrangement. DEJA picks up the pace with this track, asking the listener: "What makes you think I wanna be like you?". She includes more of her gorgeous harmonizing on the chorus, before letting her voice seamlessly combine the pop and R&B sounds of the track. Throughout the EP there are repeated vocal synth elements that are subtle enough that it doesn't become overbearing. DEJA's vocals shine with the addition of synthesized backing vocals, keeping her sound modern and interesting. DEJA's Soundcloud page describes this track as a "sticky banger", and one would have to agree with this statement. Its simple pop elements flow well with the jazzy, smooth rhythms of R&B. Her music is all at once familiar and brand new, which is no easy feat.
Intro ends with "Paris", a minimally arranged track that lets DEJA do what she does best: draw you in with her amazing vocals. A thumping bass marks the beginning of the song, and slowly adds in other elements. Muffled claps and snaps are introduced, along with more synthesized vocals. It's a slower jam, but these simple elements keep you grooving right on through. Right at the 1:15 mark of this track, the snaps and claps give way to a smooth organ section while DEJA sings, "You are my antidote, and I'm hooked." Ending with a track that speaks to overindulging and decadence is in line with this EP's overall ode to empowerment. You can have your cake and eat it too, in Paris it, would seem.
Intro is an indulgence. From its cool-girl pop elements to soulful R&B the record is worthy of any late-night rendezvous – DEJA's entrance into the alternative R&B scene is a grand one indeed. Her songwriting and vocal skills are that of a seasoned professional and are like a breath of cool air to the senses. DEJA's debut EP is now streaming on Spotify and Soundcloud.