Pier 17 had the honor of presenting The Driver Era on Thursday August 4th up at their rooftop venue, for one of the first shows of the duo's fall tour. Coming all the way from Los Angeles, these boys fully rocked their NYC fans' world. The sold-out show was packed to the brim with fans, ready to endure the heat to see their favorite duo perform against the skyline of NYC. On the morning prior, the duo announced a new album, called Summer Mixtape, which absolutely got every fan pumped with the thought of a whole new compilation of tunes to listen to. Despite the 90-degree heat, the show was a fabulous event filled with adoring fans, who were incredibly happy to be able to hear their favorite group at such a beautiful outdoor venue.
Almost Monday opened the rooftop concert with their gorgeous pop-rock tunes which got everyone in a sun-soaked Cali mood. This trio has a style is similar to The Driver Era and was definitely a fantastic precursor group for The Driver Era duo.
The Driver Era was welcomed to the stage at 8:30 pm with a massive wave of screams and cheering. One thing you can definitely say about The Driver Era's fans is that they are absolutely beyond committed to this group. We talked to a few gals up front who had been waiting outside the venue in line since the very early morning and had bought their tickets seconds after the tour was announced.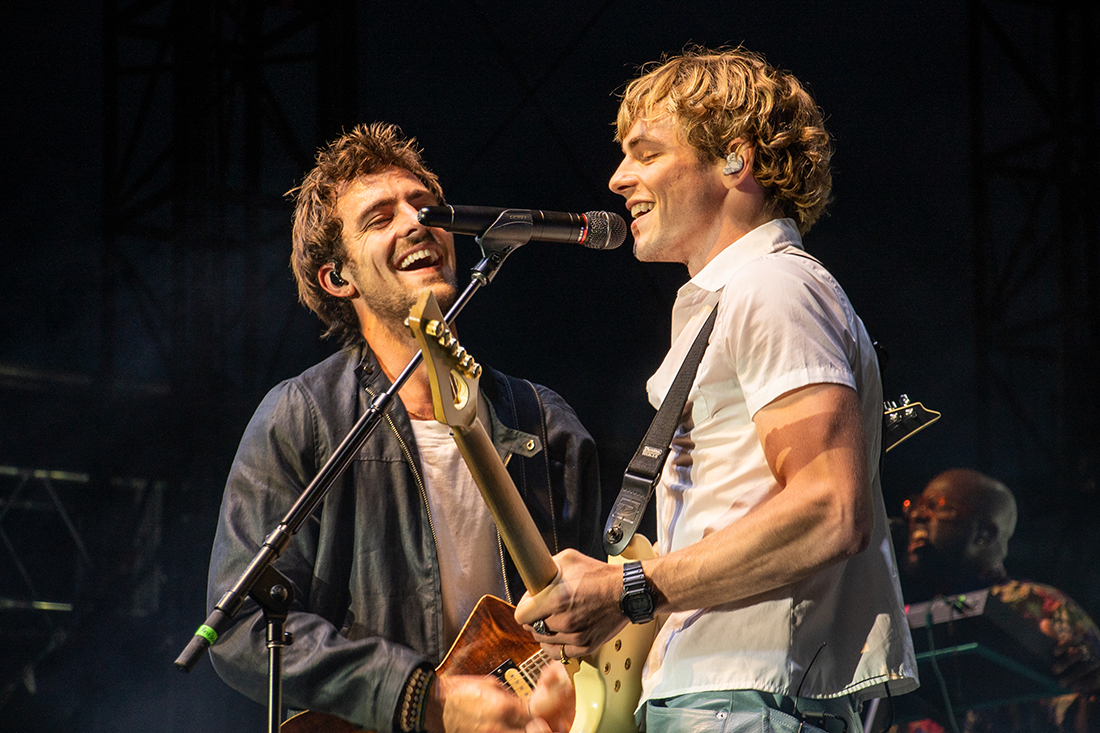 Ross and Rocky Lynch opened with their new single "Keep Moving Forward," which is a tad bit funkier and more experimental of a tune than their older music. The change in style absolutely speaks to their new song's lyrics "I've got to keep moving forward". However, the group did play a great mix of old tunes, as well as their new ones. The first half of their set included classics from their first album X ("Natural" and "Preacher Man") which highlighted Ross' crisp vocals beautifully. "Low" was another stunning crowd pleaser in the first half, giving Rocky more of a chance to shine. His low vocals and the slower, more relaxed energy were a great follow-up to the more upbeat, wild songs previous. The Driver Era duo even threw in a couple of covers of some older pop tunes including a fun rendition of "Rock With You" by Michael Jackson, which featured Ross in a green feathered cowboy hat that was thrown onstage by a fan.
The duo has incredible back and forth between one another and the crowd couldn't get enough of the sweet moments between Rocky and Ross. The brothers very clearly have a complete blast performing with each other on stage, which makes the atmosphere of the show even more endearing and engaging. They even paused their show to announce that their sister had given birth that day, giving a warm, heartfelt end to their heart-pumping show.