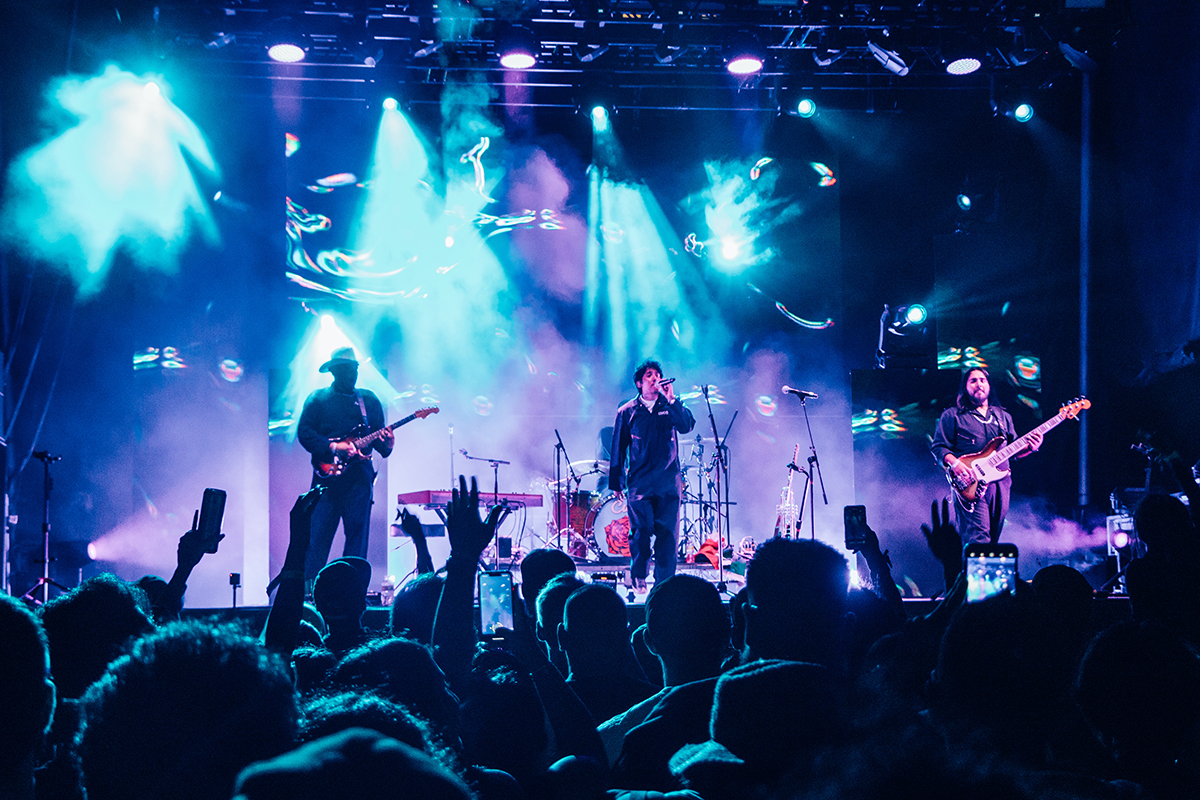 photos by Manny Diaz
Ruido Festival is a celebration of alternative music from different Latino backgrounds. The festival continues to grow and thrives by bringing together some of the biggest artists across the Latin music scene to Union Park and this year was yet another success. 
The celebration has a different flavor compared to other festivals that occupy the space. I mean that literally – Mexican food and Micheladas were being served while people gathered around a Lucha libre-wrestling ring. There were vendors selling authentic blouses, painted figurines, and magnets but naturally, I bought a wrestling mask to live out a childhood dream.
Of course, the music was the main attraction and Ruido Festival didn't disappoint bringing on international talent. For instance, Tijuana-based alternative pop rock artist Bruses, dressed in zippered-up jeans rocking out her signature bright pink hair was a great hit with this crowd. Bruses cheerfully stated it was her first time in Chicago before proceeding to share her newest song "FBI" and "I Like 2 Be". She even did a cover of My Chemical Romance's "Helena," clearly the band inspired her look and she admitted as much when our very own Manny Diaz (photographer) asked her so – "Bands I would love to work with if given the chance are My Chemical Romance, Paramore and me gusta mucho Machine Gun Kelly," she shared.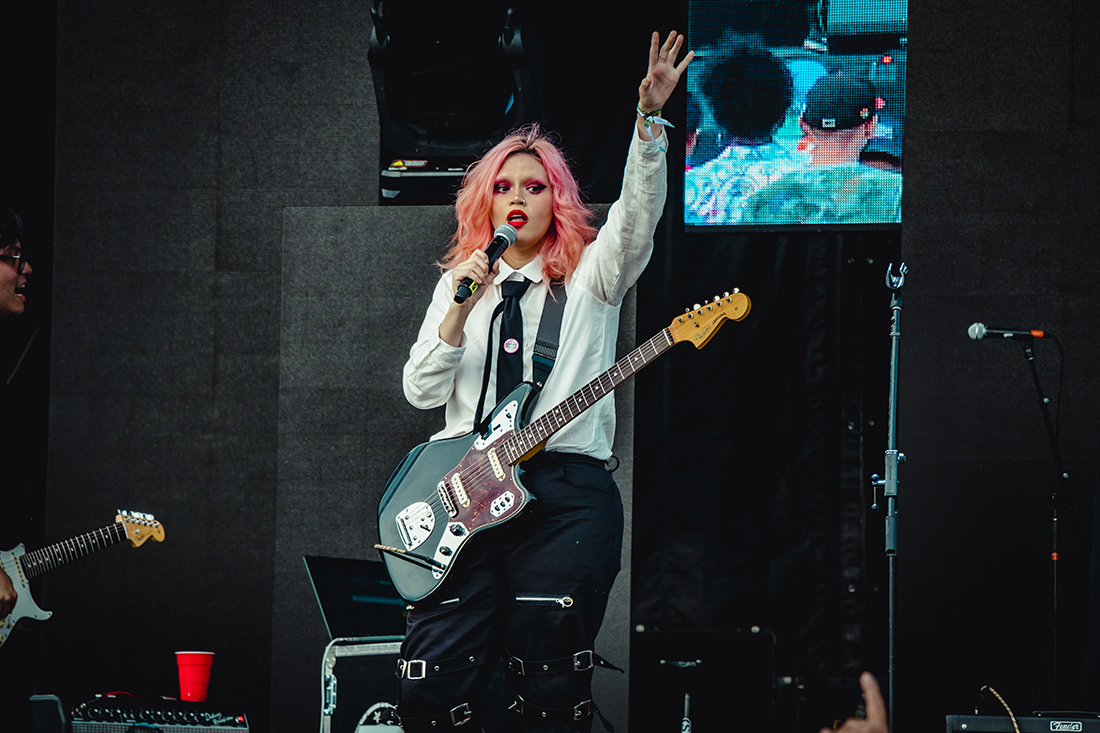 Off to the back was the Fiesta stage, a place where DJs could spin music keeping people dancing whether to house, salsa, bachata, and everything in between. El Dusty's set was really something to enjoy. El Dusty proudly represents Houston, Texas, but admitted to being inspired by the Chicago House DJs when I asked who were some of his inspirations:
"Bad Boy Bill was definitely a huge influence of mine as well as Julian "Jumping" Perez and all the old school underground construction sound. I have a huge record collection of old UC records. As a DJ, when you come to Chicago you definitely see that the production is on another level and I love partying here, being in the scene linking up with friends when I'm in town."
El Dusty's signature sound is blending classic Cumbia tunes we grew up with mixed with modern dance beats making for a perfect blend of old and new school for everyone to groove to. His song "Cumbia Anthem" has over a million views on YouTube. From growing up working on an old Akai MPC to now travel doing shows, I asked El Dusty how has the journey been and he replied: "Taking it as I come. Been putting out music since I was a kid. Every once in a while you hit one and "Cumbia Anthem" was one of those ones. It was great sampling someone I listen to growing up like Andres Landeros and making it into a new beat was a dream come true".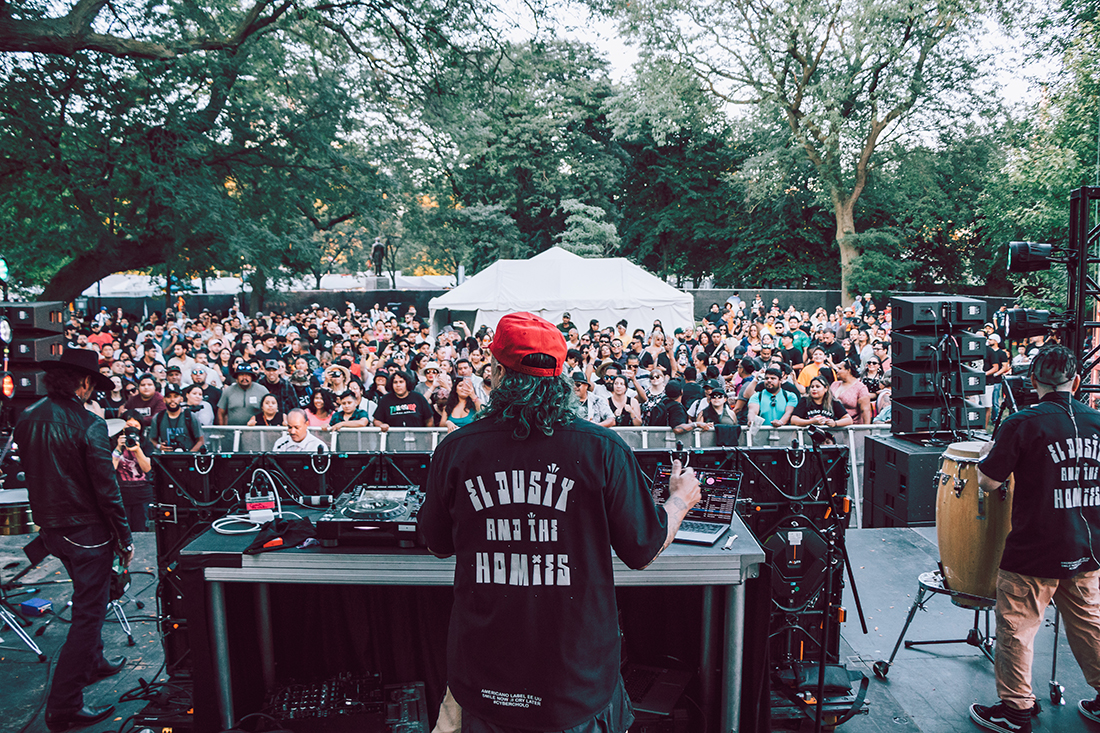 A band that is creating buzz within the Chicago scene is the alternative rock band Division Point. Members Danny Garcia, Danny Gaytan, Jeremiah Elam all went to high school together playing in music programs and knew then they wanted to collaborate because they had something special. The trio found success but still felt they needed another element which lead to the addition of guitarist Tony Baeza and it's been nonstop motion ever since. The band is young yet their sound illustrates how talented these guys are at their craft. Take for example their song "How You Say You Love Me," Gaytan pours his soul on vocals while playing the bass, Elam kicks ass on the drums, Baez is the backbone keeping the rhythm on point for people to groove to, and Garcia killing it on his guitar solo. The band has been performing at local venues but being a Ruido Fest was special for each member: "I used to come to this fest every with my parents and now I'm here performing. Just loading in this morning felt surreal but amazing to be here with these guys", said Garcia. Baez added: "I've been coming here since the first Ruido Fest as a fan because I love rock Español. I always said one day I'm going to play here and I literally spoke it into existence. It's a dream come true".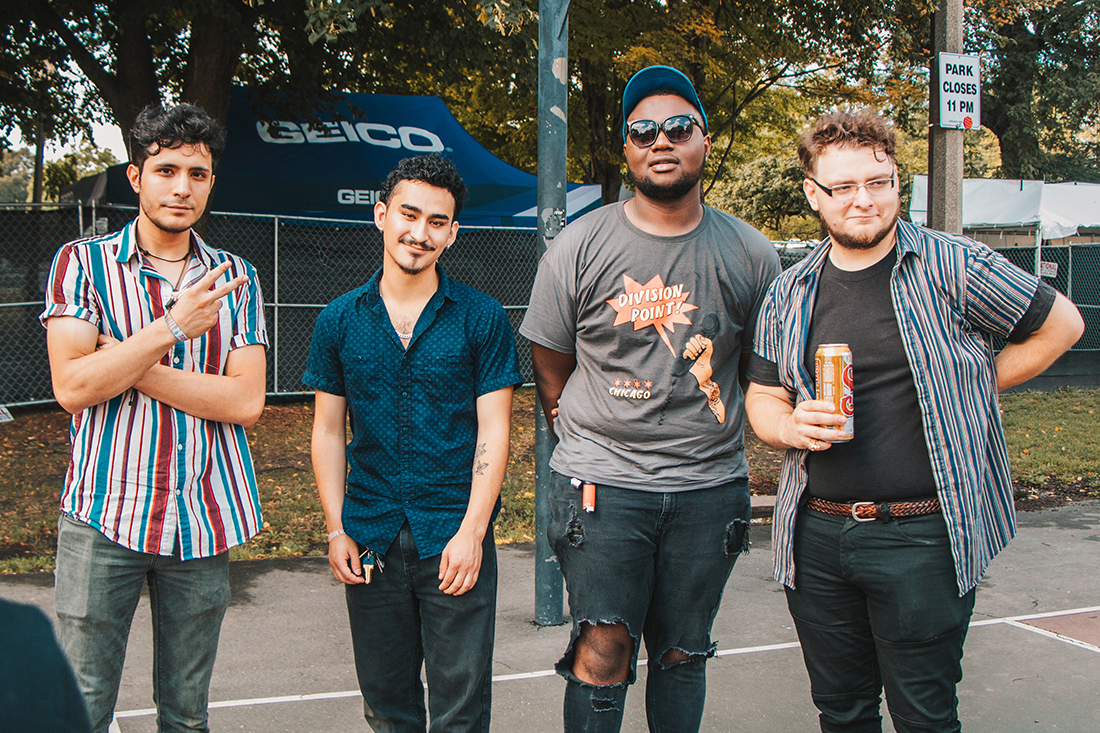 One of the biggest artists that fans highly anticipated was Cuco. Promoting his latest album Fantasy Gateway, this is Cuco's first time touring since postponing his last one in 2019. Fans showered him with affection when he arrived, which he truly appreciated. He put on one hell of a performance as his setup had psychedelic patterns in the background as he sang some of his classic songs "Summertime High Time" and "Keeping Tabs". He serenaded the crowd by playing his trumpet on "Amor De Simpre" and his cover of the Mexican classic tune "Piel Canela". His mellow sound definitely sets the mood that brings lovers together which is all you need on a summer's evening.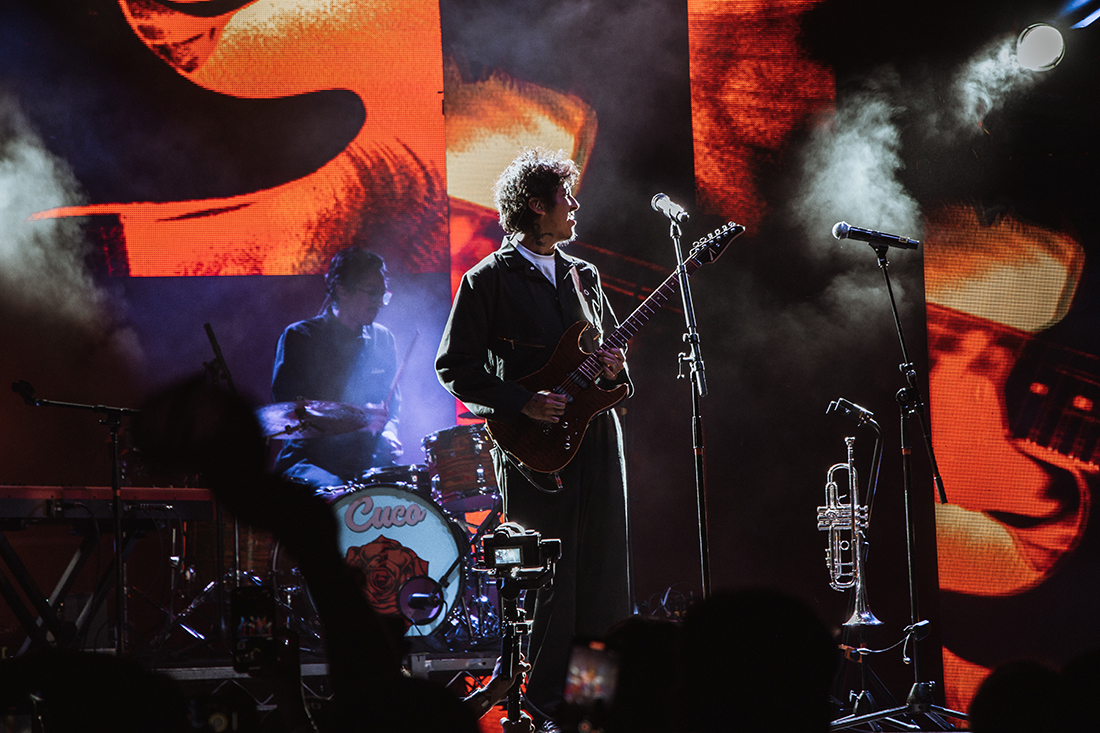 However, the group that got the biggest crowd reaction when announced was none other than legendary hip-hop trio Cypress Hill. The stage had an inflatable skull holding a joint with an afro made out of weed plants. The crowd lit up, literally and figuratively, as rapper B-Real came onto the stage. It was a little disappointing that the other two members, DJ Muggs and Sen Dog, weren't in attendance, but B-Real is the face and voice of the group. It didn't stop fans to rap along with bangers like "I Want to Get High," "When the Ship Goes Down," "Hits From the Bong," and "How I Could Just to Kill a Man". It was worth seeing an iconic figure in hip-hop performing some of the best tracks we grew up on.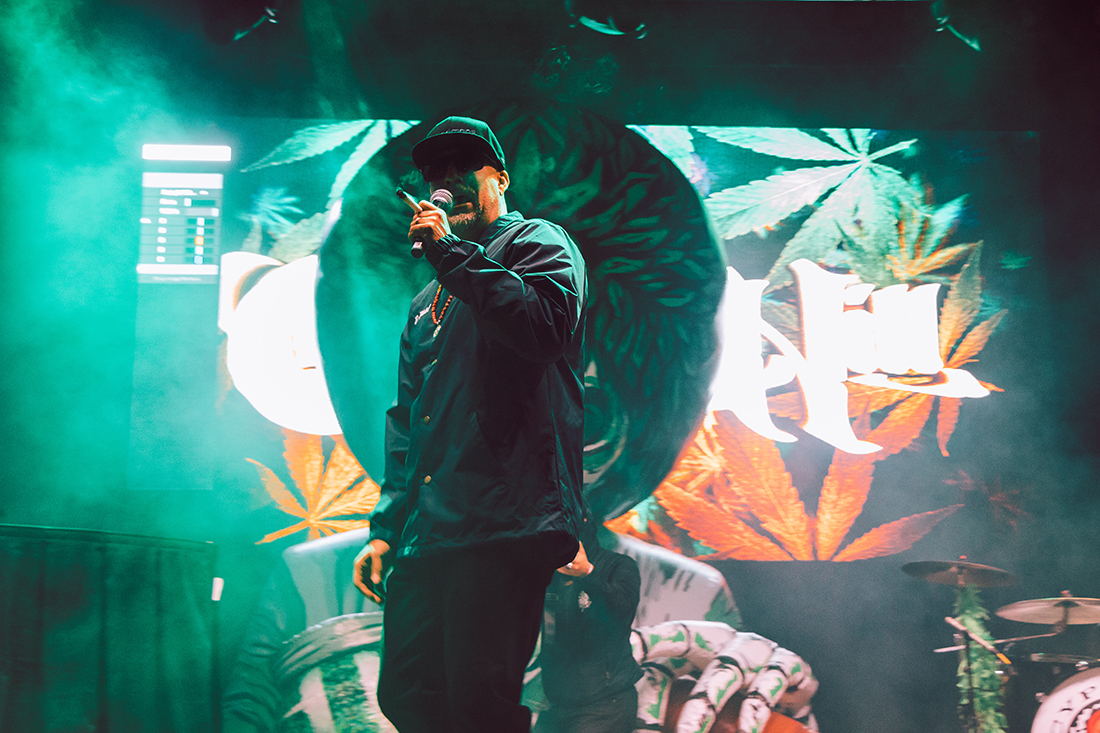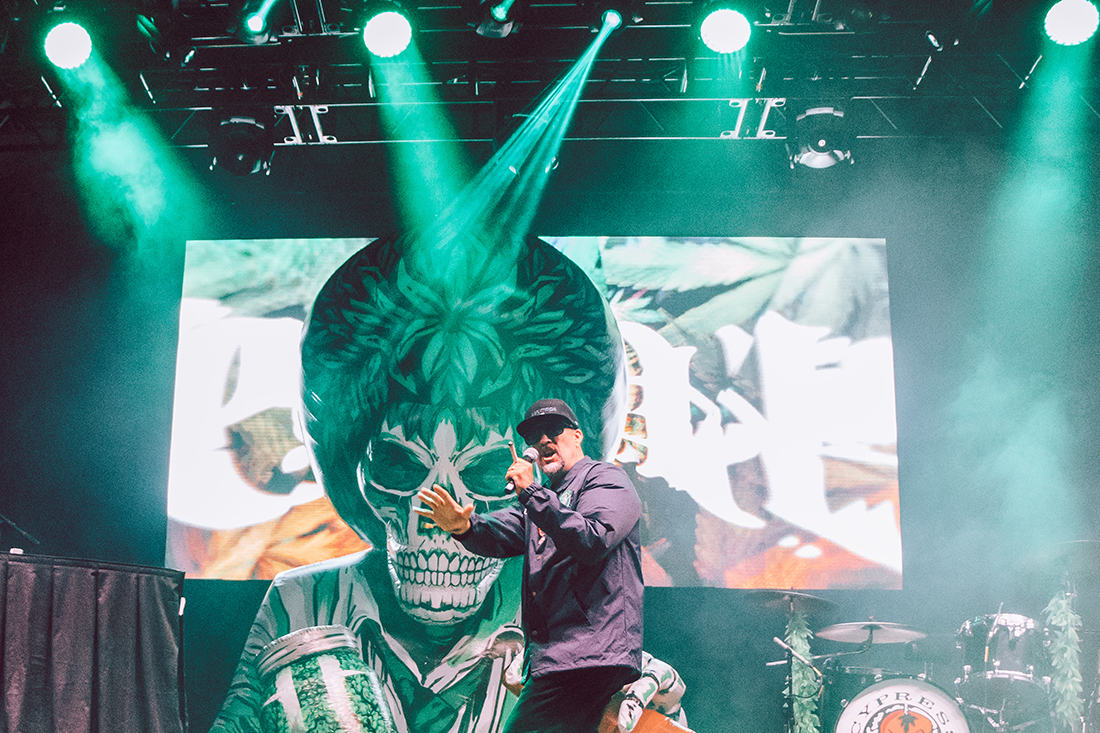 Rudio Fest had everything you needed. It was such an enjoyable experience from the food to the activities spread throughout the park. The festival's willingness to bring together alternative sounds to represent the different styles the Latino community provides is quite admirable. The event is now a staple now in Chicago as a festival willing to take risks in order to represent Latino culture.