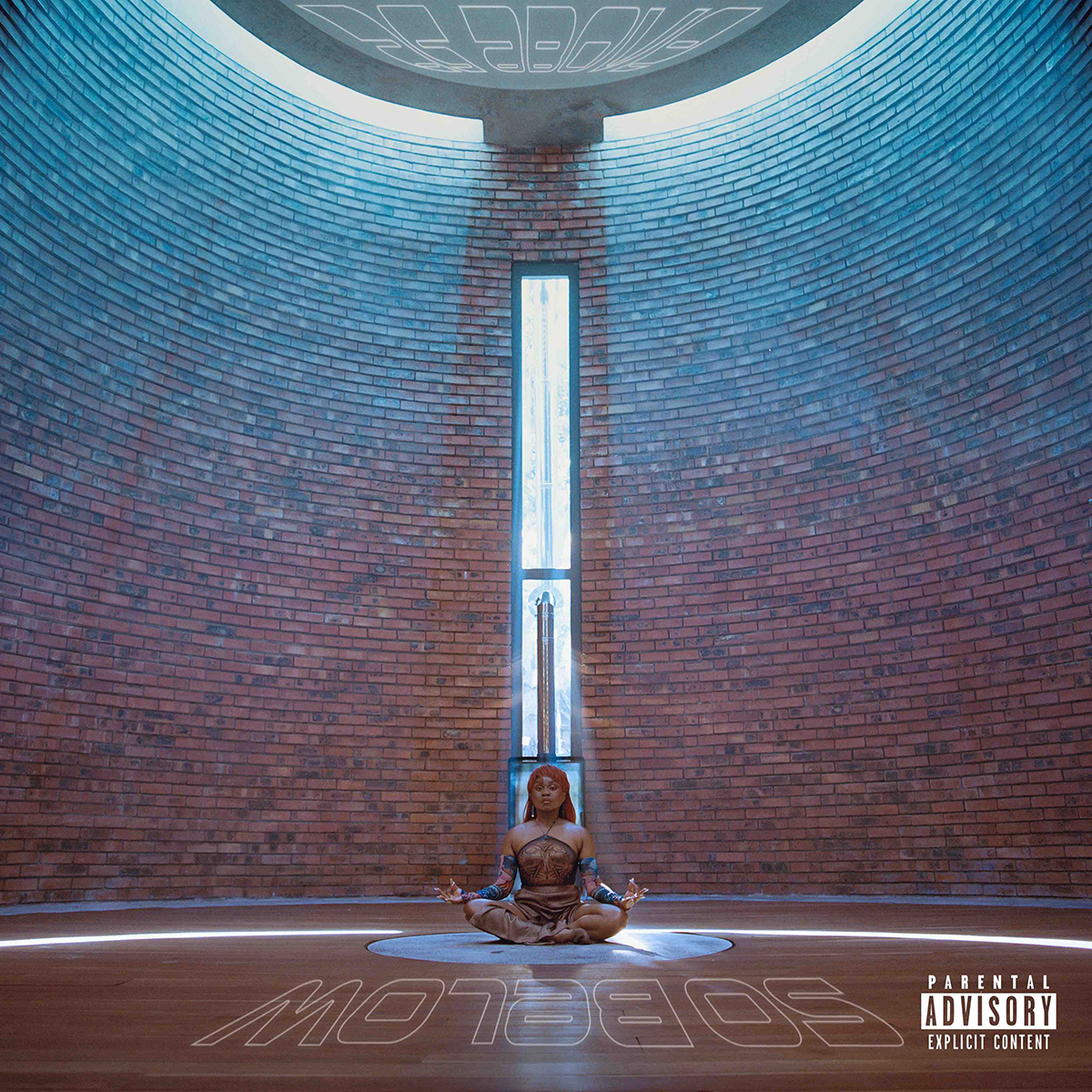 Sampa the Great has returned with her sophomore record, As Above, So Below, to be released via Loma Vista Recordings on September 9th. It's a follow-up on her 2019 debut breakthrough The Return, which saw Sampa touch on a number of styles and genres while maintaining a singularity of vision and focus. As Above, So Below sees Sampa pull no punches as she returns with a renewed sense of attitude and swagger, without losing any of the intelligent and profound edges to her lyricism that played a part in winning her so many plaudits just a few years ago.
Sampa has an effortless ability to make introspective, self-reflective lyricism sound exciting and triumphant, rather than drawn out and cliche. The album opener "Shadows," for example, is at once weighty and triumphant. Sampa sings about defying her demons while navigating the duality that comes with being a person and an artist, effortlessly swaggering and flowing the whole way; " I can be soft/ I can be hard/I can be anything under the stars", she raps over a melodic trap-esque instrumental.
"Lane" continues Sampa's deft combination of sensual authenticity and that in-your-face confidence that can be so hard for artists to pull off. Beautiful vocal melodies (present throughout the record) bounce against tough, concise bars. It starts off loungy and breezy as Sampa floats over the track before Denzel Curry comes in from the top rope to add a real party feel and blow the roof off of things. The juxtaposition between Sampa's melodies and Denzel's intensity makes for a thoroughly exciting two-and-a-half minutes.  "Never Forget" stands as a celebration of Sampa's Zambian roots, and an ode to the often overlooked groundwork that African arts and culture have lent to the world ("who did music / made that shit language / African branded / we did/). The track has harmonies galore as well as booming bass lines that fit within the Zamrock style that Sampa pays homage to at various points of the record.
"Mask On" is a more glitchy number, as Sampa incorporates some modern trap production while still maintaining that psychedelic Zamrock vibe. The dance floor anthem comes just at the right time with "Bona", a frantic, hypnotic club-style banger with pulsating synths as well as Sampa's always endearing and mesmerizing choral harmonies that surround the mix. It's 2:40 of straight flexing. Sampa the Great consistently switches up the style on the record, although the celebratory themes of self-authenticity and a "fuck you, I'm gonna be me" attitude run throughout. That refusal to be put in a box, to not care about your blemishes in the eyes of others, is something that she is passionate about and it really shines through in an earnest fashion.
"Can I Live?" stands as the most outright embodiment of that element of Sampa's message, while also having one of the best choruses on the record. Sampa brings out perhaps her most ear-wormy flow on "Tillibobo", showcasing her chops as a straight-up emcee. Of course, she also harmonizes, sings background vocals, and creates an atmosphere that transports you to another sonic dimension…all in a track work for an artist with as much range and depth as Sampa. "Lo Rain" is the haymaker that knocks you right between the eyes, and Sampa saves it for near the end of the record.  It's got that 90s laid-back vibe, something that you'd hear playing at a summer block party or blaring out of the lowered windows of cars cruising around the city. Just a fun and cathartic track.
Throughout As Above, So Below, Sampa the Great consistently keeps the listener peering eagerly around the corner for what she'll pull out of her deep bag of talent next; there's deep, introspective lyricism mirrored alongside endearing bravado and swagger that puts energy into the sails of whoever is experiencing the music; there are hints of Zamrock, glitchy modern trap, lounge jazz, and 90's chill (to mention just a few) in the instrumentals. It all works cohesively while keeping you guessing at the same time. And it's all delivered with a conviction that seems to flow so naturally out of Sampa the Great that it's impossible not to get pulled in and find yourself feeling a part of her journey, thankful all the while that she's letting you in. And making you dance.