From scorching heat to a near-storm cloud cancellation on its second day, Pitchfork Music Fesitval 2023 was a wild ride. This year's festival brought together an international crowd with an eclectic lineup of talent. While the headlining acts like The Smile, Big Thief, and Bon Iver delivered nuanced and emotionally charged performances, it was the supporting acts that truly caught our attention. Here are our top runaway moments from the festival.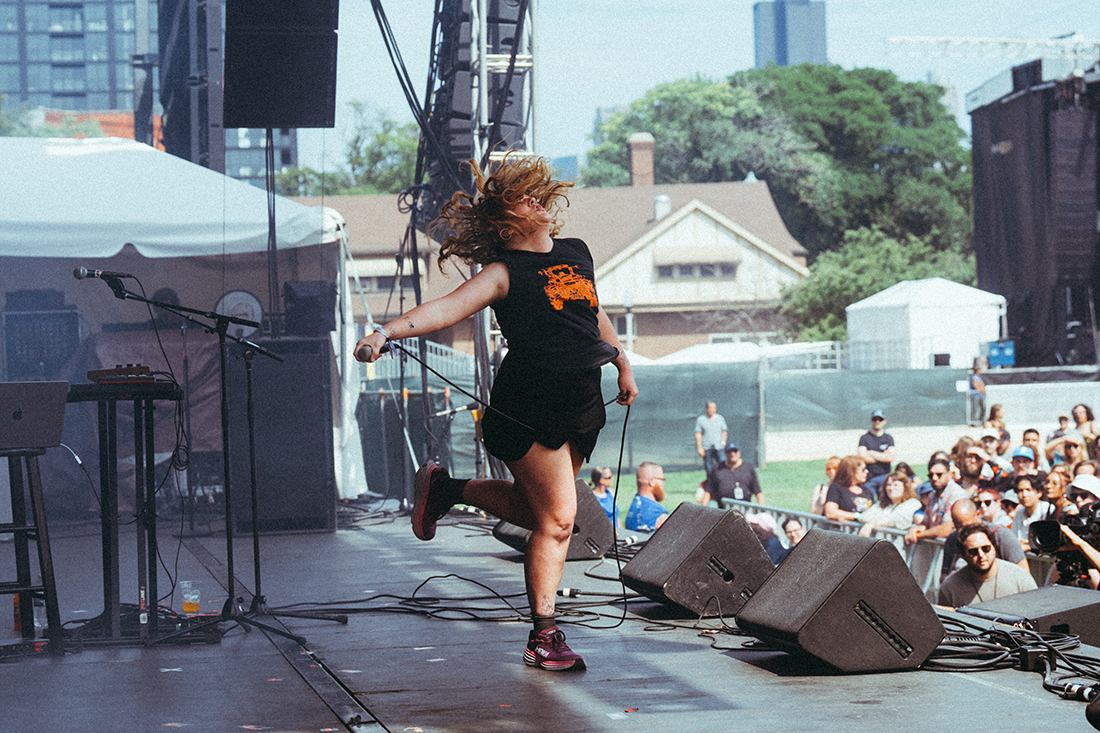 Images by Alexa Viscius for Pitchfork
Grace Ives vibes & choreography
Grace Ives shrugged her way onto the stage, looking as though she had just rolled off a dorm couch. With a big yawn and an orange Gatorade, you could tell this Brooklynite was making the trip to Chicago worth it. "I performed at Sleeping Village last night and I fell off the stage," she admitted to the audience. "It was an accident," she followed with a wry smile.
Yet as her set progressed, Ives showed no signs of slowing down as she strutted around the stage like an unhinged pop star. It was crowd work at its finest, with choreography that felt unique, sardonic, and just a little janky. The crowd got into it, giving their own moves right back.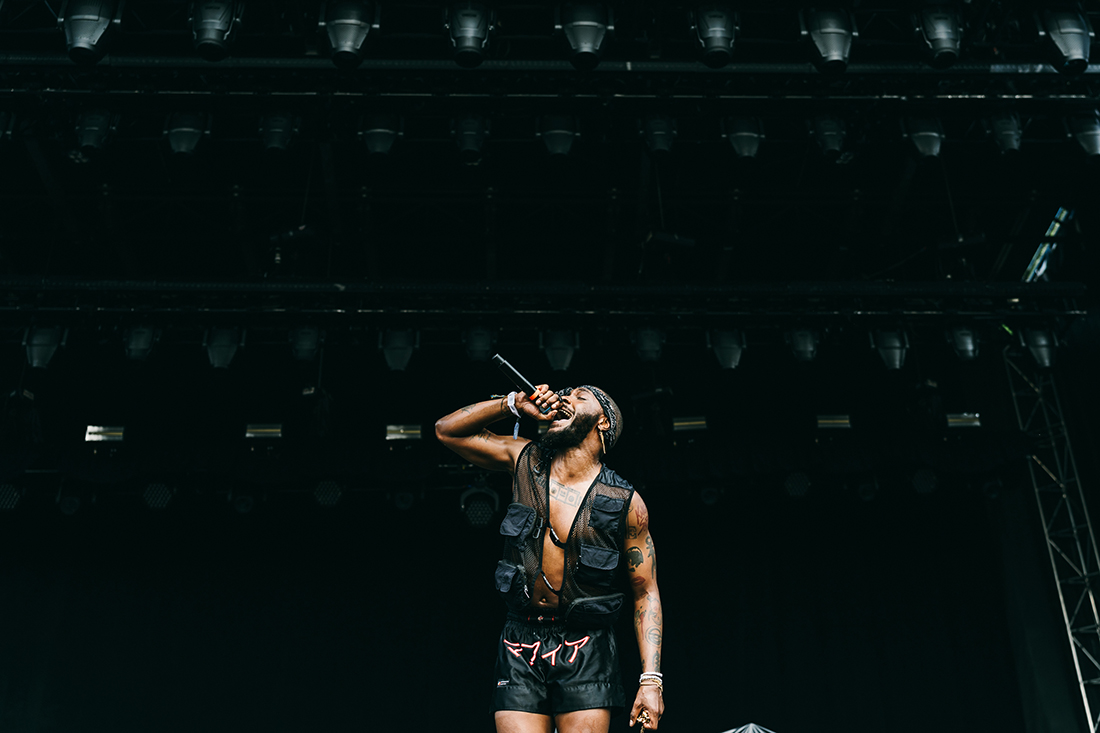 Images by Daniel Cavazos for Pitchfork
We interrupt this broadcast to present JPEGMAFIA
I doubt anyone received a more enthusiastic welcome than JPEGMAFIA all weekend. A raucous energy ran through the crowd, who started chanting "Peggy" as the 33-year-old arrived with nothing more than a laptop and a lion's share of confidence. But trouble was on the horizon. Maybe his computer was as fried as the sun-battered Sunday crowd, but his accompaniment began glitching midway through his second song. 
Peggy was frustrated. "I can't do it! I can't do it, y'all!" he said, sitting cross-legged on stage, with a lagging track playing overhead. "Cut the music!" In the silence, the crowd braced itself for disappointment. Then just as suddenly, he launched into an acapella invective with such impeccable fury that it almost felt planned. The crowd roared back to life. 
Technical difficulties continued, but Peggy was indefatigable, attacking each number with bravado and a sense of humor that only made him more endearing. "I have one more acapella song for you. It's actually a cover". He broke into the first line of Carly Rae Jepsen's "Call Me Maybe". "Fuck! Where's my auto-tune?" he shouted. He switched it on and dove right back in.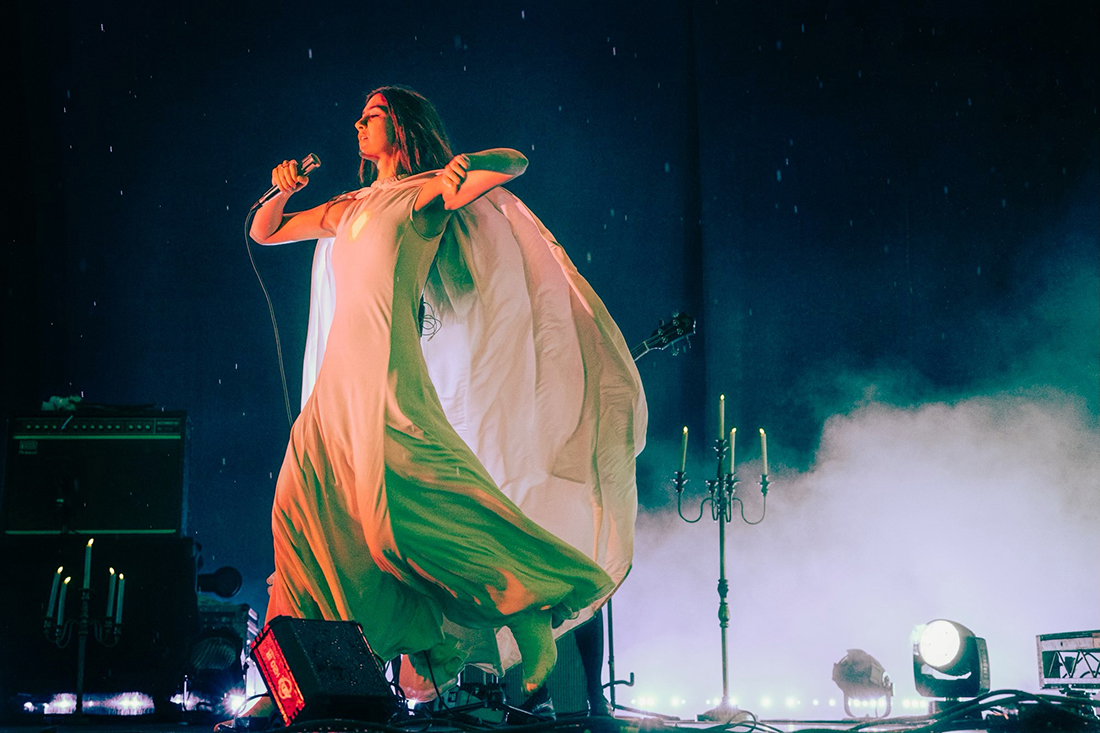 Images by Poonehghana for Pitchfork
Weyes Blood casts a spell
If you'd never heard of Weyes Blood before Saturday night, you were not alone. While critically acclaimed, she occupies a very specific niche of psychedelic folk music that hasn't quite found its way to the mainstream. As the penultimate act on Saturday night, she appeared like a pagan Pan-Am priestess in a flowing white dress with a cape she twirled through the mist. A disgruntled audience, who just two hours ago had been made to evacuate the grounds due to storm warnings, was immediately transported. 
The next hour was a resplendent, glowing rendition of her material from "Titanic Rising" and her most recent album, "And in the Darkness, Hearts Aglow". Without tracking, Weyes Blood's rich vocals and ethereal instrumentation created a spiritual experience that had us basking in the rain. "This next song is our most psychedelic. So if you have some on you, take them now," she joked halfway through the set. There was no need.
Images of Sen Morimoto by Daniel Cavazos, image of Lucrecia Dalt by Julian Bajsel for Pitchfork.
Howling with Sen Morimoto
"I've wanted to play this festival for 10 years," Chicago local Sen Morimoto told us. "And here we are!" With a silky, light voice, Morimoto's vocals floated atop a heartbeat rhythm. His 8-piece band lives somewhere between sultry R&B and big band jazz, making it easy for Friday's crowd to shake off the work week and fall into its rhythm. 
"This next song is about dogs," he said as a prequel to his infectious, let-loose number "Woof". "If you feel like barking or howling… do it!" The audience obliged with gusto. "I've never owned a dog in my life," he quipped at "Woof's" end. Then he launched into a frothy version of Cher's "Believe," which got the audience howling all over again.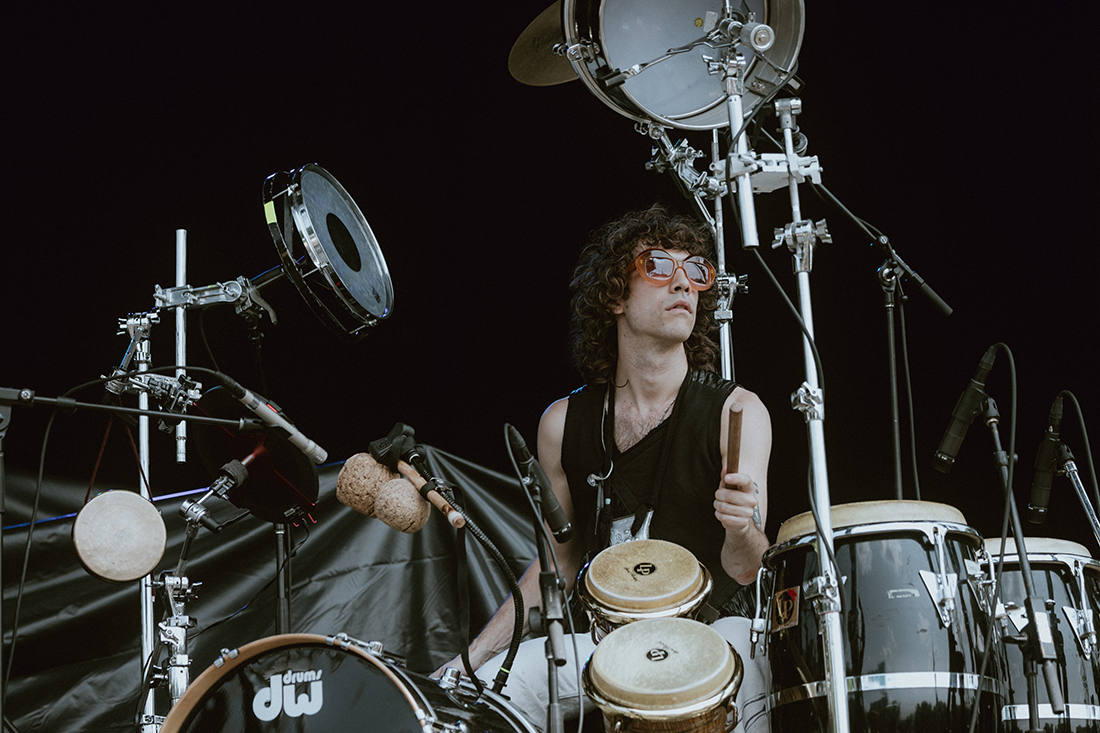 Images by Julian Bajsel for Pitchfork.
Lucrecia Dalt and the leaning drum tower of Pitchfork 
I'd never heard of Lucrecia Dalt before. I didn't line up at the front of the stage in anticipation of her set. Feeling that end-of-festival fatigue, I went to grab a beer and a moment in the shade instead. Yet from across the grounds, I could hear a haunting track that felt like a sonic mirage calling me back. The sound was like the feeling of sweat evaporating off your skin.
I made my way to the stage and saw Dalt, sporting a Sontag strip of gray hair. Standing stoic in front of her synthesizers, she commanded the stage with mesmerizingly soft yet punctuated vocals. To her left stood the most baffling drum kit I'd ever seen — a Babel's tower of percussion, framing its drummer Alex Lázaro, surrounding him from every angle. The vestiges of a traditional drum kit combined with a wide array of Latin percussion built a propulsive beat that felt both groovy and off-balance.
Dalt and Lázaro seemed indescribably connected and precise, yet at the same time spontaneous. It felt as if we were witnessing an act that would never be repeated again.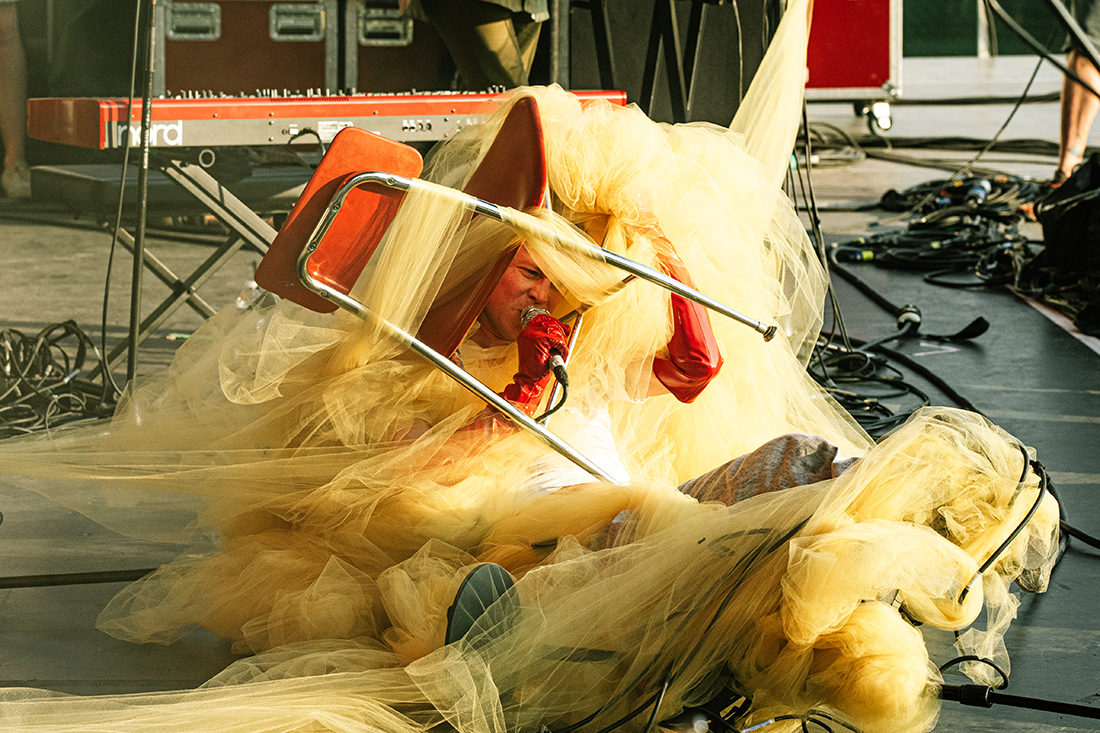 Images by Poonehghana for Pitchfork [cover too].
Perfume Genius marries the chaos
As Mike Hadreas, the frontman of Perfume Genius, spread an endless spool of yellow tulle fabric over the stage, I knew we were in for a chaotic performance. The always-operatic Perfume Genius knows how to use a prop. Dressed in a "Mike's Palace" tee with grungy jeans, Hadreas was accented by long red rubber gloves and his bashfully sly persona. His band plays with polyrhythmic precision that crawls beneath your skin and makes your body vibrate (shout out to Tim Carr's powerhouse drumming).
The music is so full of erotic longing that it brought people to tears just moments after making them dance. Quiet moments like "Jason" only amplified the sonic boom of Genius' more explosive tracks (see "Otherside"). The music was remarkable, with dynamic peaks and valleys that kept the audience's ear. Yet beyond that, Hadreas is an honest showman. He experiences his music with us. By the set's end, he had wrapped himself in a puffy wedding gown of the ("not quite") golden fabric, tied himself off with a mic cord, and trudged across the boards like the bride of destruction. Like his sound, which often turns in on itself, breaking down, and exploding into something new, Perfume Genius revels in the chaos. It made for a hell of a show.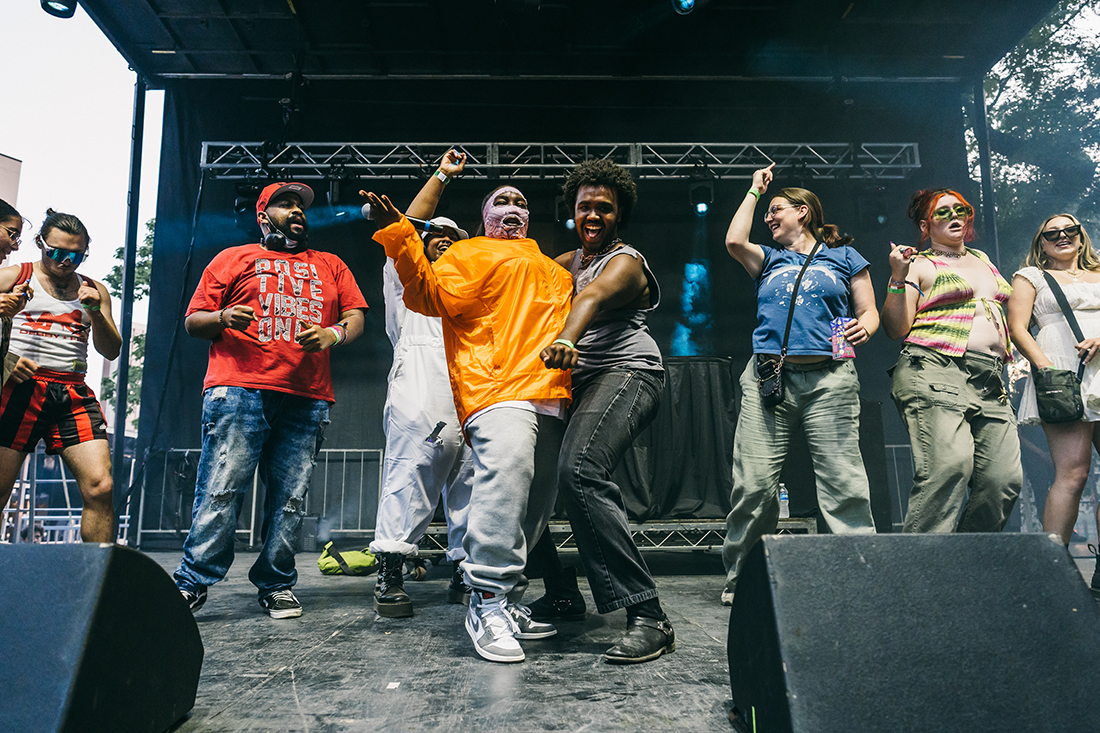 Images by Daniel Cavazos for Pitchfork.
Everything Leikeli47 did
I was a stranger to Leikeli47. I'd stumbled on her music on some playlists, but never taken a deep dive. But from her first step onto the Blue stage, she commanded the whole crowd with unflagging confidence. Not to mention a voice that doesn't quit! On top of her big brash sound, she was one of the few artists whose vocal clarity cut through the festival sound mixing (that often reduces lyrics to sludge) and made us hear every last word. 
Her lines are funny, nuanced, and self-empowering. It's ballroom rap fit for the gods! And on Friday night, she made us feel like gods, as she pulled half the crowd up on stage to strut their stuff while she went off. There was vogueing, there was twerking, there were LEWKS. If there was anyone that had the crowd in the palm of their hand, it was Leikeli47. Hearing the Pitchfork audience sing along to "Carry Anne" was pure delight. "This my pussy, I can do what I want / Mmmm I'm a big girl now" we all shouted in unison. I may have started the show with a stranger but left feeling like I had found my new bestie.
* * *
Those are our top moments from 2023. What did we miss?