Australian singer/producer Nick Murphy, formerly known as Chet Faker, returned to Toronto's Danforth Music Hall for two nights of sold-out shows. The venue has become a staple for his performances in the city, it suits Murphy's voluminous sound. Many members of the audience were also the same but many were new fans. Over the last few years, he shed his stage name and presented to the world his true self as Nick Murphy but the fans still struggle: "Chet! Chet! Chet!" they chanted demanding his presence. Further back into the room a man was wearing a t-shirt with the words "Nick Murphy" accompanied by an image of Saturn above a row of letters written in tombstone type "C H E T," with a rose under. An aggressively delicate way of saying goodbye to Chet Faker, I guess.
Tonight, everyone came to see the same artist yet had different artist expectations. But Murphy is certain of who he is. He spent four years traveling the world alone with a microphone and a suitcase, seeking inspiration, recording vocals when inspired. That time was also spent on self-examination, a "process aided by his reading of Joseph Campbell's theories of the artist's shaman-like role in modern society."
Murphy was on a journey of self-discovery and came home a changed man with a new album: Run Fast Sleep Naked – "An album equally informed by constant questioning and steadily arriving at fragments of truth." It is all very spiritual and poetic and rightfully so, Murphy spent some time in the Buddhist community of Koyasan meditating daily and drawing inspiration from the serene surroundings. That experience gave birth to the track "Sanity" and gave Nick a refreshed perception of self. The album was eventually recorded in the famous Rick Rubin's Shangri-La (Def Jam Records) and the rest is history.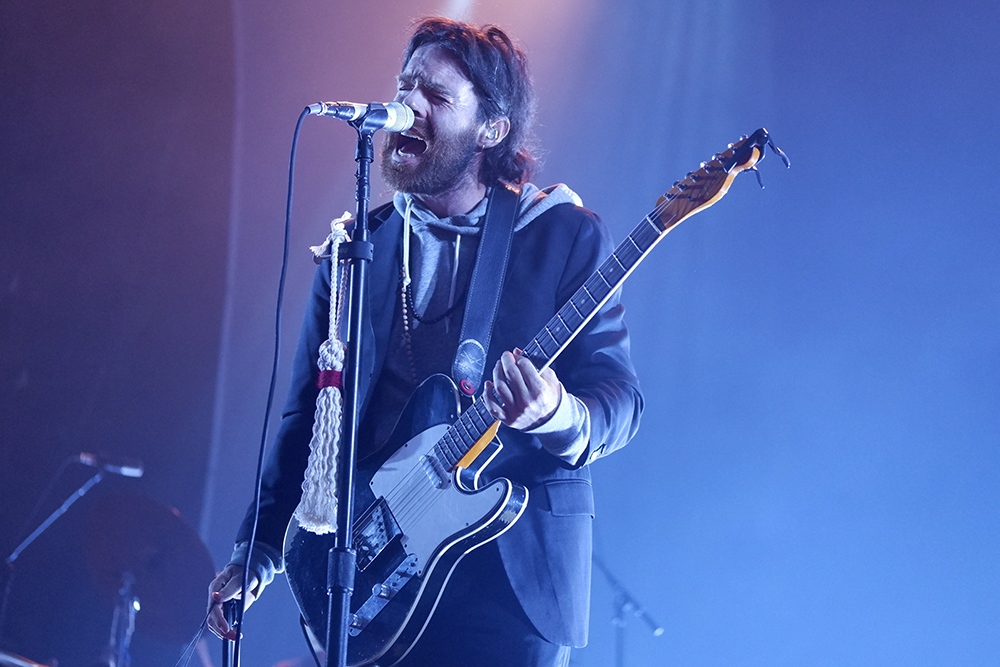 "Hello, my name is Nick," he said with a leveled, relaxed voice to the full room at the Danforth. Murphy then spoke a bit to the location, his songs, being present here and not being present here tomorrow. Quite frankly it was a bit of a rumble that went around in circles stressing how all songs are written by him. A charming unraveling of a kind. "Thank you all for selling out this show."
The first time we saw Chet Faker in this room he was alone, wearing a crisp white dress shirt, humbled by people's presence. Today he is Nick Murphy, crystal clear of his newfound self (new to the audience that is). He performed more effortlessly, raw, with an air of neutrality, detached from the audience. The introductory speech ended with a bit of an "if you don't like my songs, oh well" sentiment which pretty much sums up his visible attitude for the night. Today, he is more confident and himself, baring his soul through these new songs, letting people into his world and mind, sharing journal entries on Instagram. It's a quieter kind of caring and not so much about the fans but about the music.
Accompanied by a four-person band on stage, Murphy had his usual spread of instruments from live to electronic. Some of the new songs are played with a violin bow, others were elevated with a saxophone played by one of the band members. The stage was crowded with instruments, decorated with a vase of flowers on the piano and a few other accessories sprinkled throughout. Nick played through a mix of tracks from Run Fast Sleep Naked to Built On Glass and even a few songs from his Work EP he produced with Marcus Marr in 2015. After a brief break, he came out to play "Believe (Me)" for an encore, solo on the piano, later joined by the full band to wrap up the show with "Sanity."
A few of the songs took a whole new life. "Yeah I care" had a grimy, noisy band sound with loud guitar riffs. Ad the end of the song Murphy stepped away from the mic shredding the guitar, "Ok. Sometimes you just gotta let that kind shot out," he commented. "Birthday Card," on the other hand, had a very fast-paced dance music vibe. It was that rougher and more electronic sound Murphy is promising to bring to his set at Amsterdam Dance Event. It all makes complete sense now. Thank you and good night.