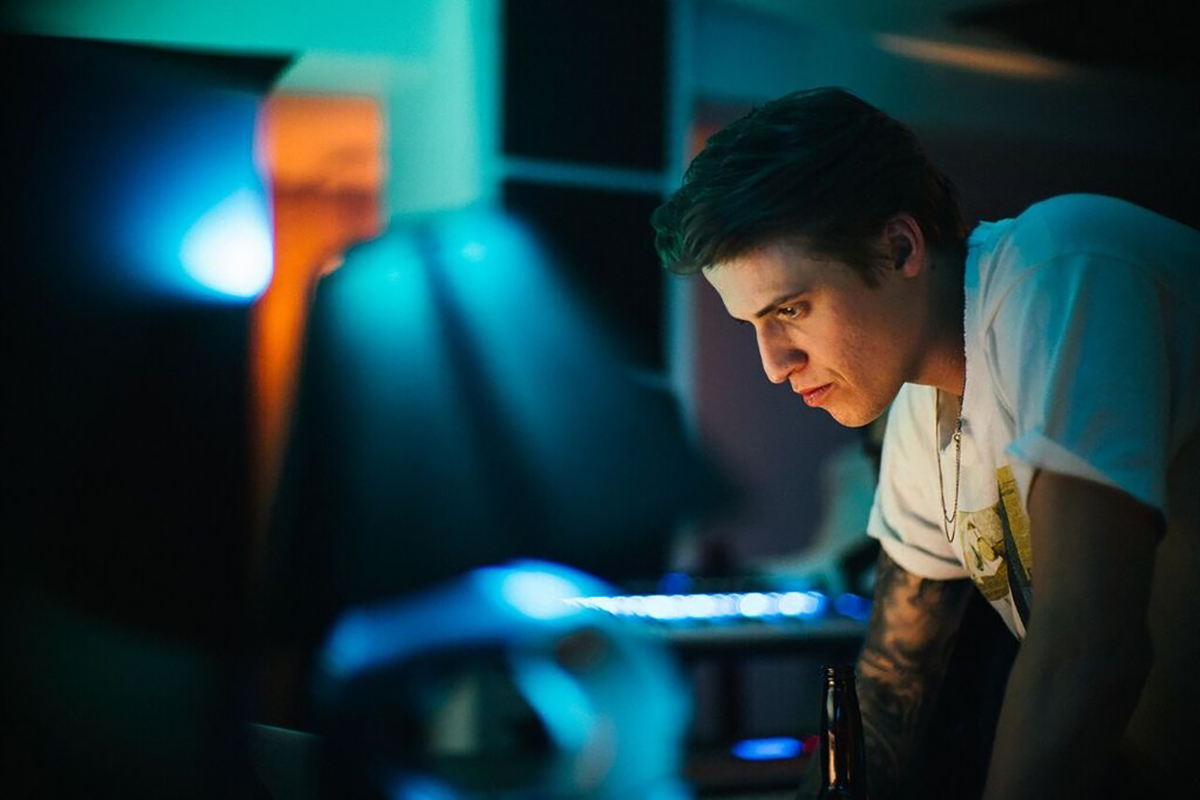 Cody Yozipovic, who operates under the moniker of M!NT, is a multi-faceted music producer and audio engineer based in Brooklyn. Yozipovic's portfolio was first built on creating original instrumentals for popular remixes, showcasing his style of edits and fine-tuned production skills. Over the years M!NT has worked his way around the festival circuit performing at Electric Forest, Mysteryland, Lighting In A Bottle, What The Festival, and Shambhala, all while producing for others. One of the highlights of Yozipovic's career is the composition for the New York Times' book Outlaw Ocean, which will get the full background for in the interview bellow, among a few other origin stories Cody will share.
As a passionate music fanatic Yozipovic is also a co-founder of the Afro-Caribbean New York party series Sweatshop, which over the years has showcased the likes of Jada Kingdom, DJ Tunez, Electric Punnany, UNIIQUE, Florentino, BAMBII, Jubilee, Riobamba, and Uproot Andy. This year, however, M!NT has also been focusing on releasing new music. First came a remix of Brent Faiyaz's "Rehab (Winter in Paris)" and today we are super excited to share with you his brand new single called and video called "The Contradiction".
The single is a part of a bigger story-telling video series: "I've always sampled phrases from movies, and lyrics from rap songs in my music to create a theme for my songs," Cody shared, because the story is "more subliminal because you'd have to really listen to put it together." The tracks samples "Taxi Driver" and "21 Savages 'X'', which Yozipovic turned into "a modern-day love story about the common contradiction we all face."
"We are sold sex, money, drugs, multiple partners, rockstar lifestyle on a daily basis in commercials, hip-hop, pop, tv, film, almost everything," he pointed out, "But what times like these prove to us is that most people really just want true connection with someone real. I tried to convey that with 'Taxi Driver' and the scenes I chose, then by splicing together some scenes from the '21 Savages' video to give it some ironic context: what we want vs what we think we want/are told to want."
Kateryna Topol: Hello Cody, how is your week going?
M!NT: Hey, my week is going pretty smooth. I made pancakes this morning, so I consider today a win so far.
KT: Nice, nice, how are you spending your time in isolation?
M: I've been trying to occupy my time maintaining the things I used to do regularly, keeping routines like exercise, cooking healthy meals, plus dedicated time with my dog and for writing music. I was already working from home before everything changed, so I try to throw in something new each day so my weeks don't get too redundant. There's good days and bad days, just depends on how much I let the outside world affect me.
KT: Yeah, feeling the same as well. You posted a call for collaboration on Instagram a few days ago – have you gotten anything interesting?
M: Yeah! There was a great response from a bunch of local musicians, I plan on starting up a few projects throughout the next couple weeks and see where things go. Right now I'm working on things with Gi Major, Ricky Sour, Nic Hanson, Indigo General, Zaj, Pwest and YaSi out in LA, and a few artists out in London. 
KT: That's awesome! So, "Formations" versus "If You Ain't Nasty Dont @ Me" – two very different tracks, let's talk about your style variety…
M: I honestly don't really have a process for writing music, whatever comes to me in a certain moment flows out into either a piano part, a top-line melody, a guitar part, or a drum pattern. Sometimes I'll just hear a sound in my head and then spend hours trying to replicate it, which either turns into the foundation of a new song or just an addition to something already written.
These processes always change though, but both of these songs had naturally different processes since one is completely original and the other is a remix. "Formations" started with just the piano chords, then came the drums, the bass, and then some vocal samples and other little bells and whistles. "If You Ain't Nasty Dont @ Me" was a super fun remix to build since the original Brent Faiyaz song had no drums at all. I treated it like a melody pack where I took out all the low frequencies, created some harmony layers out of his vocals, sprinkled some subtle new sounds on top of an already solid foundation and then went to town on the drums. What started as a vocal RNB ballad quickly turned into a UK garage and club-ready track, all while maintaining the original BPM.
KT: How did you first get into music?
M: My mom and dad were both musicians, and they're still in a band together to this day. I attempted lessons for a few months, but just ended up teaching myself with guitar tabs and playing along to music I liked. I got my first guitar when I was 13, joined a band when I was 15, played empty shows in the sketchiest of bars after that, and the rest is history. From punk, screamo, and metal to jazz, hip-hop, and reggae, I loved and played it all.
I wrote an album of weird alternative music when I was in high school and hired my best musician friends to play the parts I couldn't, then shortly after that I was gifted a free Ableton trial in college. No one could afford turntables so we all just had our school laptops and whatever programs that were around at the time. It was a horrendous and embarrassing start, but everyone I knew was learning how to DJ at the same time so no one really gave a shit. My friends still give me crap for it though. After a while, I started obsessing over the production process and really tried to hone my skills over the years, but luckily there were a ton of friends all trying to do the same thing so we all kind of levelled up together.
I went from playing empty bars and house parties to festival crowds in just a couple years, and this was all when electronic music was still considered electronic music in multiple forms, and not EDM. Things were so much different back then, no genres or sounds were commercialized yet… everything was just for fun.
KT: Do you have plans for putting out an EP or an album?
M: I do have plans for a bunch of upcoming releases, but they won't really be M!NT projects besides a possible release of all my remixes (shh). M!NT is an older alias that umbrellas all the sounds I used to make and play live, but today I'm more settled into the role of an executive producer and musical collaborator. Artists will either bring projects to me to work on, finalize, or start from scratch. Or, I'll have a ton of beats ready to go and I'll tap different artists to feature, which will end up becoming their songs. These days I'd rather sit in the back and write music that helps forward the careers of my friends, all the other stuff doesn't really appeal to me anymore. Even with DJing nowadays, I'd rather play the events I truly care about with people I actually vibe with so I like to keep my live performances spaced out.
KT: You are flexing your creative muscles in film and commercials as well, how did the "Outlaw Ocean" gig come about?
M: The Outlaw Ocean was a project that was randomly pitched to me by Ian Urbina, a Pulitzer prize-winning journalist for the New York Times. I'm not even gonna lie to you, I'm still geeking over it and my portion of the project isn't even out yet. Ian sent me a strange email out of the blue with a subject line that included "this is a real email from a journalist, not a scam"…so I opened it. He even included his Wikipedia link so I knew it wasn't bullshit, haha. Turns out, this legendary dude had been investigating crimes on the high seas for the past six years and wrote a best-selling book about it. While risking his life to uncover all the terrible things that go virtually unpunished on our world's oceans, he realized that in order for his stories to gain enough traction they needed to connect more with a younger audience. He then created the Outlaw Ocean Music Project, tapping a ton of producers from all over the world to help blend his journalism with the power of storytelling through music, kinda like a soundtrack to a movie…but for a book.
Ian has a great taste in music, so he was able to build a pretty incredible roster of musicians fairly easily since so many of us align with his passion for the environment. He wanted us to combine audio elements from his B-roll, interviews, and snippets from his investigative reporting into the original music that we created; an attempt to retell some of the main themes from his book, but in musical form. Scoring and composing music for films, commercials, and TV has always been a dream for me, so this couldn't have been a more perfect way to jumpstart the new phase of that journey. My six-song portion of the project comes out on all streaming platforms on June 5th, and I couldn't be more grateful to be a part of it. 
KT: What an amazing story! Ok, let's talk about Sweatshop, how did it come about…
M: Ah, Sweatshop. I'd have to start with why I got into throwing shows in the first place. I never wanted to be a promoter, I always thought it was a slimy title. That was just an incorrect assessment based off my personal experiences in the electronic and hip-hop scene throughout my touring career. Looking back on the history of rock n' roll, jazz, and blues, some of the most prolific promoters like Bill Graham, Michael Lang, and George Wein literally changed the musical landscape by exposing people to bands they've never heard of, or by exposing people to things they already loved, but in totally new ways.
After living in NYC for six years, I was totally fed up with the club scene. The same house, the same techno, the same top 40. Shitty clubs with shitty sound systems, expensive drinks, sloppy guests and cop-like security. I started to focus on my recording studio business and stopped DJing, but then I saw that my good friend Max August was throwing a new party called Sweatshop. The design on the flyer hooked me first, but the music listed on it even more so. Bossa nova, calypso, dancehall, afrobeat, reggaeton, soca, samba, zouk, jungle, soul, moombahton…phew. It listed pretty much every genre of music that defines a good time and a full-on dance party. So I went, and it was exactly that. It was a lighter crowd since it was a brand new party totally conceptualized on Max's own, but what I noticed happening there set it apart from anything else I had seen in the city: every single person was dancing. New Yorkers have a tendency to play it too cool at the club, but not at this party for some reason.
After the first show I approached Max about wanting to DJ the next one, so he graciously squeezed me on to the next line up. The show went great, but the crowd was still a little light so we decided to join forces on a promotional and marketing level. That's when I decided to tap into my incredible community of artists, musicians, and hustlers who've been throwing shows in NYC for years, the elders if you will. Shortly after that, Sweatshop sold out for the first time..and for the next 7 shows after that. Max and I have been partners ever since, and I couldn't be more grateful for the guy. We don't do anything crazy with marketing or promotions really. It's all generally low budget and out of pocket, grassroots, word of mouth, and simply for the love of music and people.
We showcase the music we like, introduce up and comers we're paying attention to, and then fill in the bill with local support who already vibe or work with each other. Our whole take on it has been, if you get enough friends on a line-up, your show is naturally going to turn into the place to be. We wanted our shows to feel like house parties, where you either came knowing everyone through some degree of separation or left after making a bunch of new friends. We made sure that security was a breeze, entry was affordable to everyone, drinks were reasonable, meanwhile keeping the production and programming top of the line.
I'm a live audio engineer on the side, so I have always tried to make sure that proper sound is #1. That model is what has given us the opportunity to collaborate with so many different artists and venues, big or small, with the same mission statement: no matter who's on the lineup, it's going to be a good time.
KT: Awesome! Is there a plan to host these events in other cities?
M: Our plan before Coronavirus was to expand Sweatshop to LA this year, then Miami, then London, but obviously all of that is on hold until it's safe for the public to attend live events again. In the meantime, we are currently strategizing ways to keep people tapped in, more on that soon…
KT: Speaking of Coronavirus, do you have any live streams planned?
M: Oh yes, live streams. Well…I have yet to dive into that pool. Don't get me wrong, I truly commend and respect everyone trying to bring music to the people during these strange and disconnected times, but putting a video camera in front of me so people can watch me select songs just isn't my bag. I am warming up to the idea of a more integrated experience, with cool visuals, multiple cam angles, maybe some crowdsourced inspo for certain themes and genres, etc., but I'd honestly prefer to host live stream production sessions where people can watch original music being made. I went live for the first time ever two weeks ago and made a beat from scratch in 20 minutes, almost 60 people tuned in! But even still, you're expecting people to sit there and watch you tinker on a beat that sounds like shit until the 4th quarter when it finally starts coming together, so I'm still trying to come up with new ideas for that concept too. If I don't personally live stream, I have a feeling Sweatshop might launch a new live series in the near future…and if so, you'll be the first to know.
KT: Ah, all right! Well, thank you for your time!
M: Thanks for letting me share some stories!