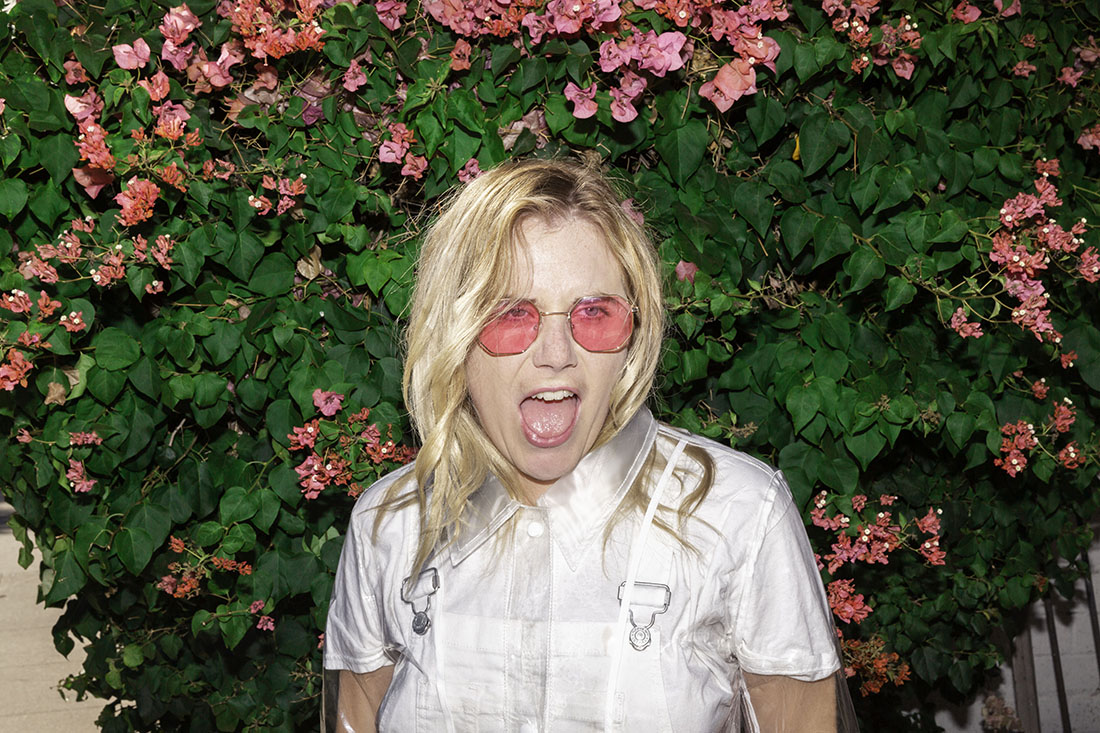 Vita and the Woolf, the musical project of Pennsylvania bred but LA-based singer-songwriter Jen Pague, is back with a new album, Anna Ohio, Pague's first since 2017's Tunnels, as well as her first with Portland-based record label Tender Loving Empire ( Andy Shauf, Y La Bamba, etc…).  Quip caught up with Jen online to talk about the album – to be released on May 8th – her band's signing to Tender Loving Empire, live streaming, and how she's holding up in these uncertain times.
Niall Fitzgerald: How are you spending your time right now, together or separately?
Jen Pague: Adam, my drummer flew out to be with Hope and I in LA a couple of days before the world started canceling events and swiftly had to fly home to Philly due to the craziness. I'm staying really busy actually. I've been doing Instagram live streams and beginning to grow my Twitch channel which has been great because it provides an opportunity to make some money after all the shows got canceled. I've also been cooking a bunch and spending some really good quality time with my partner. It's been pretty intense emotionally though, to be honest.
NF:  Your record label, Tender Loving Empire, describes Anna Ohio as "a very real pilgrimage of self-discovery…a self-referential-story about a flawed but strong character reaching for reinvention" – can talk a little on thought process behind the album, as compared to your previous work?
JP: I took a lot more control over the music production side of things. I also feel like I've grown a little bit more with how I want things branded for my project. I feel like this album has a story to tell, sort of about moving on from what I've always known and taking more responsibility for everything in my life. It's about growing up. 
NF: Speaking of Tender Loving Empire, this is going to be your first release with them. You've relocated from Pennsylvania to Los Angeles – how did you end up getting signing to the Portland-based TLE?
JP: Funny enough, we played a show a few years ago in Delaware and a person working the venue really liked us. That person happened to be friends with Jed Overly who works at the label and boom, a few years go by and TLE swooped in and saved the day honestly, haha. Without them, I'd probably be self-releasing this record and I don't know, haha. This business is really tough to break into if you don't have a bunch of cash. TLE has been nothing but a dream to work with and they really value their artists. I'm super lucky Jed found us. 
NF: Does the approach to songwriting change at all when trying to craft an album around a character, like Anna Ohio? 
JP: I think any character I have ever created has been just an extension of myself, so in that way no. It's also freeing in a way to take yourself out of your own head for a second to write for someone else.
NF:  Your music has been described as, among other things, "synth-pop" – Is that the sort of vibe we can expect, musically speaking, to pop up on Anna Ohio?
JP: I think I cross genres a lot. When I first started writing and recording music in high school, I was super inspired by synthy bands like LCD Soundsystem, TV On The Radio, M83, Bat For Lashes, and Of Montreal.  Radiohead's album, In Rainbows, also was a huge inspiration throughout high school. That being said, I think I have incorporated a lot more guitar layers and stuff in the songs. I don't know, you can expect a sort of mixture of guitars and synths, with a little pop in there.
NF: Any artists, book or film, in particular, that inspired you during the writing of this album?
 JP: Phoebe Bridgers, Elliott Smith, St. Vincent to name a few.
NF: Any in particular that inspire your art overall, in a more general sense?
JP: I'm always inspired by Radiohead and St. Vincent. 
NF: Live streaming of artists performing in their homes has gained a lot of momentum due to current circumstances. Obviously, it's really all that music fans can hope for in terms of entertainment for now. What are your thoughts on the live streaming phenomenon in general?
JP: In general, I think it's great. I think inevitably it's going to be a huge industry that provides another source of income for artists. Whether it's for music, art, design, etc. Streaming platforms like Twitch provide really unique ways for artists and fans to engage with each other. At first, I was terrified of streaming, but now I find it more and more interesting. 
NF: Do you think live streams can be an effective, captivating medium going forward? 
JP: Absolutely. I think people find it interesting that they can interact with a performer in real-time. Requesting songs, donating money, commenting.  It's really interesting. 
NF: How is it performing in a room alone to a device? 
JP:  Addictive. It's like a rush of energy, especially on Twitch when strangers comment and you know they've never heard of you before. It's also strange being able to access the world by just pressing a button, boom! you're live. I do think there is a weird psychological thing that could potentially be dangerous in this world for streaming as an artist. If the dopamine rush is not contained or acknowledged, there might be some problems in one's thought pattern. 
Images by Brian Legoo