text by Matt Caprioli | images by Mike Rizzo
The 33 year-old singer MARINA (formerly "& the diamonds," née Marina Lambrini Diamandis) has come out with a more mature and thoughtful sequence of self-love and definition that shows someone increasingly armed with the ability to widen her conception of humanity, to use music, as Susan Sontag sought to do with literature, to make us aware "that other people, people different from us, really do exist."    
The title of this fourth album, Love + Fear, comes from the Swiss psychologist Elisabeth Kübler-Ross who lay the groundwork for the five stages of grief in her 1969 seminal work "On Death and Dying," and who conceived of each human action as being motivated by fear and love. "When You Don't Choose Love You Choose Fear" goes one rephrasing of Kübler-Ross' research into the psychology of death. The statement applies to MARINA's entire career since her debut at 24 with The Family Jewels (2010). From the first track, "Are You Satisfied?," charged a young woman determined to succeed on her own terms and put all of her problems to rest (not for nothing has Diamandis called that album "crazy").
Her follow-ups Electra Heart (2012) and Froot (2015) were similarly energetic, hard-charging, and narcissistic, as only 20-somethings can be. Nearly a decade later, she seems at peace with life's radical ambiguities with songs like "Life Is Strange" and "Enjoy Your Life." Her interests continue to widen – fewer topics of personal betrayal and self-sabotage, more contemplations on human dignity, creation, and love.
On September 16 in Manhattan's Central Park for the SummerStage Festival, Diamandis rocked a sheen cocktail dress and occasionally waved silver pom-poms. On the same stage of Stevie Wonder, Sia, Diana Ross, Nikki Minaj, MARINA – 5'4 but with caryatid's regal presence – showed the result of a smart woman defining her own life.
A wide, white podium traversed the stage. Diamandis, as if winning a gold medal, climbed easily to the top slot, a refreshing image in a culture that prefers women to act shocked when they're #1 at anything. The stage lighting was smart and succinct, showing images of beaches or MARINA's past music videos, but mostly keeping with uniform yellows, blues, and reds, taut monochromes following Alex Katz and Barnett Newman, then occasionally flushed color-field violets.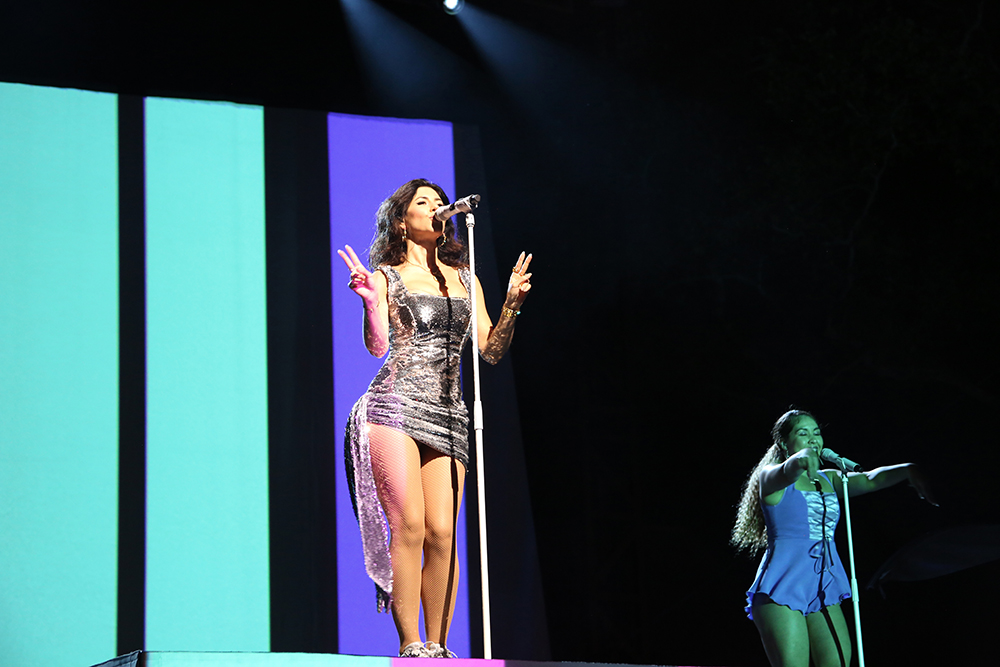 The audience was assertively queer. Indeed, the number of gay men likely crashed Grindr. (MARINA, well aware of her gay fan-based, changed her hit 2012 hit "Primadonna Girl" to "Primadonna Boy.") This all begs the question, what about MARINA appeals to both gay women and gay men? For queer women, it may be her commitment to self-definition, her vim to remain a volcanic self in a world that would rather stylize gender on more clear-cut and tamable lines. Those reasons, of course, overlap with the appeal to gay men, but there's a curious lack of camp; perhaps MARINA's pull with the LaCroix crowd comes from her history of bangers ("Primadonna Girl";  "How To Be A Heartbreaker"; "Oh No!") and the recent hip-swaying hits like "Baby," "No More Suckers," and "Karma.
MARINA is sexy and gorgeous to all men and women. What's interesting is that her identity rests on being above obsequiousness to lust or to the dictates of image, which may be why she cast out "and the diamonds" (diamonds being the nickname to her fans), caps-locked her own name, and continues to demure from disclosing any updates on her love life, which clearly influenced the peace and wisdom in Love + Fear.
Curmudgeons (often straight white guys) often say that pop songs won't be remembered in 10 years. It was then with joy to see some 16-year-olds shout "Actually my name's Marina," to "Hollywood," a song that would have come out when they were nine. (Generation Z has come to know MARINA mostly through TikTok). But it's curious why MARINA is not quite as famous in The States as the equally talented Lana Del Rey. It could be her attitude; Diamandis' lyrics are admittedly not as vicious or adventurous as Del Rey's. Diamandis is more kind-fabulous; Lizzy Grant is cutting-cool. But one wonders if Americans simply prefer women who aestheticize their tears. MARINA is far too active for self-pity; when she looks pretty, it's to bite, not to be consumed. Outside of queer people and the liberally-minded, this unmalleable cuteness discomforts most Americans. 
For the second half of the show, MARINA came back out in a white pug shirt. The chords of Love + Fear are by turns ebullient, tropical, house. "Orange Trees" blends all of these elements, the lead single ultimately sounds like 2011 Skrillex coming down from molly. Her performance of "Bubblegum Bitch" proved the song remains fun, one that people will reinterpret for quite some time, including this redo with Margaery Tyrell of Game of Thrones.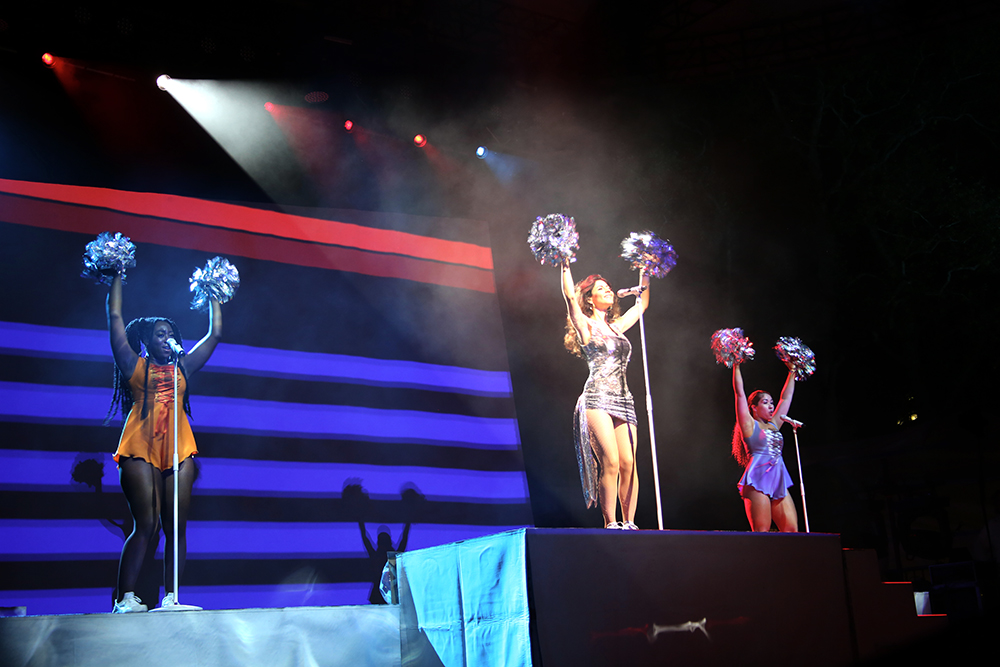 Like many talented artists who come out of a pop-induced rush to play acoustically, MARINA released an acoustic version of Love + Fear. But in this tour, she only played acoustic renditions of older songs. Her stripped-down take off "I Am Not Robot" was spectacular. She followed it with a powerful re-imagination of "Teen Idle," distilling the regret and hope in a take that recalled The Animals' "Good Times."
A general highlight from the concert was a rare performance of the unreleased song "I Am Not Hungry." A crowd favorite, it seems like a turning point for MARINA repeatedly declaring, "I'm not hungry for your love." It's a testament to her skill, presence, and the intelligence of her fans that Central Park became surreally silent in every second.
Her powerhouse anthem from the album is "To Be Human." The song becomes the cornerstone of not only the album but MARINA's career, which has grown from selfish impulses (are you satisfied?) to more universal knowledge (how to thrive within the uncertainty of being human). Along with being the most layered track, "To Be Human" is informed by politics without a stifling dogmatism. "All our cracks as a society were beginning to show," Diamandis said of her impetus to write the song, "I've just wanted to create this feeling of bringing people together."   
"Soft To Be Strong" follows this good-will vein. The track would be too much on the nose if it weren't for Diamandis' restrained voice and thoughtful piano harmonies. Politics clearly impacts all of Fear + Love, but fortunately, Diamandis never veers into the hapless camp-activist of Barbra Streisand's "Don't Lie to Me."    
Another standout from Love + Fear is the penultimate "No More Suckers." It's basically a declaration to keep away from leaches in your life. As she wrote in one essay that coincided with the April release of Love + Fear: "We shouldn't just teach young girls to "be nice" — we should teach them when to be nice. And, importantly, when not to." This is a message Diamandis has been living since she was 24, when she negotiated with nearly 10 labels to pick the one that most closely aligned with her vision. 
MARINA closed with "Baby," a forgettable banger with the Brit electronic trio Clean Bandit, and the more heart-felt "To The End of the Earth," which coincidentally ends this keen, compassionate, and well-crafted album.   
Dates and tickets to the Love + Fear tour here. Further thoughts and soapboxes here.