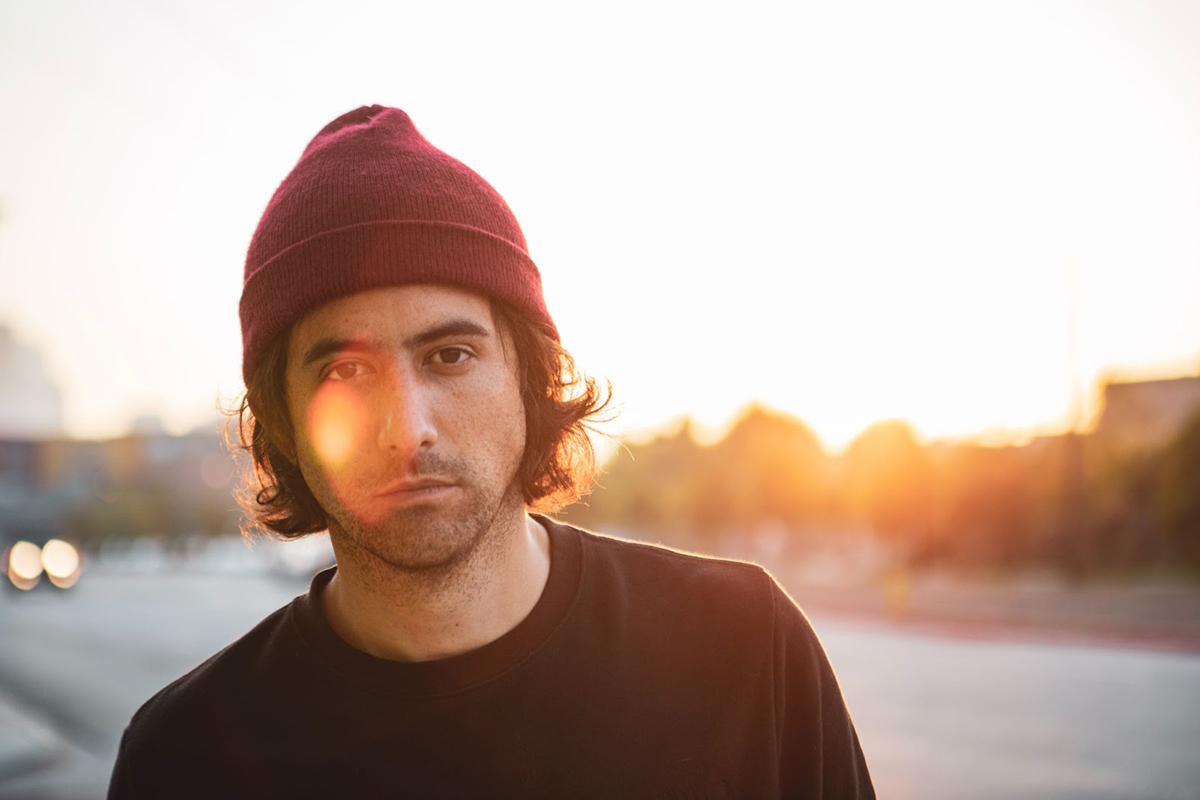 Sitting in a coffee shop in Montreal, one of the cities he was most looking forward to visiting on the tour, Collin Desha delved into a Q&A. Reflecting on his latest record and the early beginnings he wrote: "Music was my friend, my lover, my therapist, my sport, my obsession. The fire is burning the same to this day". A few days later we've had the privilege of seeing Desha perform live on Toronto's Velvet Underground stage during that odd time when we all had to be seated for a show. Much of the community atmosphere was missing in this classroom environment but each artist was reveling in the joy of finally being able to perform live and that was a special moment in itself. 
Hawaiian-born, Los Angeles-based musician Collin Desha is the man behind the moniker of Low Hum. His music can be described in many ways – at the core, it is indie rock, but it is also kind of psychedelic. This music lives in the doorway where lo-fi meets hi-fi in a manner of kaleidoscopic futurism that coasts on oceanic waves. Seeing Low Hum live is an encompassing experience, the music creates dream-pop-like sensibilities but the fuzzed-out, heavy riffs ground you; on occasion, you can feel the bass in your chest while the haunting vocals build the bridge between the synths and lyrics.
Desha was raised listening to mostly Hawaiian music and his first experience was "jamming Ukulele at recess for fun". He knew he wanted to be a musician from the age of 14, "it was pretty much crystal clear to me," he pointed out, "I picked up an electric guitar that my grandfather had given me and since then I've never really looked back".
Being born and raised in Hawaii has had a major influence on him as an artist. When reflecting on the journey that leads him to this oceanic tranquil dream-pop he shared: "I spent all my early years in the ocean so it doesn't surprise me that it permeates in my music no matter what I do". 
Before finding his footing as Low Hum Collin Desha explored searched for his place in music through various band projects. In high school there was a punk band called Geronimo who "played all over Hawaii which really isn't saying much since its an island," he laughed. At 18 he moved to Los Angeles to keep pursuing music more actively, his first band there was Vanaprasta and Sun Drug. That band was Desha's first "musical family" and first time playing music outside of Hawaii. He continued to explore his artistic capabilities by joining James Supercave which is when Low Hum began to form as an idea that grew and evolved into who he is today. "I was so inspired by their musicality plus I did a US tour with them opening for Wild Belle" Desha recalled, "a lot of Room To Breathe was written in the back of the van on my laptop as we drove around the US".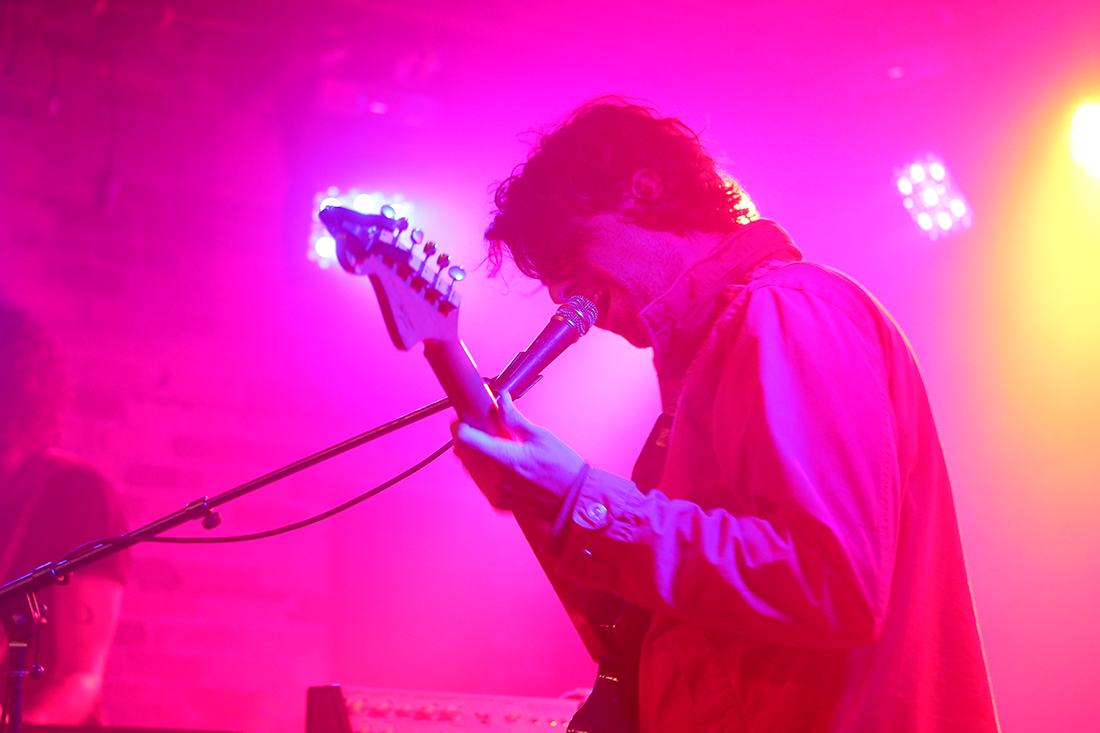 In the beginning, Desha was focusing on finding his sound, "it felt great stumbling around and exploring different vibes I was attracted to. Once I moved to LA I met a community of artists I saw eye to eye with and that really pushed me. That was a huge time in my life and it was essentially the beginning, where the Low Hum sound was born." At the core what Desha really wants to make is "music that brings people together". 
Desha's latest LP, Nonfiction, dropped on October 8th via Last Gang Records and it is his second full-length release following the critically acclaimed debut titled Room To Breathe (2019). That first album was compared to Tame Impala and UK's The Beta Band, both great compliments.
The new album was recorded and co-produced with Jon Joseph which is the first time Desha brought on a collaborator. While it was "really fun to make Room To Breathe" mostly on his own (a few friends contributed to solos and arrangement/performances) for Nonfiction he felt inspired to have "specific writing sessions for the album to see if I couldn't push my own capabilities and learn something new," Desha commented. After all, "Low Hum has always been an idea based around artistic freedom. It's a solo project, it's a band, it's whatever it needs to be".
The LA music community is the pool of Desha's creative inspiration and collaborative resourcing. When speaking about the collaborations he pointed out that while many of the past collaborations happened naturally and unplanned for his latest works Desha reached out to a few new people, "some were acquaintances and some I didn't know at all".
"I was fascinated by trying to work outside of my comfort zone," he said, "It pushed me to learn and I wanted to try to get outside of my bubble as well as keeping myself within my musical comfort zone".
Nonfiction is a collection of works about change and compare to it, "Room To Breathe feels like an adolescent period of my creative process" Desha admitted. The new LP is a reflection of that and an effort to push his music further, experimenting with new sounds and methods:
"I wrote 90% of the album during the fall of 2019. We started recording the album in May 2020 so this major shift was happening in everyone's life due to the pandemic but I was hell-bent on not letting it stop my process. I could tell Low Hum was growing and that my creative life was hitting new highs, so much of Nonfiction deals with me realizing this change. Relationships in my life were changing, family members were getting sick and passing, my friend group was evolving and I was pretty isolated during a lot of the recording of it. In a lot of ways, it feels like I wrote the album before realizing how much change I was actually about to experience. I'm still reflecting on how that process unfolded and it makes me really love the album as time passes. It was kinda like my little intrinsic fortune teller".
Living through a global pandemic has also had an impact on the record which was originally written before we all got isolated. A lot of the album took on a new meaning: "Songs like 'Said And Done' and 'New Again' or 'Escape' really felt fitting for the pandemic. I hope they bring some sense of comfort for folks dealing with the struggles of the pandemic and even the aftermath of it all".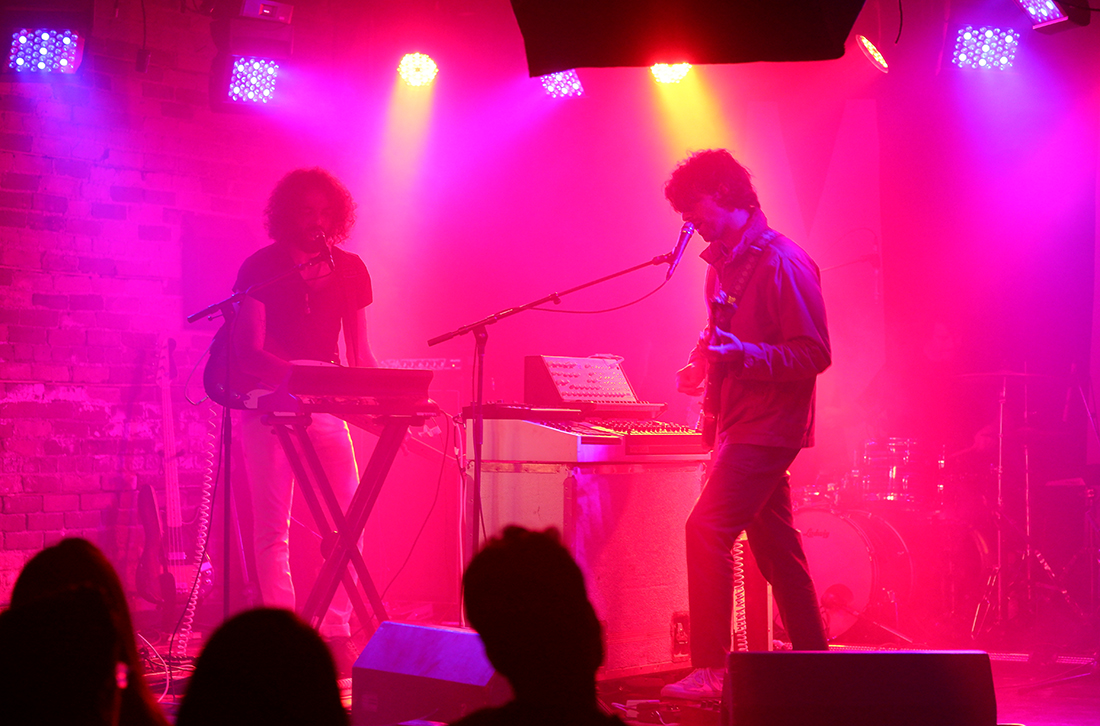 Low Hum has been on a North American tour since mid-October supporting Mating Ritual, looping through Atlanta, Brooklyn, Toronto, Chicago, and beyond (there are two more dates coming up in Oakland on October 10th and San Diego on the 12th). The live performance is very atmospheric: the band is lit by red/purple lights, enveloped into hazy fog making it hard to see faces or at times to even identify shapes but this cloud of sound is a perfect way to experience Low Hum live. "I Know" was a bit faster, and louder, like a cosmic adventure while "Phantasms" took us all to a dark basement nightclub, kind of like the 90s NIN, and I'm here for it. The sounds can be a little raw, and even a little noisy, but that's exactly what one would expect when listening to psychedelic-infused indie rock – the psychedelic influence is present in a live show much more than it is heard on the record.
It has been a busy tour with very little downtime but Desha has been trying to explore the stops and continue writing on the road, "New environments are always so inspiring, especially if I've never been there".
Looking into the Low Hum future Desha hopes to continue touring: "I'm very appreciative of all the listeners online but nothing beats actually connecting with fans in person," he commented. Following his typical pattern of writing Desha has already begun working on the next album and he is "thrilled" about it because it is a body of work that feels like something bigger than anything he's done before. Being a workaholic he is planning to do a "huge batch" of recording in December in order to get back into the studio by February:
"Ultimately I want to stay the course and keep building the Low Hum musical landscape. I still have the same joy of making records that I did when I was 14 and I'm gonna keep tapping into that energy forever".
cover photo by Brandon Hardy