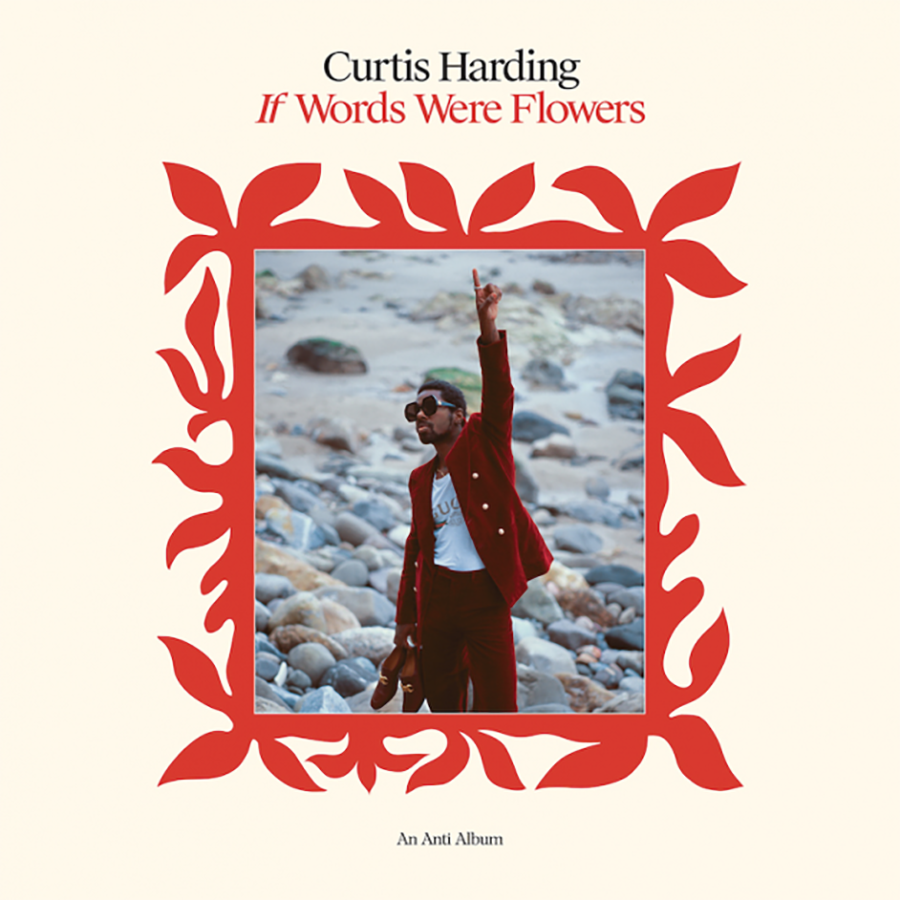 Curtis Harding is at a crossroads. Two albums deep and sitting high on critical and commercial popularity is a risky position to be in. Stick to the formula and be called unadventurous. Use the budget increase for more exploratory, expansive work and risk abandoning his roots and the intimate, personal feel of the early work. Do something totally different and risk alienating a hard-earned fan base. Seems much like being between a rock and a hard place.
Harding's bread and butter has always been a nostalgic, well-executed vintage R&B sound. His skill and dedication to the genre came at the perfect point in our zeitgeist and he has built a solid career from six years of recording and touring. This latest release, If Words Were Flowers, sees him thirsting for new horizons.
With his third studio release, Harding is not so much veering away as building from the "slop 'n' soul" quintet sound of his first two albums. If Words Were Flowers is more contemplative, textured, and carefully arranged than its predecessors, but also takes longer to root itself.
The titular opener and follow-up "Hopeful" lean markedly into Harding's gospel background, replete with emotional, swaying strings, brass accompaniment, and staccato gospel backing singers. As Harding blends these with a rhythmic vocal line worthy of 90s D'Angelo and an effects-laden, Funkadelic-esque guitar solo, the whole thing collapses under its own weight. The volume of competing sounds and influences at work is jarring. This vibe carries into "Can't Hide It," an earnest love song with a Motown feel that ends up competing with a swaggering, 90s rock vocal bridge and a Telecaster solo that belongs in 1966 Southern California.
Around the mid-point of the album something interesting happens. It grows into itself. The psychedelic flair that's always lurked in Harding's music bounds forward. The orchestration is pared back, used sparingly, such that a trumpet solo, backing vocal, or swooping string melody is a pleasant surprise rather than clutter. Given room to breathe, the horns, phase-shifted synths, Harding's own voice, and the songs themselves rope the listener in with their delicateness and sincerity. 
Harding stated that desire for connection, for exploring beauty and fragility in the world was a primary driving force for If Words Were Flowers. It was born of a specific place and time in our history yet speaks to it abstractly. Lyrically, the theme of hopefulness in dark times is not framed through the lens of COVID-19, BLM, or #MeToo – the album approaches it as universal, transposable, and timeless.
Harding's albums have never been the most sonically cohesive, but at this stage in his development, the only thing If Words Were Flowers leaves wanting is a tighter directional sense from the artist and his producer. Clearly, Harding is interested in pushing himself and his music further with this third effort. Nowhere does it work more fluidly than in the closing three tracks, which see a harmony between theme, instrumentation, and arrangement. 
Worth multiple listens.