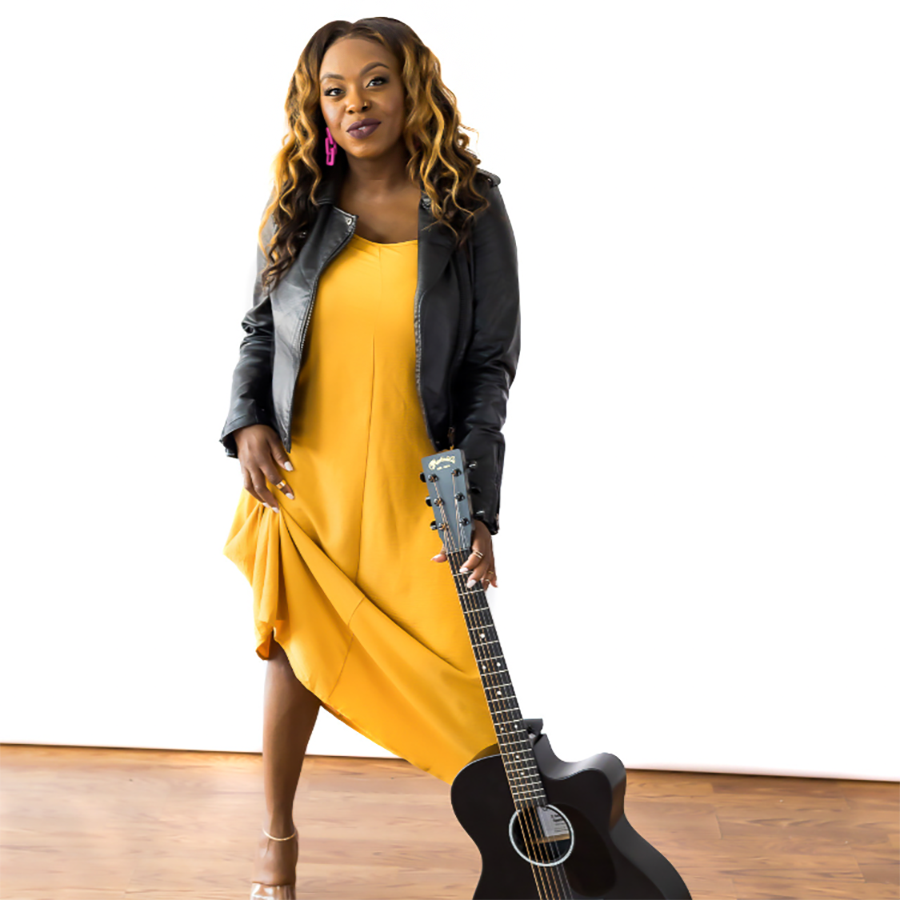 Chicago native Tiffany Hines is not necessarily a newcomer when it comes to writing and recording music. After spending all of her life singing in church, and recording vocals to be featured on other artists' projects, Hines is finally stepping out as a full-fledged solo artist. In addition to building her career as a singer and songwriter, Tiffany is a podcast host (The Awkward Single Life podcast), works closely with the non-profit organization, Coffee, Hip-Hop, & Mental Health, and is a self-taught guitarist. She recently released her first solo single, "Heaven's Mercy," and intends to use her gifts to inspire, give hope, and be a light. I had an opportunity to chat with Tiffany to dig into her new single, her songwriting process, and how she's grown through the pandemic. 
Jade Newton: Your first single, "Heaven's Mercy" is very personal to you because you started writing the song after your youngest niece had a health scare. Can you dig a little deeper?
Tiffany Hines: I started writing the song in 2017. My little niece's name is Neveah [the word heaven, spelled backward], and I just love her so much; she's like my own child [that I've never had before]. When my sister told me the story [of what happened to her], I thought, '[the outcome] could have been so different.' I felt this natural feeling of gratitude that my niece was alive, and I just wanted to create…out of this place, and this is just what came out. And I think that's the beautiful thing about being an artist and a writer, and a person who thrives in creativity. I was like, 'Wow, that was mercy she received.' And that's the only thing that came to me because I knew that things could have been different for her.
JN: You started writing the song four years ago, has it gone through a few iterations since?
TH: At the time, I just started humming the words, but the words are so different from when I first started. I was trying really hard to force that story as a song and wasn't getting anywhere. I had my chorus, I had the first words, and I like to challenge myself with words to give a more vivid picture. It took me two years of writing this song before I left it because I was starting to second guess if it was a song. Then, something came to me and said, 'Why don't you revisit that song?', and as I revisited the song, I had to let it die…in a sense of trying to make that story the song when it was really the inspiration to start exploring a different way of storytelling. 
JN: How did you push through the writers' block that you were having with the song? 
TH: I had sat with the song for so long, and performed it a lot. I had written one verse out and had written some different lyrics for verse 2, but it just still didn't feel like they were the right lyrics. I remember being in my apartment one day feeling this emotion come over me, and I just sang what I felt. That's actually my favorite part [of the songwriting process] because what came out was free-flowing. I reached out to one of my creative friends, and we actually had a writing session for hours and we went back and forth on changing some of the lyrics. Being able to bounce ideas off of people who I not only trust but are talented. They're great songwriters, and to get their input on how to craft this song, so that it builds a story, from beginning to end was a really beautiful way of us coming together.
JN: What does this song mean to you?
TH: The word 'mercy' isn't super-sexy, but it's used all the time; it's a life principle that everyone experiences and everyone needs. If you have any experience in your life where you're like, 'Man, I received an opportunity or something that I didn't earn,' that's mercy. It's not really talked about. And that's how this some came to be, and it's become even more real in my life as I've had to lean into it [mercy] even more these last few months. 
JN: With the world being in this pandemic, it's been pretty dark and challenging for many people, in more ways than one. Your desire is to give hope through music, and we both know how powerful music can be. How much have the events of the past 19 months influenced you and your music?
TH: I've been learning so much through this. I've doubted myself a lot; I recorded this song ["Heaven's Mercy"] a year ago, and it was trash, and I knew it was trash. Other people said that they loved it, but I knew it wasn't my best. During this pandemic, so much has happened and I've had to do a deep dive within myself. I re-recorded the song earlier this year and I couldn't believe the growth! We did the song once, and the confidence of me being 100% called to bring something to the table had been fortified. 
JN: How so? 
TH: I don't have to wait for anyone to gas up something that I've already known my whole life. I think that within this process, that was something that I had been waiting on. I think the biggest thing that happened is getting over a rough patch with experiencing and contracting COVID. I thought I would recover pretty quickly, but my experience was very different. I had four seizures, because of this virus, and I had never had a seizure before this. So, I'm walking in a mercy, that has been overwhelming clear, that things could have been very different. I could've been unable to put out this song; one of those seizures could've debilitated me or taken me out. Life is fragile; it's a vapor. I love music so much and I know that it's something that is powerfully part of my destiny. I don't have a reason why, as to why I waited so long [to put this song out], but I'll never wait this long to share or contribute again. 
JN: What would you say you enjoy most about the music creation process?
TH: I think I love the beauty of having nothing and then something useful happens and develops from it. I have the ability to see something, or have a thought from that thing, and then I have a process where I can create something beautiful. And don't get me started on the melodies, harmonies and vocals. The space of music is so powerful; I can't quite put into words how it connects us all over the world. I've created something beautiful and it's never going to run out. 
JN: As you prepare to release more music, what can people expect from you, in regards to your lyrical content?
TH: I like to think of it as 'life' music. When it comes to my beliefs as a Christian, that drives a lot of my decision-making, how I do life, how I care and love people. I have also come to realize that my experience with writing [about life] gives me so much fulfillment. So, people can expect me to sing about heartbreak, I'm going to talk about love, I'm going to talk about being a woman…I'm going to talk about all of those different things because I think all of those things express different facets of God. I grew up in church and I grew up loving R&B; I love listening to amazing singers and soul, and then evolving into loving acoustic sounds. What people can expect is that there's going to be storytelling, good vocals, and it's going to be a mix of soul, acoustic, and just vibes sound because that's what I'm into. I'm just really big on being able to share life through words, and I hope people will connect with the sound and the vibe.