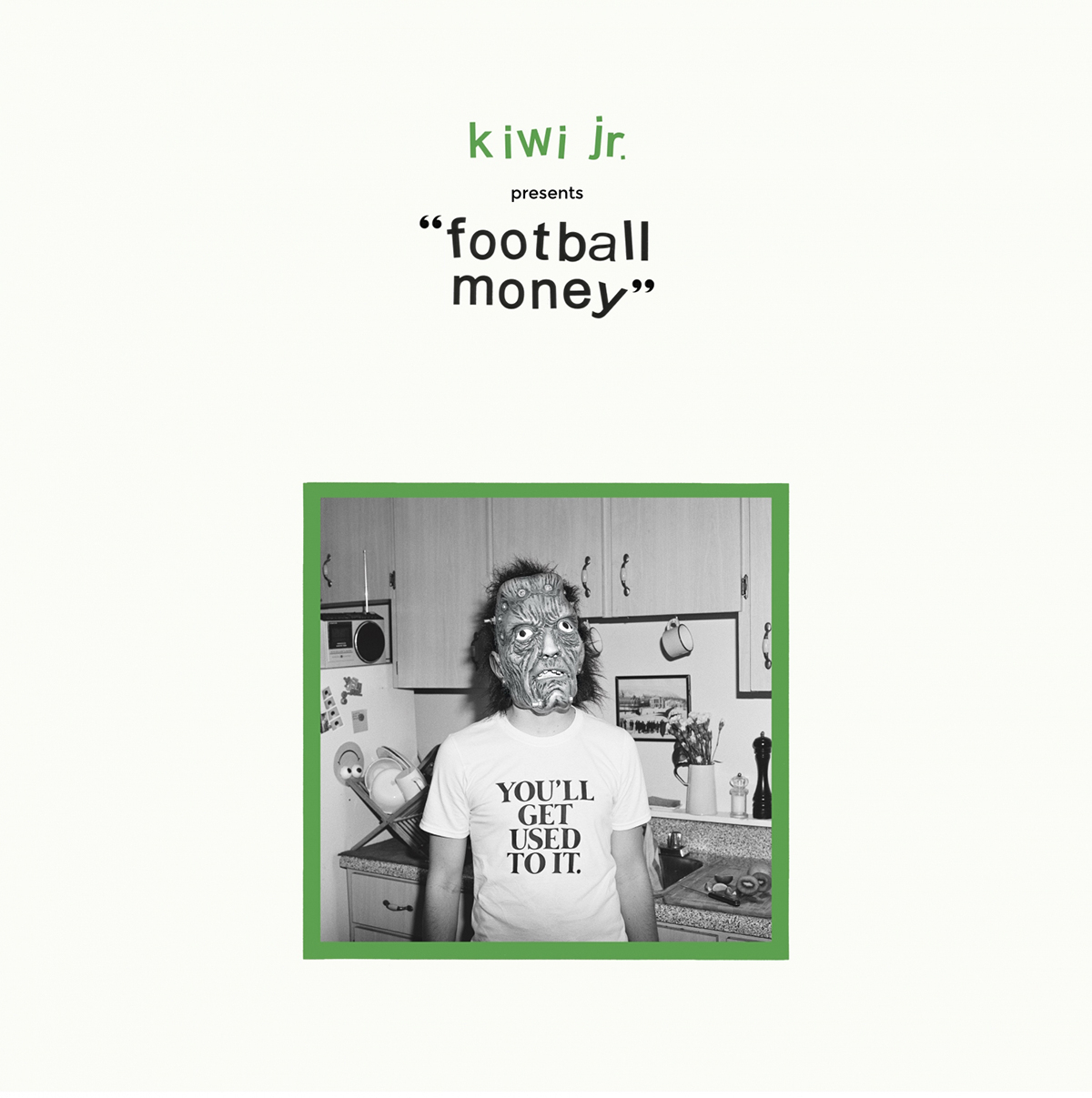 text by Sarah Thomas
Hailing from Toronto, Canada, Kiwi Jr. will be releasing their debut album, Football Money on  January 17th via Persona Non Grata.  Opening for the likes of Alvvays and New Pornographers, their sound is a mix of punk and jangle pop, reminding the listener of heavy hitters like The Cars. Composed of singer-guitarist Jeremy Gaudet, bassist Mike Walker, guitarist Brian Murphy, and drummer Brohan Moore, Kiwi Jr. is a bright spot in the punk scene.
Starting with the third track, "Salary Man," we get a feel for how the rest of the album will play out.  This modern take on Japanese slang for an office worker finds the lightheartedness in the plight of 9-5 drudgery with lyrics like, "I want cigarettes from Japan that taste like oranges." With an easily digestible, rollicking tune and simple, semi-shouted lyrics, "Salary Man" sets the tone for the rest of the album.
Just one song down is  "Gimmie More," where the punk elements of this album begin to shine. The repetitive lyrics, singing "gimmie more," and the twanging of the guitars make this upbeat track have the air of earnest. What's great about this song is that it's an upbeat narrative of the dissatisfaction one feels with growing up and finding that being an adult isn't all that it's cracked up to be. Near the end of the song, it builds to a buffet of instrumentals, as if the acceptance that "more" isn't always what one needs.
The 6th track, "Soft Water Apple," is as soft and sweet as its name implies. Slowly fading into a soft melody, this short song is 1 minute and 7 seconds of pure bliss. The soft, wailing synths blend with watery bass lines, painting a mournful picture that is a delight to listen to. It's a welcome departure from the enthusiasm from the rest of the album. Without the sharp sounds of the other tracks, Gaudet's vocals are able to shine.
The first few seconds of "Swimming Pool" is like something straight out of the '60s. The first few seconds of chiming guitars on this 9th track are a warm undertone to the song. With the addition of a tambourine, the song opens into a gooey landscape, one that encourages listeners to have a lazy moment. The drums beat out yet another simple rhythm, allowing for the guitars twang to reverberate in a way not unlike the classic, jangle pop sounds of R.E.M.
Kiwi Jr.'s debut is short, sweet and addictive. Their easily acceptable melodies paired with repetitive and punchy lyrics make for an album that can be played all the way through, no skips necessary. The band will be kicking things off with a UK tour, followed by gracing the stage of Austin's SXSW in March of 2020.
Image by Padrian McLeod