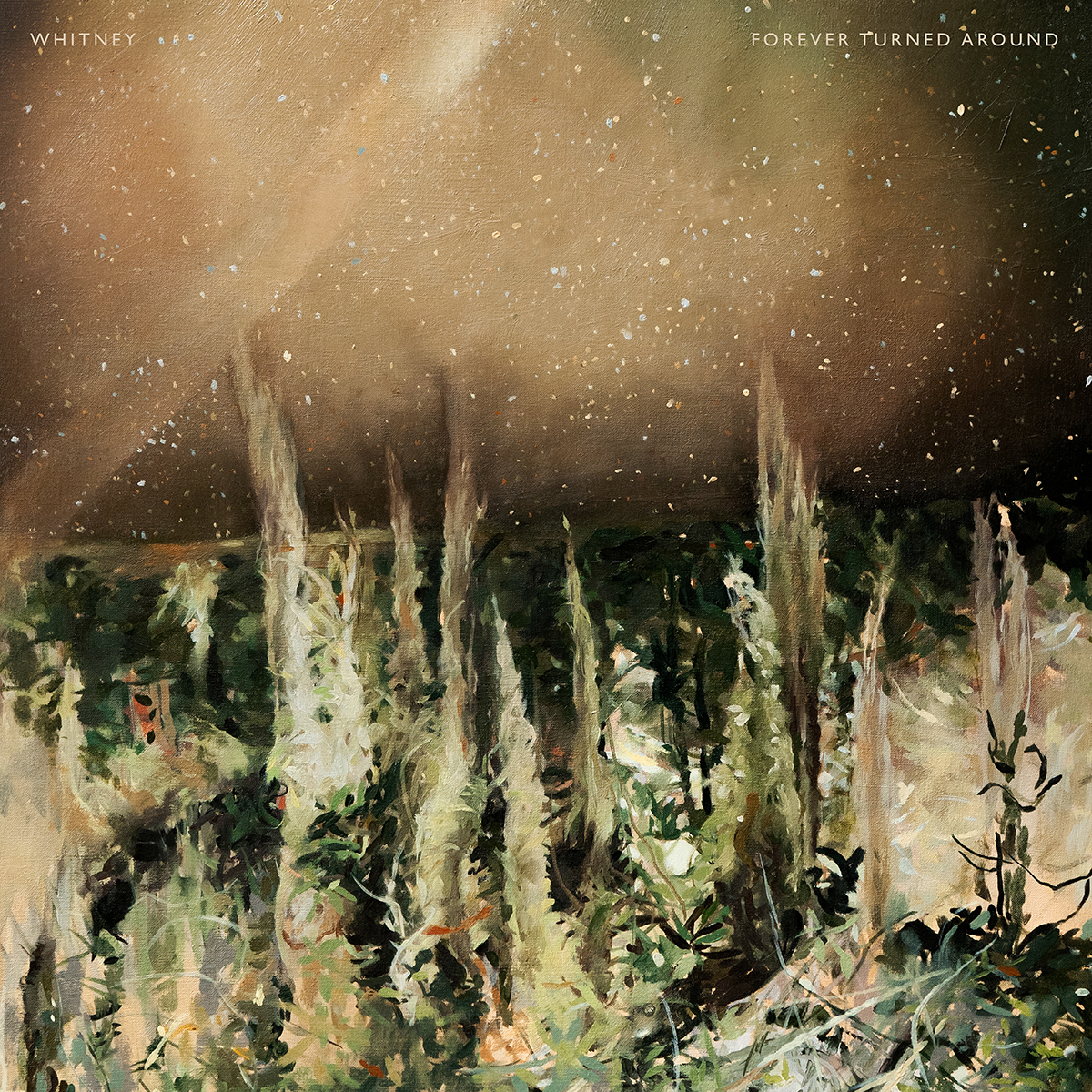 By Kiana Pontrelli
Whitney's sophomore album, Forever Turned Around, released at the end of summer, is the perfect prelude to fall. Always singing nostalgically of golden days, their soft rock melts your heart in the coziest of ways.
The album starts with "Giving Up" which features the classic song-making style of Julien Elrich and Max Kakacek—swinging and upbeat but with lyrics that don't always follow that same positive tempo. Forever Turned Around is about relationships, whether romantic or platonic, you're often left free to decide that for yourself. They tackle loneliness, doubt, fleeting feelings, and change. It's unclear how they are able to evoke simultaneous melancholy and sunshine, but they do so masterfully.
Sonically, it sounds strikingly similar to their debut album, Light Upon the Lake (2016)—and you likely wouldn't notice much of a difference if you interchanged a few of the tracks. But their style is so unique, it's hard to hate them for it – simply because you won't find anyone else like them.
In the first half of the album, we feel the sun setting on summertime. They address change in a new way in each song. Beginning with "Before I Know It," they start with change sneaking up on you. "Song for Ty" is about instability and fleeting feelings—the worry of change coming at any time. And "Valleys (My Love)," ends this section most directly, "I never want to fade away/ Want to turn as the seasons' change/ Every time you come around/ The days just slow down," sings Elrich.
As usual, Ehrlich and Kakacek are backed by a large band including multiple guitars, a trumpet, bassists, and a keyboard. We get a full taste of their instrumental work in "Rhododendron," which hits at the center and serves as the album's interlude. It's a smooth and bouncy tune stuffed with a trumpet and guitar.
They quickly jump back into those wistful lyrics, but this time there's a slight shift to lightness—now their words seem to be fueled with less anxiety. Where "Used to Be Lonely," at the beginning of the album, addresses the fear and struggles in loneliness, "My Life Alone" features a dancing-with-myself kind of acceptance. The next two tracks bring a sense of nostalgia and daydreaming as they lead up to Forever Turned Around's namesake song that curbs the album with a sleepy finish.
While Forever Turned Around is a solid album as a whole, you might find it hard to pick a favorite. This isn't necessarily a bad thing—the album drags out like one long happy day or a sticky night lit with fireflies. Its easy listening radiates warmth and euphoria. The music may fall in and out of your focus, but you'll likely be nodding your head with a dreamy smile through all ten tracks.
Forever Turned Around navigates both the expected and unexpected feelings. Its music will help ease you into coming change, all while wrapped up in an iconic Whitney bow.
Upcoming tour dates:
Fri. Jan. 24 – Madison, WI @ The Sylvee
Tue. Jan. 28 – Evanston, IL @ SPACE
Wed. Jan. 29 – Indianapolis, IN @ The Vogue
Thur. Jan. 30 – Louisville, KY @ Headliners Music Hall
Fri. Jan. 31 – Nashville, TN @ Cannery Ballroom
Mon. Feb. 3 – Pensacola, FL @ Vinyl Music Hall
Tue. Feb. 4 – Tallahassee, FL @ The Moon
Wed. Feb. 5 – Miami, FL @ The Ground
Thur. Feb. 6 – Tampa, FL @ Orpheum
Fri. Feb. 7 – Charleston, SC @ The Music Farm
Mon. Feb. 10 – Columbus, OH @ Newport Music Hall
Tue. Feb. 11 – Cleveland, OH @ Beachland Ballroom
Wed. Feb. 12 – Syracuse, NY @ Westcott Theatre
Thur. Feb. 13 – Montreal, QC @ Corona Theatre
Fri. Feb. 14 – Toronto, ON @ Phoenix Concert Theatre
Sat. Feb. 15 – Detroit, MI @ Majestic Theatre
Sun. Feb. 16 – Grand Rapids, MI @ Fountain Street Church