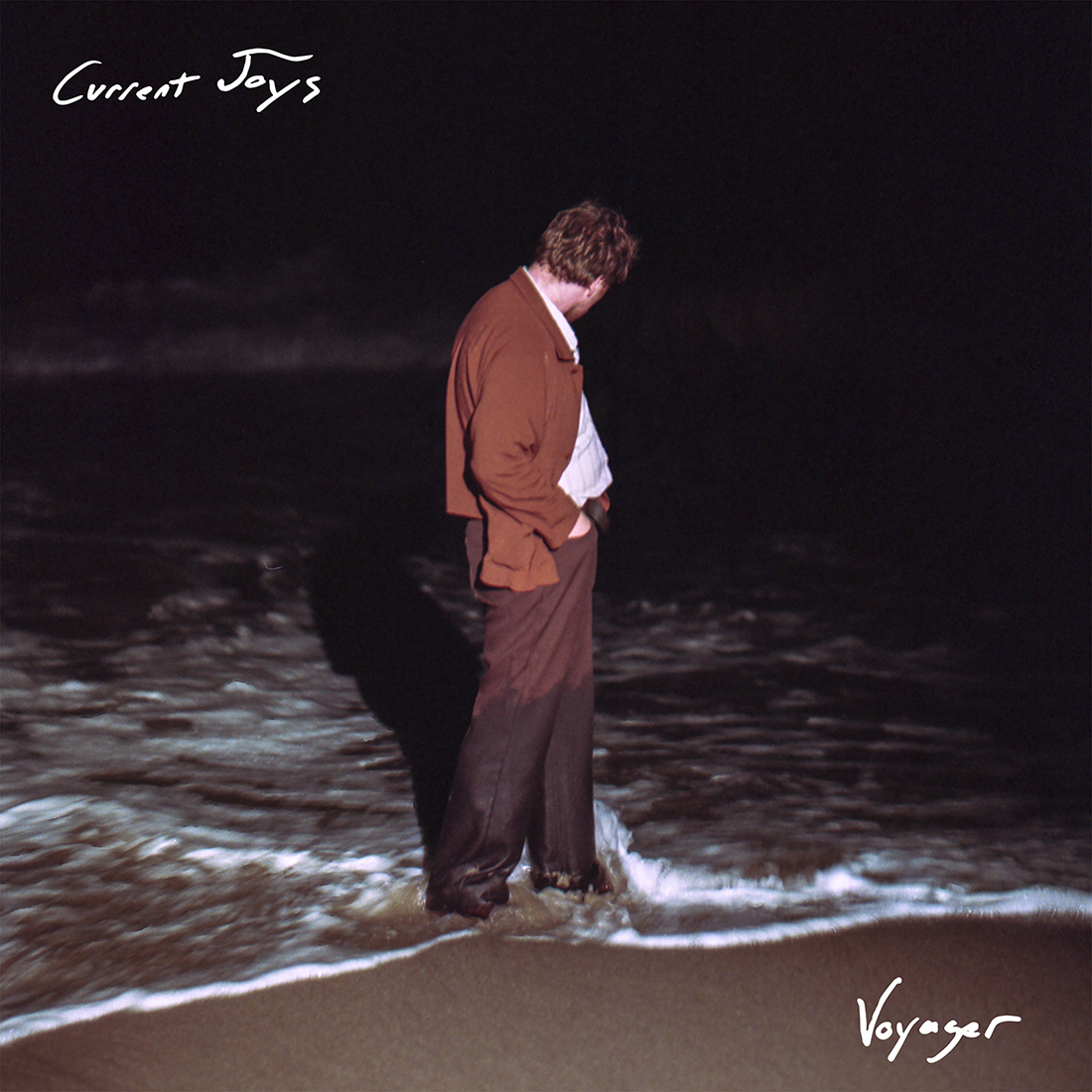 Nick Rattigan's band, Current Joys, is releasing its seventh album Voyager after signing with Secretly Canadian. Rattigan continues to evolve as an artist making this record the band's most mature album to date. Voyager is an odyssey of self-discovery incorporating rock n' roll with grand orchestral accompaniment. Forming in 2013, Current Joys has found a way to establish a loyal fan base from both indie and mainstream audiences while sticking true to their vision by taking chances. Being a fan of Rattigan's other band, Surf Curse, for a few years now, I was ecstatic about reviewing Current Joys latest project. They did not disappoint.
Voyager opens up with "Dancer in the Dark." Mellow guitar chords, attacking drums, and whimsical piano meet Rattigan's soft vocals as he speaks the words, "You used to say you'd run away, but now you're chasing fire. There's something in the flame. At first, I think you need a light, I don't if I feel quite right." It's a lovely introductory track that continues to build louder before returning to its softer tone. "American Honey" is a wonderful song. The way Nick projects his lyrics in a way that you can feel the pain is a thing of beauty. "I miss you like American honey. Taste so sweet, but there's always something. Like a tragedy that's constantly." "Naked" is an energetic track that represents Rattigan's style that I've come to love. It's livelier compared to the first two tracks and is sure to make your heart thumping. The progression of the track matches Nick's intensity as he changes from a calm tone to passionately yelling the chorus, "don't let go of me." The chorus alone will get stuck in your head making you want to re-listen to the song.
There are two tracks where Nick is joined by a singer (couldn't find out the singer's name). The first one is "Breaking the Waves," it's a simple track with both of them repeatedly singing, "Miss my valentine. I can't breathe when you're not mine." It's short and sweet making the confession of missing a lover even better. Its simplicity in lyrics and complexity in instrumentation makes the repetition in lyrics even catchier. The other song is "Something Real." Here both singers represent the point of view of the misunderstanding that happens when dating. "She always gets me wrong. He always gets me right. She wants something real. He wants something right." Neither side is wrong and both provide valid reasons as to why they believe the way they do. It's a beautiful masterpiece nailing both vocals perfectly and illustrating the misunderstandings that happen during a relationship.
"Amateur" pushes Voyager forward as Rattigan showcases his growth as an artist both musically and visually. The song is piano-heavy with a slow build of tension. By watching the music video you can see the influence of filmmakers such as Alfred Hitchcock, Lars Von Trier, and Andrei Tarkovsky. A Nevada native, Nick moved to New York after school where he was a production assistant in the TV/film industry. Relocating to Los Angeles in 2016 has only added fuel to Nick's passion for film. The self-directed video shows a beastly Rattigan driving a retro top-down car with a desert backdrop.
Lastly, I want to touch on the albums titled tracks, "Voyager part 1 and 2." The first part is a piano solo that is joined by a string section that displays Rattigan's understanding of classical musical arrangements. It's such a charming song. Not overly complex or dramatic, just brilliance that you can fade away listening to it. I would love to play this song on the piano. The second part continues the string and piano playing while Rattigan sings his heart out. It's a fantastic ballad that completes the journey Nick has taken his listeners on.
Current Joys come forward with another great album in Voyager. There are plenty of moments of brilliance across all 16 tracks and I only touched on a handful. There are other songs I wish I could've discussed like "Money Making Machine" which is sure to be a hit song for the summer or "Vagabond." However, it's better for you guys and girls to give these tracks a listen yourself to come to your own conclusions. Being a fan of Nick Rattigan's work over the last few years it's great seeing him reinvent himself on each project and continue to grow as an artist and songwriter. His musicianship continues to impress and he's only going to keep getting better.