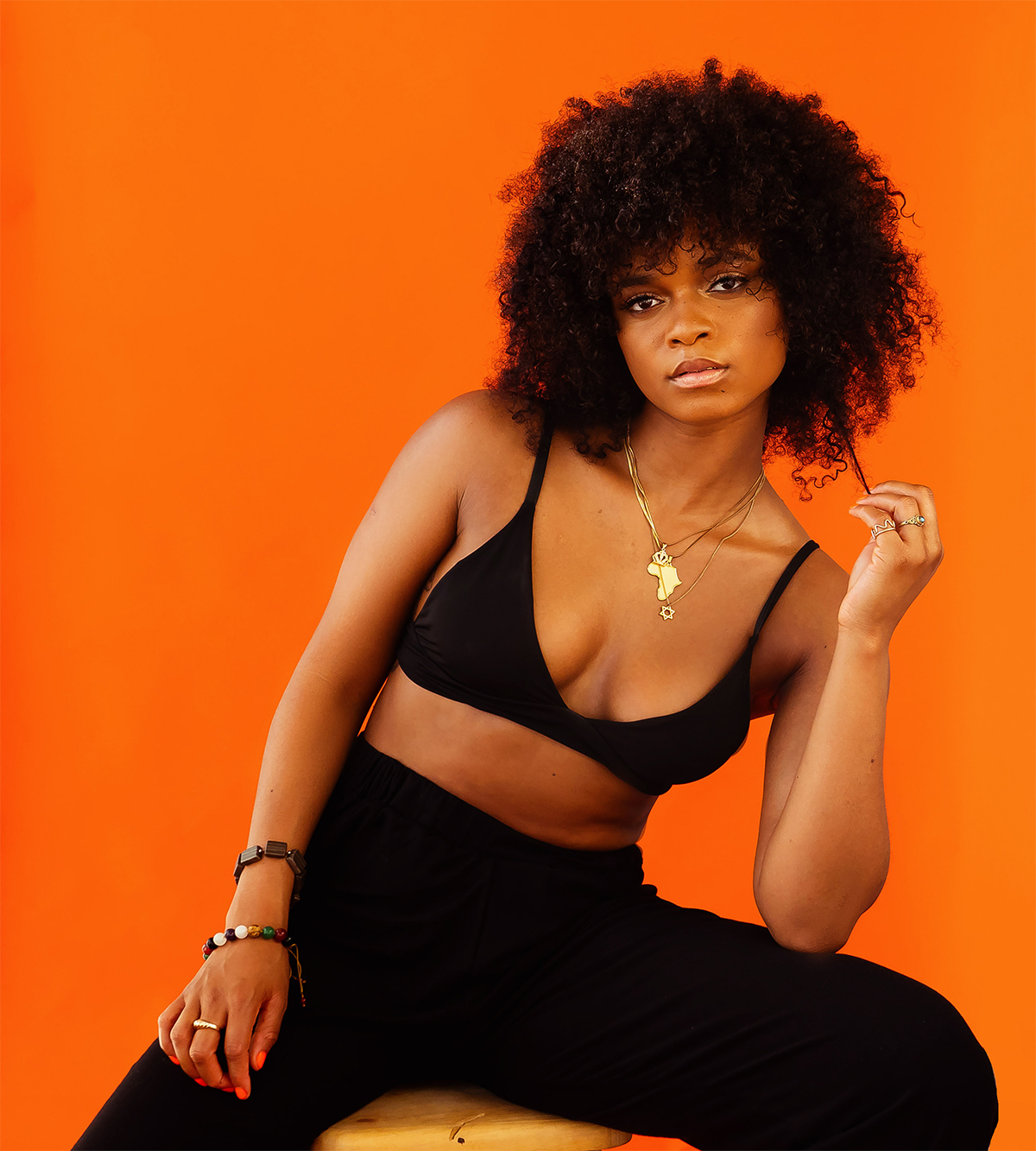 Lila Iké (pronounced Lee-lah Eye-kay) has a signature contemporary reggae sound: sweet and warm, infused with elements of hip-hop, soul, R&B, and of course dancehall. It's a sound that she calls "ancient future."
Born Alecia Grey, in the rural parish of Manchester, Jamaica, Lila Iké was raised by a single mother with three sisters. Her mother was a big music fan, blasting records "in the house every day from early morning until night," she told OkayAfrica. As Grey got older she began to write lyrics herself and ended up producing a graduation song for her class which gave her the confidence to take up music more seriously. After moving to Kingston to study education Grey got exposed to the music scene and begun to build connections with artists like Jah9, Kabaka Pyramid, and Protoje.
Shortly after, the singer entered the music fandom on a high step with "Where I'm Coming From" (produced by Kasadie "Caspa" Jones) and "Second Chance" (produced by Alfred Simpson). A friendly connection lead her to Protoje who swiftly signed her to the In.Digg.Nation Collective. In the following year, Lila Iké spent quite a bit of time touring with Protoje on stages from Montego Bay to Brooklyn and Benicassim in Spain.
On May 15th Lila Iké released her debut 7-track EP The ExPerience via RCA Records in conjunction with Six Course Records and In.Digg.Nation Collective. The record was produced in collaboration with Jamaica's most in-demand producers like Phillip "Winta" James and rising young beatmakers Ziah x JLL x Iotosh, who can be heard on "Solitude."
Speaking about her debut EP Lila shared that it's a "mixture of songs influenced by reggae, but it does not define the sound. It has trap dancehall on 'Where I'm Coming From' and soulful vibes on 'Forget Me.' It gets sweet and jazzy on 'Stars Align' and 'I Spy' has this reggaeton and pop feel" she continued, "It is a beautiful time for this kind of music to come from Jamaica, we are showing people there is no linear way of anything" – a strong declaration from a promising artist ready to shake up the scene.
Kateryna Topol: Hello Lila! How is your spring going in these strange times?
Lila Iké: It's been going good you know. I've been reading a lot, making and learning music, going to the beach, and doing things that keep me inspired. I've been working out as well, with my trainer to keep fit and in shape.
KT: Sounds quite lovely. Your debut EP The ExPerience is out – congratulations on the release – how are you feeling now that the record is out?
LI: I feel very grateful and overwhelmed. I've been getting a lot of good feedback and people really relate and are inspired by the music. Even the children, that means a lot to me – the fact that they understand and like the sounds and are inspired.
KT: Amazing! You told ReggaeVille that you spent the release date cell phone-free near a river, why did you feel the need to disconnect on the release date?
LI: It was my first project and I was nervous about the release. Sometimes the expectations and excitement about it all makes me anxious and to keep my peace of mind, I escape in solitude. Nature brings me peace and calms me down, so I did what I felt was right and best.
KT: In the press release there's a nice quote from you: "the songs are 'an experience of me, showing my versatility and the different tones, values, and vibes of a woman'" – let's unpack that a little, how did you get into music?
LI: I got into music from I came out of my mother's womb – as far as I can remember. She used to always play music in the house and I used to always sing with her or sing along to the songs. My culture is heavily music-based and I used to always be at home, hearing the sound systems in the distance and it used to be exciting for me. I wrote the graduation song and my entire year group liked it and we sang it that year (that was in 2011). I never studied music formally. My first live performance was when I entered my high school pageant where I performed as a singjay, I won best talent that year. So I would say that's how I got into music.
KT: How has it been coming up as a woman on the scene now?
LI: It's really an interesting scene because it is a male-dominated industry – I realized that I have to be firm and direct and work twice as hard. The women are coming up now though like Sevana, Jaz Elise, Naomi Cowan, and even Koffee – so it's an exciting time.
KT: It for sure is! Do you feel like the music is maybe an opportunity for you to not only share your values but inspire other women and girls?
LI: For sure. It's one of my main goals, to inspire women and girls. I grew up in a household with only women – my mother and sisters and I always wanted to make them happy and proud, especially with what I do. I want women to look at me and know that they can do anything and overcome any struggle and fight that is presented.
KT: What role did your family play in your love of music?
LI: My mother always knew I could sing but she always wanted me to go to school and get a formal education before anything – so she wasn't into the music thing as a profession. She officially became a fan when I released my first single "Biggest Fan" – the song I wrote for her.
KT: Must've been a nice feeling. The music video for "Where I'm Coming From" is really great, a lot of footage in there seems from your personal archives – is it?
LI: The entire video shows literally where I'm coming from. It was shot in my hometown, Christiana, Manchester, JA. I wanted to show people the humble beginnings and the importance and value of family and community. That was my mother talking and it just makes me feel good to include her in my career. She did a lot for me growing up and managed as a single mother and so I'm always grateful for that.
KT: You had quite a few live shows planned, I imagine a lot of them are on hold now, what shows are you most looking forward to?
LI: I'm really looking forward to performing in Jamaica – my first project is out and I just want to share it with my people.
Images courtesy of the artist