Independent Spotlight is an interview series shining a light on some of the music scene's talented independent musicians to discuss how it is to navigate the industry as an independent artist.
* * *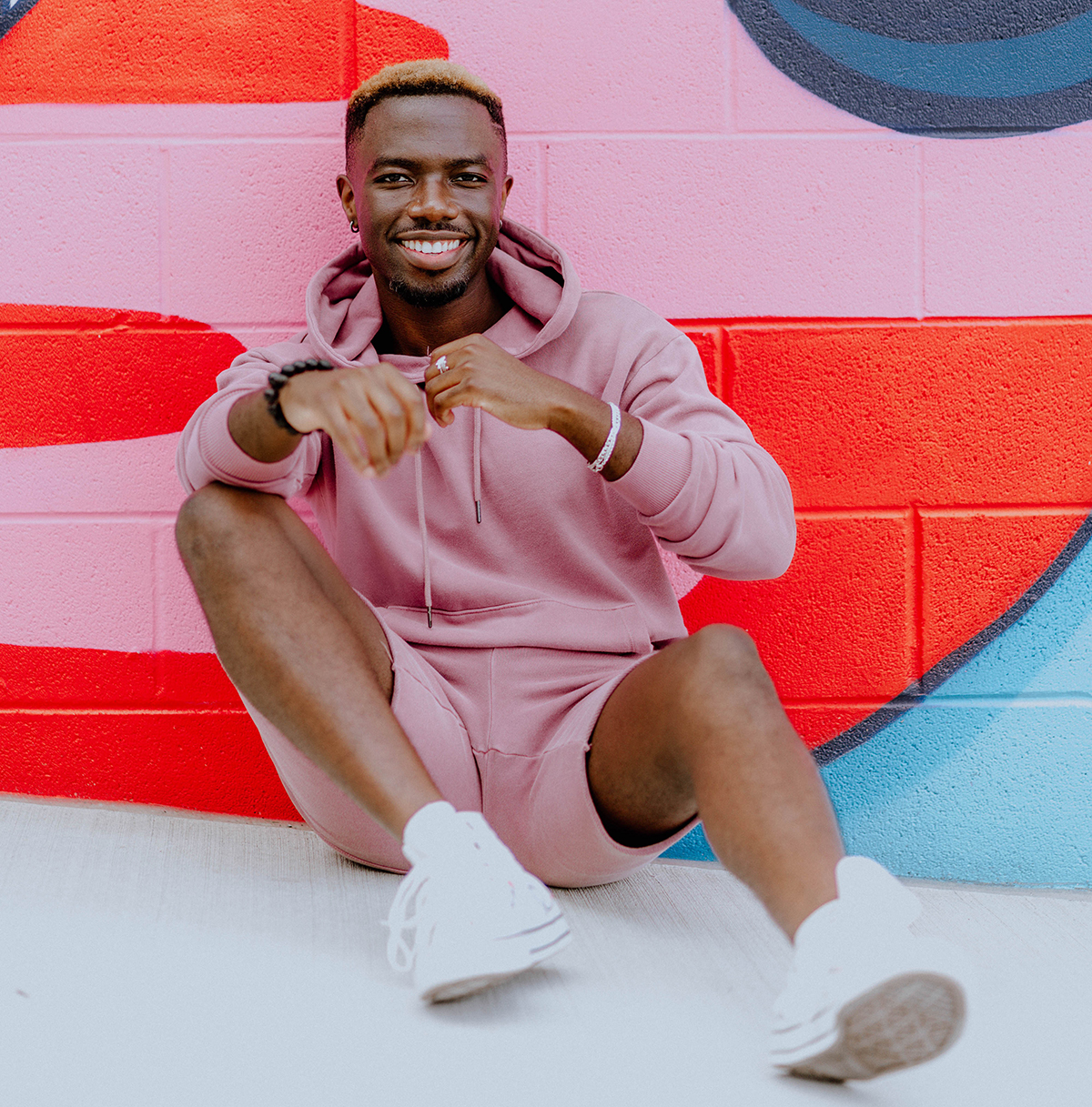 Lánre is a fast-rising musician based in Atlanta, originally from New Jersey. Beginning his music career at the age of 10 as part of an award-winning show choir, he has spent the past few years perfecting his craft as an independent artist. He now has several releases under his belt, including four in 2022, and he seems to be going from strength to strength with each release.
Lánre spoke to Quip about independent life, his journey so far, and upcoming new music. 
Nathan Miller: What's your background and journey in music so far?
Lánre: I grew up in a town called Plainfield, New Jersey, and have been singing and performing since I was eight years old. I went to a middle school for the performing arts and kept performing throughout high school through musical theatre shows. I wrote and recorded my first demo when I was 14 with help from my cousin, Mike Williams (Mike WiLL Made-It).
I kept writing and performing here and there, but it wasn't 'til 2020 that I started releasing music professionally. I released my first EP in Dec 2020, In My Dreams…, and it's since gotten over 350k streams worldwide. I'm very proud of that project and have been building on that momentum ever since.
NM: What are the most rewarding things about being an independent artist?
L: One of the most rewarding things about being an indie artist is the ability to have full creative control over my projects. There's no one telling me what type of records to put out or when. I have complete autonomy in that process right now. Even when I do get signed, I hope to have the type of relationship with my label to be able to control aspects of my music. It's been such a rewarding experience sharing music with my fans that I know they'll love solely based on their behavior towards my catalog, not including industry trends or anything.
It's also very rewarding to see all the hard work you put into a project pay off. I do most of the design work, marketing, website maintenance, etc. for my brand on top of writing and recording my songs, so it's really satisfying to get positive feedback on my work from my fans or fellow people in the music industry.
NM: What are the most challenging things about being an independent artist?
L: As I mentioned earlier, I wear a lot of different hats as an indie musician and it's really been a challenge to find enough time to get things done. As my career progresses the level of work just gets more challenging, even though I've been doing it for the past two years. I'm really hoping cloning becomes a possibility soon so that I can get all I need to do done!
NM: How do you think these challenges can be overcome?
L: I've learned how to prioritize my different tasks instead of trying to do everything at once. I like to deliver things that are due right away so I don't forget, but this isn't the most feasible way to operate, especially in the music industry. So to help with my sanity, I started prioritizing, so that I can give each task my full attention vs. doing things the minute someone passes it to me.
NM: What advice would you give to other independent musicians out there?
L: The best advice I got starting out was to appreciate and focus on the 'here and now' of your career. What that means is to enjoy what's going on around you and try not to focus too much on where you want to be. The goal is to have as much fun and work as hard as you can in the present so that you can fall in love with the process of chasing your dreams. That advice has helped me tremendously, and I suggest that every indie artist should have that mentality.
NM: As an independent artist, what's one thing you know now that you wish you knew back then?
L: Planning out my releases for the year or at least every quarter. I started doing that when I partnered with my new distributor last year, and it's been such a timesaver! It does two things: it helps you organize your current catalog of unreleased songs, and it forces you to come up with a marketing strategy for each. For example, at the beginning of the year, we went through my unreleased catalog and matched each song's genre with the seasonality of the year. This really helps if you're OCD like me and like to have a set schedule for everything.
This also helps free up a lot of time creatively because you're not pressured to write or produce – you'll just be doing it organically when you have great ideas. Ironically, I've been in the studio more since I've been doing this because I want to have an even larger unreleased catalog when going into 2023 and beyond.
I really wish I knew how to do this earlier in my career!
NM: How do you think streaming platforms can better help independent musicians?
L: To put it simply, pay us more. Independent musicians are the backbone of streaming platforms like Spotify, and we sink so much of our personal funds into producing and marketing the music; we deserve more than what the current share is. I don't know logistically how that could work, but personally, I know that if I saw something close to a ROA for my songs, I'd have a lot more capital to sink back into my music career.
NM: Let's spread the love! What independent musicians are you fans of and think deserve more attention? 
L: Two indie artists that come to mind immediately are Valley Boy and Tayla Parx. Valley Boy is a duo that makes earthy, tropical, alternative music. They have such a feel-good vibe to them, and their lead vocalist has the voice of a literal angel. Tayla Parx is pretty well-known in the music industry already for writing for other artists like Ariana Grande, but I've been following her on Twitter and keeping up with her own releases, and she's got something special! She has such an interesting perspective on R&B/pop. Her song "Last Words" is a personal favorite of mine.
NM: You are given a $100,000 grant to invest in your music career. How are you spending it? Give us the full breakdown!
L: The first thing I'd do is pay my LLC back for a lot of the personal funds I've invested into my career over the past two years. Then, I'd book an engineer and producer and rent out a studio/Airbnb for about two months to stockpile a catalog for singles/an album. I'd then put some money aside for my digital advertising budget for the next one to two years for my brand (music, tours, etc.). I'd hire a part-time assistant to help with all the clerical tasks that revolve around my music. I'd also hire a publicist and booking agent (may not require money upfront), to consistently secure shows, brand opportunities, and press placements. If I have any money left, I'd use that to book a few sessions with an A-list producer/songwriter like London On Da Track or Calvin Harris and work on a song or two for a big release!
NM: Where do you see yourself in five years' time?
L: Professionally, I see myself being a full-time working artist and musician that is on a worldwide tour with a huge official label-financed album under my belt. I'd probably already have moved to LA full-time by then, so I'll be spending most of my time there getting ready for the next album release and tour.
Personally, I hope to be married in five years. Maybe not having a child just yet, but at least being able to share my music successes with the person I love. I really don't want to still be single by then haha.
NM: Give us the full scoop and tell us all about your latest music release?
L: I'm really excited about one of my new releases, "Met U First". It's a collaboration song with an up-and-coming EDM DJ from New York, Mélodieux. It's such a feel-good summer song that is reminiscent of hits from Avicii and Armin Van Buren's dance music days. I really miss those summers that had those high-energy anthems and with "Met U First" we wanted to give people just that! It's a dance/house song that has a lot of hopeful and inspirational messages. I wrote it about how I feel about the love in my life now and how I wish I had it years ago before all the heartbreak I experienced. Mélodieux is so talented!
NM: Bonus question! A question you'd like to answer that wasn't asked in this interview…
L: Question: What are your upcoming plans for live shows or tours?
Answer: I can't wait to be back on the road to connect with fans. Performing is my favorite part of being a musician, and to be able to do what I love in new venues and in front of new audiences is a dream come true. You can find my full tour schedule on my website: lanre.us. 
Photo credit: Garrett Cardoso