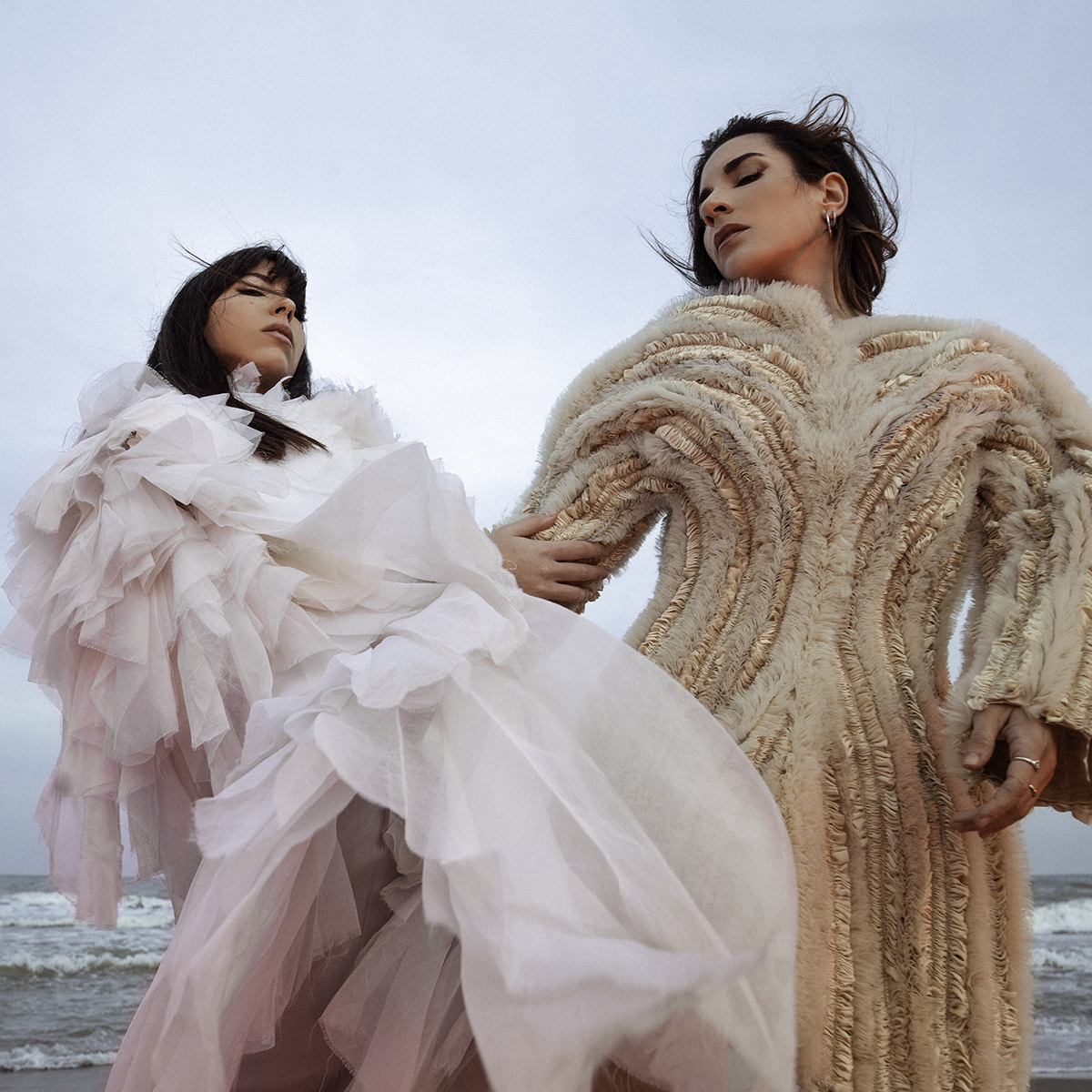 If rules are made to be broken, conventional wisdom is there to be defied. Two unwritten laws of music, standing since the olden days are don't self-distribute and don't couple bands. Gioli & Assia have defied both dictums, as well as the odds. 
Janes of all trades, Giorgia "Gioli" Lipari and Assia Nania combine production, instrumental vocal, composition, and executive skills in two individuals, the pair, now a couple, have gained ground since first coming together in 2015. Starting their own label, Ultra Records, and producing their own albums, they have complete control over every aspect of their production, and it shows. Particularly in their new, epic, semi-narrative release Fire, Hell and Holy Water.
Starting out in the most literal sense, "The Intro" is just that – a short, cold opening to get things going, in the form of a swelling, symphonic style composition reminiscent of "O Fortuna." 
The first track proper, "Meaning of Life" takes an absurdist approach to the question of mortality, deciding that we are "One dot of a billion dots in a Seurat canvas" therefore, "just please yourself/ don't mind the consequences/Cause we won't be there for long". All delisted with a lovely, fluttering piano sound, accompanied by more droning electronic elements that never get in the way. 
The title track is more of a traditional synth-driven dance track, marked by a gentler vocal delivery and less repetitive, more meaningful lyrics, the kind that encompass an anti-love song in the context of a monster movie: "Hell, fire and holy water/You came on me like I'm the monster/Words like razors rip my heart".
Lower and darker in most ways, "Silence" isn't much better in the bitterness, using metaphors of violence for emotional distance. Likely named after the popular party treat MDMA "Extasy" takes a different direction, comparing being in love to a more chemical form of stimulation, coming right out and saying: "I'm feeling high". The track sounds like something that could be heard at a rave in 1995 – which by all means is a compliment to the duo. "Jaula," on the other hand, has a more mellow house feel, with lyrics likely unintelligible to non-Italians, but sound great just the same. 
Taking another turn for the dark, seriously harshing any mellow built, "My Tears" seamlessly combines the atmospheric acoustic piano and electronic elements with 'honey, who hurt you" lyrics. Getting back into the classical structure, "Playing Chess" has a short prelude, before getting into the main part. A percussion-driven banger with organic and electronic sounds colliding behind committed vocals elucidating how modern love can be like a strategy game. 
"Eurydice" returns to the land of metaphors, coming off like a clever Indie Rock ballad. Not least because it refers directly to Greek mythology as a way of dealing with a bad breakup. Following up "Eurydice" at least in theme, "I'll Be Fine" shows a new level of maturity. Slowing things down from its predecessor, it sounds like an exercise in self-delusion the retain "I'll be fine" repeated no less than fourteen times.