Red Bull BC One Cypher, a one-on-one breaking competition, Canadian National Final is taking place this coming Saturday at the Design Exchange. The event is known as the most prestigious breaking competition in the world showcasing skills from both b-boys and b-girls from across the world. Following the qualifiers in Montreal and Vancouver 16 competitors will decent in Toronto this weekend (event details below) for their chance to represent Canada in NYC for the Last Chance Cypher.
 In anticipation of the competition, we caught up with two local breakers to discuss their careers, music inspirations, and expectations of this upcoming challenge. Meet B-Boy Illz and B-Girl Deep Fried TIFF both of whom are established dancers with 18 and 9 years of experience.
Kateryna Topol: Hello Illz and Deep Fried TIFF – how is your week going coming up to the finals in Toronto?
Deep Fried TIFF: Exciting but also a lot of managing my expectations and psyche in terms of worrying about my performance or the outcome. I've been working, doing some light practices, eating too much, and waiting in anticipation for Saturday to hurry up and come!
Illz: It's going well! I'm enjoying the journey, training hard while also taking the necessary time to rest and recover.
KT: Rest and recover for the win. Do you have any "pre-game" rituals you follow before competitions? 
DFT: Yes, I usually clear my day so there's nothing I need to do before a competition so I'm in a relaxed and calm mindset. During the competition, you'll find me party rocking in the corner to keep my positive energy up and my body feeling free and loose. This also helps me turn any battle anxiety or nervousness into excitement.
I: I like to study my material. Rewriting my moves on paper and rewatching my practice footage. Nature walks also soothe my anxiety. The sauna and cold showers also help with my rest and recovery. And lastly, a good haircut for bonus confidence points.
KT: Is this your first time participating in Red Bull BC One?
DFT: In previous years I've competed in the Red Bull BC One E-battles where I placed Top 8 in 2021, and the  Red Bull Cypher Canada where I was a finalist in  2021. I also landed in the Top 4 for the 2022 Red Bull BC One  E-battle.
KT: Impressive! What about you Illz?
I: This isn't my first Red Bull BC One [either] I won the Canadian Cypher back in 2016. I returned to compete last year but lost in the semi-finals.
KT: What would this win mean to you?
I: Winning would be awesome. But more than that, I would love to represent Canada at the World Finals. This year, I feel like I've evolved and I'm ready to show the world what I've been working on.
DFT: It would mean a lot to be able to share my style at the Red Bull BC One Last Chance Cypher and hopefully on the world final stage. It would help validate my growth in breaking but more importantly, I'm excited to do my thing in front of my friends and breaking community. I have been mostly competing internationally this year so being able to have my people around me, share their energy, and potentially win is going to be incredible.
KT: For sure, looking forward to seeing everyone come together as well! So you both have been breaking from a very young age, how did you get into it?
DFT: I started breaking at 18 years old, I saw another b-girl throw down and immediately fell in love with footwork. I became obsessed and trained rigorously with my university crew and members of Ground Illusion. When I came to Toronto, I formed Kuru Crew in Toronto with two other b-girls and our shared ambitions helped keep my drive.
I: I started dancing because of the first ever Red Bull BC One back in 2004. It sparked my interest from the moment I saw it on YouTube. My passion grew as my older brother and his friends used to do it. For me, I just wanted to fit in, but my brother had other plans. This gave me the motivation to want to improve so that I could smoke him and his crew. That was the last of it though, they stopped shortly after high school. 
KT: And here you are keeping the family in the circuit! How would you describe your individual style of breaking?
I: Intricate and precise with a little contemporary feel. 
DFT: Dynamic, flow, and bouncing all over the place.
KT: What kind of influence does music have on your dance?
DFT: I listen to a lot of house and funk, so I try to play more with feeling and flow. Some house music has a spiritual undertone so it taught me to be more free and I try to embody that feeling in my chest when I dance.
I: I really enjoy listening to slower music like Jazz or Adele. It helps get my creative juices flowing. Sometimes, I like that raw-raw gangsta music though. It reminds me of the battle setting and it helps me to dance with conviction and intensity. The 80's also inspired me to look cool too. 
KT: What are some of your most inspiring artists or songs? 
I: The 21 album by Adele created my entire flow. 
DFT: "Throw your Hands Up" by L.V, "Ain't no thang" by Outkast, "Guerilla Funk" by Paris, "Word Iz Life" by Poor Righteous Teacher, "Big Bad Mood" by Jordan Stephens & Miraa May, "Follow the Sunshine" by Sabrina Starke, "The Real Thing" by Bitty McLean, "Open Your Eyes" by Bobby Caldwell, "The love" by Jadu Heart.
KT: What a classic list TIFF! We went ahead and made a little playlist haha
KT: Are your music tastes on and off the dance floor same or different?
I: It's pretty much the same on and off the floor. I just listen to anything that inspires movement. It helps when you dance alone in your own space. You can set the tone and the pace of the practice without any judgment. I truly believe you should dance to whatever music moves you. 
DFT: My music on and off the dance floor is both similar and different. I definitely lean toward funkier tracks for both. If we are hitting a party, my preferred music is house, disco, and funk. The music just makes me want to dance nonstop and hits the soul vibrantly and perfectly. In a battle, I would also prefer to dance to more funky breaks but that's become a rare occurrence for me. off the dance floor, I like my G-funk, old-school funk, R&B, boombap, neo-soul, soul, reggae, house, alternative, and Disney karaoke haha.
KT: Cool. Let's go a bit.. broader – breakdancing and music are major elements of hip-hop culture, do you consider yourself let's say a member of the hip-hop community?
I: Yes!
DFT: Yes, I consider myself a member of the hip-hop community. The breaking community is hip-hop, and I have been fortunate to have many OGs and folks in the community provide guidance, educate me on the history, serve as mentors, share their energies and vibes, and contribute to my growth in this craft.
KT: How has this community influenced you as an individual over the years? 
DFT: Inspire me, uplift me, support me, grow with me…
I: Hip Hop has brought a lot of joy into my life. The places I've visited to the people I've met, I owe a lot of it to this culture. Hip-hop has given me my identity, a place to express myself, a purpose, and a passion. "You never thought that Hip Hop would take it this far!"
KT: I love that! Anything you'd like to say to the dancers starting up?
I: Don't limit yourself to the opinions of others. Move the way you want and enjoy the journey. Be original [winks].
DFT: Be passionate, be patient, integrate into the community, and most importantly have fun.
KT: Thank you for your time and best of luck to you both! See you at the Design Exchange 
* * *
Event details for this weekend are as follows:
Where: Design Exchange – 234 Bay St., Toronto, ON
When: October 15, 2022 – Doors at 6 PM, event at 7 PM
Cost: Free at the door on a first come first serve basis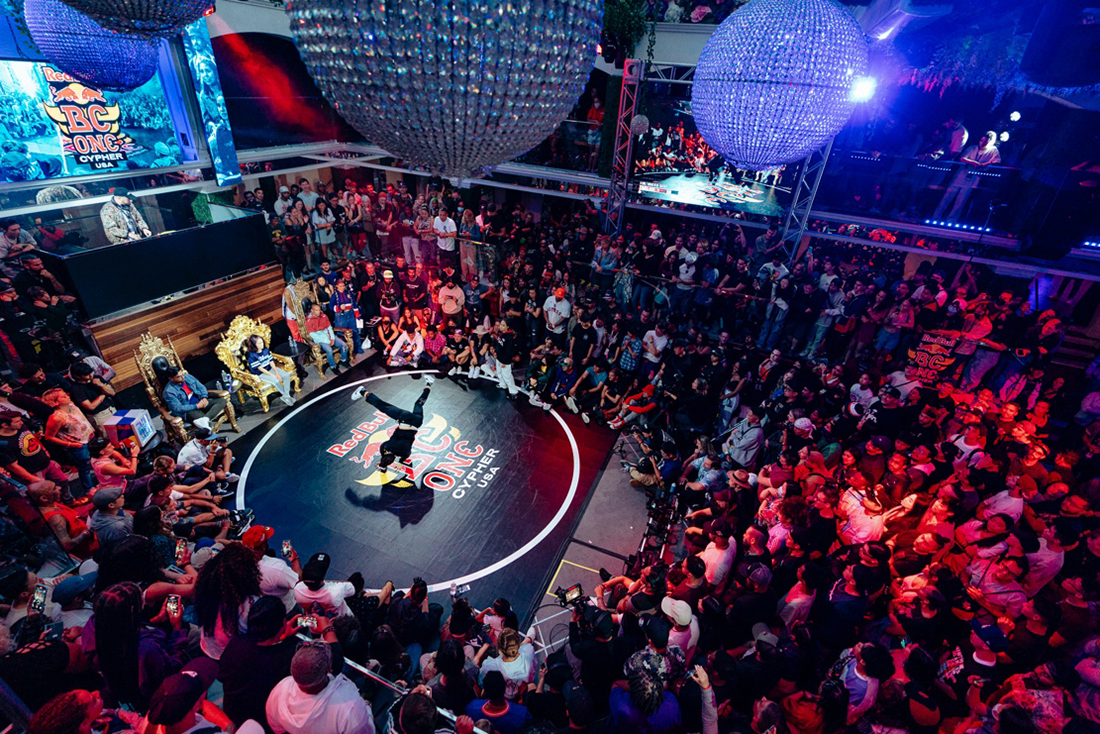 All images by Carlo Cruz via Red Bull Content Pool