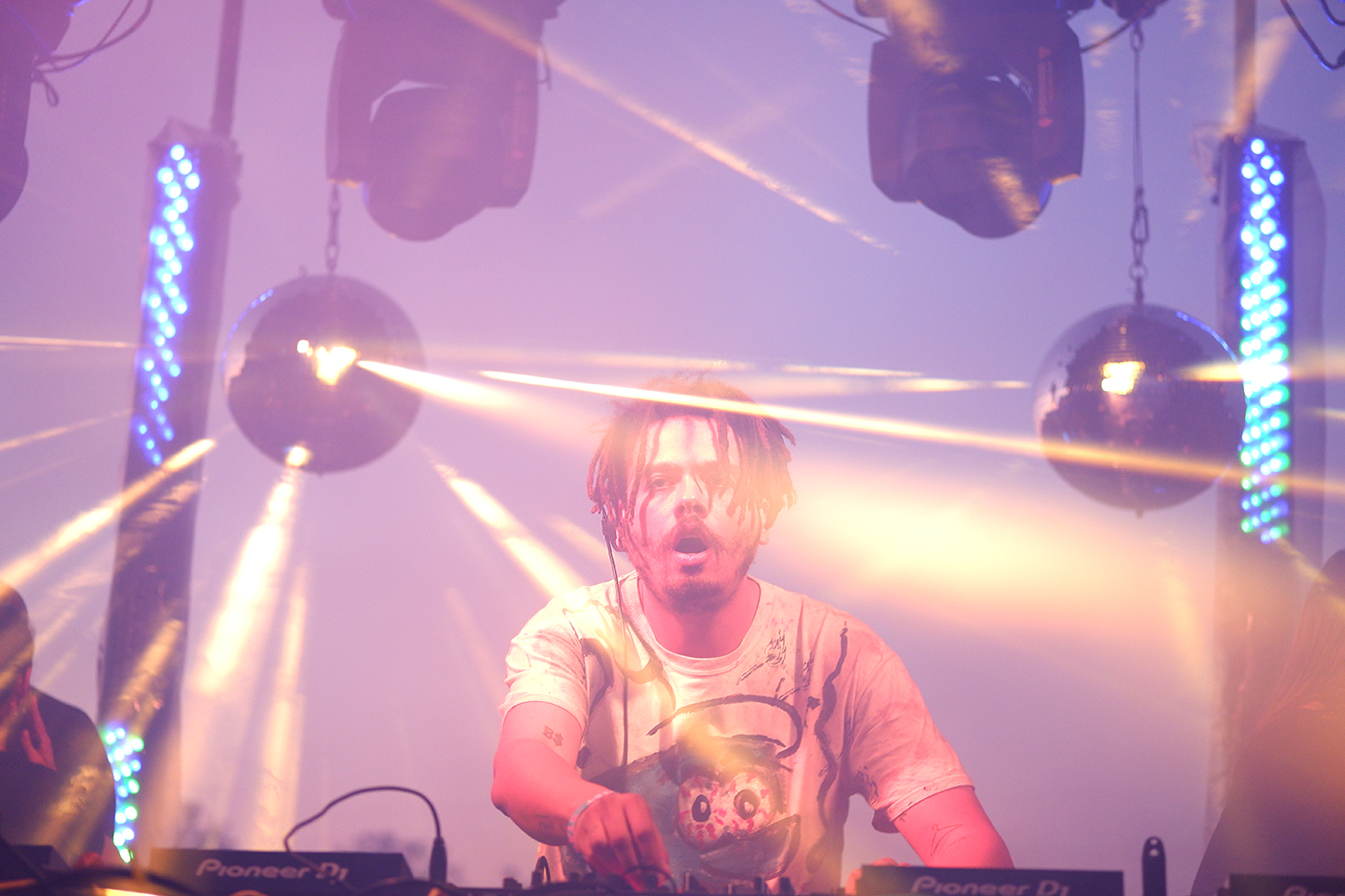 For the June edition Electric Island (EI), Toronto had taken temporary refuge at Woodbine Beach due to some unfortunate flooding on the island. The park space is a little smaller, more intimate, with the main stage near the entrance and a smaller, Moog Audio stage, tucked away around the corner. The space between the stages is filled with artisanal market vendors, free drink samples, and food trucks. Upon entry, each attendee is searched vigorously and right past the gate, you're invited to explore the Festival Health Tent where you can learn about various drug effects, get a shiny temporary tattoo, some sunblock, lube, and free condoms. Now, newly educated and tatted up, with a free Monster energy drink in hand you find yourself hearing the music from the main stage, gently rolling through a sunny field.
Given that EI starts early in the day, people enter slowly and sporadically over the first few hours and spend a good half hour exploring under the decorated trees, pausing for an already bumping party at the Moog Stage. Admittedly, an empty field at the front can be intimidating but the VIP garden will have you well rested, meeting new friends, and losing at Jenga in no time.
Early in the day, it became evident that the 70s disco vibe was the theme for the night. The upbeat syncopated basslines, electric piano, synthesizers, and even an occasional "four-on-the-floor" drum beat were present in nearly every performer's set. Before disco became Saturday Night Live it was an underground movement, people were expanding their freedoms, exploring their sexuality, sense of style, and ultimately, coming together to dance, dance, dance. The theme seemed very fitting for Pride Weekend and the crowd could not be happier about it.
Now that we've set the scene, felt the sun on our faces, and hydrated let's talk about why we all gathered to begin with – the music.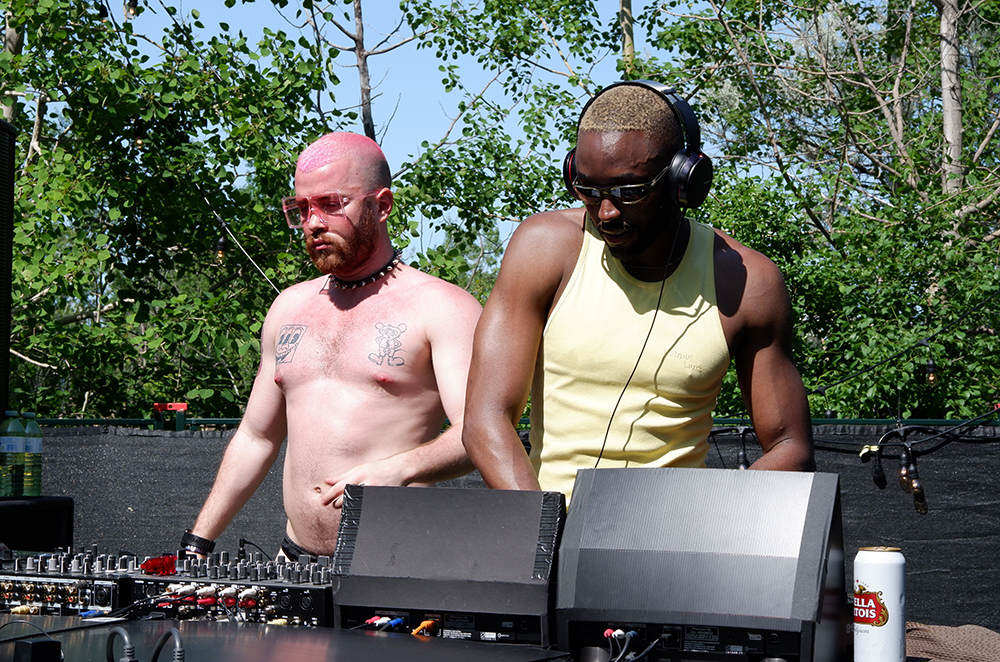 Toronto native Karim Olen Ash took the Moog Audio Stage for a 3:30 pm set with a few friends. A DJ, promoter, and a regular DJ in many of this city's best nightclubs is also a member of the fashion and music collective SYBIL. Playing through his usual, booty-shaking variety of vogue house, techno, disco, and RnB artfully blended into one seamless feeling, Karim kickstarted the crowd on a high note. Glitter-covered, smiling people, wearing costumes, standard festival uniform, and on some occasions, very little of anything, were gathering by this small, but mighty stage. As Montreal's vocalist and performer Pony took over the mic in the slight shade Tom Trago was warming up on the main stage.
The Amsterdam-based DJ and producer has been living a life of "total music immersion" for a long time, a decision he made at the early age of 15. The fact that Trago is living his music dream is evident on stage; the man is just happy to be there, playing tunes for the joyful crowd, enjoying the sun, and posing for photographers. His trademark style: disco, boogie, synth funk, and Detroit techno – three decades covering best of dance music and house rhythms. And here we are, lucky to be a stop on his busy schedule. Lucky us he doesn't seem to sleep.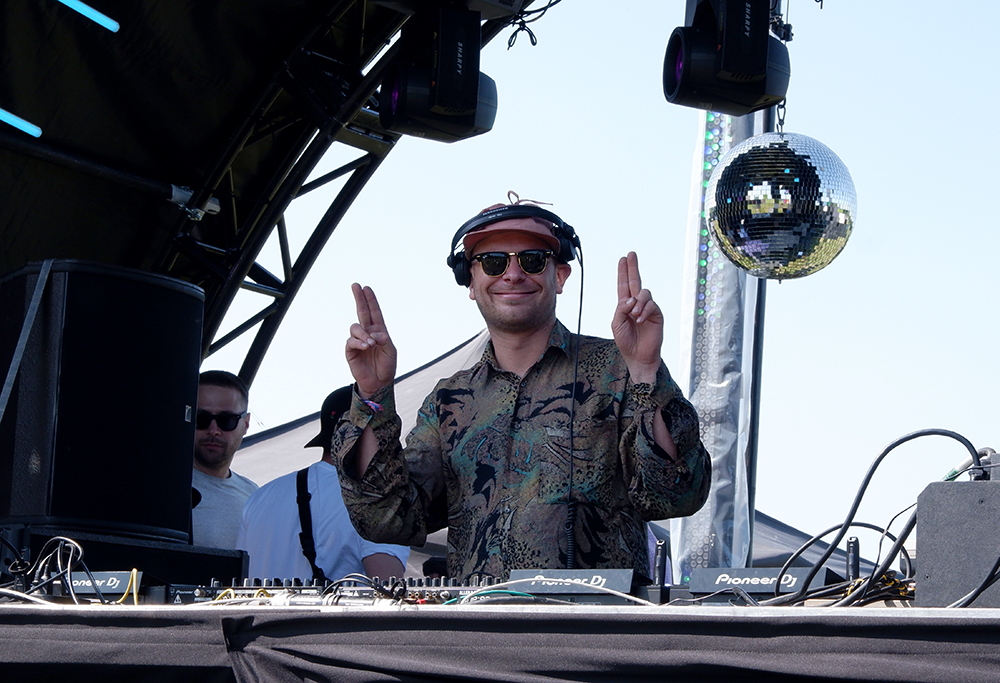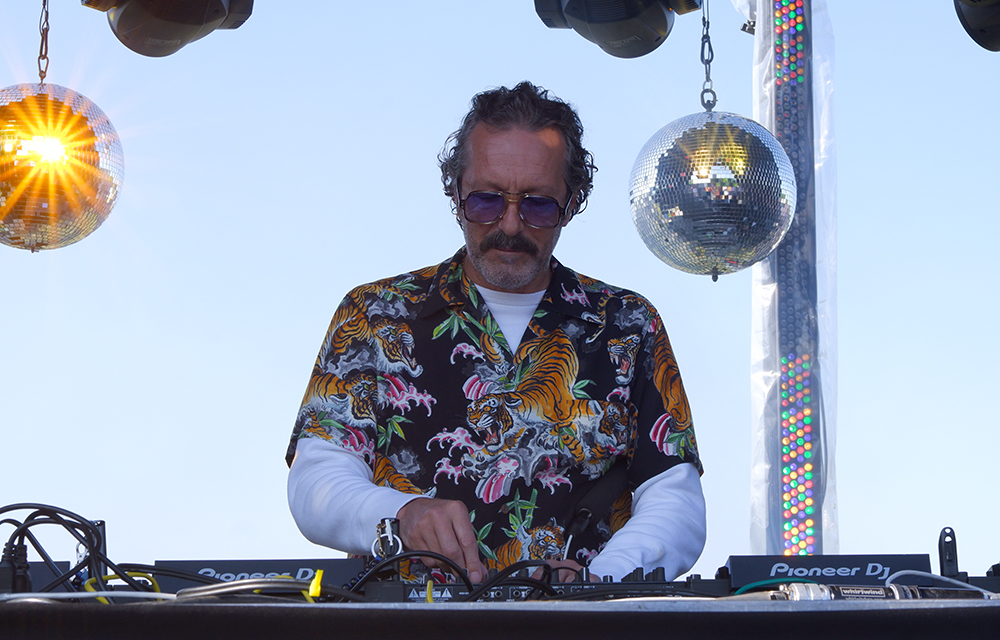 Rotating onto the main stage next was UK-born DJ Harvey. Rolling Stone magazine once called him "the Keith Richards of dance music" so there were high expectations for his appearance. In fact, a lot has been said about DJ Harvey over the years including, fittingly so, that he is "a cult icon to the crowd who look back on the disco era as the birth of dance" (Red Bull Music Academy). For this Electric Island Harvey brought a wide range of influences into a hot pot of solid dance music. From disco to bhangra with a subtle nod to Donna Summer's "I Feel Love" to iron out a transition. Much like the rest of today's performances, DJ Harvey was exhaling positive energy onto the crowd, holding a steady grin in the early disco ball light rays.
On the other side of the festival ground, GODDOLLARS was spreading his joy. "Premiere party paladin for the ill Aquarian Age" is all there is when it comes to this DJ / Producer's bio. Intriguing enough and hard to imagine, but after seeing him live, it kind of makes sense. GODDOLLARS is mostly known for being the co-founder of the infamous party brand "A Club Called Rhonda" one of LA's hottest clubs where he typically spins with Paradise. No stranger to playing in the sun, GODDOLLARS packed Moog Stage with hot disco, house, and occasional reggaeton beats. Smiling, dancing behind the decks, and dropping low on the ground without taking his hands off the controls, GODDOLLARS is undoubtedly a party DJ, the kind you'll want to party with – "aiming for the hips, shooting from the heart."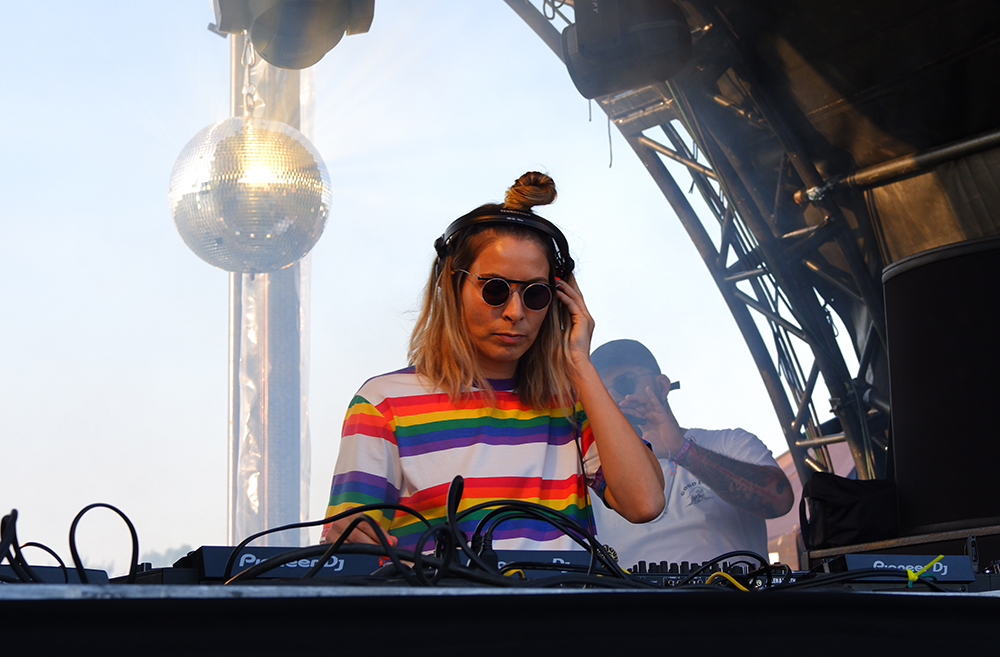 In the meanwhile, the rest of the park was holding out for BLOND:ISH at the main stage. Montreal-bread, now a solo techno act, Vivie-Ann Bakos is on a mission to bring "joy and spirituality" through music and sustainability pushing for a zero-plastic initiative at many music festivals. Vivie-Ann's set picked up on a theme in her own way, it was a magical mix of global influences and solid techno beat staples and sounds of Ibiza. BLOND:ISH is very animated behind the decks, her concentrated DJ face would occasionally break into a happy smile while looking up at the packed, sweaty, dancing crowd.
For the last two sets, the Moog Stage hosted San Francisco DJ crew Honey Soundsystem and New York's Tom Stephan who took the party into the night. The smaller stage truly felt like a dim night club with members of Honey Soundsystem taking turns to play moody bangers and dreamy electro giving way to Tom Stephan's tribal house influenced techno.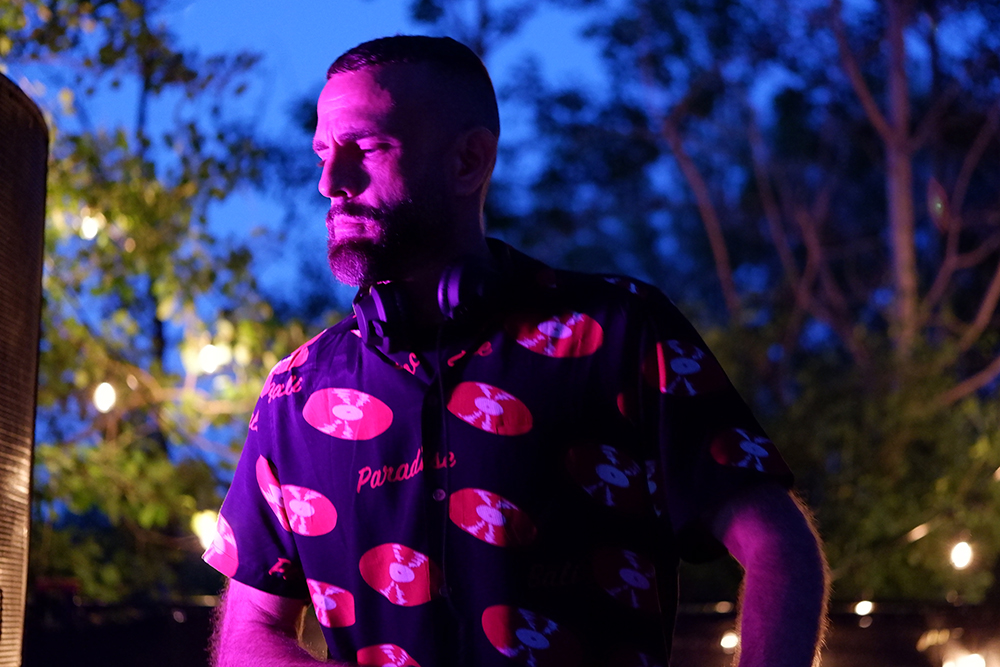 The event closed out with a banging set by Seth Troxler. Throughout the day Troxler was wondering about the festival grounds with a handful of friends. His signature mustached and messy "smoking kills" t-shirt area look that's hard to miss. The said t-shirt is a Scooter LaForge, New York visual artist, one of Troxler's favorites. He once told Clash magazine that LaForge's art is what he has been wanting to express as a DJ: "surprise, intrigue, desire, and confusion," a kind of cultural impression that samples history, "the beat of a cultural memory bank." Traxler's music focuses on house and techno and today, much like the rest of the acts, it featured a healthy amount of disco. Now in complete darkness with the light reflecting off the disco balls, passing through the crowd like lasers, Traxler's textured, melodic, deep, sometimes heavy compositions took us deep into the Detroit nightclubs.
This has been dance music and it has been fantastic. Good night.