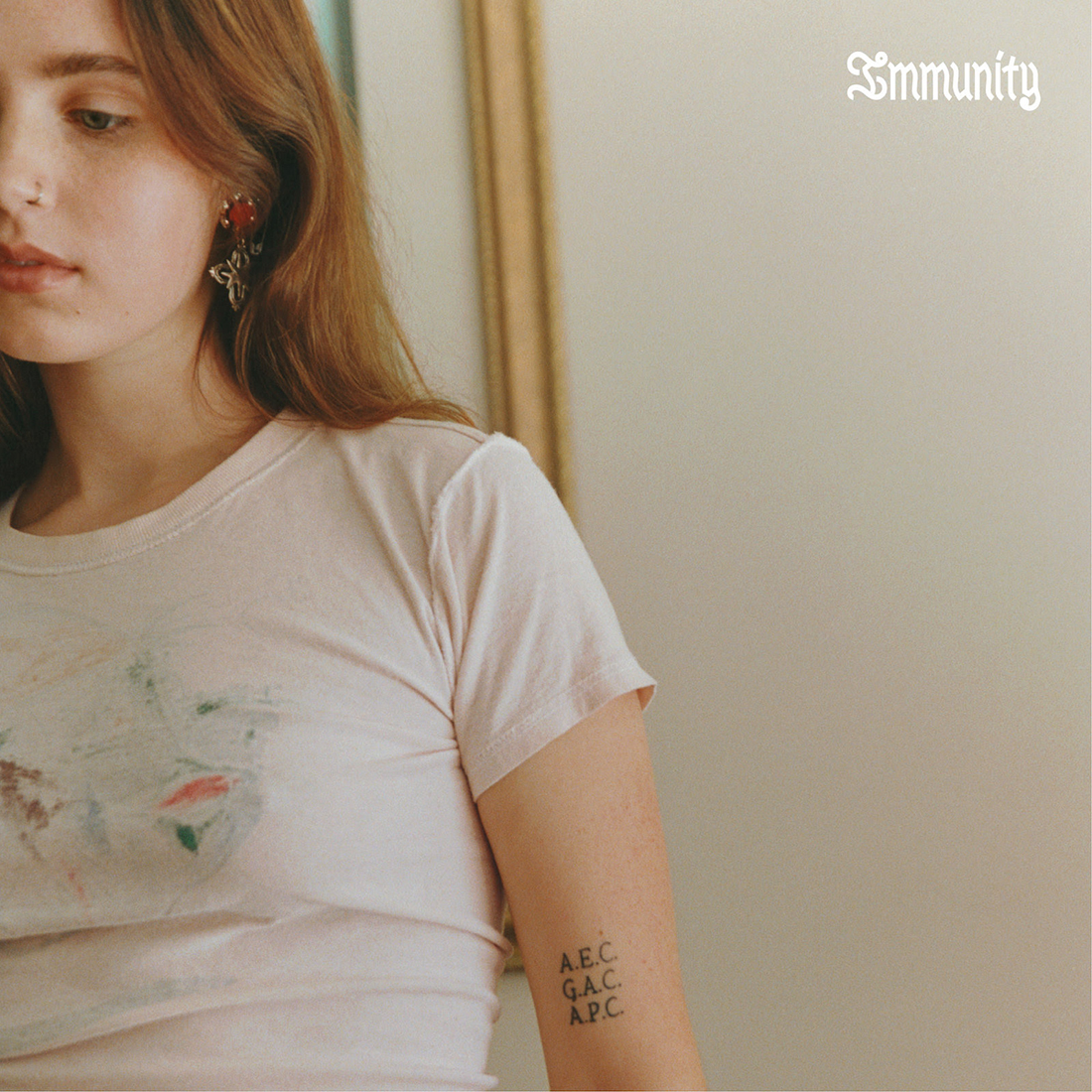 One of the most popular upcoming singers in the music industry today is none other than the talented Clairo. The young singer's claim to fame came from her viral hit song "Pretty Girl," from Dairy 001 EP, that catapulted her career with over 330 million global streams to date. Now the 20-year-old singer has released a debut full-length studio album Immunity. Written by Clairo herself and co-produced by Rostam of Vampire Weekend. The album also features special guest Danielle Haim and if you read our Pitchfork review you know I'm a fan of both artists.
Immunity opens with soft-spoken track "Alewife." Clairo's gentle voice and the mild-manner instrumentation are soothing to hear. However, the actual context within the lyrics are much more dire. Clairo shares her darkest hour by admitting how close she came to committing suicide before one of her close friends came to her aid. "I didn't mean to scare you, just had the thoughts on my mind. They showed up to my door, my parents didn't know what for. Swear I could've done it, if you weren't there when I hit the floor." Through her vulnerability, Clairo professes her gratitude for having someone who cares deeply about her well-being. The subject matter is gut-wrenching, as we all know someone struggling or maybe hurting ourselves. But it reflects the importance of having those that care. The following track, "Impossible," is a little more dynamic. The drums keep the tempo more energetic and Clairo's voice shows more range than the previous song. Here Clairo catches up with an ex-lover after years have passed while not trying to get reattached to them. Even that can be easier said than done. Trying to communicate to someone you haven't been close with for years can be difficult especially once old feelings resurface.
The song that really gets the album grooving, however, is "Closer To You." The instrumentation has deep booming bass and ticking high hats making it sound more of a trap beat you'd hear on a rap song. Also, Clairo uses autotune on her voice for this track. She breaks free from the robotic sound on the high pitch chorus once again showcasing her vocal range, "The things you do only make me want to get closer to you. And the things that you say, only make me want to stay." The next track "Bags" is a pretty badass indie rock song. With wavy synth, thumping guitar and piano, Clairo expresses the baggage carried being in a one-sided relationship. Yet having the courage to walk away to better oneself.
"Softly" is easily the breakout hit off Immunity. While most of the album is slower in tone, this song is alive and poppy. The vibrant guitar is funky, and the vibe is groovy enough that you can bounce along and dance. While the beat is innocent, Clairo starts speaking out about being attracted to women by using more female pronouns. While she touches on the subject on "Softly," Clairo is more blunt about discovering her sexuality on "Sofia." As the artist stated on her Twitter account, "Sofia is about my first ever crushes on women I saw in the media. People like Sofia Coppola, Sofia Vergara etc. This was my way of making a celebratory song about this discovery while maintaining the cheesy/corny lyrics you'd normally find in songs where you profess your love." The song has an electric feel to it that makes you want to fist bump to it. Its hip and repetitive lyrics are catchy enough to get stuck in your head.
"Sinking" is a soulful R&B song with hushed whispers. It's yet another emotional slow jam where Clairo illustrates the pain of arthritis that engulfs her on a daily basis. The delicateness of the instrumental paired with the agony in her words is almost enough to make you cry. The last song on Immunity, "I Wouldn't Ask You," is also her most experimental. Clairo continues to express her struggle with arthritis while being in a hospital bed. Accompanied by a piano, vocoded voice and children's choir, she shows appreciation to her boyfriend for sticking by her side in the slow, drawn-out first half. By the second half of the song, it becomes more of an upbeat jam with Clairo's and the children's heavenly voices to send off the album properly.
With Immunity, Clairo showcases her growth as a songwriter. Most of Clairo's music touches on heartbreak, but as she matures she's able to dive deeper in conveying her experiences. The majority of the album is slow and deals with emotional and physical pain. Of course, it's not all doom and gloom as there are still a few pop hits. It's crazy to think she's only 20 and is only going to continue to get better. It's a solid outing for the young artist and displays promise of what's to come in the future. Clairo is currently touring with more dates to be announced. Immunity is available now.