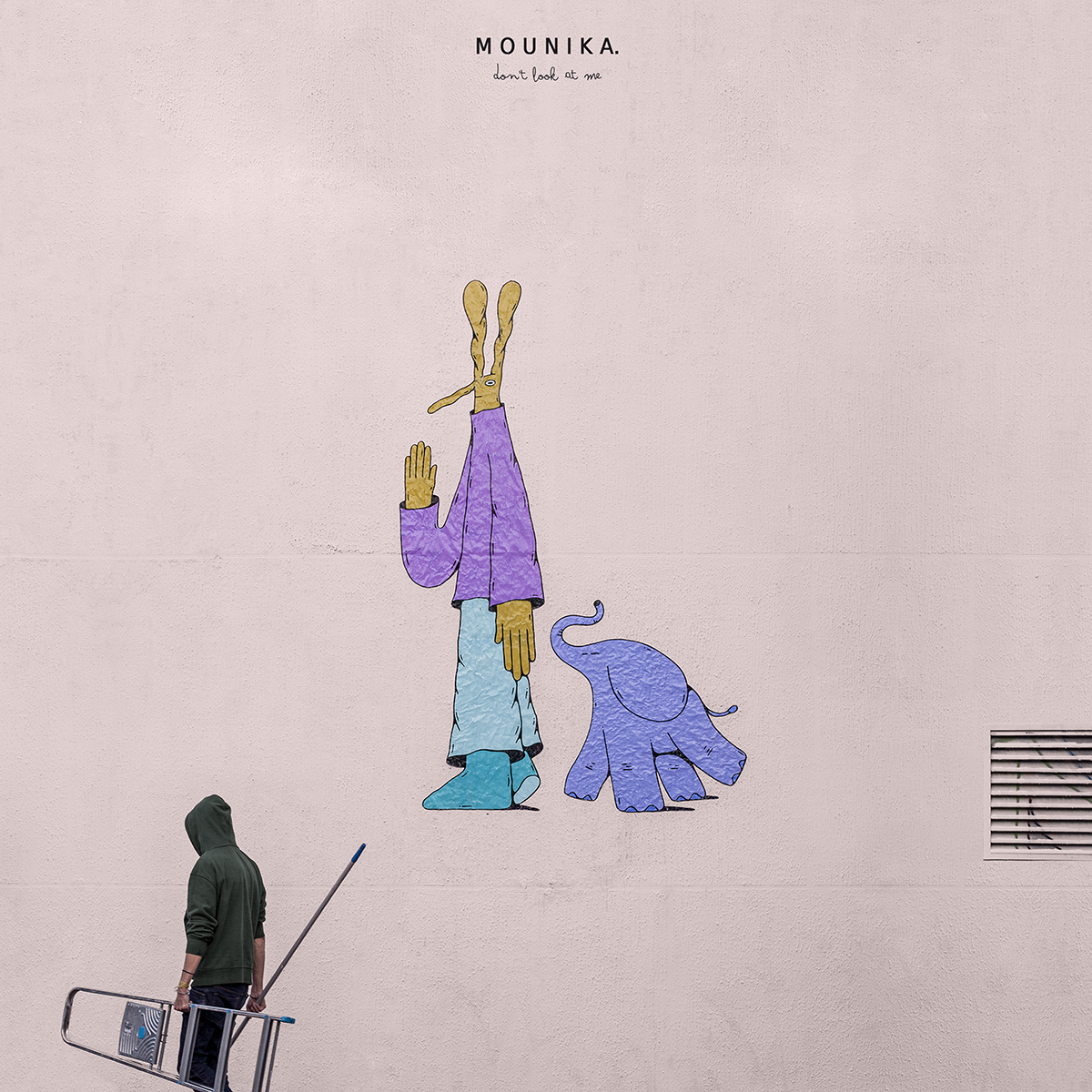 Multifaceted musician Mounika is back with his latest project Don't Look At Me. His last album, I Need Space, garnered the French artist much support from outlets like High Times, BBR, and KCRW. Songs like "I Cut My Hair" with Cavetown amassed over 120 million streams and "Tender Love" was a Top 5 Shazam'd song in France in December 2020. Now Mounika returns to his explorative electronica soul. Throughout more than a dozen songs Mounika invites listeners to dive into his unique mind of trip-hop.
Don't Look at Me opens up with the fun instrumental track "20." Off the bat, the bouncy notes leap off the song inviting listeners to vibe with the drums. This simple yet sensational song puts you into the mood of waking up to a sunrise. It's a vibrant track that'll get listeners loose and bob while they walk down the street due to its easygoing nature.
The following track "Little Love" is on the other side of the sunset. Featuring catchy vocals from Roland Faunte, the song continues the mellow instrumentation but there is sadness in its honesty.  As the lyrics paint this vision of brokenness with needing the support of a past love to carry on, "There you were, but where was I? Just hold me close baby, hold me high. Finding warmth beneath the covers. When I had nothing we still had each other. We were alone outside of time. So hold me close as I start to climb." The drums have a nice clap but it's the keyboard notes in the background that has a hopeful upbeat melody that ties the message together.
"I Looked into Her Eyes" is addicting as the song title suggests. Featuring Ural Thomas and The Pain, it perfectly captures the lust you feel for a soul you can't resist. This song alone got me excited to check out the rest of Don't Look at Me, to begin with. And the song is over as quickly as a summer fling. In two and a half minutes the track doesn't have massive changes or chord progressions yet takes you on this journey that many can relate to a past love. Once the song is over your going to want to replay it and reminisce again for that brief moment in history. Mounika says as much when describing the song, "I Looked Into Her Eyes" was a real crush when I heard the original song 'Smouldering Fire' by Ural Thomas & the Pain, in the Netflix comedy series, 'It's Bruno'. I immediately wanted to rework the track. It's a great sample and I wish everyone to discover this amazing artist, Ural Thomas. He has an incredible voice."
What makes Mounkia a joy to listen to is his instrumental tracks that take you on a journey. Such is the case with "Nomadics." With string arrangments and head-thumping bass, there's this chanting that goes along that makes you feel as though you're traveling to a distant land perhaps even a different era with your ancestors. Music is universal and timeless and "Nomadics" is simple in its approach yet gets listeners connected to its roots.
"See You Dancing in the Dark" is the perfect title and tune for everyone to let loose to. It definitely has more than enough grooves to get the room moving. However, there's a heavy filtering over the synths that muffles the tones truly giving the impression that you are listening to the jam in the dark. Let's make it easier for everyone to 2-step along and express themselves however they chose.
Mounika's Don't Look At Me is a wonderful track that you can zone out to and get lost in. Throughout the album, the producer shows off his composition skills and brings pure joy to his expressive music. There are more solid tracks like "Think Of" and "Dreams" that give more of a traditional hip-hop style before changing to the trip-hop style. It's a fun album that fans of the genre will lose the sense of time as they put it on repeat.