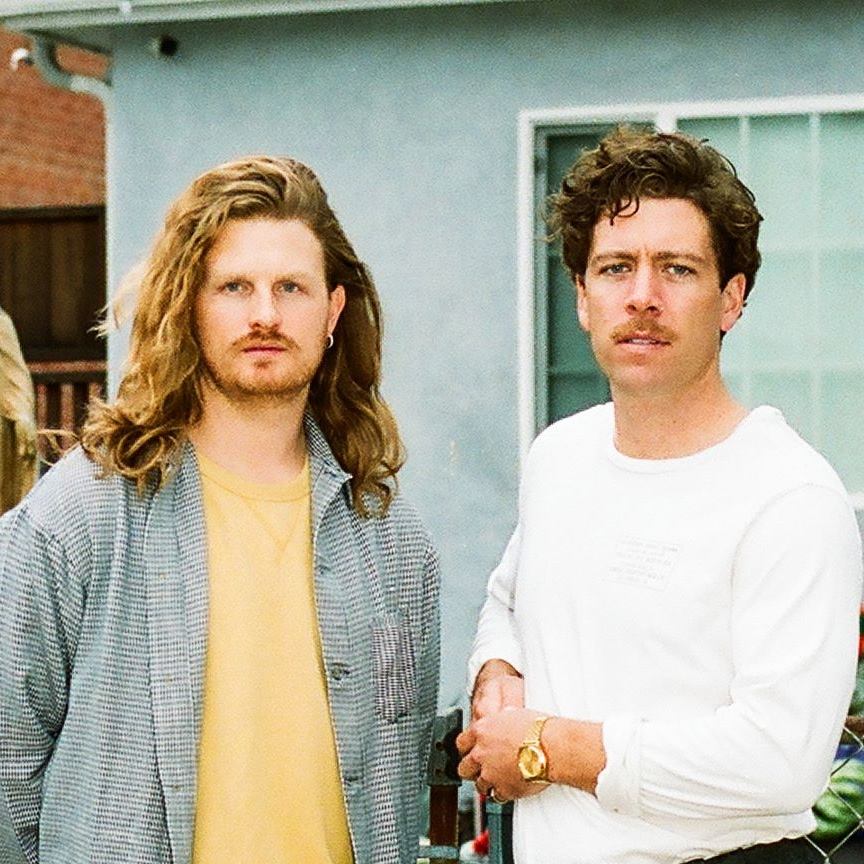 text by Sarah Thomas
FRENSHIP played Thalia hall on Wednesday, May 29th as part of their Vacation tour. From their breakout single, "Capsize" with Emily Warren to touring in 2017 with Bastille, the electro-pop duo has been on the scene since 2013. Made up of James Sunderland and Brett Hite, FRENSHIP took the stage at about 8:20 p.m. Following the openers, Glades, the crowd increased in size and excitement. Not unusual for a midweek show, the night started off slow, with one audience members remarking that they had never been able to get "this close to the stage before."
As it became time for FRENSHIP to take the stage, they were preceded by rib-cage rattling bass and a spotlight that beat in time to the music. The band was all dressed in monochromatic white and with their entrance, the crowd's cheering increased significantly. With giant, white beach umbrellas, and faux plants that glowed neon green under the stage lights, the evening was off to a great start. James walked to the very edge of the stage for their opening song "Remind You," from the debut album, Vacation. The singer radiated with energy as he began to jump and dance enthusiastically around the stage and the crowd went from head bobbing to jumping along with him. Everything felt energized, from the lighting on stage to the crowd's reactions to the band. By the time they started "Wide Open," the crowd was a dancing sea with James pausing to remark, "Getting freaky over there, I like it" to a pair of enthusiastic dancers.
Brett carried them through the slower songs like, "Love Somebody" with soulful vocals and often joining James in dancing around the stage. Their smooth dance moves and showmanship carried the audience along with them through their set. At times they whipped out drums and in lieu of vocals or guitars to play along with the rest of their band. James had incredible chemistry with the crowd, walking up to the edge of the stage to make eye contact with audience members or to whip around his long hair, much to the crowd's appreciation.
After the end of their set, they came back for an encore of not one, but three songs, including one of the more popular tracks, "Capsize," which James said they were going to perform in honor of their fans. "We love this city" he declared before starting. The city echoed his sentiments back as they went wild with excitement as they played through their finale. Overall, it was a great way to power through the rest of the week while bathed in FRENSHIPS's high energy set.