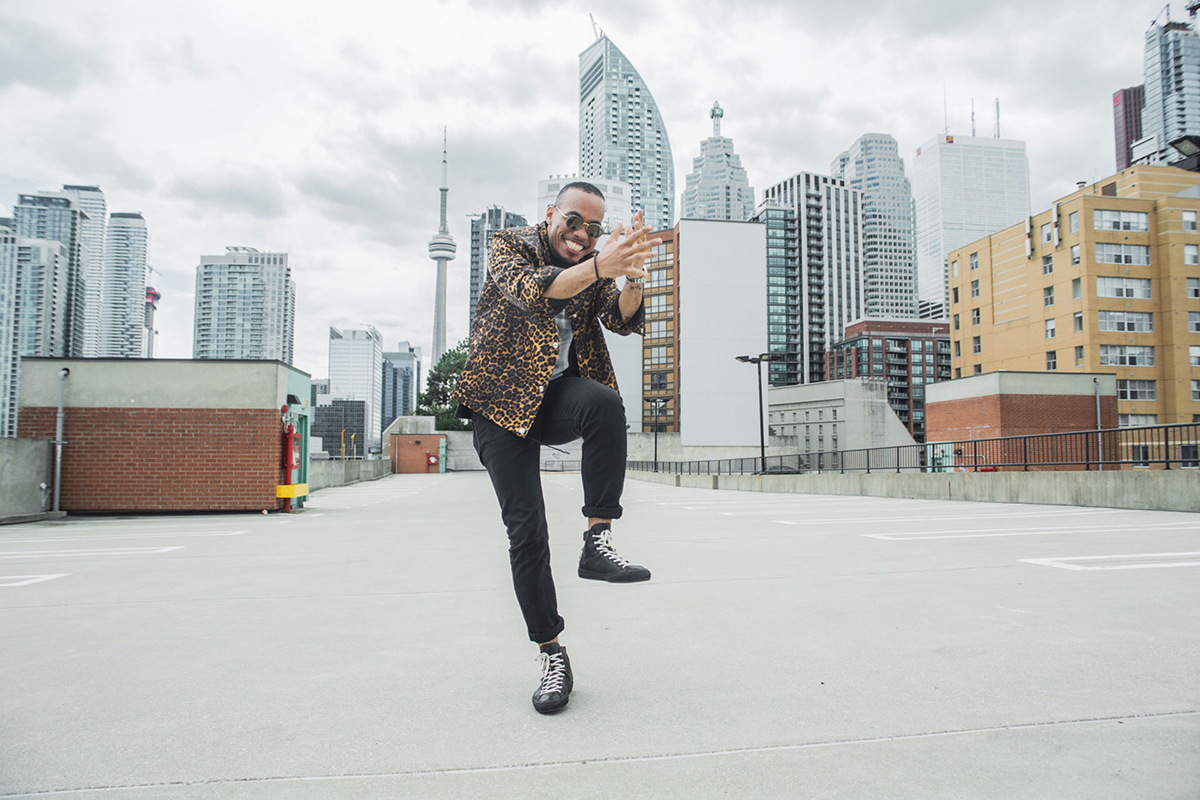 Anderson .Paak was in Toronto earlier this year but that didn't stop thousands of people from selling out his Echo Beach show in a matter of days. The anticipation and hype were buzzing through the city for a couple of months and all culminated in an epic evening last Saturday. Even weather held back the promised thunderstorms from soaking the underdressed crowd.
The show is a part of the Best Teef In The Game tour in support of his fourth LP Ventura (produced by Dr Dre), released earlier this year. Ventura is a continuation to Oxnard and the two releases are a juxtaposition to the two towns where .Paak grew up: "The duality of each place inspired me greatly and from that, I made two albums at the exact same time but held one back because that would have been too many songs to perform live for you all!" he shared with the press.
Echo Beach is located on what could be called an island, guarded by heavy security and naturally entered via a long, messy human line. Like most outdoor shows this one started early, which is truly not a thing for Torontonians who are notorious for showing up fashionably late – just in time for the headliner. Knowing there are some strong openers on the bill many people showed up early-ish but the majority rolled in late, and either by choice or due to the lineup, missed Thundercat, yours truly included.
Regardless of the staggering crowd, Fatimah Nyeema Warner, better known as Noname, stepped out on stage sharp at the scheduled 8:20 pm and was clearly on a mission to shake up, wake up, entertain, and school the crowd. This Chicago rapper takes her roots in slam poetry, and that sharp lyricism is clearly visible in her music and attitude alike. After the first track, she introduced herself as Noname, "You all probably don't know me," she said, asking if anyone has heard Telefone, and the crowd went wild.
Some audience members were singing along to every word with pure love and watery eyes – if you haven't experienced that kind of joy when seeing a live show. you need to keep looking. Fatimah's hardly subtle humbleness felt like a self-assured performance, this city loves Noname and she clearly felt it but that didn't prevent her from shaming the crowd for their lack of, well, celebration: "A few months ago I put out a song … I'm gonna rap it, and when I do I want to see a little booty shaking" and so she started rapping but promptly stopped to call the people out: "audience where are you at?, I ask for booty shaking and nothing," she laughed.
Joined on stage by 3 backup singers and a 4-piece band, which she introduced halfway through the set, Noname went through her most popular tracks including "Regal" from Room 25, "Bye Bye Baby,"  "Song 31," "Montego Bae," and even something new: "I have this new song called "Song 32" [the excitant of the crowd drawns out her voice for a moment] you're going to sing with me, it goes like 'Yippee-ki, yippee-ki-yay, with the Noname' [she sang a few times] I just learned this song so if I fuck up you can't judge me." She proceeded to rap, fucked up a little, pointed it out, picked up the pace and was promptly joined by the audience for the chorus: 'Yippee-ki, yippee-ki-yay, with the Noname.' As she wished the city good night and left the stage the crowd kept on chanting: "Noname, Noname, Noname". A man with a neatly packed trey of beer-priced Jello Shots cut through the crowd. "Noname, Noname."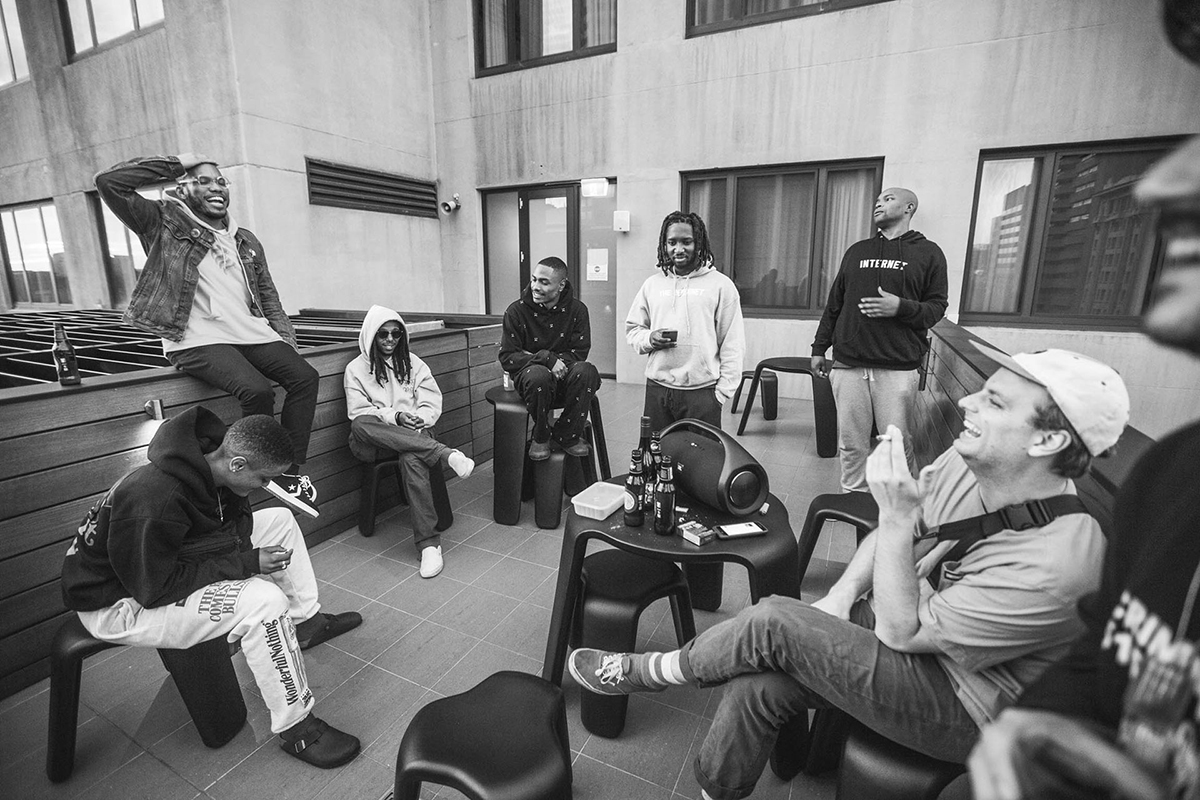 Somehow over this last hour the beach filled to the brim. It was an ocean of people and I couldn't see the end of it. A group of people begun to shift things on stage, large staircase, some lights in a large cube, a drum kit elevated a few meters up. At half past 9 the background music stopped, stage lights went out and a second drum kit appeared atop off the large cube in the middle. With the first few beats, fog flooding the stage from the sides, and bouquets of fire shooting out from the front, .Paak went into "Heart Don't Stand a Chance" from behind the drums, elevated for everyone to see. Mouths were gaping, smiles were widening, arms went up and stayed up for most of the night.
The Free Nationals, aka "best band in the game" as .Paak pointed out, were spread out across the multilevel stage, singing along, creating sound effects and sharing autotuned acapella remixes of the classics. Most of the band were wearing matching blue costumes, and as .Paak suddenly appeared at the bottom of the stage for the second track. The theme became apparent: psychedelic 70s vibes, bright colors and curved patterns were projected in the background and printed on Anderson's shorts + short sleeve shirt combo. The cube in the middle is a magic elevator that takes him (and the drum kit) up as needed for the tracks he insists on performing. The first song skillfully blended into Sister Nancy's "BAM BAM" which played out over "Saviers Road" for a little while. "Toronto, do you believe?!" shouts out .Paak, "Yes Lawd!" someone in the crowd responds.
Going up and down, left and right across the stage, and putting everyone to shame with his dance moves, .Paack was navigating this space effortlessly like his own backyard. This FOMO-inducing performance was an array of tracks from the latest duo release, Oxnard + Ventura, and Malibou all of which breathe out in a whole new light when performed live with the Free Nationals. .Paak's repertoire is especially extensive when counting collaborations, all equally memorable and catchy, some of which also made the cut this night, including "Glowed Up." After thanking all the different people who came to the show, flashing his Raptors jersey, and praising the band, .Paak hopped over the photo pit fence to dance with the crowd during "Reachin' 2 Much" – safe to say a first for Echo Beach when it comes to getting intimate with the crowd.
This show was made for the people: from the elevated stage allowing everyone to see performers, to getting down with the first 20 rows of the pit, Anderson .Paak was here for the fans. The Guardian once called him an "endlessly renewable source of good vibes" and it's a statement hard to dispute as this show proved once again.
Images courtesy of the artist