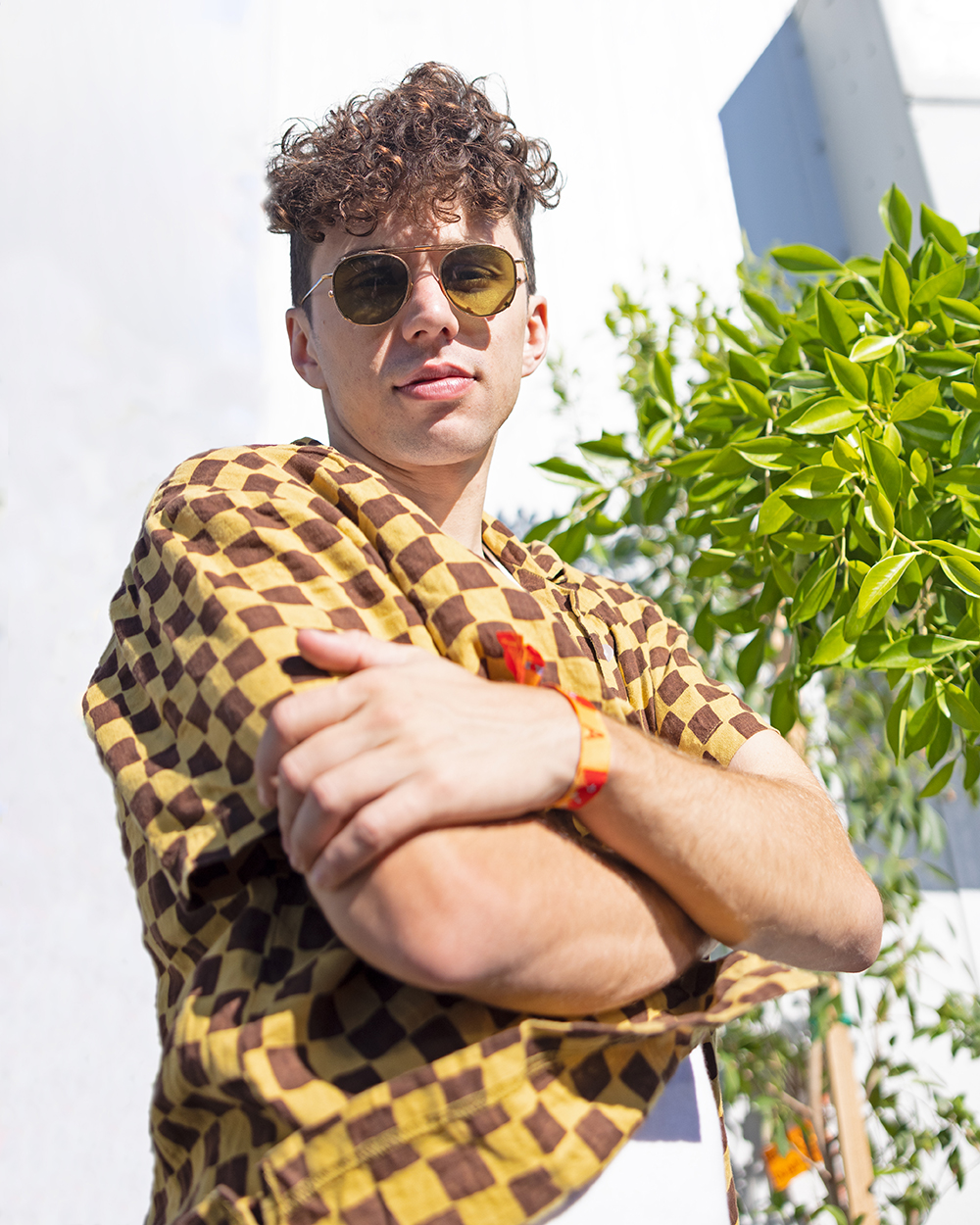 photo by Nathaniel Windisch
Young Franco is at the crossroads of indie-funk and disco-house. It's a bloc party. Disco ball streetlight kaleidoscope in all directions, and the side chain bounces to the wind. His DJ set at Portola Music Festival had an area of effect. Huge bass bumps and funk and vibe. Vocals knocked by as much reverb as there was a harbor breeze. He looked comfortable spinning for a commune-sized, amount of people. 
A student of French house but he's more indulgent. Franc knows how to chop around a break sample. Everything is melted together with sweet kick duck-outs. Kaytra glue. I thought he was from the Bay from the way his crowd responded.
"You guys have eucalyptus trees. That's an import from Australia. You're welcome." 
The venue is a Pier at the San Francisco harbor. He drove up from Los Angeles that morning, the short way: inland without the coast. On fumes thereafter laying down the funkiest set of the day. A glowing in-person review from Luna Collective right off the bat. 
"There's nothing like California. It feels like the Wild West to me. Those hills are what you see in movies."
Franco had a productive post-pandemic profile. His output is prolific – throwing out singles like ninja stars almost every month now. Each with enough disco bounce to light up an evening, though he's most evocative when it's all stripped back. Sun Moon especially, is exquisite. 
Young Franco: Call me Joey
Audrin Baghaie: How's the music scene where you're from?
Joey: Sydney is great but It's a bit smaller. LA is the hub but, I think to its advantage, Australia is a little bit more DIY and doing their own thing rather than what's trendy. I think that's why Australian music tends to exceed expectations. People are enjoying sitting in their room writing music. It's what it should be.
AB: Your music in particular is suited for those small indie niche dance spaces.
J: I started spinning out in those areas. For my friends to start and when 18, clubs and bars. Met more friends there and found more influences. It was a great intro for dance music, right where dance music is meant to be played. I got a really good mentorship through that.
AB: For us stateside, Perth is romanticized as a special creative place for indie musicians. Do you share that view from Sydney?
J: it's similar. We're both so isolated that you have no choice but to come up with weird shit. There's a huge dubstep and D&B scene there. Tame will always be there, of course, but there's Pendulum, Slumberjack, Ta-Ku. Heaps of stuff. Australia is a very diverse place. Makes me happy to be involved with it.
AB: Do you rep it a lot when touring?
J: There's a lot of great things about Australia, but it's more like, I'm just happy to be outside of it. There are some people that make being Australian their whole personality. Which is okay. There's also a side where you don't need to have a shoey. Something like that. I rep it but I love traveling. 
[Last year Joey dropped possibly his opus. Real Nice, a collab with Tkay Maidza and Nerve, boss rhythm that straight just hits different. And Maidza's verse, in particular: heat.]
J: She's the best. Another Australian exceeding expectations. I've known her for ages, and I'm lucky for it. 
Alas it's currently unavailable on stateside streaming services. Whomever can make enough noise to change that, I implore you to be loud on our behalf. Until then though, you can hit it with a VPN.
AB: Was it touring that got you out of Australia? 
J: it's the only thing I've been doing until now. So I've been here in SF before, but we drove in and saw the cityscape. There's so much going on now. Travel is opened up now and it's expensive but it's easy to travel again. I make music when I travel abroad, kind of have to. A little bit in Australia, a little bit in LA. But I've been to the USA more this year. 
AB: DAW? How's the splice account going for you
J: Ableton. Everyone kind of in my circle uses it. Trading files is very important. And you know what? I totally don't use a splice for a couple of months at least. And then after time go on a huge splice haul. 
AB: What's on the forecast
J: Two new songs before the end of the year. And then Australian festivals and writing as much music as I can.
I asked about his upcoming collabs but he couldn't say. Keep an eye out for Young Franco's upcoming drops on: