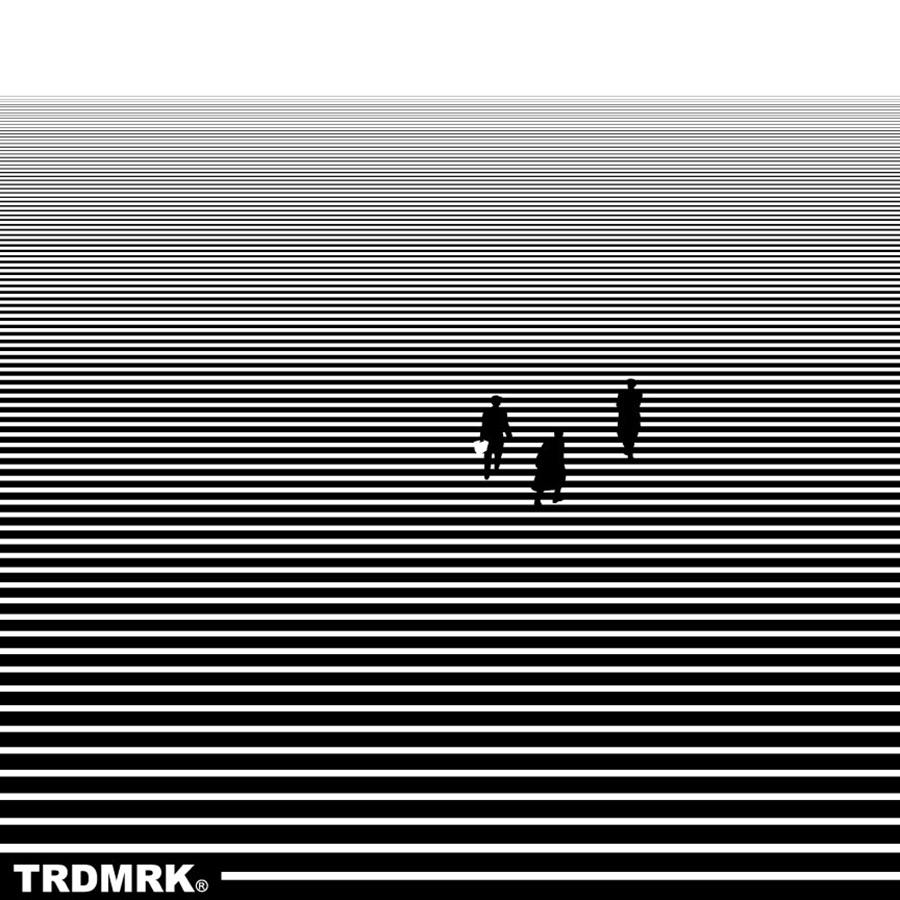 by Alec Berton
Hip-hop legends DJ Nu-Mark from Jurassic 5 and SlimKid3 from Pharcyde team up with Maryland rapper Austin Antoine to bring you the fresh taste of TRDMRK. Mixing classic hip-hop with some Avante Garde beats and flows, TRDMRK presents a self-titled EP that celebrates individuality and hard work.
The opening track "Hands Up" shows the true power of the group. Through the relentless bars, Austin and SlimKid3 deliver over this quirky and banging beat is a testament to both their talent and the potency of fun tracks in this day and age. When listening to this track one can really feel the dynamic of this group and their ability to come together to make something great. The way these two rappers go back and forth delivering verse is so fluid in nature and just such a pleasure to listen to.
As much as they present a classic hip-hop vibe, the real juice of this project is the way that they simultaneously reject classic devices and themes found in hip-hop. The two next tracks "Pick It Up" and "Broken Artists" show this tension perfectly. "Pick It Up" is a gritty and dirty experience. The beat is choppy and hard as hell. The flows are fast and aggressive in response to a reality that could be equally as aggressive. "Broken Artists" is a track dealing with a very true to life experience of trying to make it as an artist in this continuously chaotic society.  It rejects the forms of clout rap tracks, to instead show an honest and genuine experience of struggle: 'If I had a dime every time I sold a broken promise, I'd buy America's debt with enough to buy a college.'
This line shows the personal struggle and pressures of being an artist as well as the societal and economic collapse perpetuating it. As much as these are dark truths of society and the art world in general, TRDMRK does a great job of not becoming swallowed whole from these pressures. A real sense of pride in hard work is alive and well in their music. They refuse to be tied down by society's problems or expectations.
By overcoming these trials through a sense of pride and hard work, they come out on the other side in the track "Burn It Up." The track feels like a classic hip hop banger. The chorus blares 'Turn it up – Burn it up,'  this track feels like a celebration of the destruction of these antagonizing forces whether it is genre expectation, economic struggle, or personal demons.
The true resolve appears on the last two tracks. On "Let Him Thru" we are presented with a classic storytelling rap. The story follows Austin going to a rap show and being so excited as a fan until his dream turns reality when he is able to spit a verse on stage. What sticks out the most is when he asked his name and he says, 'they call me Austin – I don't have a rap name.' Austin shines as his own enigma with these hip-hop pioneers by rejecting a rap name and shining just as Austin. The last track "Fall In Numbers" is a fitting ending to this journey. This track promotes unity and warns what greed and ego can really do as they see others around them fall in the numbers from profit. They firmly take their stance on this track for kindness and kinship.
All in all this a great project that delivers each track with a punch and surely does not overstay its welcome. Delve into the celebration of realism, individuality, and unity in the project known as TRDMRK.