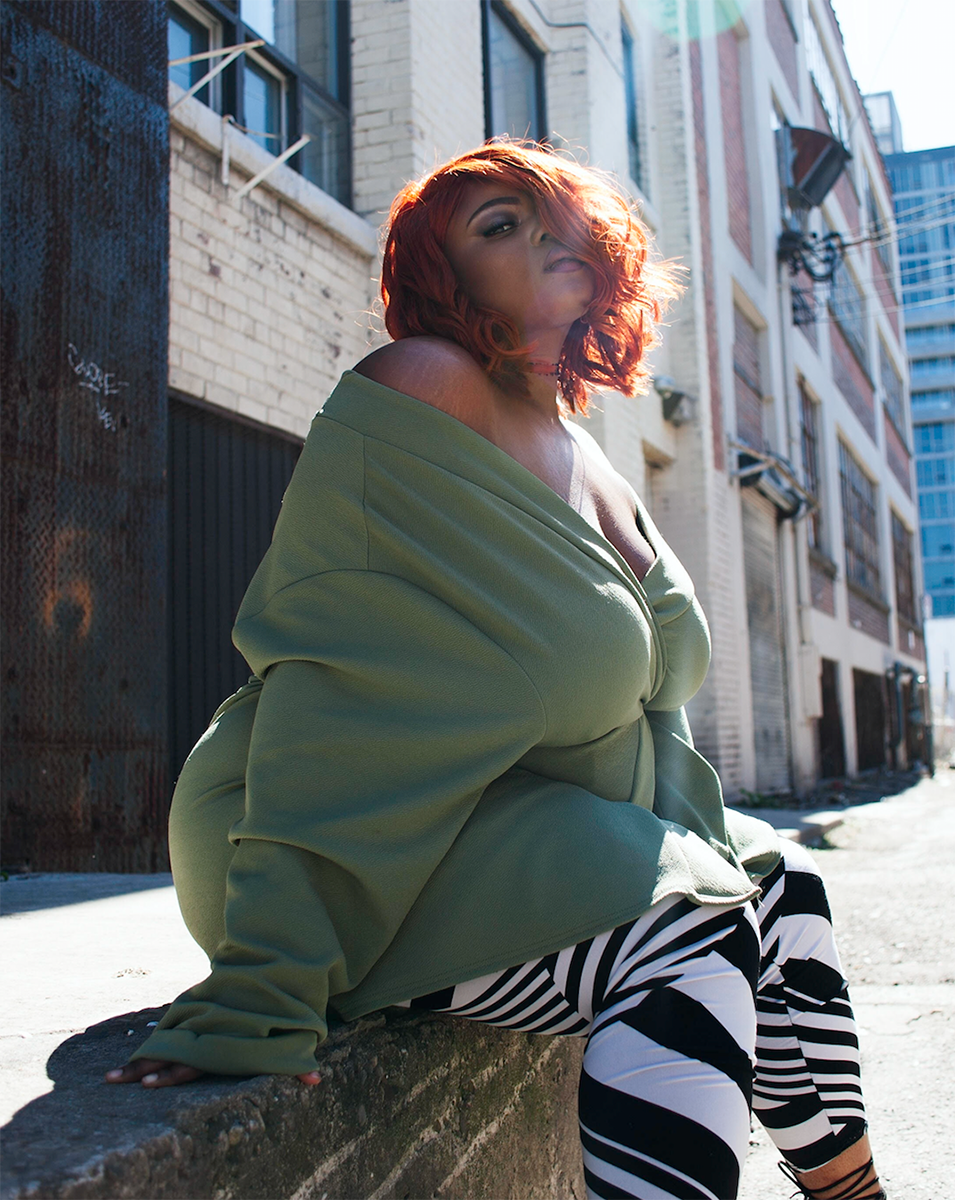 LU KALA (Lumbasa Kala) begun her music career as a writer for Jennifer Hudson and a numbers of other musicians but in time her own voice had to shine through. KALA's voice is not one producers had assumed they would hear: she is raw, emotive, and multilayered, leaning into different genres from rock, to soul, to primarily pop. It is a voice that cuts through the clutter. Paired with signature red hair and vibrating female positivity KALA is a total package that does not fit into a typical mold: "With me being both black and plus size, I think people expect a very specific voice and style. And while I love those songs, I express myself differently," she shared in the past.
LU KALA immigrated to Canada as a young child from The Democratic Republic of the Congo and is currently based in Toronto. Her most recent release, "No Smoke," co-written with David Charles Fischer (bülow, renforshort), has been racking up listens in impressive numbers. Over the last few years, KALA has been flown to L.A. and New York to work with prominent producers and songwriters, received funding from FACTOR Canada, and was the Grand Prize winner in the sixth annual RBC Emerging Musician Program.
Radiating joy, confidence, and power KALA admits that vulnerably and transparency are a large part of her artist identity. It is the part that brings her closer to the fans and hopefully inspires them to open up. Naturally, we had to get to know her a little more.
Kateryna Topol: Hello LU, thank you for taking the time to chat with us!
LU KALA: Hey! Thank you for having me, I'm excited to be talking with y'all!🧡
KT: So from what I've read it seems music, singing in particular, has always felt like a calling to you, can you talk to how it became a career?
LK: I'm lucky to have always known what I wanted to do and I'd walk around and tell anyone who'd listen that I was going to be a singer, I was pretty annoying [laughs]. Things finally started happening for me once I started doing the work instead of relying on luck to take its course. By doing the work I mean writing, performing, networking, trying to improve, and so on. The more I worked on myself and my craft the more opportunities started coming my way.
KT: Was music playing a big part in your family & household?
LK: Music has always been huge in my household growing up. Both my parents can sing and we'd listen to everything from Gospel in my parent's native tongue to French to English to Céline Dion, Aretha Franklin, the waiting room Exhale soundtrack, and so on. I'm lucky to have heard it all because all those sounds influence my music now.
KT: Were you able to study music in any way?
LK: I've never been able to read music, but I've always felt it. My family couldn't afford lessons so I had to teach myself but I wouldn't change it for a thing. Because of that, I was able to find my genuine sound and really mold myself from a young age.
KT: That's true to so many other talented artists as well. Ok, so "No Smoke" is basically an anthem to all women who have had to deal with "bullshit men" – to quote you here – which I imagine is really all of us – what has the response been like from your fans?
LK: I've gotten such an amazing response from people and have even gotten new fans along the way with this one. It felt really good finally releasing something that's fun. Most of my songs usually hit the heart and may make you cry but this one truly represents who I am 97% of the time when I'm not writing songs about being alone lol. Kinda ironic. It's been amazing seeing my fans jam out to it and sing along to the words. So many have told me/posted that it's their summer anthem and that's EVERYTHING to me!
KT: Amazing! You are working on a debut EP, when might that drop?
LK: Yes, I have an EP dropping this fall!!!!! I'm super excited for the world to hear a body of work from me.
KT: What can listeners expect from the EP?
LK: Listeners can expect more tears, more sass, and more jams from me. I think this EP truly represents every emotion I feel on the daily and my battle to find my worth, that I am worth loving. I hope those who listen to my EP will see themselves in me and will be inspired to be open and face their wounds head-on. Let's just say this EP is filled with only true stories and I cannot wait to share them with you all.
KT: Cannot wait to hear them all! Will you share a few more singles before the EP release?
LK: YES! I have a song coming out August 26th called "Love Like." I wrote this one in the UK, completed it in Toronto and recorded parts of it in LA. It's super fun/sassy, can't wait for you all to hear it.
KT: Nice. You are based in Toronto, how has it been coming up as an artist in the city?
LK: It's been a crazy rollercoaster coming up as an artist in Toronto. Especially coming up as a black plus size pop artist, it's not something you see much of where I'm from but it's also been exciting creating in a diverse city like mine and being the start of a new sound from my city.
KT: Yes I can imagine, we're much more of a hip-hop, R&B, and alternative sound city. Has anyone been helpful in your career?

LK: I am grateful to have had a team filled with friends at the beginning who really helped me find my way and shape the artist I am. I am also lucky to have had a couple of mentors along the way who always push me to be my best. I'm excited for all the artists who are coming out of my city and all the ones to come after, especially those who don't fit the norm who want to create their own lane or follow in my footsteps. It's such an exciting time for music and I'm just lucky I get to do what I love every day!
KT: I saw you won the RBC Emerging Musician Program, how did that feel?
LK: That was pretty amazing! I really did not think I would win, I had never released a song and I sent the rough demo of "DCMO" which ended up being my first single, and that opened so many doors for me from one of the judges of the RBC Emerging Program being one of the programmers for iHeartRadio in Canada and giving me a shot and being invited to Babyface's songwriting camp to me winning the RBC Emerging Musician Program.
KT: Sounds like a fantastic experience! How was the showcase performance at the Great Hall?
LK: The showcase was a great rush of adrenaline. Immediately after my performance I had to rush to the airport to make it to LA [laughs] but on my way to the airport I felt the best I've ever felt, and I knew this was only the beginning after all the work I had put in for years. It really felt like it was finally my time.
KT: Do you have a favorite venue to perform at in the city?

LK: I don't know if I have a favorite venue to perform at in the city yet but performing at Rebel for the iHeartRadio FanFest was a true rush. It was my first time performing in front of thousands of people and to see some people singing back my song was unreal. I can't wait till I get to do that, and the entire crowd is screaming my song back at me. I know that day is coming! [smiles]
KT: All artists had to change their goals for 2020, have you pivoted in any way?
LK: 2020 has been a blessing and a curse. A curse because of how much the world is currently hurting and all the trauma we've all endured this year, a blessing because I had to learn to do things differently and step out of my comfort zone. I had to learn to accept that I only control what I can control, I learned to record myself, I started doing Zoom writing sessions and had to work on a completely new plan for all my releases and my project but that was probably the best thing for me since I had to learn to let go of the things I cannot control. I am so proud of myself for keeping it together and pushing through. Yes, many things got canceled but at least my family, friends, and I are alive and healthy during these times.
KT: Absolutely. What are your plans for the next few months?
LK: The next few months are focused on my upcoming EP with a few more songs and video content to come, I just want to make sure I give you all my very best! Outside of that, I've been writing like crazy for my second project and beyond because writing never stops for me. [smiles]
* * *
Stay tuned for more releases from LU KALA in the coming months.