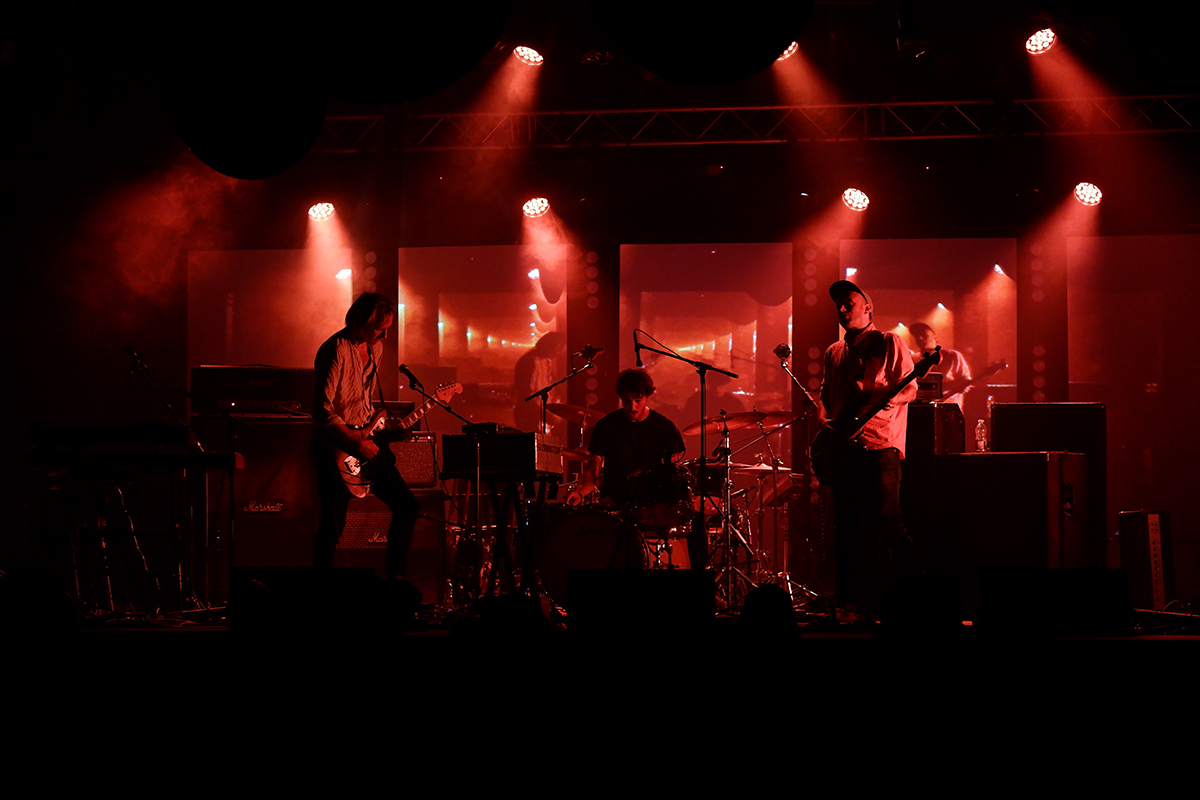 Some events are all about following the program, others are a "make your own adventure". FME is the latter, mostly because you cannot possibly see every performance, but also because you can make your own adventure. 
Over the 4 years that I've visited FME, there have been many adventures. There were joyfully sleepless nights and that one time I've nearly missed a flight home because of them. There were nights of experimenting, nights of getting lost in the crowd, and even karaoke nights. There was also that time a bunch of us made friends with a porcupine named Chewbacca and a time I spent the entire industry dinner listening to lifelong stories from a local rock legend. This time was much tamer, for obvious pandemic-related reasons. But it was also the time a fellow journalist and I got tattoos while listening to disco house around midnight on a Sunday. 
FME is an annual highlight for many industry folks from across North America and Europe. It is an event that brings together emerging artists, label representatives, festival runners, publicists, promoters, and media across a wide range of languages and genres. Here we gather, make friends, party, learn, and most importantly – get introduced to new music.
At this point in 2021, it feels as if it's been forever-and-a-half since we were able to see live music in Toronto so nothing was going to stop me from attending FME, not even an 8-hour bus ride across the Canadian wilderness (it was probably longer). Due to many pandemic-related issues, things were not exactly the same this year – no international media were in attendance, and getting into shows was a bit more complicated – but the overall energy was high because it is better to see live music with limitations than not see live music at all.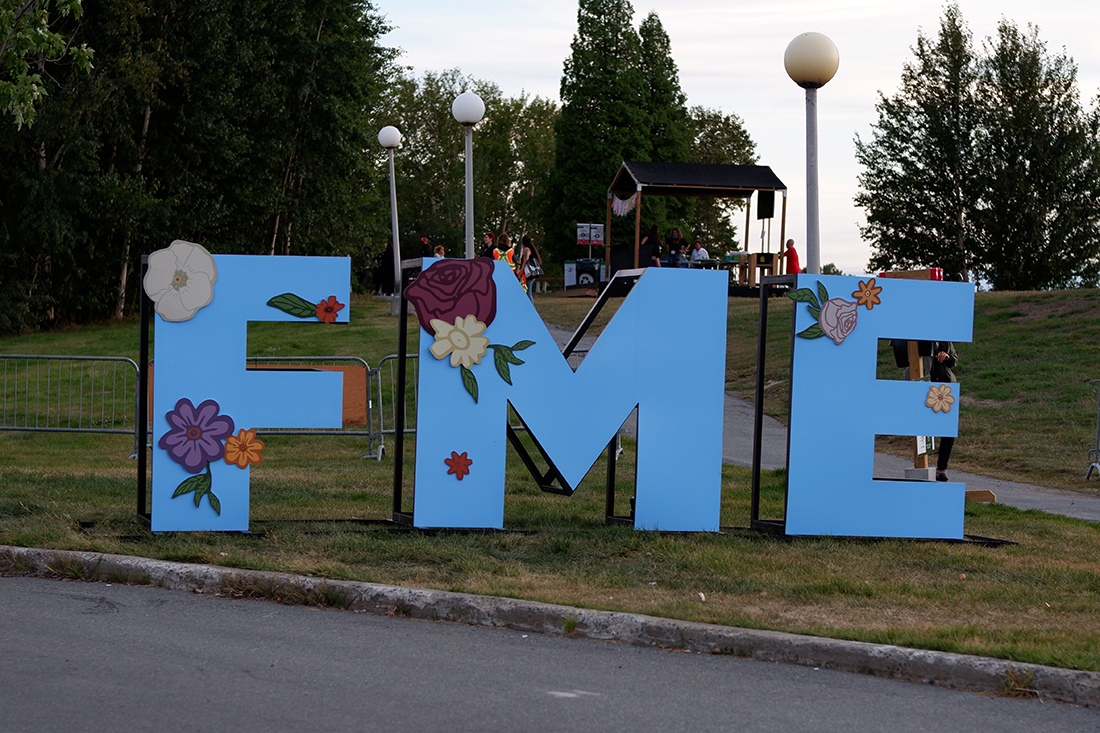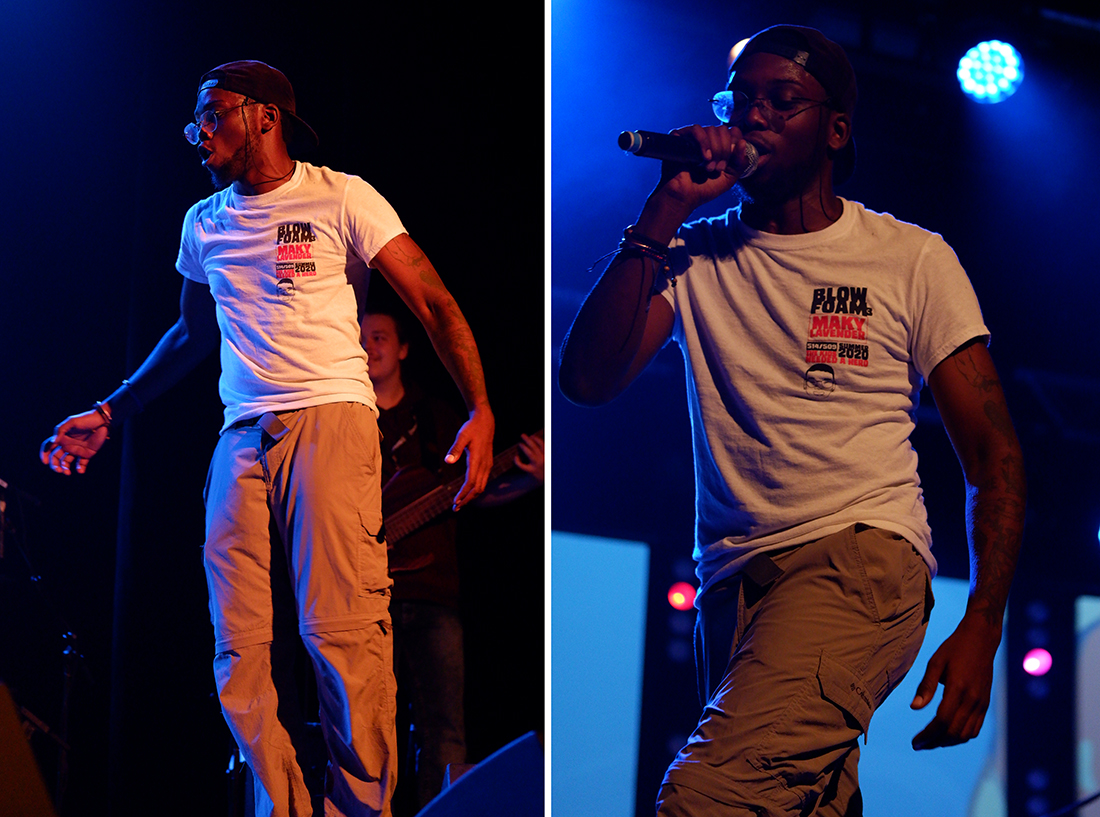 In its true tradition, FME showcased artists across multiple genres and languages. The most language diversity was perhaps seen across hip-hop and rap performances. This showcase, spread out across multiple days, begun with an extremely energetic performance by Maky Lavender. As a multitalented creative, dancer, and an artist who performs in both, French and English, Maky is a common name in the Montréal rap scene. The audience, anxiously seated 6 feet apart from one another, were in absolute awe of this performance, making song requests, chit-chatting with the artist, singing along, and nearly begging for their favourite songs. Lavender's music ranges from sentimental chill tracks ("Bloom," "Wont Fall Inlove") to songs that when performed with a live band gained an unprecedented bass-heavy level that sent him spinning in circles around the stage ("Oh non! Man, c'est la vie," "Le game a changé"). This energy is contagious and this is an artist you should know about.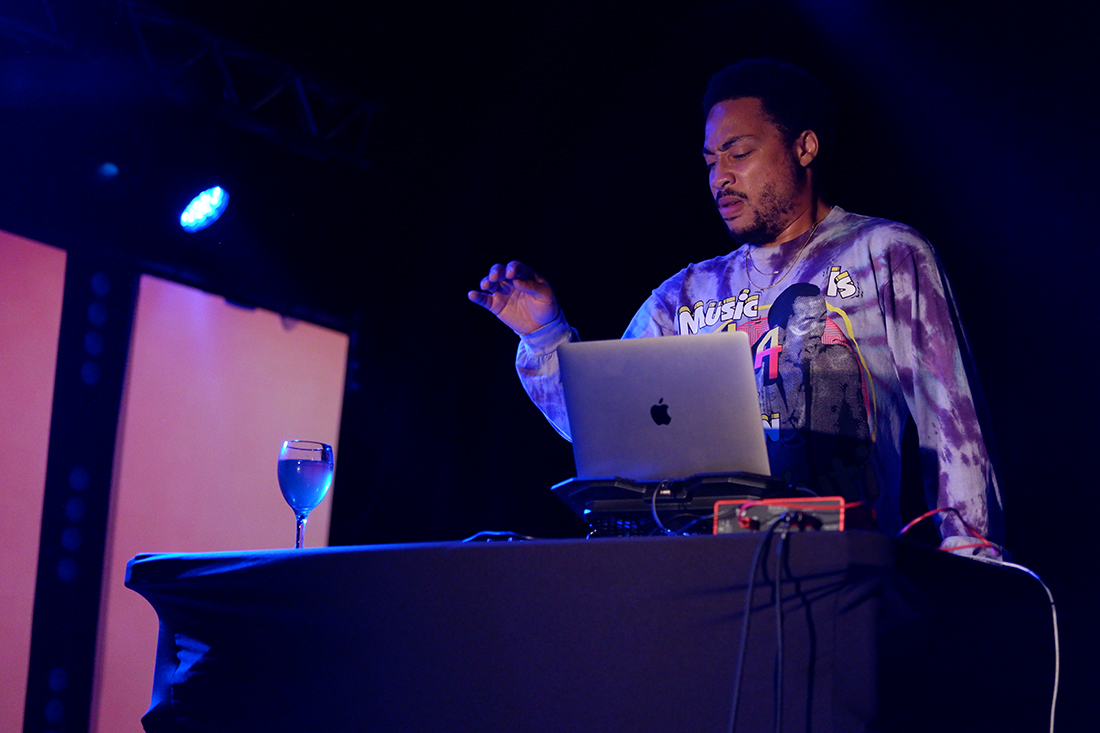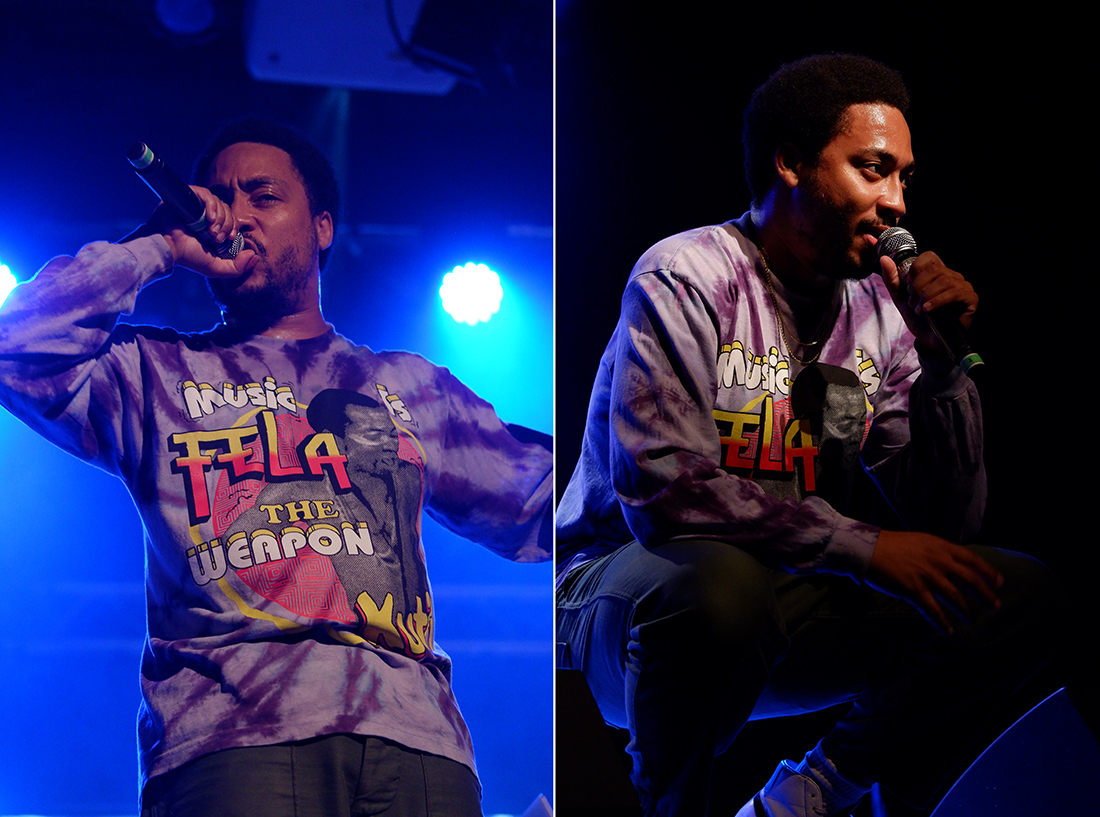 Toronto-based, Edmonton-born Cadence Weapon (Roland Pemberton) and most recent Polaris Music Prize winner (congrats!) confidently took the torch from Maky and lead us into his Parallel World for the following hour. Lit up by a bright spotlight between tracks Weapon pointed out he felt a bit like a standup comedian but his banter with the crowd was not all fun and jokes. Song to song Pemberton shared his reflections on the city's losses, homelessness, issues of surveillance ("On Me"), being alone through the pandemic, and spoke about his various collaborations. The audience was locked in, "going crazy" in their seats to "SENNA" (as requested), and singing along to Pemberton's rendition of Stardust's "Music Sounds Better With You" during "Sunrise". Having played a solid number of songs from his latest album Parallel World, Cadence Weapon made sure to illustrate his full thematic range with older tracks like "Conditioning," "My Crew (Woooo)" produced by Kaytranada, and "Night Service" from Jacques Greene's Dawn Chorus during which the lights were turned down to "moody," setting the appropriate tone for the track.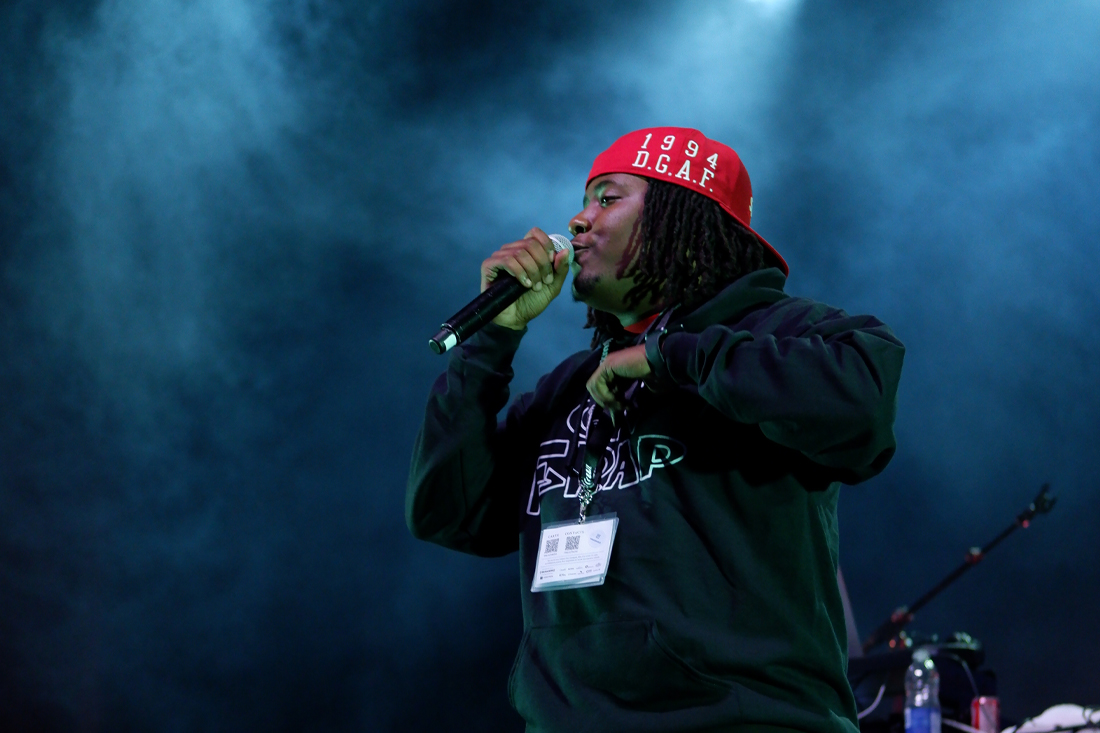 The biggest night for French rap was Friday at the lakeside stage where fans gathered for Shreez and Souldia, two of the most recognizable names in the Québec rap scene. According to Le Devoir, Shreez is one of the house names that fronts the new generation of local beatmakers. As a recognized lyricist Shreez gathers a fanatic crowd, the energy in the field was ecstatic, people loudly sang along, jumping up and down and nearly creating a mosh pit by the stage.
Souldia's performance followed in a similar tone, but this rapper had zero interest in engaging with the rowdy crowd, creating a human wall in front of the stage so he can pace along the speakers untouched by human hands (though, I get it, COVID). Souldia has gone through his share of difficult times from "petty crimes to incarceration" and has been recording music since 2009. His latest album, Backstage, is reflective of these life experiences, "What I'm still doing now is 360-degree reality rap" he shared with Panm360 in an interview, "I'm inspired by life, my own life and the lives of the people around me". A few songs into the set I felt the crowd begin to close in around me in a very uncomfortable way, trying to get closer to the artist and each other. The reality of the "pandemic isn't over" and "oh shit that's more people than I've been close to in a very long time" begun to set in making me back out and seek comfort with the rest of my festival crew elsewhere in the city.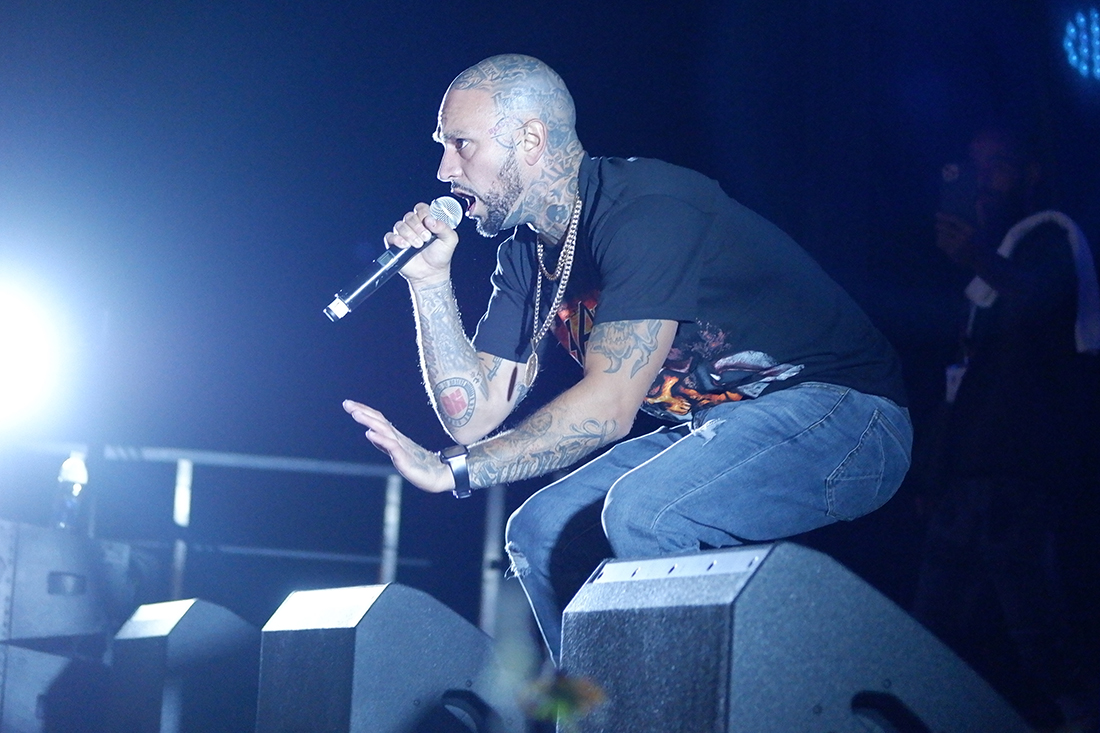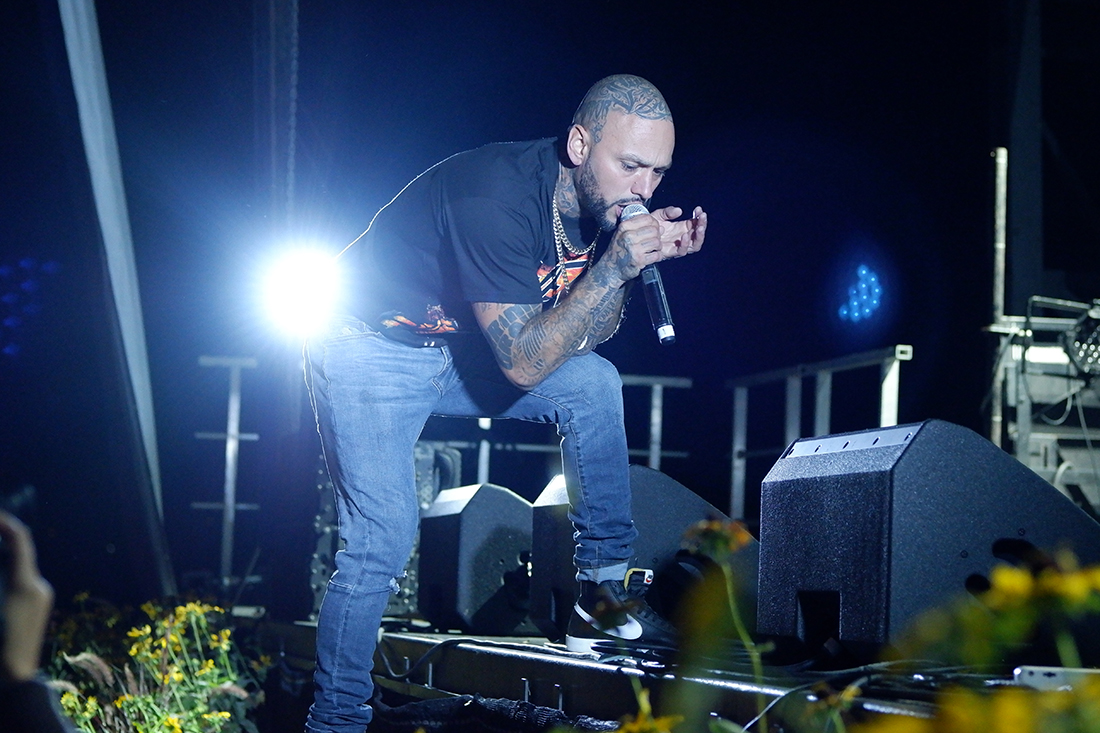 On a separate night, a smaller group of people gathered for a more intimate indoor show by the Montréal four-piece Ragers; the band is known for their engaging eclectic mix of hip-hop and live instruments. Ragers gained niche international recognition with their 2018 LP Raw Footage, and have since released a range of singles and most recently, a new EP Tant Qua'y Y Etre. Ragers were actively engaging with the crowd, getting people to dance and squat on-demand to collectively jump up to the drop of the next song. Small groups of people swayed with cold drinks in hand, breaking into an occasional unrestricted dance, laughing, and making friends. Admittedly, this event felt the most normal, in the traditional sense of seeing live music that is, a feeling I have been starving for since March 2020.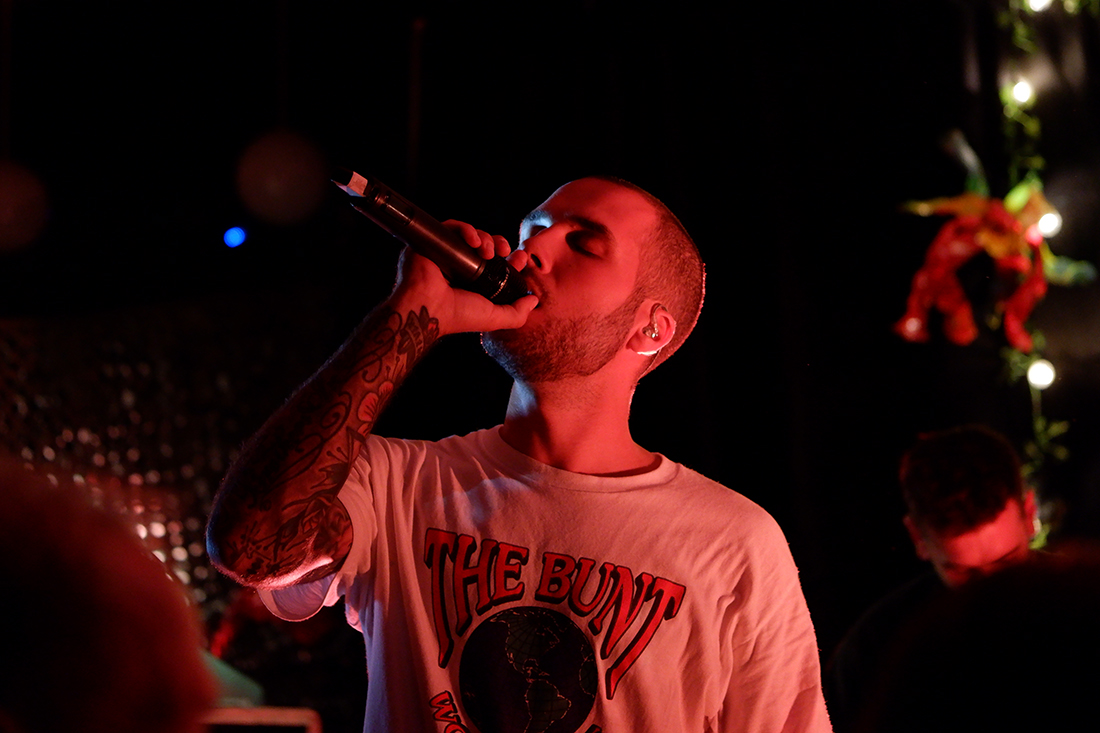 When it comes to hip-hop this year's lineup lacked in female representation with the only female genre representative being Montréal lyricist, singer, rapper, and songwriter Emma Beko. Beko took the stage at a smaller indoor venue for a more personal and occasionally sensual hip-hop performance. Her solo project debuted with BLUE earlier this year (you might know her as half of Heartstreets) and with this record, she came into her own as a solo artist in a whole new way. The stage was heavily decorated with stuffed toys – on the floor, on the mic stand, everywhere – and a giant teddy bear was resting on the left, framing the mic center stage. She opened the set, accompanied by an injured DJ, with "Demo" setting a very laid-back atmosphere in the room. As a projection rolling through her childhood videos begun to play above the stage Beko grabbed an empty stool from the front row to sit down for "Alma," a song written for her sister. This song has been stuck in my head since that day and I am not even mad. Beko has a very soothing voice that delivers well on her clean, melodic rhymes and I'm looking forward to seeing what comes from her next.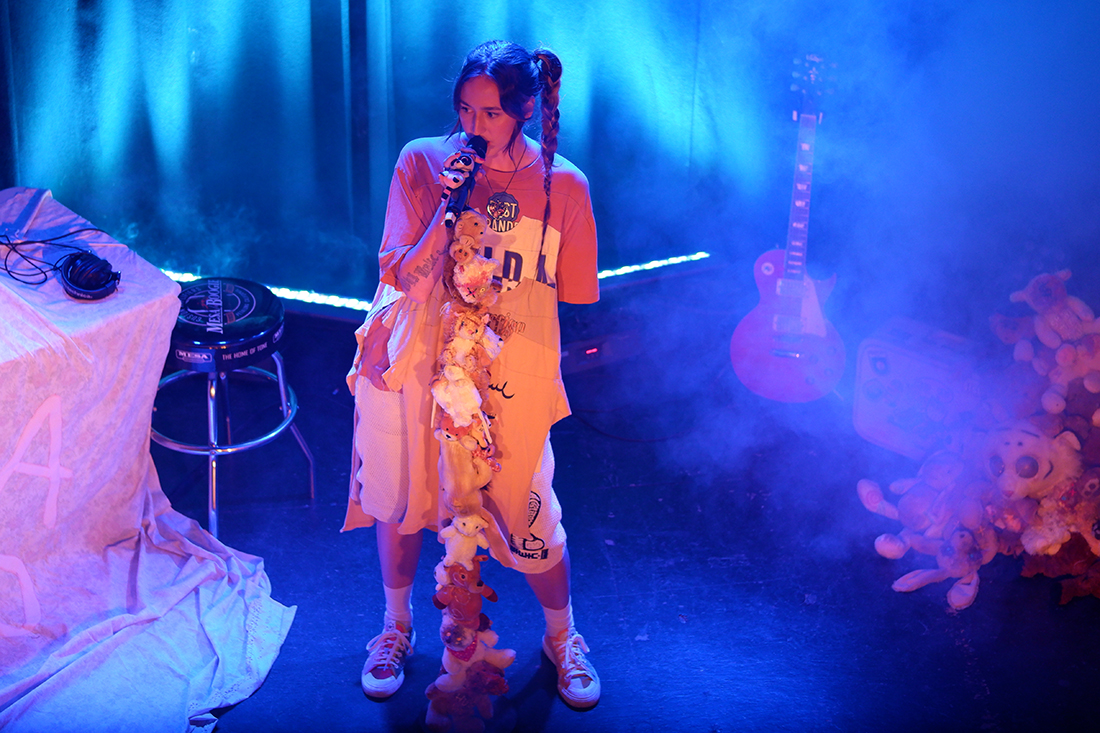 Canadian treasure Lido Pimienta took the stage for a headline performance on Friday night, playing tracks from her latest release Miss Colombia and highlighting some of the older favourites. Colombian-born, Toronto-based "global beats trailblazer" Pimienta is a Polaris Music Prize winner (2017), a nominee for Latin Grammy Awards, Grammy Awards, and most recently took a well-deserved spot with the New York City Ballet Orchestra. Most importantly, Pimienta is a truly unique artist, adored in fantastical dresses in which she floats around the stage, telling stories through a blend of music that can only be described as a hybrid of electronic and cumbia. Québec was not ready for this but they embraced Pimienta's anthems with open arms and were quickly absorbed into her magical universe through tracks like "Eso Que Tu Haces," "Nada," and "Agua".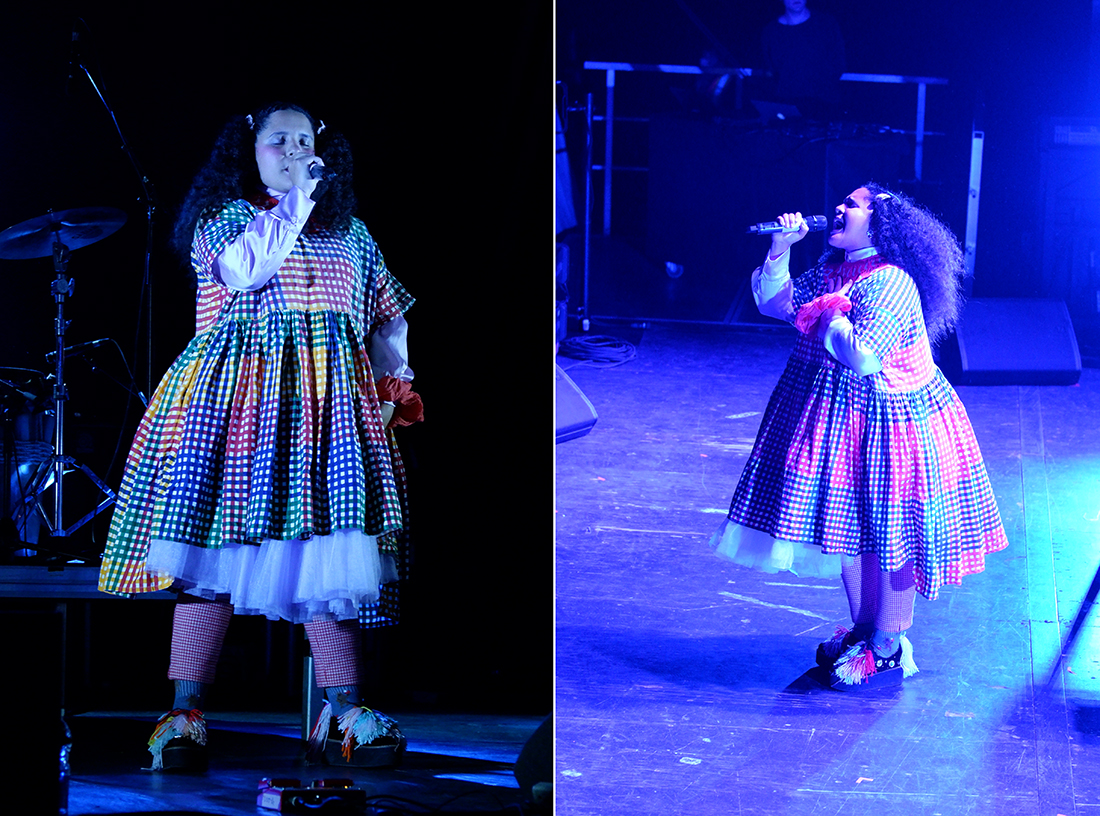 Many artists perform multiple sets, as scheduled or through surprise pop-up events (an FME signature) and so an artist's first performance might make them talk of the town for the rest of the weekend. In this manner, one of the biggest highlights on the electronic side of things were multiple performances by Montréal's DJ and music producer Aïsha Vertus who performs as Gayance. Influence by her Haitian roots, UK Garage, and Detroit / NY house Gayance spins engaging, melodic sets that can get quite heavy late-night with that classic wub-wub sound that throws you back into a dark nightclub, dancing into the sunrise. Vertus is currently working on her debut EP Not Toning Down, and has been teasing her fans with singles like "Sirens" (feat Kallitechnis), the release date is yet to be announced but we are waiting with anticipation.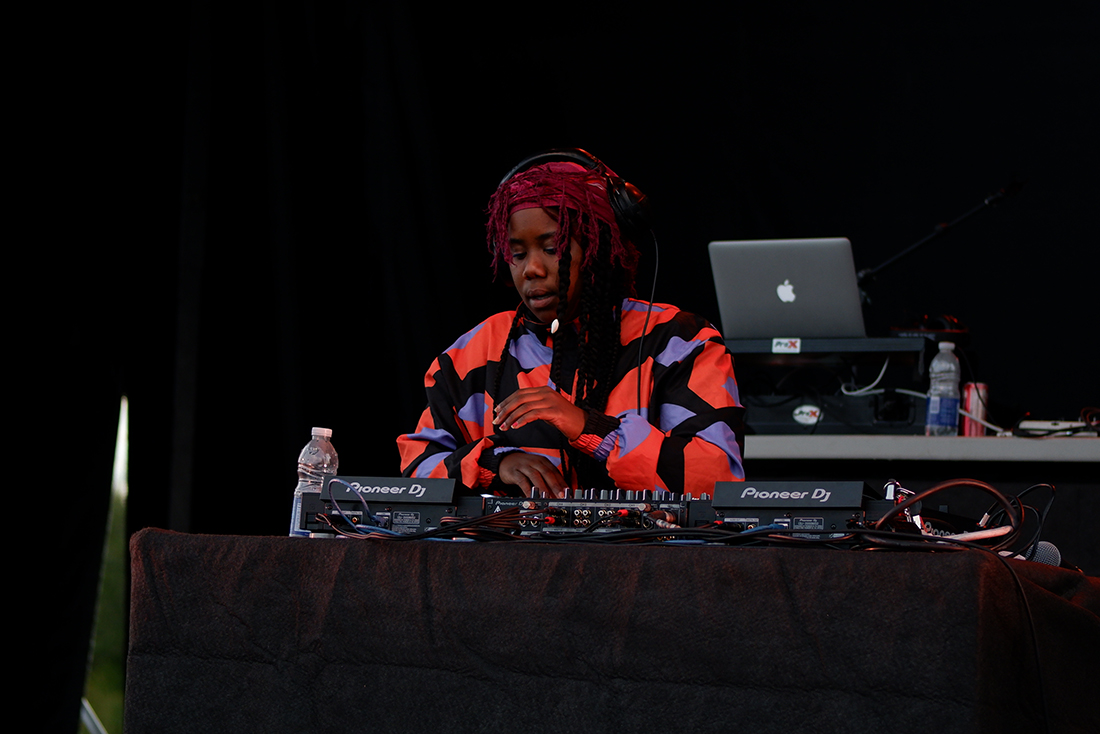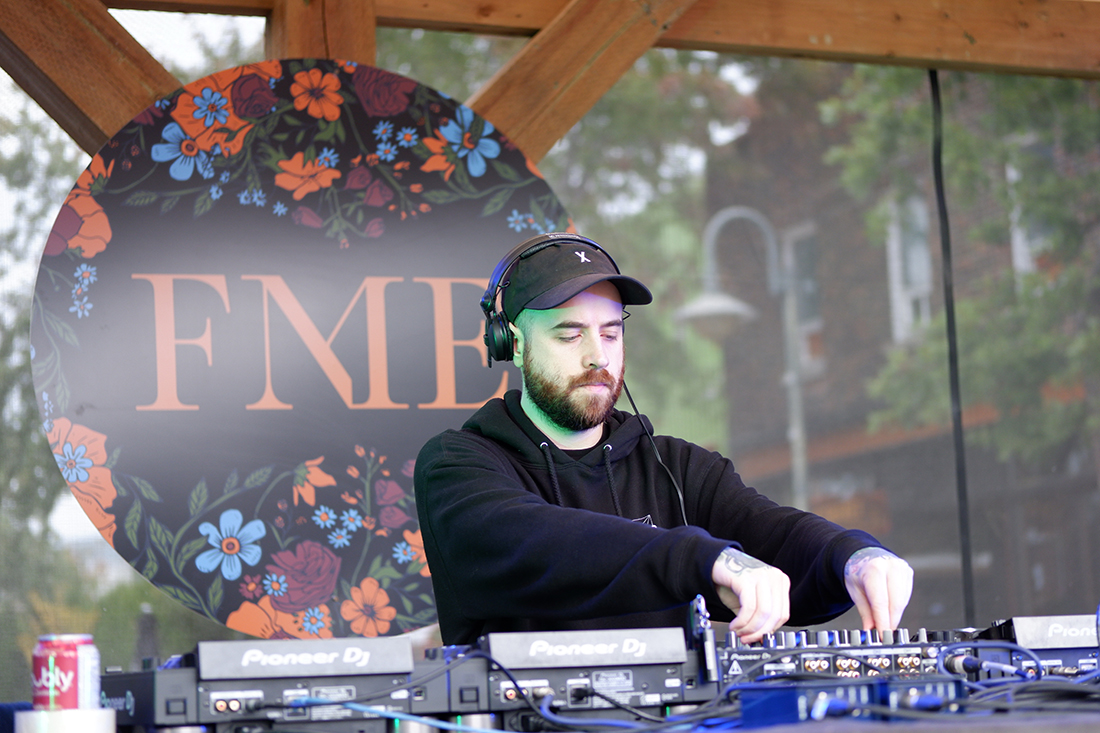 The following day a smaller outdoor stage also hosted Krimer (a.k.a. Simon Bertrand), an up-and-coming bass music producer. It was a rainy day and an early show but a small young crowd created a mini dance floor, headbanging and vibing to Krimer's trap-heavy beats suspensefully building into heavy synth rhythms on tracks like "Blitz" and "Brute Force". 
One of the annual highlights at FME is the Bonsound BBQ. As a prominent Québec label, Bonsound are always actively involved with FME and this event is an opportunity to meet the crew, mingle with artists, and enjoy a pool-side performance. This year the spotlight was on Paul Jacobs, a Montréal-based artist fronting a five-piece band whose latest release, Pink Dogs on Green Grass, dropped earlier this year. It is an album that showcases his range of influences and production skills within a tight pink package, one that if listened in the right environment might feel quite psychedelic. In the daytime, under a clear blue sky, Paul Jacobs and the band were a perfect house party soundtrack.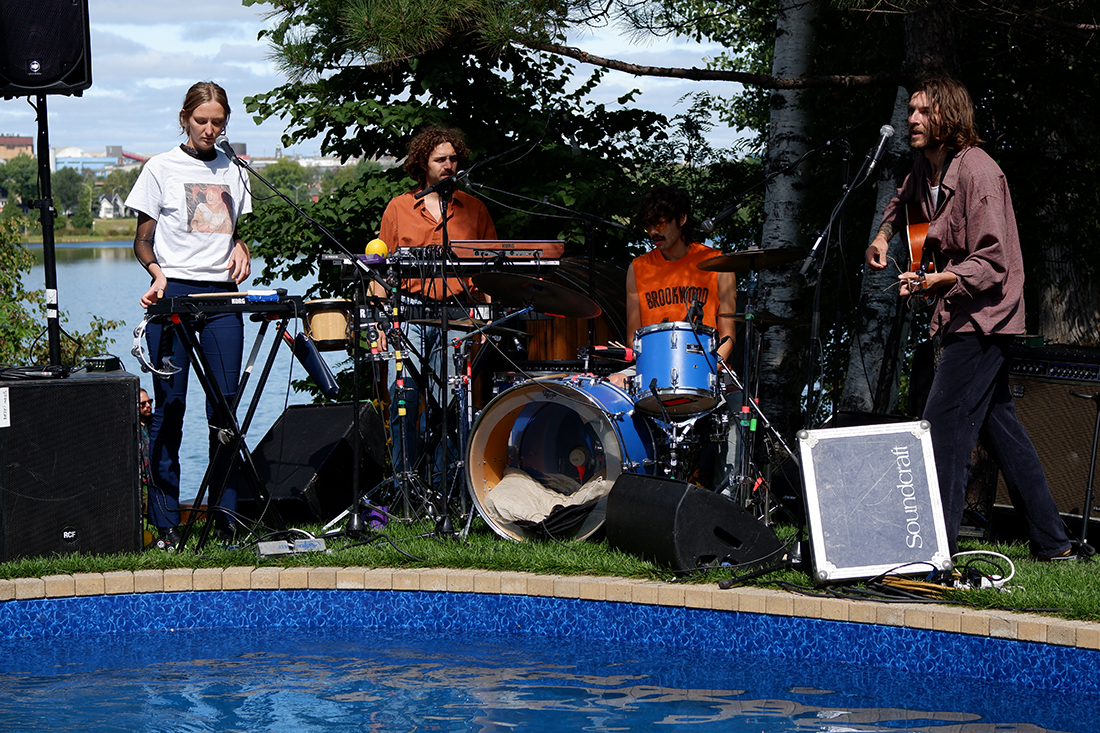 In the evening the psychedelics started on a high note with Yoo Doo Right, an experimental trio from Montréal. The band played a pop-up show earlier in the weekend and so the word-of-mouth spread that YDR was a band to see. According to their bio, YDR play with "elements of shoegaze, post-rock, and psychedelia, crafting a unique sound that could be described as a car crash in slow motion" (listen to Don't Think You Can Escape Your Purpose, you'll understand). The trio spread across the stage, backlit by hypnotic visuals in various shades of red and orange, their set is mostly instrumental, occasionally accented by minimal vocals, so the psychedelic visuals really do drive the music home. For their last track, "1N914," the band invited us all to practice breathing as they went into a 7-minute instrumental adventure. Past halfway into the track, my festival companion noted that he hasn't taken a breath in a solid two minutes. I realized I was a bit short on air as well, "Ah, I see" a thought dawned on me, "it's an exercise in breathing".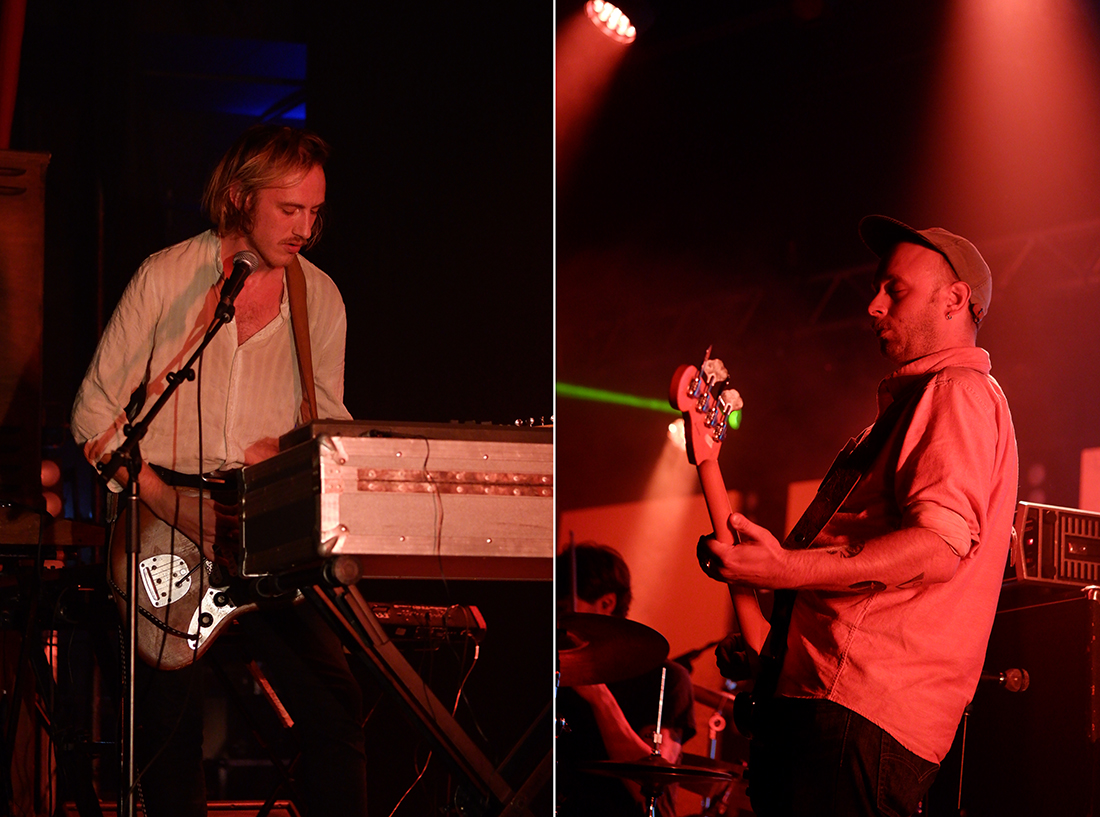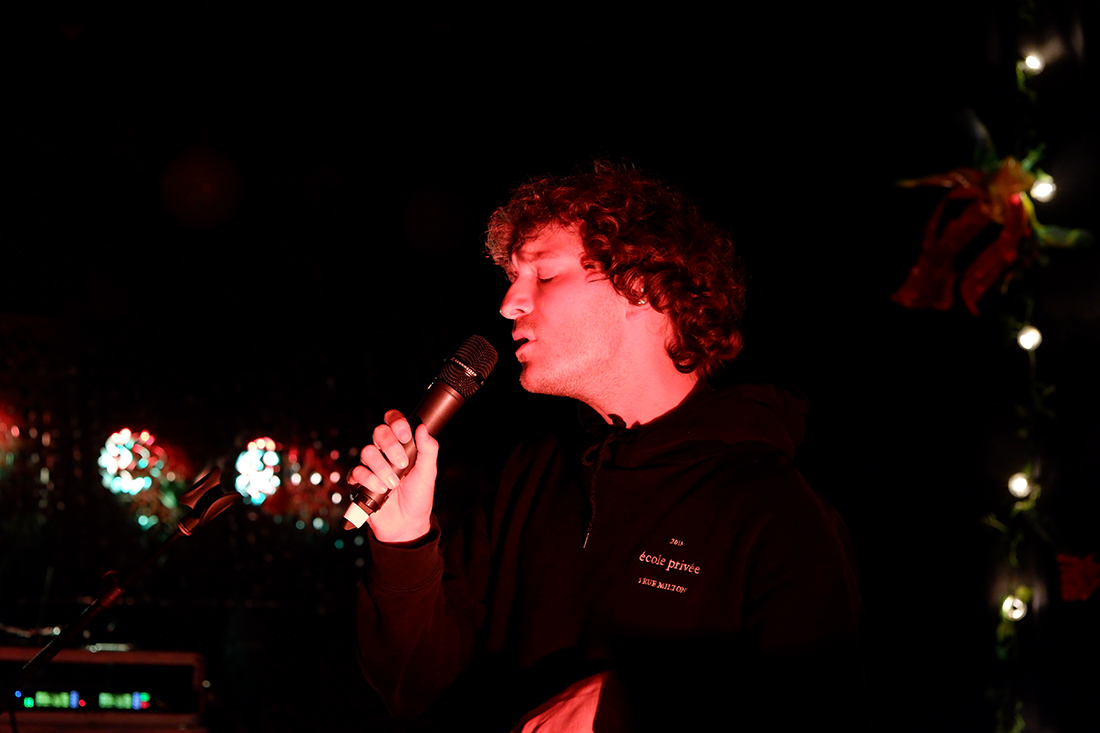 Back in the smaller space, following Ragers, another weekend favourite took the stage for his second set – Robert Robert. During the first decade of his music career, Robert Robert made people dance ("Coolest Place in the Universe" from Welcome to Finetown, 2017, is how he got on my radar). Over that decade Robert collected many, many stories, so now he is telling stories in his mother tongue (French). His latest release, Silicone Villeray, is an upbeat indie-pop record based on personal experiences, somewhere "halfway between confessions and fortune cookie sayings" or as Robert Robert describes it: "a cloud of sun and grass, an eternal teenage story, and confused days of love and boredom". It was a perfect way to end a Saturday – fun, relaxed, and in good company with a cheerful crowd. 
Each night as the shows ended (earlier than usual) small groups of people lingered around open festival spaces, sipping on their drinks, swapping friends, debating who's afterparty to go to. All throughout the week artists were meeting other artists, discussing collaborations outside of Chez Morasse poutine, making plans for studio time, and complementing each other's recent work. The festival weekend may be over but the connections made here can have a lasting impact. See you next year Rouyn-Noranda.