Paul Armand-Delille (Polo) and Alexandre Grynszpan (Pan) are better known as a Polo & Pan duo. Their music first and foremost is fun, and as Stephania Taladrid from the New Yorker points out, might "evoke a fantasy of European nightlife". This might be hard to imagine if you've never heard Polo & Pan but given that you are here today I'd imagine you too at least have been transported to sunny French Riviera to the sounds of "Nanã" and duo's other smooth blends of house, pop, disco, and psychedelia.
Earlier this year P&P released a sophomore album called Cyclorama. The album is inspired by the French cinema and in many ways messes with time in reality as the duo see fit creating their own surrealist world. This new album is a progression from Caravelle (2018) and Dorothy (2014); their sound visibly grows and expands into new horizons occasionally breaching into electric dance-forward tracks. 
Over the last few years playing shows in Toronto Polo & Pan have been growing their audience and therefore venue choice size. From the intimate Velvet Underground to medium-size Danforth Music Hall to this time, Queen Elizabeth Theatre with a capacity of nearly 1,250 people. Getting into the venue, now open to 100% capacity, was a hot mess. The line was wrapping around two corners of the building letting people in one by one. Naturally, the show started late but the crowd was primed for a good time by the opening DJ LoveLeo and a room-wide Christmas music sing-along.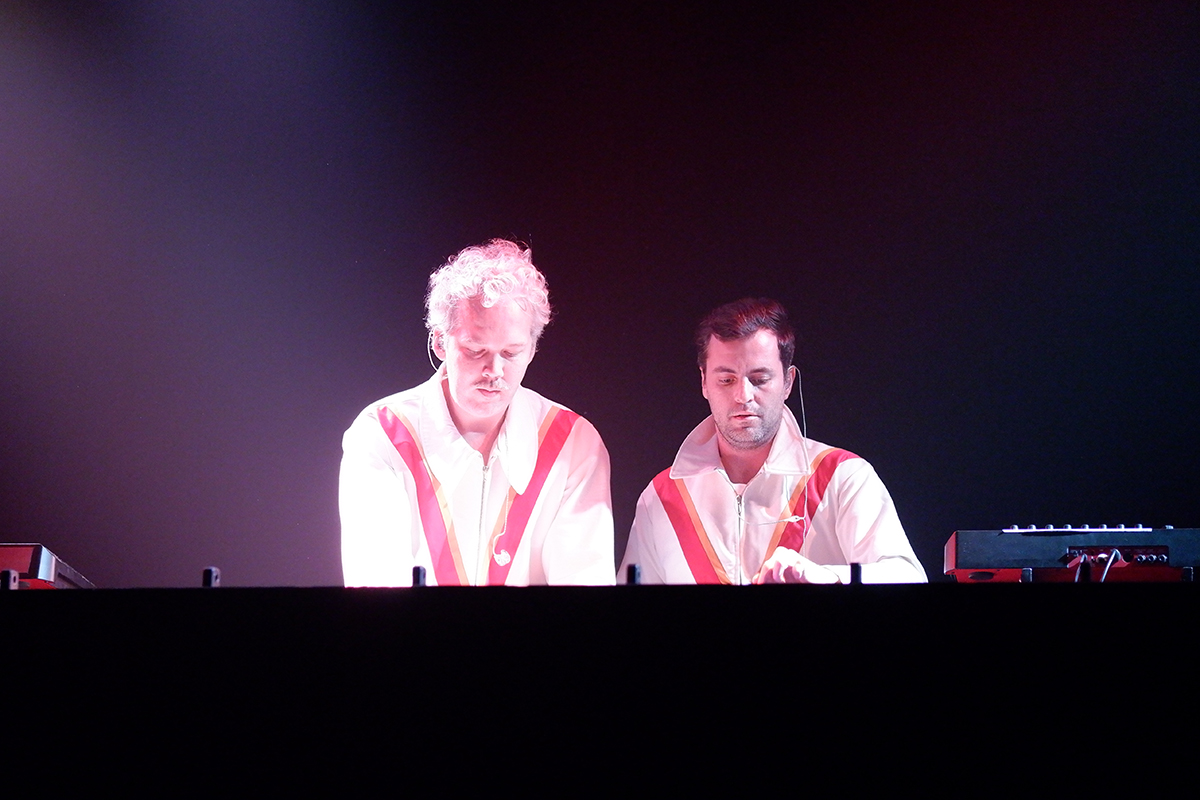 Dressed in matching vintage tracksuits Polo & Pan took the decks and the mics immediately diving into their surreal universe with psychedelic visuals taking up the entire height of the stage. A few years back Polo & Pan played a show at Cabaret Sauvage in Paris, in what looks like a large circular tent, a vibe that perfectly matched Caravelle, and to this day the circus theme is still very much present through many of their tracks (ie. "Bilboquet (Sirba)"), impressive theatrics, and mesmorizing light shows. 
The primary focus of the nearly 90-minute long set was naturally on Cyclorama but the duo made sure to play everyone's favourite tracks from previous releases. Paul and Alexandre are very interactive, in that awkward yet charming kind of way, chatting with the crowd and moving around the stage freely. The evening was dedicated to Toronto and whenever the opportunity presented itself Paul worked "Toronto" into a song, pacing at the foot of the stage occasionally joined by Alexandre who made sure to get close to the fans when the music permitted him to be away from the decks. 
Tracks like "Tunnel" (featuring Channel Tres on record), "Magic," and "Jimmy" performed live got bigger and brighter, faster and dancier, and with the flickering strobe lights and red flashes for a few moments, QET felt like a really fun rave. 
A very special treat for this tour is the addition of Parisian singer-songwriter Victoria Lafaurie. Making appearances throughout the night Victoria changed outfits a few times to match the light show while performing all female vocals ("Attrape-rêve," "Artemis" etc) and dancing for the crowd. There was a resemblance of modern and ballet in her sometimes robotic moves, broken down with beaming lights just at the right time. Much like P&P Victoria exudes theatricality and during  "Dorothy" she quite literally became a disco ball – pierced by lights from multiple angles while wearing a silver sequins dress Victoria was spinning in place reflecting the sparkles through every stream of light possible, shining bright like a midnight star. 
Despite being a large open theatre the space got hot, people were tucking jackets into every nook they could find so they can be free to dance. An hour into the show the bar felt like a flea market table with coats hanging above the beers and poking out from under the storage unit. It was also evident that not everyone was super comfortable being in such a crowded space but that all is only natural given the many months of oddity we've been through separately together. 
Regardless of the ranging comfort levels, everyone seems to have a great time. Some people were dancing their hearts out, some people were safely nodding in their masks, nearly everyone spilled out on the street at the end with a smile on their face, loudly discussing all the fun they had. This vibe has been a long time coming and it was an excellent way to break a drive spell for live music. If you get an opportunity to see Polo & Pan live do not miss it because it is not just a concert, it is an around performance.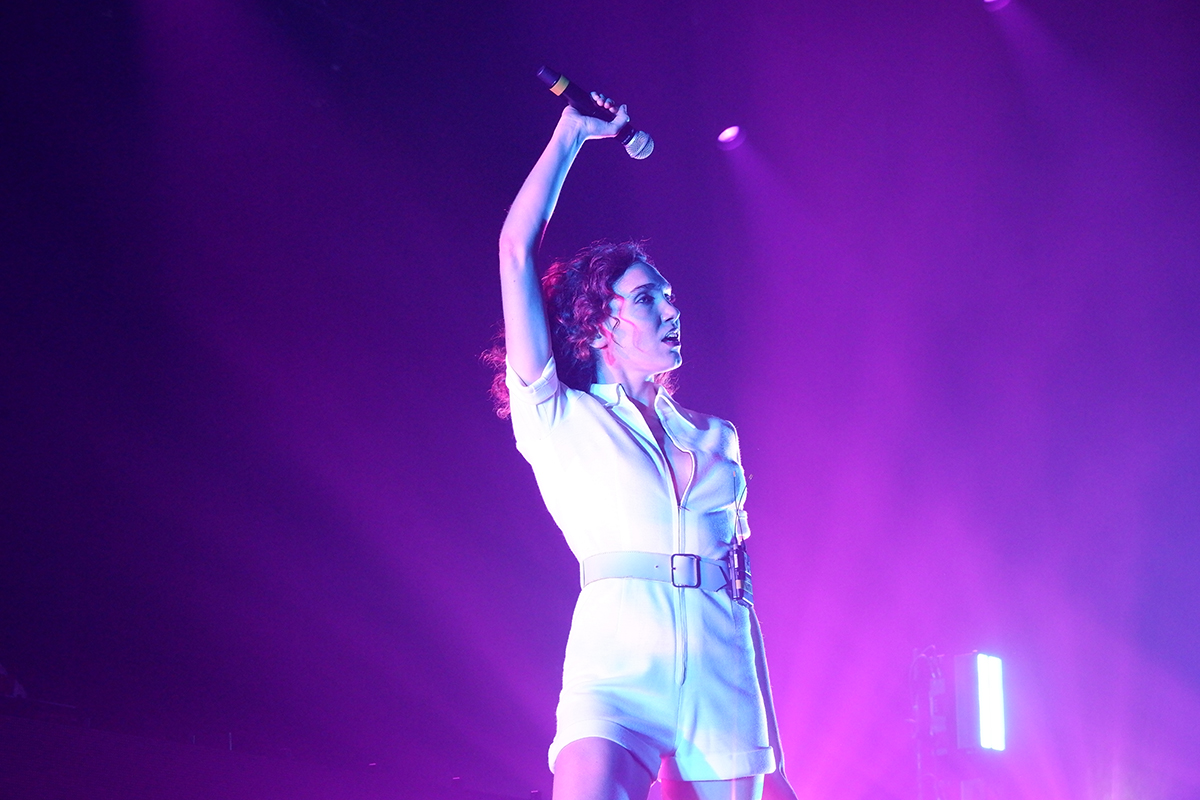 Scheduled tour dates
*check your local venue to confirm
02/04/2022 San Francisco, CA Bill Graham Civic
02/05/2022 Los Angeles, CA Shrine Expo Hall
02/06/2022 Tempe, AZ  Marquee Theater
02/08/2022 Las Vegas, NV  Brooklyn Bowl
02/09/2022 Salt Lake City, UT  Complex
02/10/2022 Denver, CO  Mission Ballroom