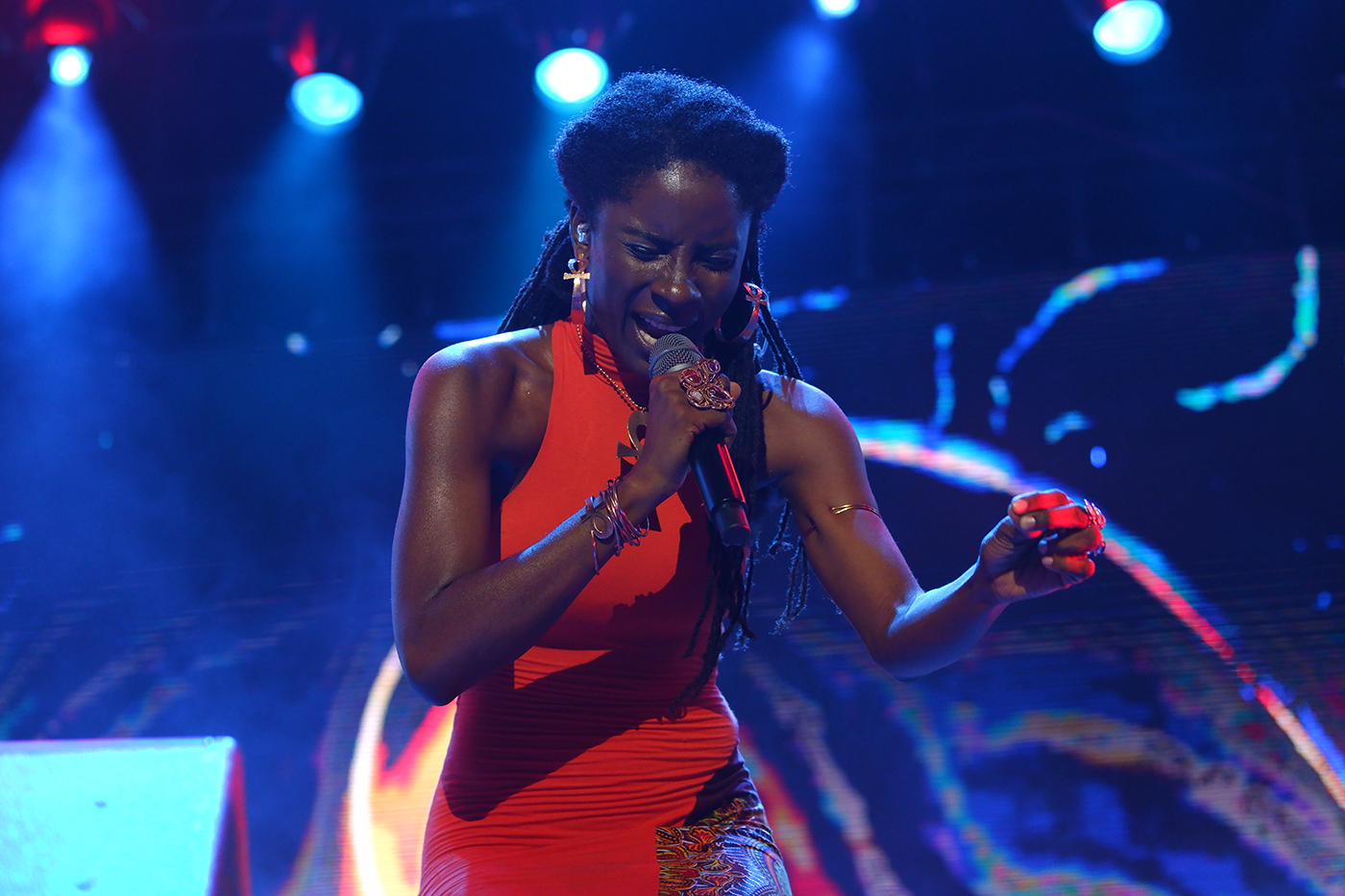 After an epic Friday nigh Reggae Sumfest was not showing signs of slowing down. Looking at the itinerary it was evident that Saturday night was going to be another all nighter with Buju Banton serving up his set at sunrise. Attempting to arrive earlier in order to beat the traffic didn't work as well as we'd hoped but offered up a chance for a lovely evening nap after a day out in the hot Jamaican sun. Now with the moon and stars out it was a whole new 'day'.
Jah9 took the stage with a slight delay around 11pm, an early show by the local standards but we made it in time. Jah9 is a spiritual creature, a philanthropist, and a yoga instructor but for the purposes of this event, Jah9 is a reggae artist. These days Jah9 is working towards developing a "deeper, more personal deployment of her Jazz on Dub sound" while making her audiences "pause, breathe deeply, and feel empowered" – the 9 here stands for the symbol of creation and womb of the universe. While all that might sound like fancy bio jargon it's all true. Naturally, Jah9's performance was melodic, smoothly flowing from one track into another like a river. She smiled, talked about Jah, and shared small bits of truth while dancing through New name (2013), 9 (2016), and various older tracks like "Steamers a bubble".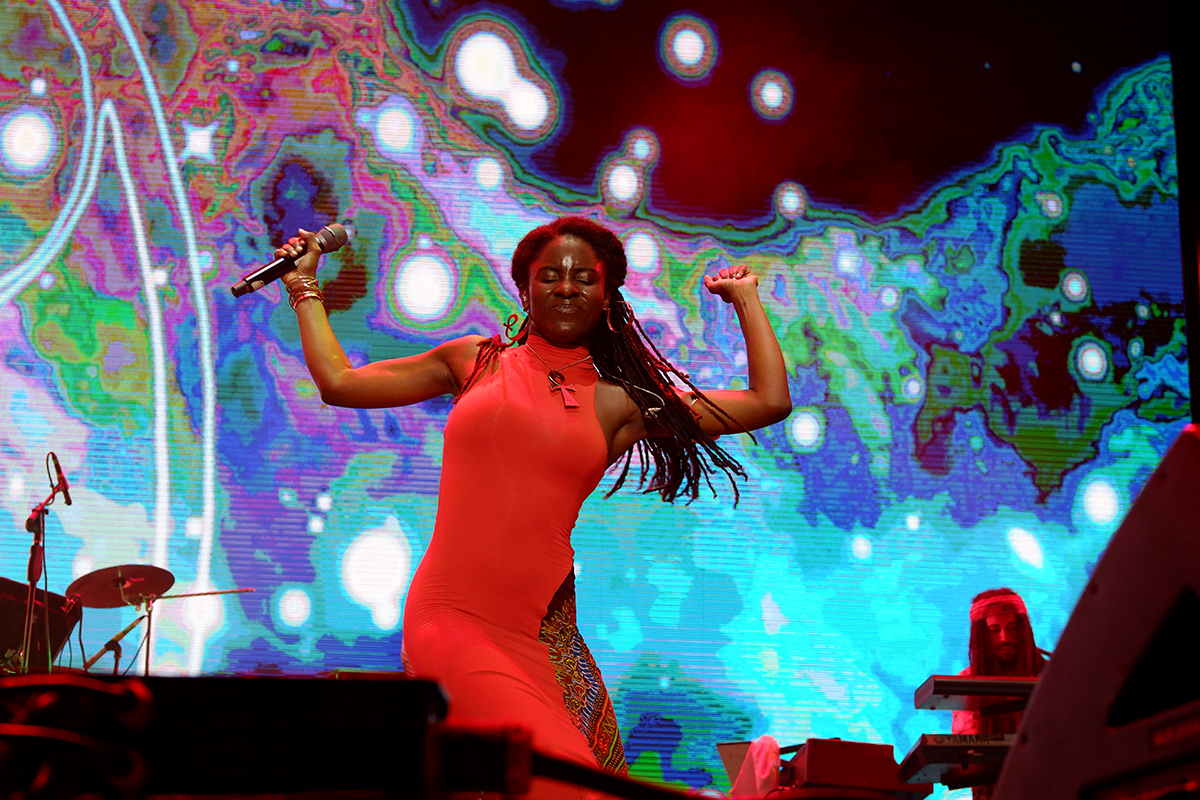 After a couple of breaks, band changes, and a lovely performance by Etana, Protoje made his way out to greet the Sumfest crowd.
In interview with the Rolling Stone Protoje spoke about reggae as a genre: "It's not some resort music that people drink piña coladas to […] Reggae and hip-hop have a close background together" he continued pointing out how he likes to "dance in between those." His recent release, A Matter of Time, is a great example of reggae revival (resurgence of a conscious, organic, but up to date reggae). An album created for a global audience and meant to break down boundaries and stereotypes of the genre. A Matter of Time is a bit of a departure from Ancient Future which was a showcase of the history of Jamaican music. But in departure comes progress. As the headliner for reggae revival standing alongside Chronixx the two occasionally work together so, naturally, their music carries some resemblance. For his set Protoje brought out quite a few guests including Jesse Royal, Sevana, and Lila Ike. The guests who got the most horns going, however, were Agent Sasco and, of course, Chronixx, introduced as "The biggest artist of our generation."
By the time Beres Hammond came out the area around the stage was packed to the brim. Beres is a reggae legend with three generations of fans, who's easy to listen to romantic music has touched many hearts and inspired many musicians. This show was, in a way, a part of Hammond's Never Ending tour, an album released last year, his 3rd #1 album on the Billboard reggae chart. With a 9-piece band supporting his set Beres charismatically and playfully cruised the stage with a sly smile. Now 63, Beres Hammond is truly an inspiration. As soon as his voice rang through Catherine Hall people seemed to take a step back from pushing and begun to sing along and sway.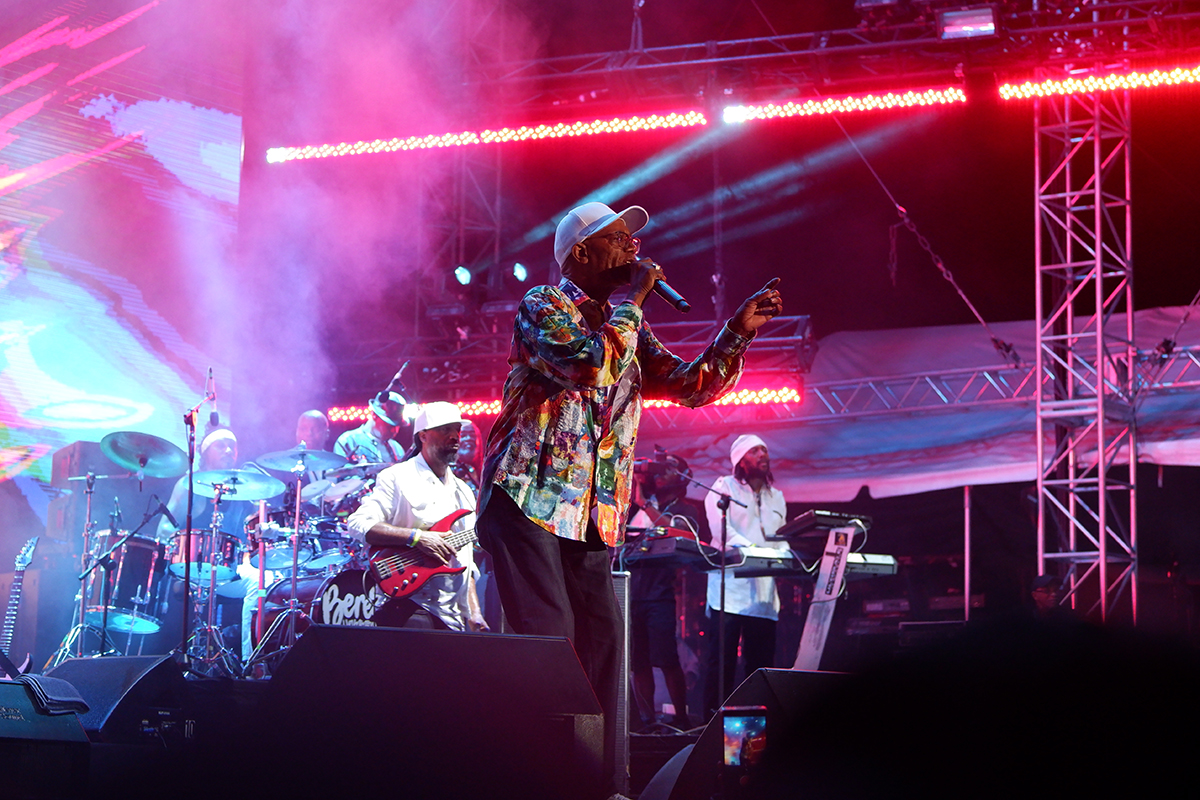 A few years back Beres brought out Romain Virgo on stage to sing the "I Feel Good" rhythm which, he once told United Reggae, was his way of saying "Keep doing what you're doing, kid". Fast forward to today, six-plus years later Romain Virgo took the Sumfest stage following Mr Hammond.
Romain Virgo, wearing a 3-piece impressionable suit, is Jamaica's own hopeless romantic. His latest album, Lovesick, released last year via VP records, is 16 tightly packed love songs. Having seen Romain at Sumfest a couple of years ago I knew, this is the artist who will turn all the women in the audience into lovestruck schoolgirls. Having chatted with Romain earlier that week what was fresh on my mind is a calm, somewhat self-conscious artist, consistently looking to improve his act. On stage, however, Romain carries himself with shameless charisma and charm. He sang to the women's empowerment, encouraging pride and holding their heads high. Agent Sasco made another stage appearance for "Fade Away" from Lifted (2015). For this track, the background video spoke to the high numbers of missing children. The not-so-subtle awareness continued when Romain brought out another special guest – a 10-year-old girl named Teshae Silvera, to sing one of his unreleased songs. The people should be taking care of the younger ones, Romaine called out, "this is a message for you and all I want you to do is listen, this is so powerful." Teshae begun to sing quietly, Romain demanded attention and the people quieted down to give room to this young singer to showcase her voice and share the powerful message of child abuse. As one would expect, this performance brought tears to some people's faces. Romain sang solo through the rest of his set ending with an a cappella when his time got cut short to catch up on earlier delays.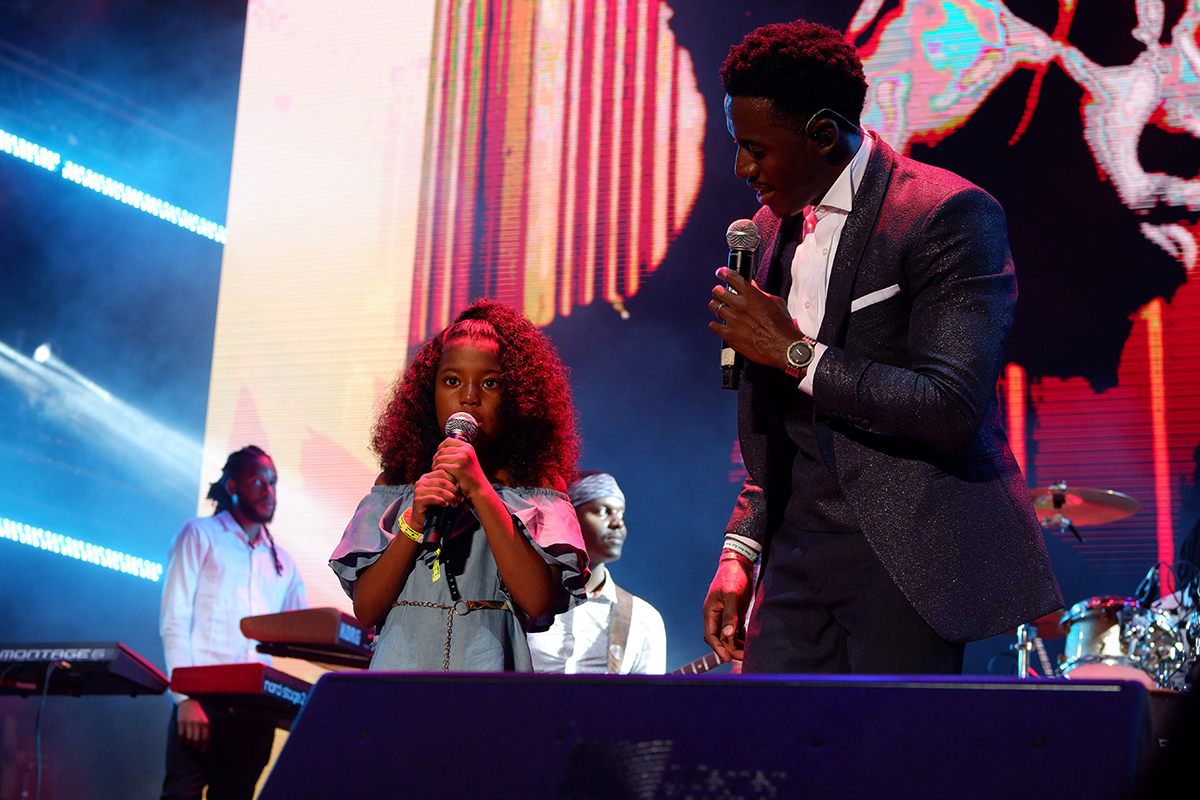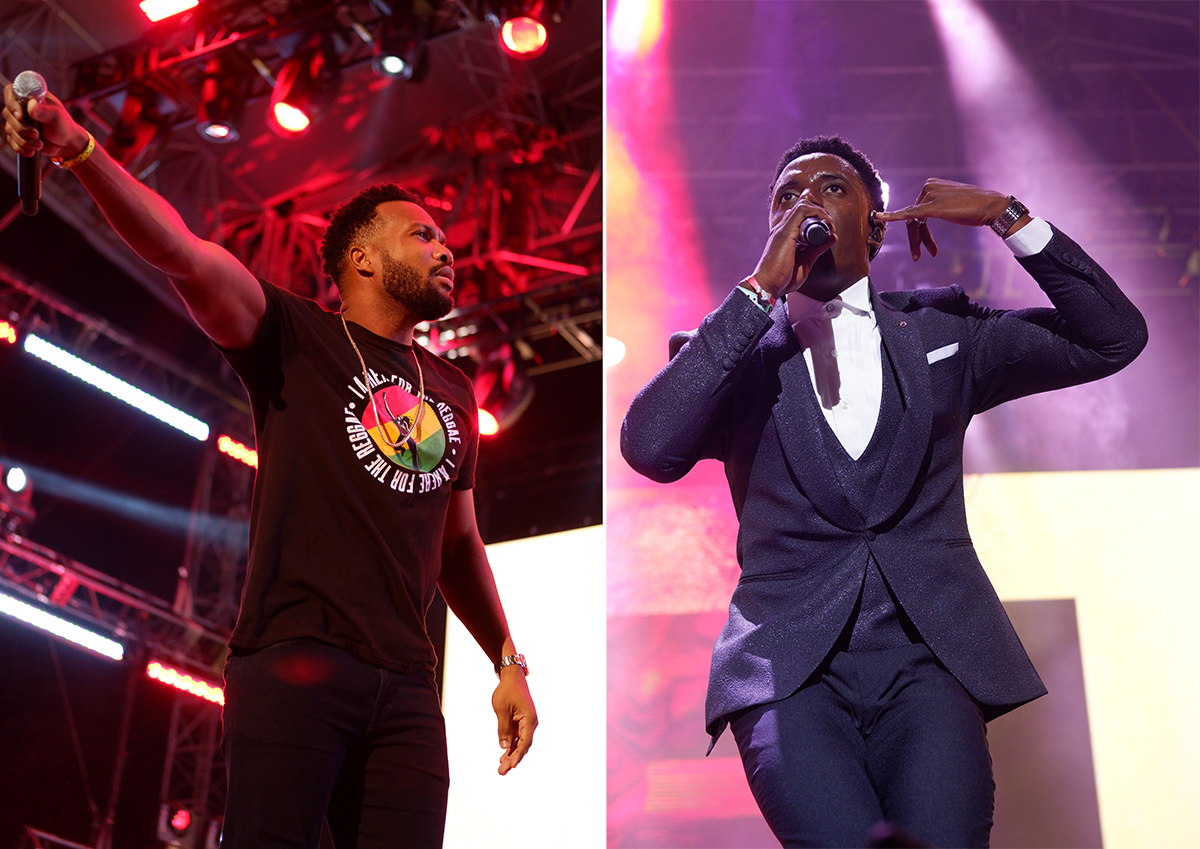 Second to last performance of the weekend was another dancehall romantic Christopher Martin. Starting with his top tracks "I'm a big deal" and "Paper loving" Christopher quickly warmed up the tiring crowd. Pacing the stage with subtly seductive dance moves (particularly for "Magic"), getting the crowd to take part by singing along and swaying their arms left to right. "Sexy ladies make some noise" Martin called out. "Ladies I gotta talk to you," he continued after a brief pause: "The views of Christopher Martin aren't necessarily the views of every man in here" quick disclaimer followed by him speaking out the first few lines of "Bun fi bun" as the audience laughed and cheered. Right after he, naturally, brought out Romain Virgo, the two are friends and support each other on tours sometimes, we've learned during an interview a few days earlier. Sadly, Christopher's set too had to be cut early. Leaving the audience without a proper set conclusion he left giving room to the stage staff swapping out band equipment.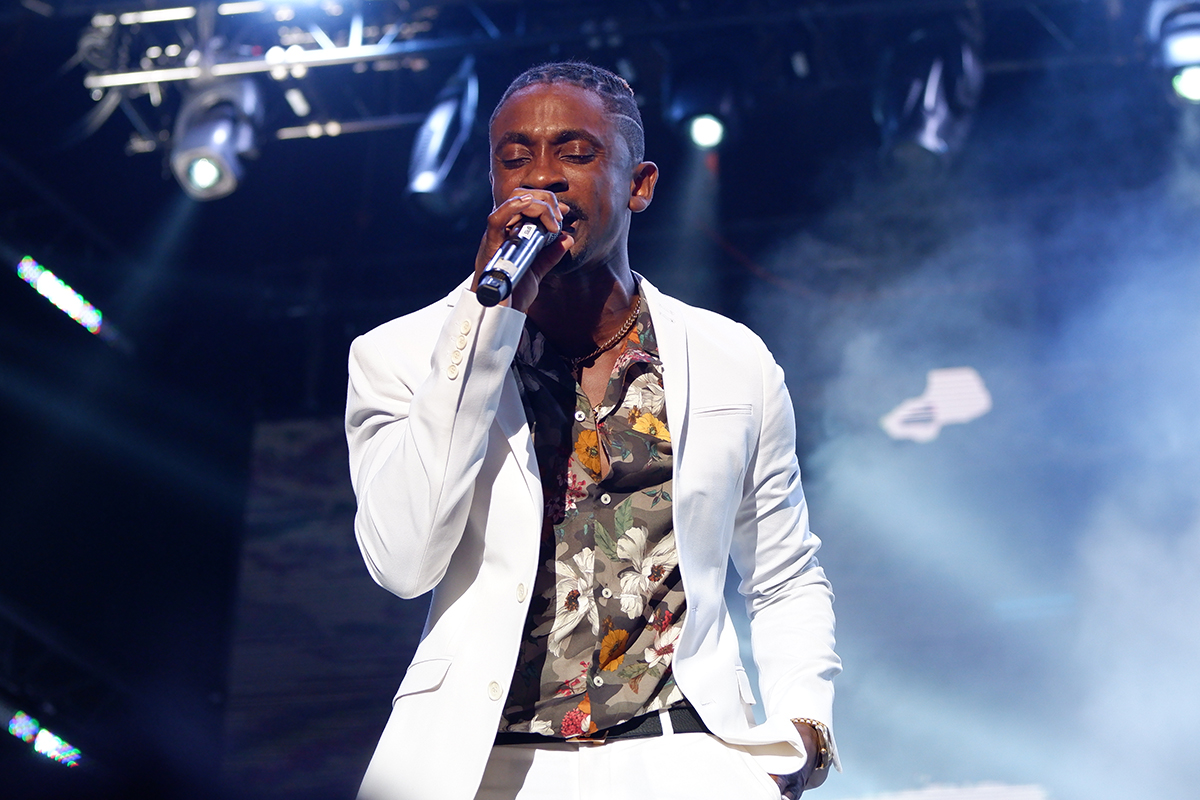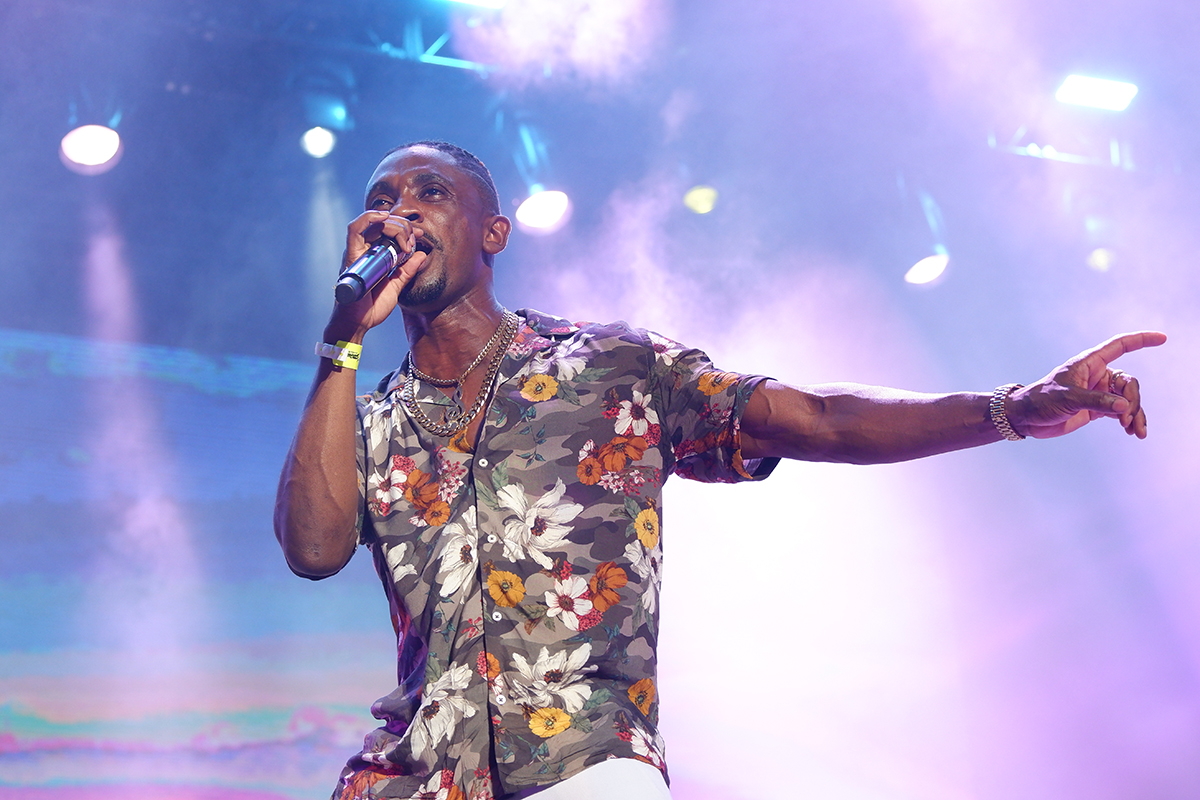 Buju Banton was the final act for the night and the one people we're most anxious to see. Trying to make my way back into the photo pit at this point begun to look like an impossible feat as people stormed the tiny entrance. Just behind the fence from this restless crowd, standing at the foot of the stage steps is Buju himself, calm, chatting with some people, ready to go, like a champion 'Ram pa pa pam pam'. A small group of large men somehow managed to part the lineup to allow Beenie Man come through to the front of the stage to watch the show.
This was Buju's second pubic performance since his release from prison in March. The nearly 8-year break had no impact on the artist's stage presence or size of audience. Buju's 10-piece Shiloh band was just big enough to match the excitement of the audience while Buju himself was energetically bouncing around the stage barefoot, in a plaid vest and trousers combo. His 90 minute set took us into the next day effortlessly with some anthemic tunes.
There have been reports that Buju's Long Walk to Freedom Concert is the one that will never be beat, having not lived through that one I can't compare but it's safe to say this Sumfest set was an unforgettable one.
At this point it was Sunday. It felt like we have lived a full two days of reggae uninterrupted and aside from a little sweat and dust there isn't much to be mad about. Leaving the festival grounds in high energy, holding on to our chairs, shoes, and water bottles we were all inevitably beginning to count down the days to Sumfest 2020.