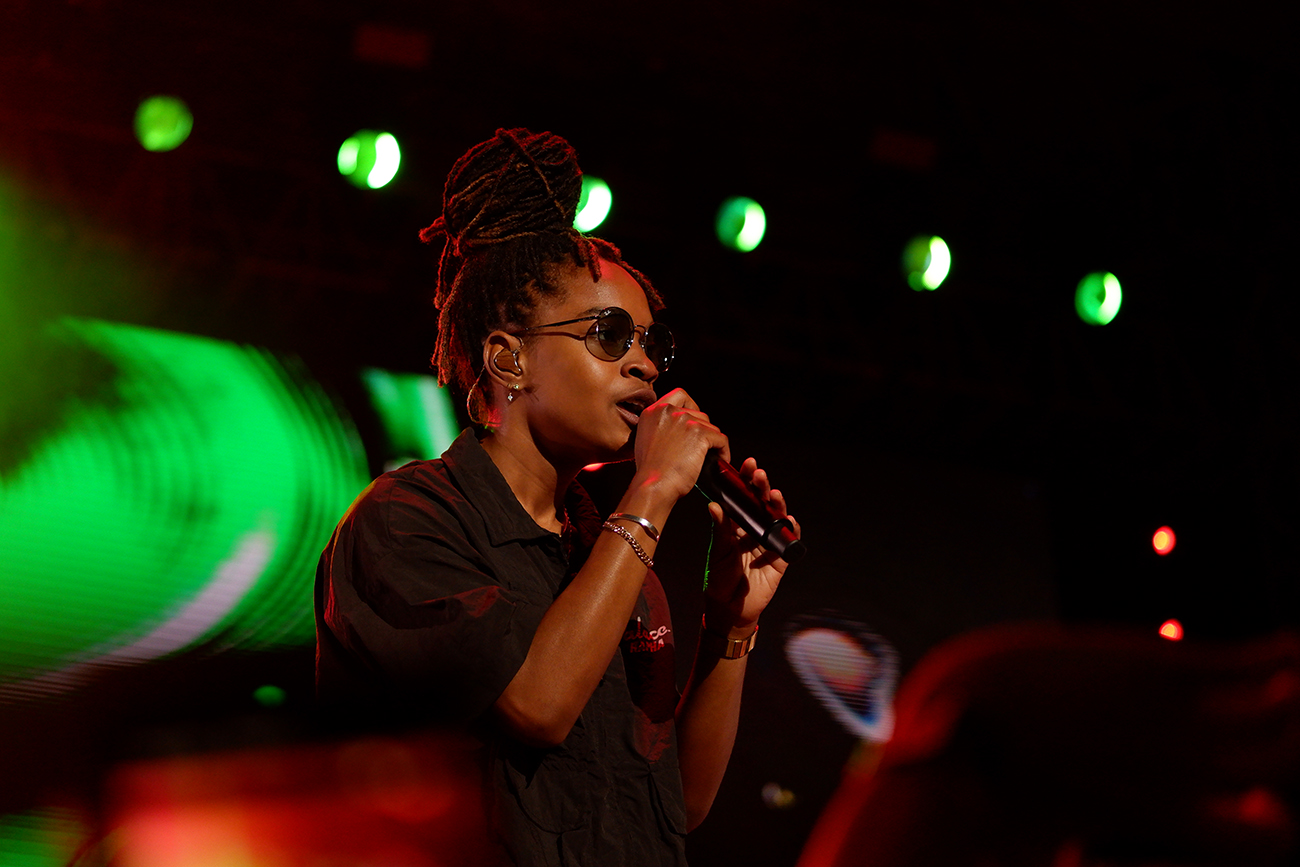 After a long break, Jamaica once again set the stage for Reggae Sumfest. For the first time in history, the festival nights were completely sold out, welcoming thousands of people from across the country and the world. The festival grounds were the same – Cathrine Hall in Montego Bay – and while most of the structure was also the same the attendees had access to a few more levels of tickets, some giving them full access to the photo pit, where you could literally touch the stars (and many did, see Masicka photo below).
The executive producer of Reggae Sumfest, Joe Bogdanovich of DownSound Entertainment, pointed out that this year was the most challenging they've ever done in a conversation with Jamaica Observer, "but with the kind of support we got from the Diaspora and everyone, it's a sell-out show… I mean we sold everything out. That is amazing, considering that we are still in the throes of a pandemic". Having been there firsthand I can attest to the grand and amazing scale of the event and especially to the energy that the attendees carried throughout the night and all the way into the following morning. On that note, let's talk about a few standout performances.
Spice getting crowned as the Queen Of Dancehall
Let's be honest, Spice has been a queen for a while. Her performances are memorable, powerful, political, and entertaining. Each time she steps on stage there is anticipation and conversation because with each performance she will raise an issue needing attention – this year, she touched on politics, power, and poverty. Spice is a woman on a mission to teach other women how to take their power back and today she tackled a photographer for stepping out of line. Dressed in Nasa one-pieces she and the dancers held the stage strong from the start, eventually performing a full costume change in front of the audience. Miss Kitty joined Spice on stage promptly at the end, showering her with compliments: "you are an inspiration, you are a motivation," Miss Kitty continued, "We are here to crown you tonight, on behalf of Reggae Sumfest as the Queen of Dancehall". "We love you to the moon and back," said Miss Kitty as Joe Bogdanovich rested the shining crown on Spice's head. What a wonderful moment in history.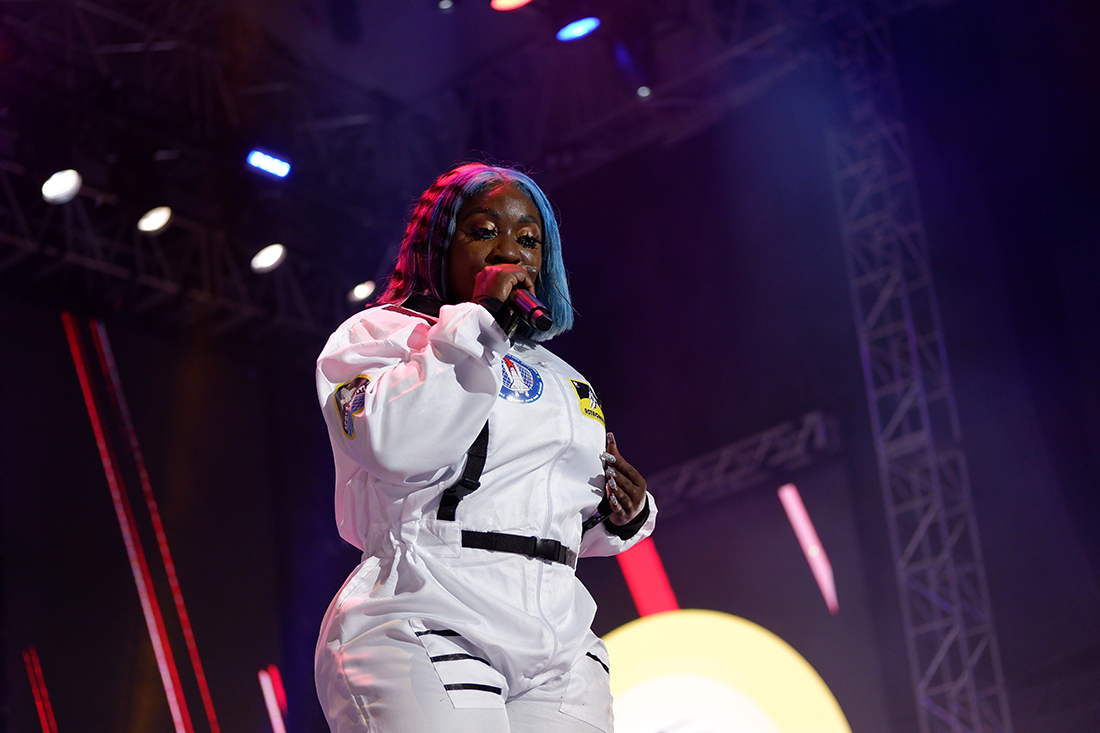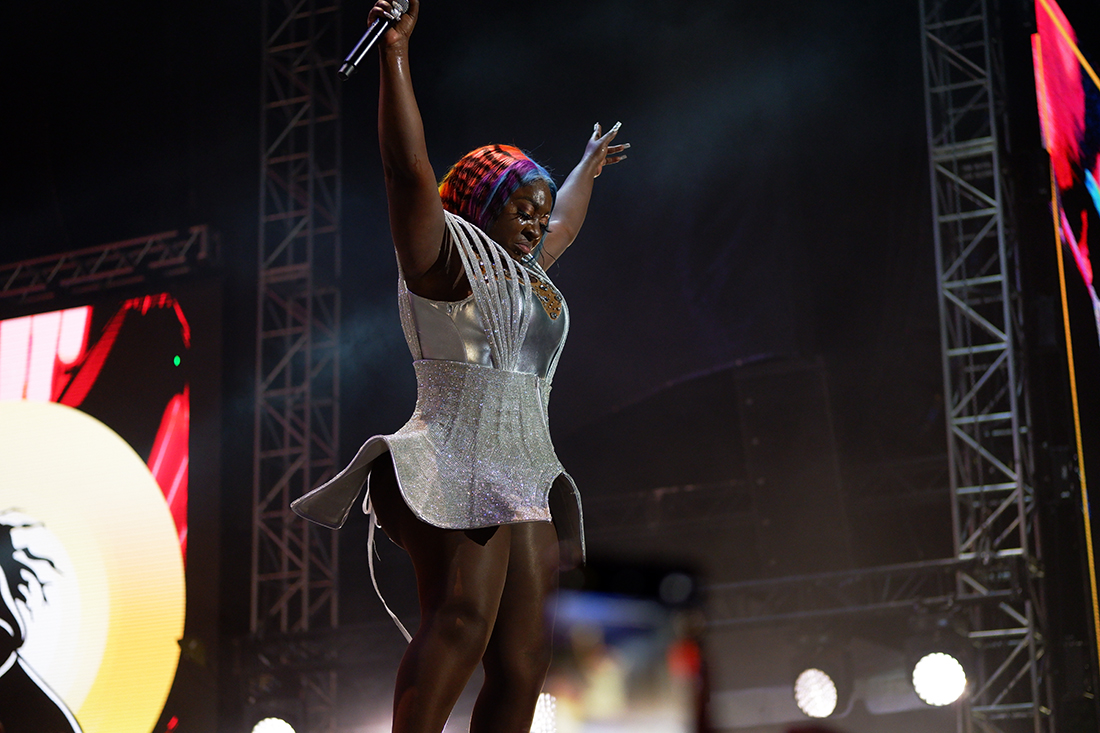 Shenseea's gratefulness and greatness
Dressed in an impeccable green bedazzled bodysuit Shenseea came to leave a mark on the Sumfest stage and that she did. Her set was definitely a well-anticipated one and that excitement was evident by the deafening cheers that greeted her upon entry. Shenseea, accompanied by a full band and backup singers, performed songs like "Upset," "Dolly," and "ShenYeng Anthem" and also brought out a handful of guests on stage. Her spotlight included the likes of rising Dancehall star 1Biggs Don, a range of dancers, and the three men who supported her career: Romeich her dress-maker, Black Boi her DJ, and producer Slyda, all of whom she gifted Rolex watches earlier this year. For the closeout performance, Shenseea was joined on stage by her son Rajeiro for "Lighter" (originally performed with Tarrus Riley) – a powerful way to end this memorable set.
Koffee, all grown up and maybe in love
Jamaica's darling Koffee is currently on her North American tour but came home to return to the Sumfest stage for her second festival performance. It's been two long years since we saw her on this stage and a lot has changed. Over this time Koffee took her well-deserved spot on the global scene, brought home a Grammy, and grew into a confident stage performer. When she stepped out on the Sumfest stage this year Koffee was comfortable, no longer frantically pacing, calmly chatting with the crowd and embracing her support chore. The showcase started with a  mesmerizing chore dance all of whom were adorned in white robes with silk in their hands, gently flowing. From the start, we got to hear Koffee's most famous songs like "Rapture," "Raggamuffin," and "Toast". But then she took a bit of a turn: "This section of my performance is for all the lovers" she shared and proceeded to perform a handful of ballads for the Sumfest crowd. Songs like "Shine" and "X10" left us wondering if perhaps Koffee is in love.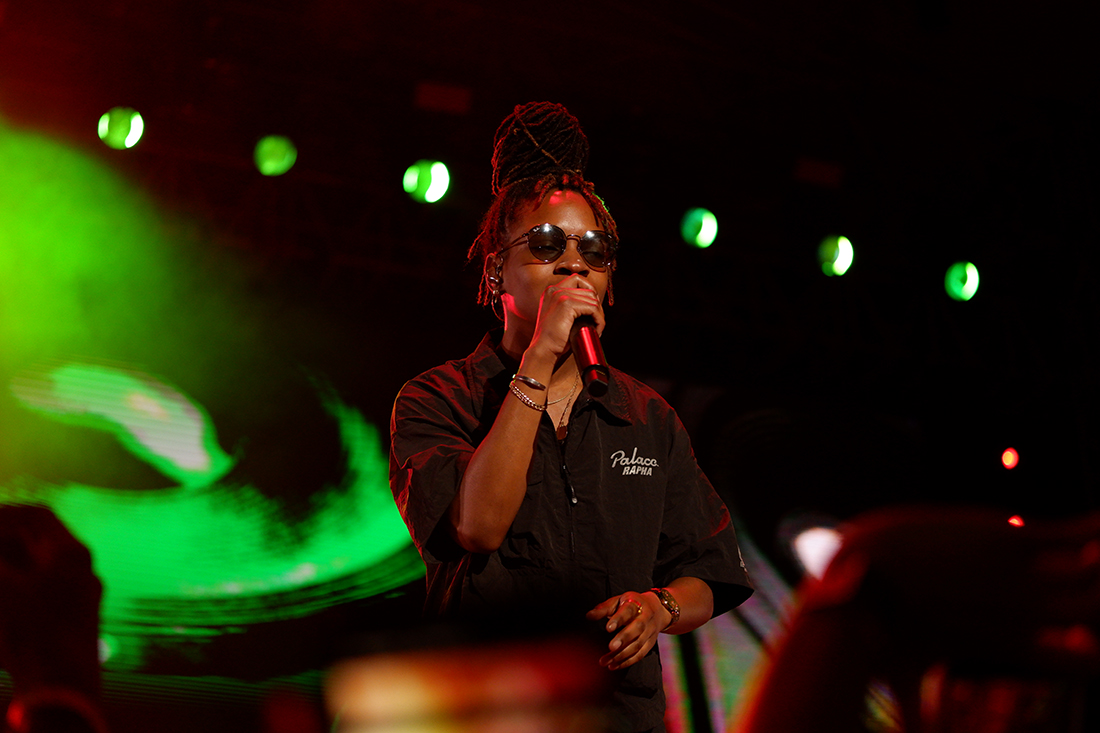 Christopher Martin performing for the lovers ladies
Cheers erupted as soon as Christopher Martin stepped out on stage, dressed in a tailored green suit over a silky black dress shirt with matching sunglasses (naturally, many of these layers were shed throughout the performance). Supported by a live band Martin's voice took the front stage, especially during the a capella moments. Speaking mostly to the ladies and occasionally adding in social commentary between tracks Chris Martin danced his way through Sumfest with tracks like "I'm a Big Deal," "Paper Loving," and "Under the Influence". The festival attendees also got the first listen of Martin's newest single "Guaranteed". Closer to the end he was joined on stage by a chore which, dressed in a white robe, he stepped up to conduct for "Take My Wings".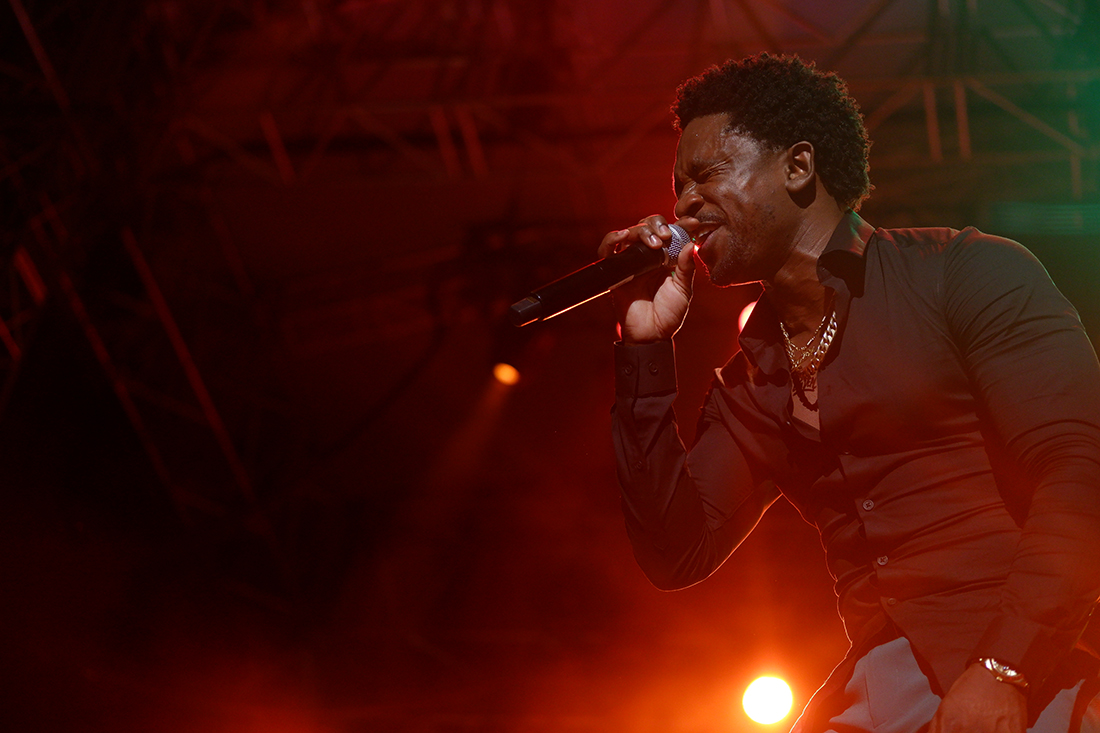 Masicka performing in the morning sun
Hailing from the "Sin City" neighborhood in Portmore (St Catherine) Jamaican dancehall artist Masicka was new to this headlining stage but held his head high, shoulder to shoulder with the veterans and masters. Dressed in a denim suit dotted with stars Masicka took the stage confidently and even declared himself "Dancehall's baddest" halfway through the set.  While his many collaborations, like "Infrared" with Vybz Kartel and "Pain" with Popcaan did really well with the fans Masicka's top track this morning was his solo single "Update". For this showcase, the guest appearances continued with Stefflon Don who joined Masicka for "Moments".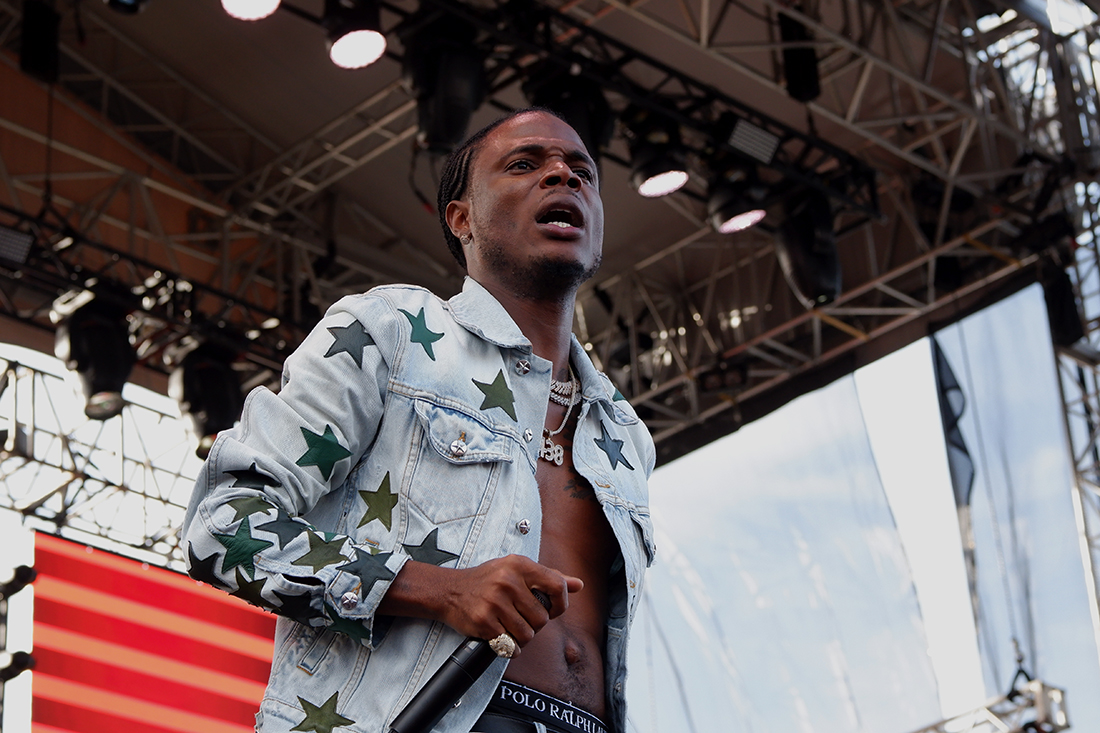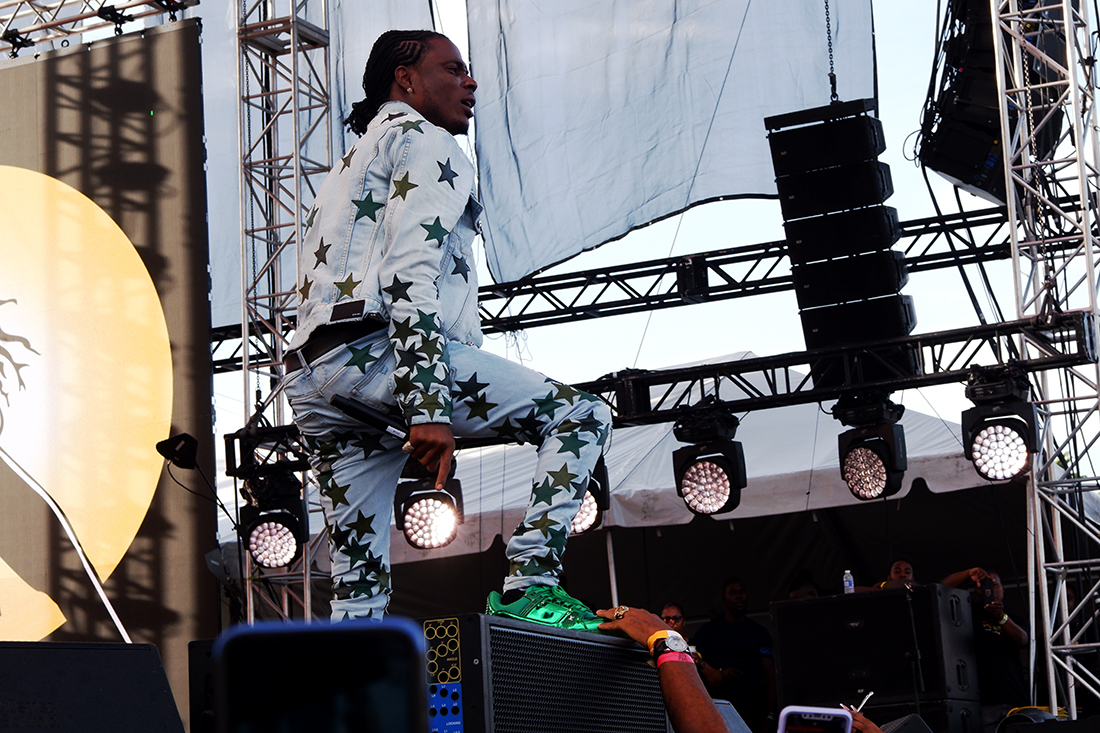 Laa Lee and his amazing dance kicks moves
Dancehall artist (and dancer) Laa Lee sprinted out on stage like a man on a mission to the sounds of "Jackie Chan" – a song that naturally lends itself well to karate moves which became an ongoing theme for this showcase. On the second track, Laa Lee frantically took off his shoes and continued to dance (and kick) around the stage in white socks. This performance also included a handful of guests, from a young boy dancer to a whole crew of performers and even his mother who delivered the choreography for the "Dirt Bounce" and "Do the Bird".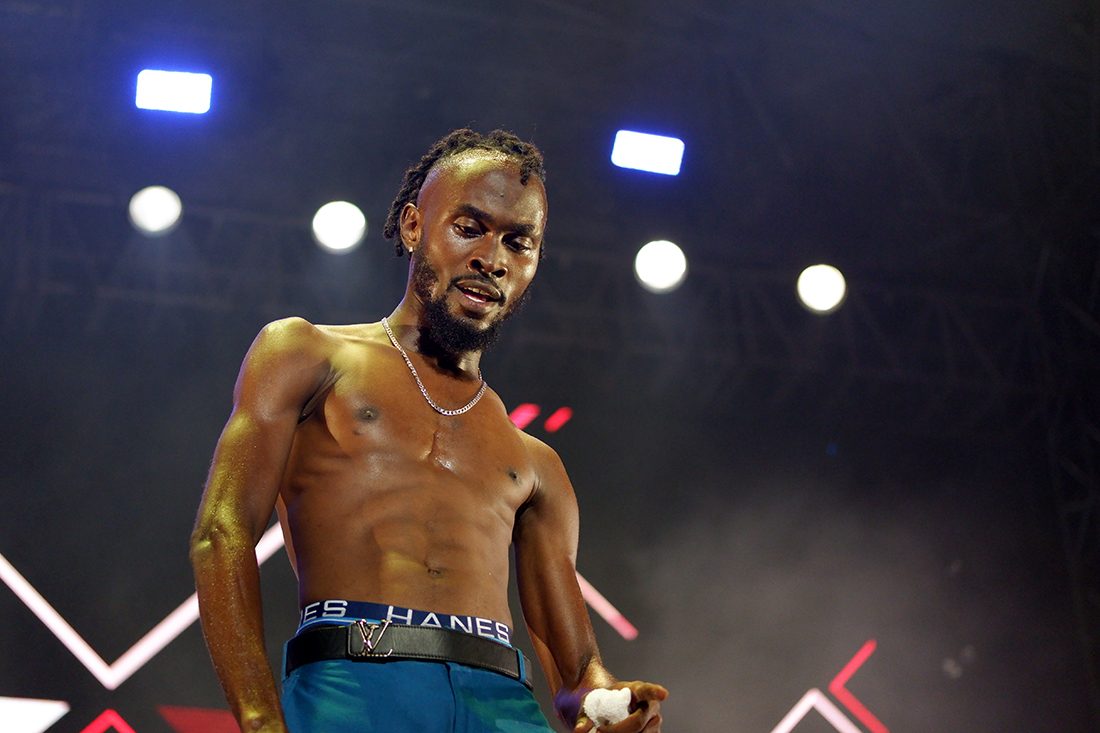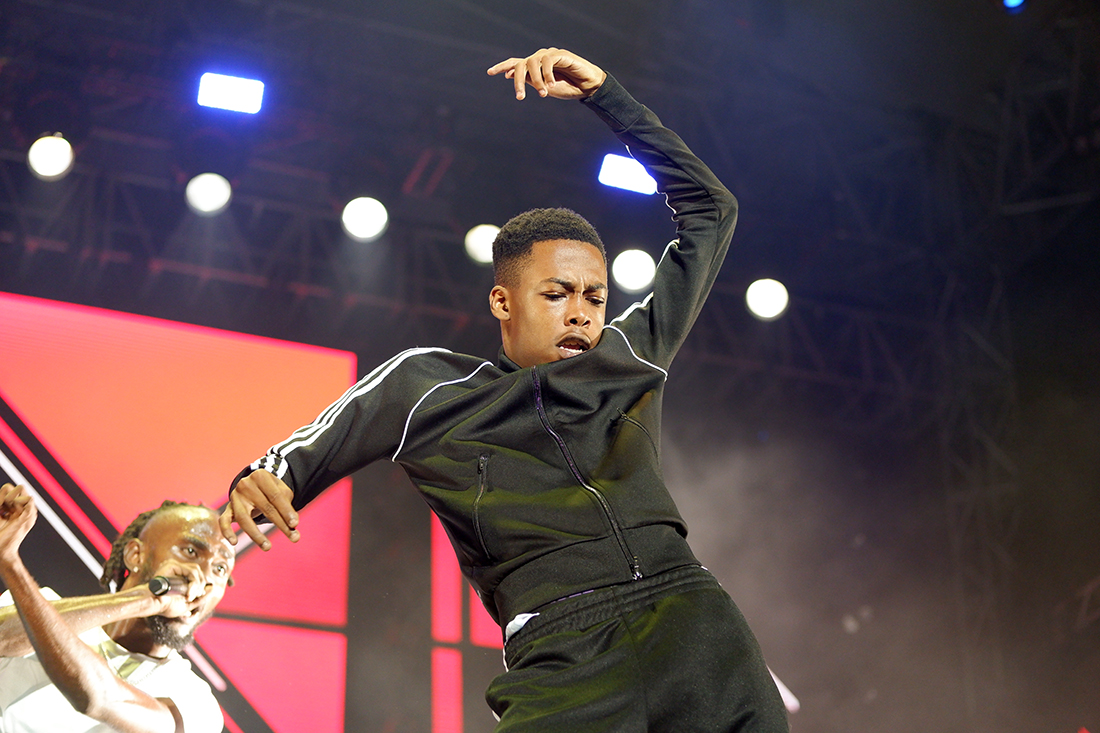 Shaneil Muir is here for the people
This was "Top Gyal" Shaneil Muir's first time performing at Sumfest, MoBay is also her hometown so this was a dream come true. Shaneil introduced each song to the audience and maintained a classy demander throughout out her entire performance. Muir opened with "Top Gyal" followed by "Blessings" and then peppered in the audience favourites like "3D" and "Hype And Boasy". With her was a small group of backup dancers with whom she conversed throughout the show setting up songs like "Justice" for which the ladies held up "Justice for women" signs. It was a powerful and anthemic performance that reassured the reggae world that Shaneil Muir is here to stay.
Ding Dong's theatre of guests and dancers
Ding Dong strolled out on stage with an entire team, both dancers and singers alike. It was an elaborate showcase with choreographed dances and even props. Ding Dong set out to "utilize and showcase dancers in the right way," he told Reggaeville. In that same interview, he also shared that the dancers were mostly discovered through social media which felt like a really nice way to give talent a boost, something most artists try to do when the Sumfest opportunity is given. Between performing songs like "Happiness," "Bad Man Forward," and "BOUNCE" Ding Dong would occasionally join the people in the pit and even pulled up a few fans on stage for a quick spotlight (induing a local "uptown billionaire" Gary).