The streets of Chicago's Pilsen neighborhood were bustling Saturday night as people came together at the Lincoln United Methodist Church to see artist Rosalba Valdez perform. The singer, who is affectionately called "Rosie" within the community, held a release party for her debut EP Yo Soy Mexicana. The album is a collection of songs inspired by her experience as a Latina in the U.S. Touching on topics of love, heartbreak, perseverance, and pride in one's identity while also acknowledging and paying homage to the differences yet similar perspectives of being a Latino in the U.S.
For her release party, Valdez specifically chose the Lincoln United Methodist Church for sentimental reasons. As a child, the church helped Rosie learn she could speak out about the injustices in her community and stay true to her identity all while perusing her passion for music. While the church does all it can to administer positivity, over the years it has been faced with racist targeting and attacks. From a service being infiltrated by a white supremacist looking to cause harm, to swastikas being graffitied on the windows and doors. Most recently, the front doorway windows were broken from a brick attack by a white supremacist group. Despite these recent events, Valdez knew it was important to go forward with the release event at the church in order to demonstrate that fear would not conquer the community or its inhabitants. Having been born in Pilsen herself, it was only right Rosie took a stand at the church just blocks away from where she was raised.
Growing up in Chicago, Rosie was introduced to music at the age of five through a guitar for beginners book her father gave her. Starting with a church choir director, Rosie carried on with her guitar lessons anywhere they were offered. Since graduating from the Merit School of Music, Rosie has performed as a guitarist and back-up singer in a slew of bands like Giovany & The Revelles, Lester Rey y Los Leones, and Media Luna.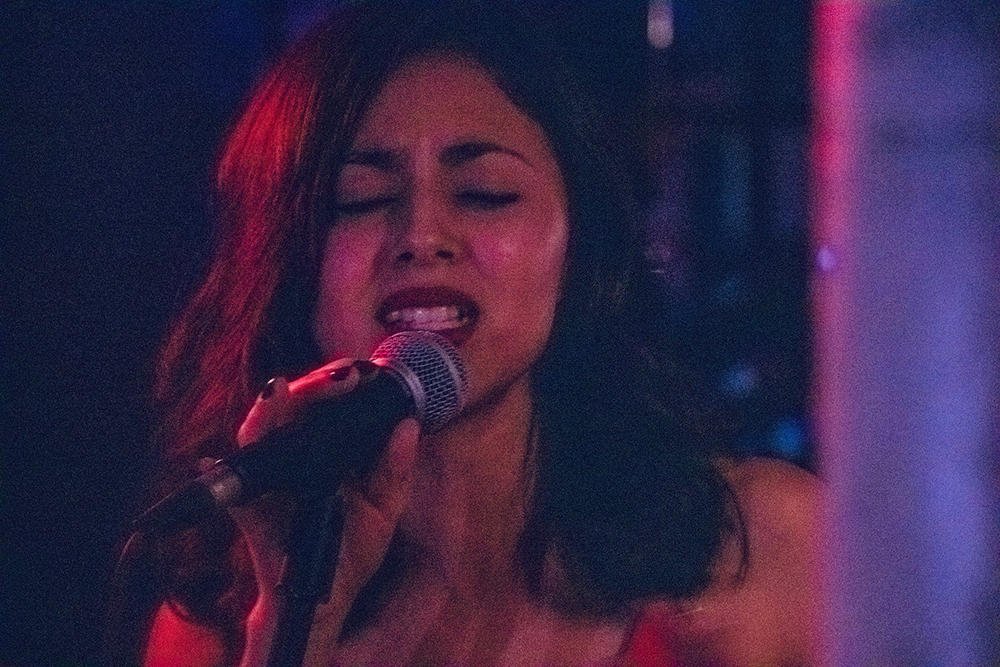 Even at a young age, Valdez was involved with her community and used her passion to illustrate the injustices her people faced. A while back the musician wrote a song about a cause that hit close to home: immigration reform called "Se Llevaron A Mi Padre," which translates to "They Took My Father Away."  The name of the EP, Yo Soy Mexicana, comes from the immense pride Rosalba has for being of Mexican descent and being first generational Mexican American born of immigrant parents here in the U.S. In today's political climate Rosalba believes it is important to not only be vocal but active in the community and being proud of her Mexican heritage while facing bigots not only in her neighborhood but on a presidential level. Rosalba's message to others is to act with love and compassion.
Walking passed the damaged, locked front doors you are faced with the shattered remnants of the racist attacks. Stepping inside the building however, you are met with pride and excitement, not defeat. Portraits of human rights activists such as Malcolm X and Angela Davis decorated the walls. Fellow band members Giovany Revelle and Lester Rey came out to support as well as perform and there was a kitchen in the backroom providing tamales, bakery sweets, and beer. For me, it was a reunion of sorts as well as I met this collection of artists when briefly dabbling in the open mic scene. It was great catching up with friends, coming together to celebrate one of our own, both artistically and ethnically, taking the next step in her career.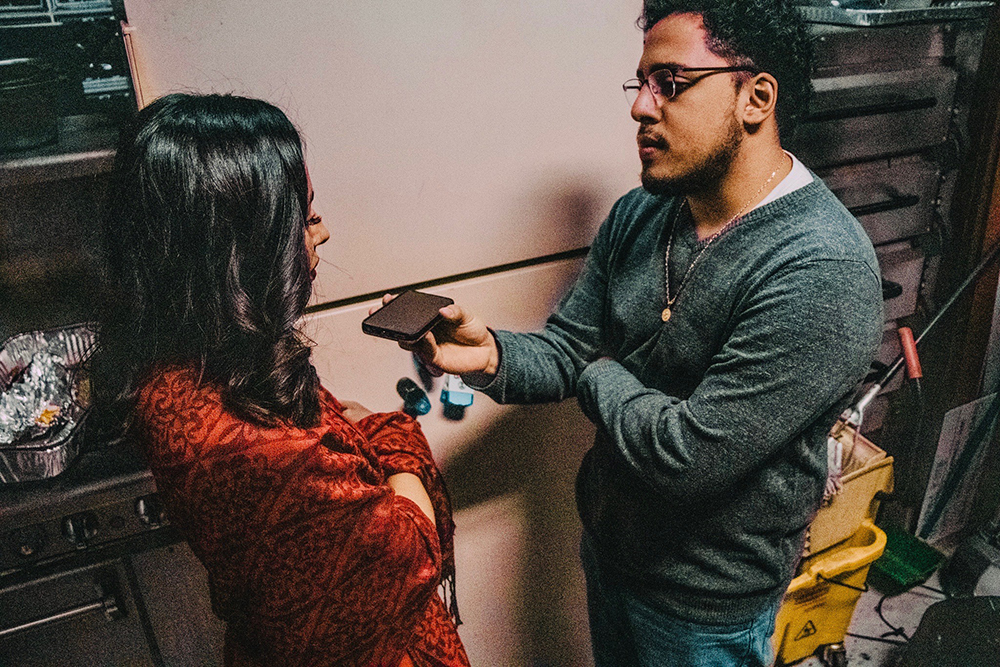 When Rosie took the stage she was adorn in a red dress with a red pashmina draped around her. The crowd erupted with enthusiasm as the singer took center stage. Opening with a boisterous horn section to match the energy of the room, Rosie began with "Acéptalo." The vibrant track lit up the room making those in attendance ready to dance as she continued melting hearts with her tender voice with the brilliant track, "No Voy a Cambiar." Valdez blends the traditional ballads of Pedro Infante with a modern twist of Ariana Grande and has the vocal range to pull it off as was showcased in this track. Rosie followed the song with the slower track "La Temperatura," which served as a great showcase of Rosalba's captivating voice.
To keep the crowd going she performed "Saluda Mi Bandera," a lively track with a salsa flare making everyone swing their hips to the rhythmic beat. Rosalba capitalized her performance with the title track "Yo Soy Mexicana," a beautiful, soothing sound took us all back to the small country towns our ancestors are from. The men in the crowd howled the Aztec warrior battle cries in appreciation for displaying our culture in a positive manner. However, loyal fans wouldn't let Valdez walk away until she sang a cover of "La Llorna," a traditional song for the Day of the Dead.
Valdez had a stunning glow to her presence after the performance as she made her rounds speaking to attendees. Artists, musicians, and people of the neighborhood came to support because Rosie supported us. When I asked her what the event meant she humbly stated while holding a concha: "I'm very grateful to see everyone that came out today. This is a reflection of years of hard work. All these people I've known my entire life and the Chicago music scene has meant so much to me." Ecstatic about the turnout and still buzzing after her performance, there was a fire burning within her soul knowing this is just the beginning of something wonderful to come.
Yo Soy Mexicana is available now on all music streaming services.