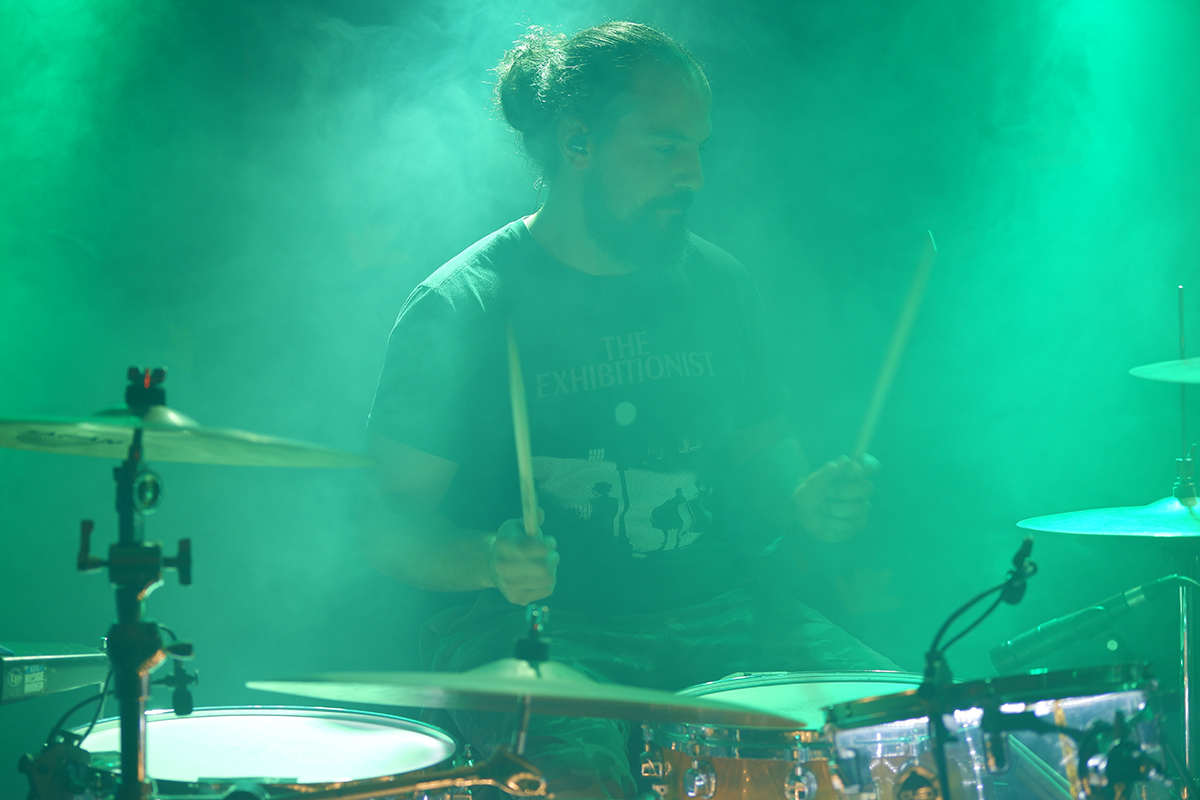 FME, short for Festival Musique Emergente, is a boutique festival taking place on the outskirts of Québec in the Abitibi region, surrounded by majestic greenery. While it may sound under the radar to most people, the festival welcomes thousands of attendees to the small town of Rouyn-Noranda annually. Each day has a specialty: rock and indie, hip-hop and rap, dance and electronic, and every Sunday, metal. There is something for everyone and everyone who comes will inevitably find something new to like. Locals and the out-of-town arrivals crowd the streets, moving between venues, packing in restaurants, and annoying cyclists by walking on the wrong side of the boardwalk. In an all-encompassing sense Rouyn-Noranda becomes FME.
The first addition of FME took place in 2002. That year, 22 bands performed and the festival was run by a small group of friends who shared all of the jobs amongst themselves. Today, FME sells out every available room in town and fills a campsite of artists just nearby. "What has grown the most over the years is that fans and people [from] the community got engaged… So now the festival is almost running by itself because it's really, really organic," comments festival director Jenny Thibault. Walking around town, FME volunteers could be seen everywhere, it is this region's TIFF and people do come from across the globe to participate. But FME is not a big festival business and there is no red carpet (although admittedly some of us did get there on a charter plane). FME is a well-run, beautifully designed, community event that fosters discovery, innovation, and coalition.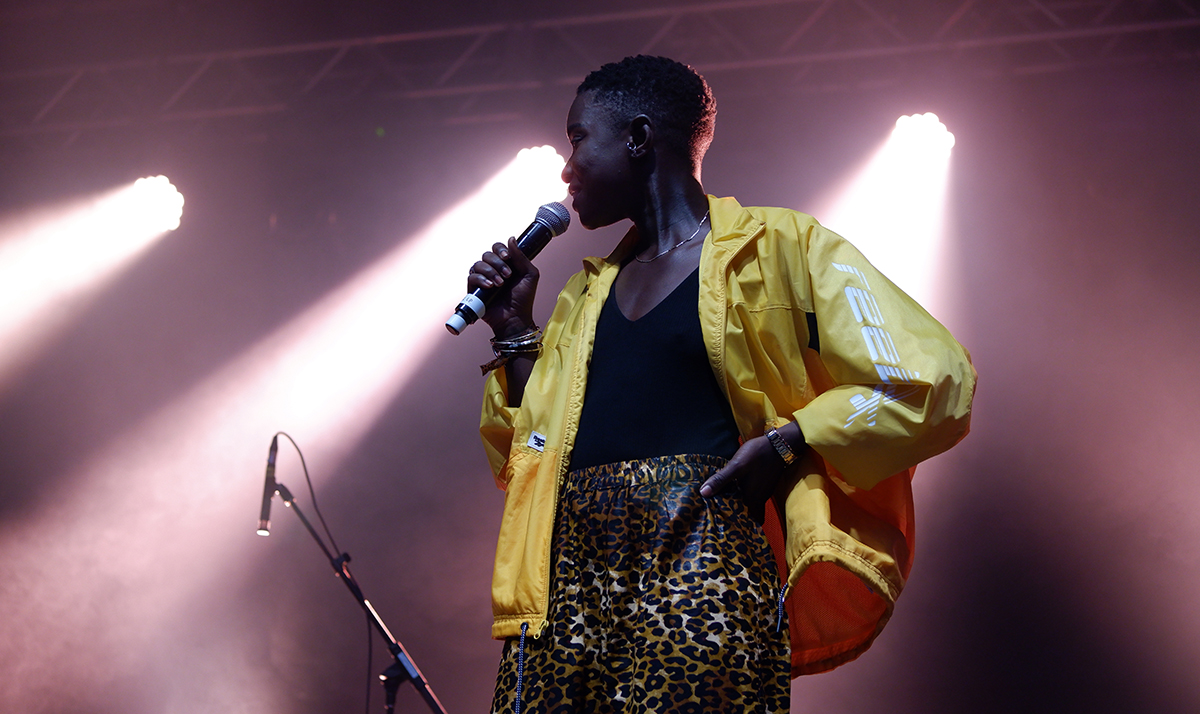 On Friday the main outdoor stage was home to some of the best French rappers starting with KT Gorique, and Montréal's Sarahmée. The evening began with Sarahmée, who drew an early and very enthusiastic crowd to the cold outdoor stage. A few people in the front row had been waiting since soundcheck and as the artist took the stage the crowd roared. All of those in the front row got a uniquely personal experience, making conversation with the performer between tracks. Still riding the wave of her most recent release, Irreversible, Sarahmée delivered a clean and powerful performance, hitting the high notes with some of the more popular tracks from the album like "Le cercle se rétrécit" and "Fuego" with Souldia. On the side of the road is an elevated VIP area, with a scoping view of the stage. Filled with the who's who and the who's who's guests, the patio was a hot location. Intoxicated attendees were cheering and dancing, tightly gripping to their FME mugs while the front of the stage was having small talk with Sarahmée.
Up next, carrying us into the night was KT Gorique, who traveled all the way from Switzerland to perform on the FME stage. Gorique is the first (and only) female champion of End of The Weak, an international freestyle rap competition which she won in 2012. Since then the artist's main focus has been on music. Her stage presence is open and friendly, and despite the sharp lyrics she was smiling almost the entire set. For each performance, Gorique wears her "most beautiful face" – subtle face paint celebrating her African origin. Gorique took the audience on a music adventure from hip hop to dancehall and reggae and as expected, "Kunta Kinta" (the title track from an album by the same name) and "Outta Road" brought the 'house' down. Throughout the performance, she danced, praised her band, and repeatedly thanked the crowd for their affection.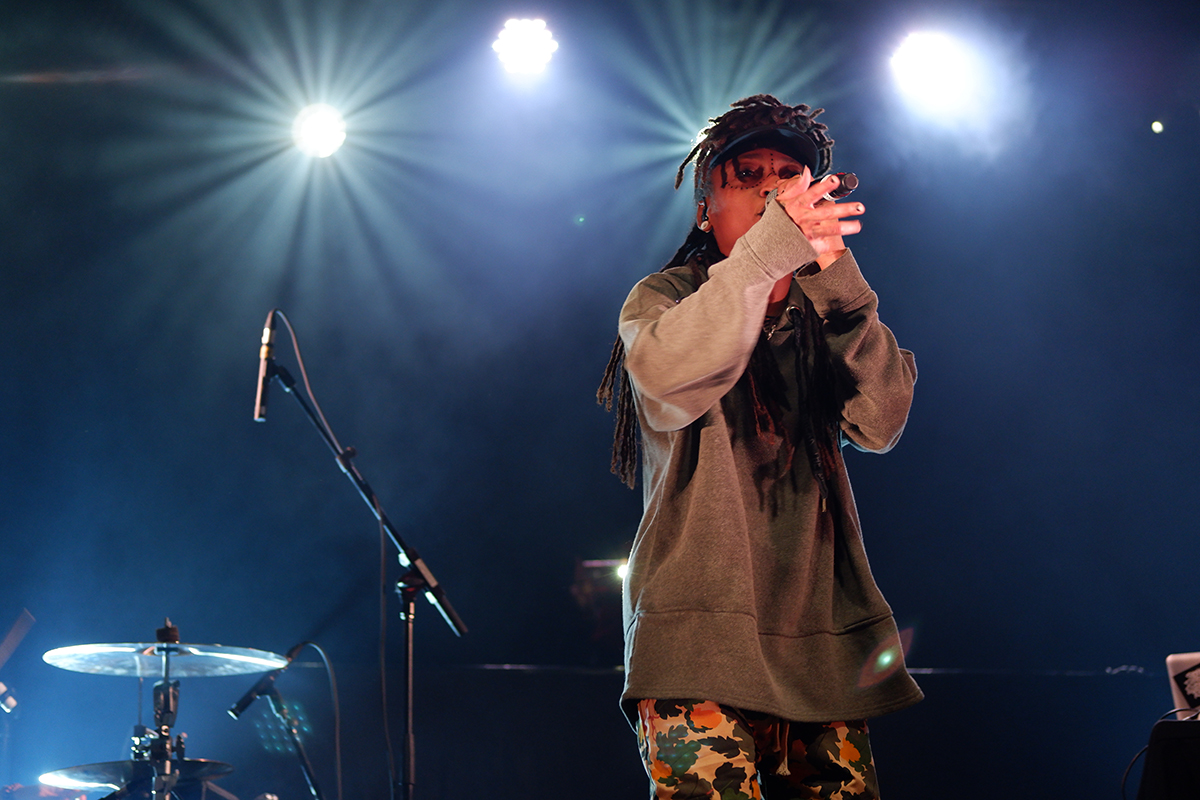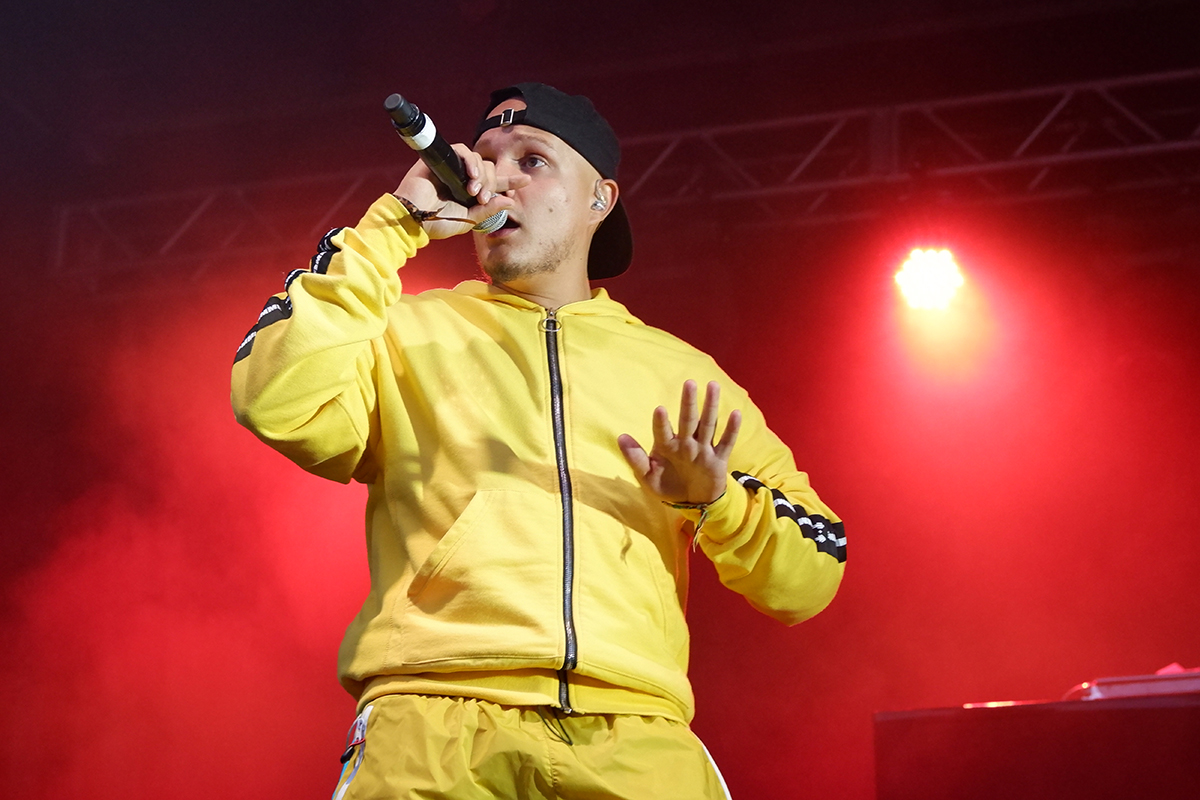 The rest of the weekend showcased a set of heavy hitter rappers like Loud, who has been touring through Europe and Québec and returned to FME for another, near soldout set on Friday. A thick crowd of people singing along to Loud sounded like a stadium anthem, an epic way to end the outdoor performances for the night. Saturday stage hosted Montréal's rapper FouKi and Koriass, both of whom are incredibly hype. FouKi, sporting a signature yellow tracksuit, was pacing the stage spitting Latin-inspired rhythms while Koriass (bottom image) ran a bit overtime – by audience demand – and at the end of the show jumped into the photo pit to get closer to the fans who were nearly tearing up shouting for an encore.
One of the biggest discoveries in the electronic genre for this addition of FME was Millimetrik – Québec City's composer Pascal Asselin (image below). Playing a more intimate outdoor stage right after the rain, Pascal was joined by a drummer (cover image) and the two of them went on to play a colorful selection of ambient beats accented with heart-thumping bass and melodic drums. Songs like "Coucher de doll dans Sandoval County" came to life with a fantastic air of disco causing the audience to stomp and swirl on the wet grass. Our shoes got soaked but the cloudy Millimetrik dance party was worth it. For the rest of the weekend, smaller outdoor stages hosted an array of dance DJs creating a small rave around the DJ booth, dancing to the likes of veteran vinyl master Miss USA and a local Shagass Disco who wrapped up the festival at 5 am on Monday morning.
Late nights at FME are a special experience. Hoards of people wander from venue to venue, sipping out of their open containers and festival mugs, meeting new friends over cigarette breaks and hoping not to lose anything. Many nights at FME end at Bar Des Chums, a local staple joint with poor decor and minimal service but hospitable to whatever kind of frenzy your group might be up for that night, from catching a breath on the patio to doing a group karaoke performance after losing quarters at the pool table.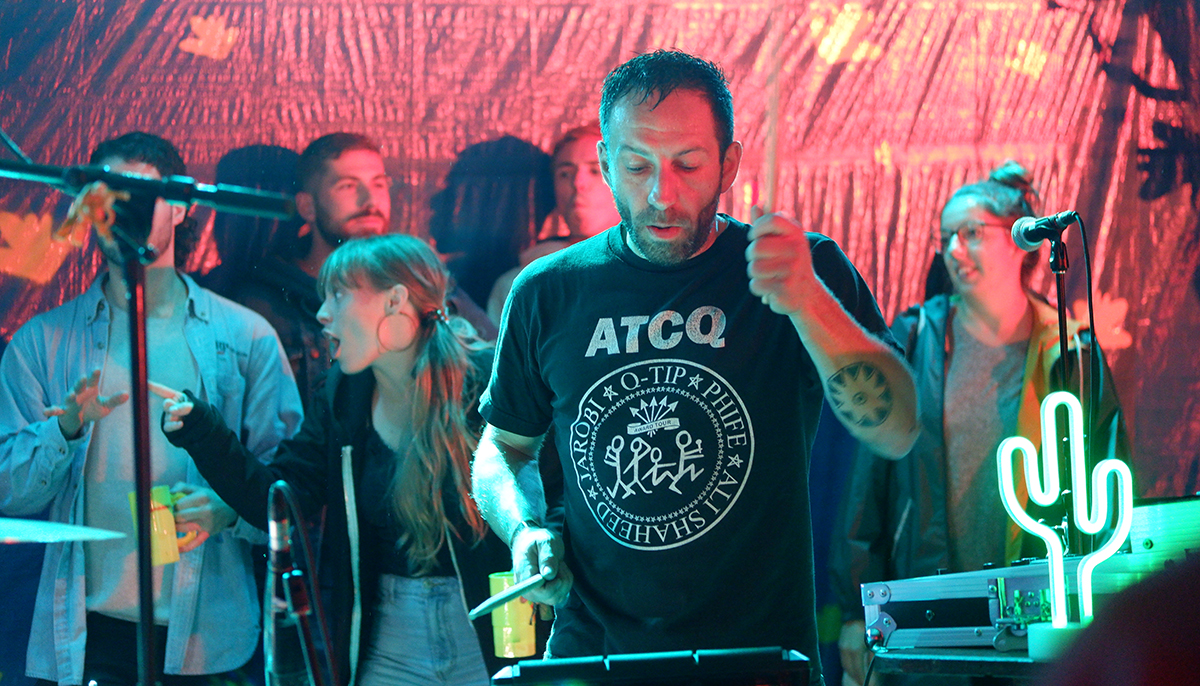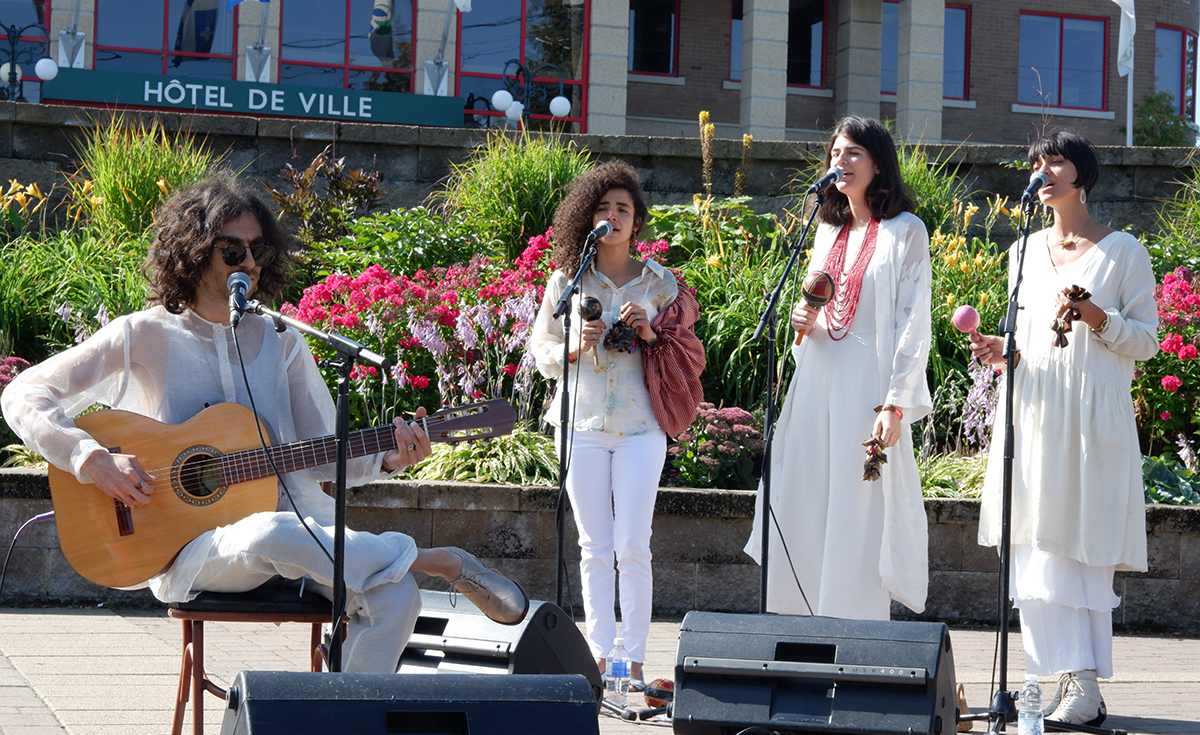 The musical variety continues even during the day with various pop up shows around town. São Paulo's Sessa played a surprise morning show at the public market on Saturday. Nested in the sun with three backup singers who performed in admirable sync and played quite a few small instruments, creating layers in the music. Sessa's most recent release, Grandeza, is psychedelic Brazilian pop, "an album about the natural gesture of love and the softness of the human body," shared Sessa. It's the kind of music that makes you appreciate music, grab your portable record player and spend a day drinking champagne on the beach.
Later in the day, Scene Paramount welcomed Montréal's Dominique Fils-Aimé to the stage. Recently nominated for a Polaris Prize, the singer-songwriter performed with impressive control, creating silence around notes, and matching the strings with her smooth voice. Dominique put the room into appreciative silence, first by request and then out of awe. Standing center stage Dominique gently swayed side-to-side singing her original songs and favourite covers like Nina Simone's "Feeling good", weaving a pattern near the microphone with her silver nails. Dominique Fils-Aimé's poetic narratives are also not light, covering quite a bit of African history as seen through music, but more on that can be found in her interview.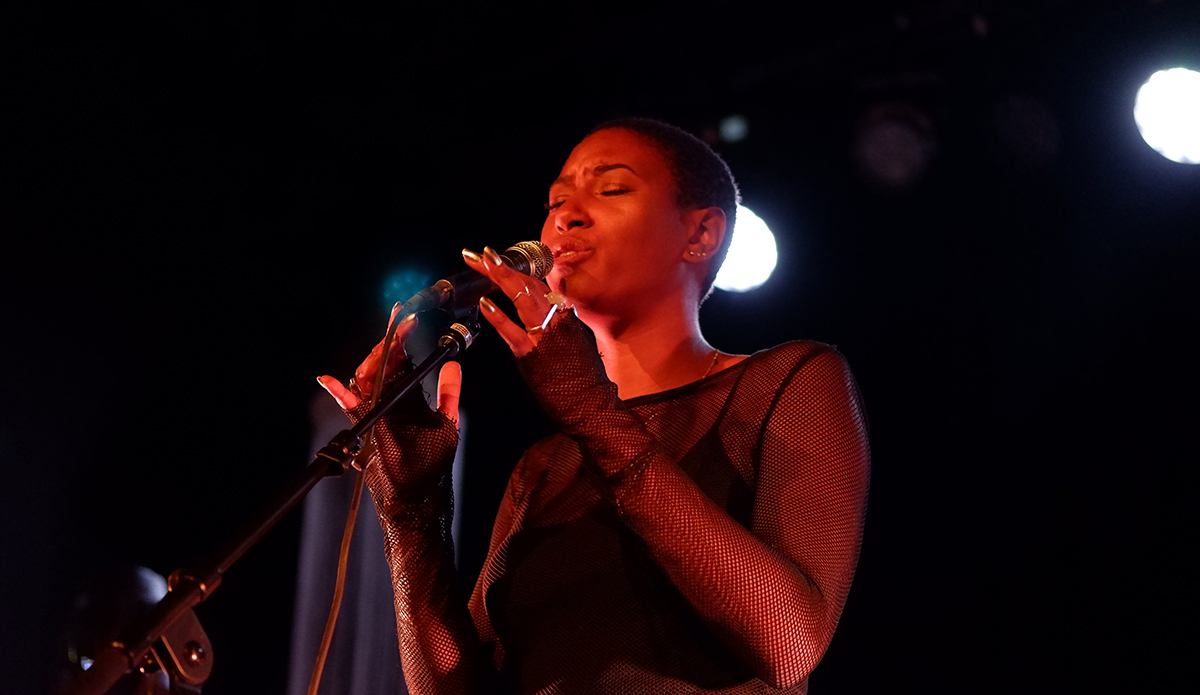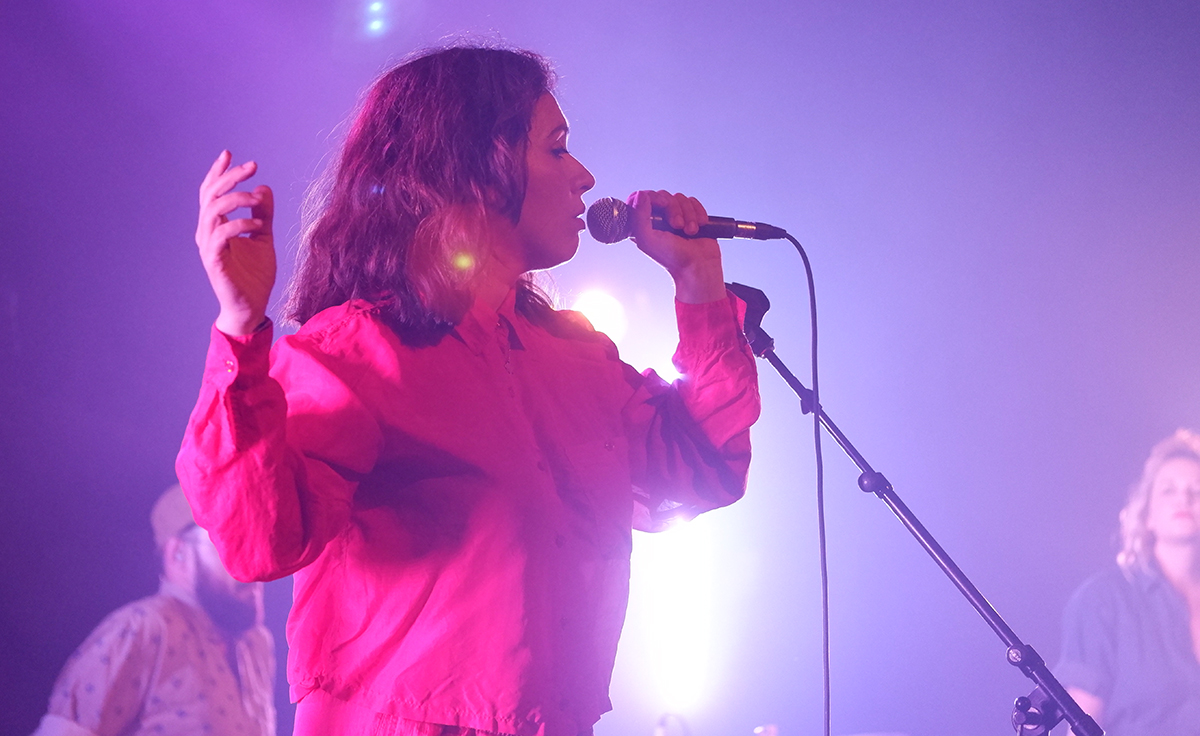 Carrying on the joyful sadness into the evening was La Force, aka Ariel Engle, a vocalist and the most recent addition to the Broken Social Scene. The bio describes La Force as "godless devotional music that comes straight from the beating heart" which may be hard to grasp but can be definitely observed live. Engle was joined on stage by a drummer and a backup singer who complemented her perfectly with a wide range of vocals. Between tracks, La Force shared stories about her music, commented on the themes and pointed out the heavy topics they cover, like postpartum depression. Her tracks range from danceable, like "You Amaze Me," to straight-up tear-jerkers like "Lucky One." Engle had the crowd's dedicated attention, watching her every move for nearly an hour.
Among other more musically-relaxed artists was Pierre Guitard, who played a late afternoon set on Sunday at Stage Evolu-son, a mid-town two-level concert venue. Lit up with blue lights and performing with a full band, Pierre Guitard is pop-rock with a spark of string and a few impressive guitar solos. At this point of our recount of FME, Guitard seems like an appropriate segue to what was seemingly the focus for most festival attendees: rock, indie, and a dash of punk mixed weirdness that cannot be defined as a genre.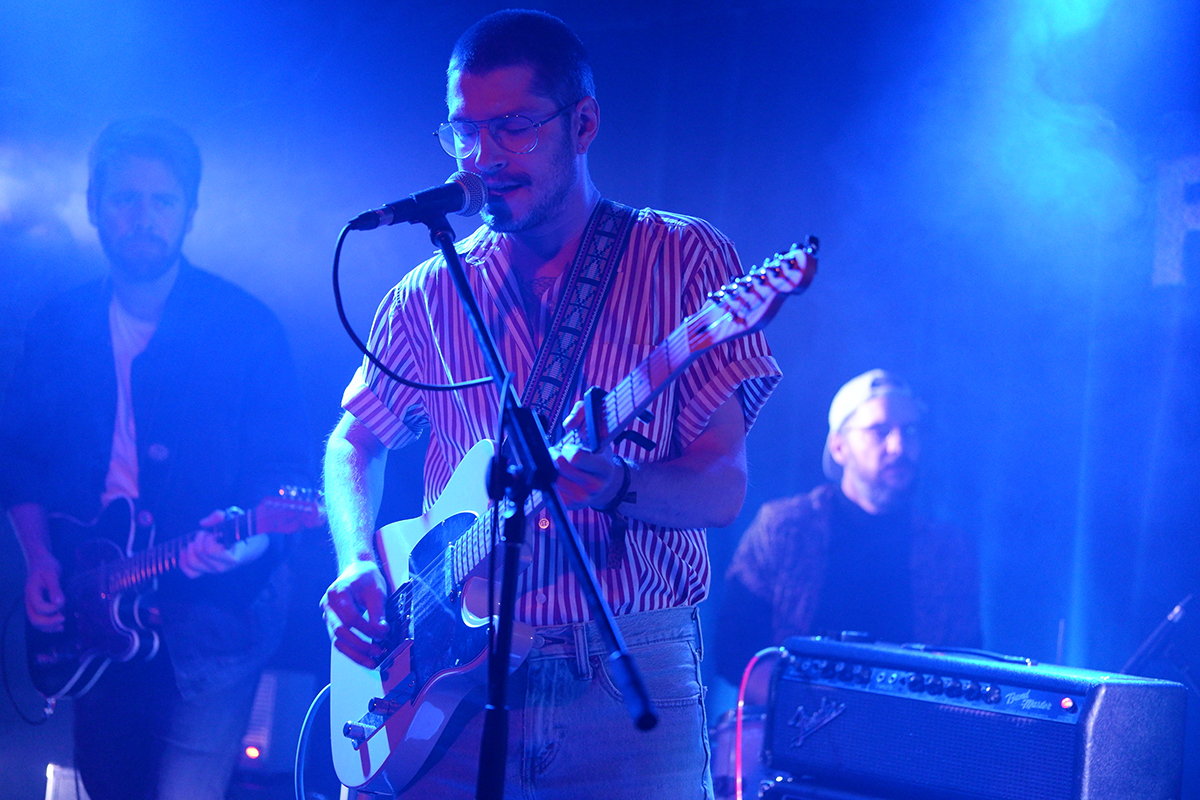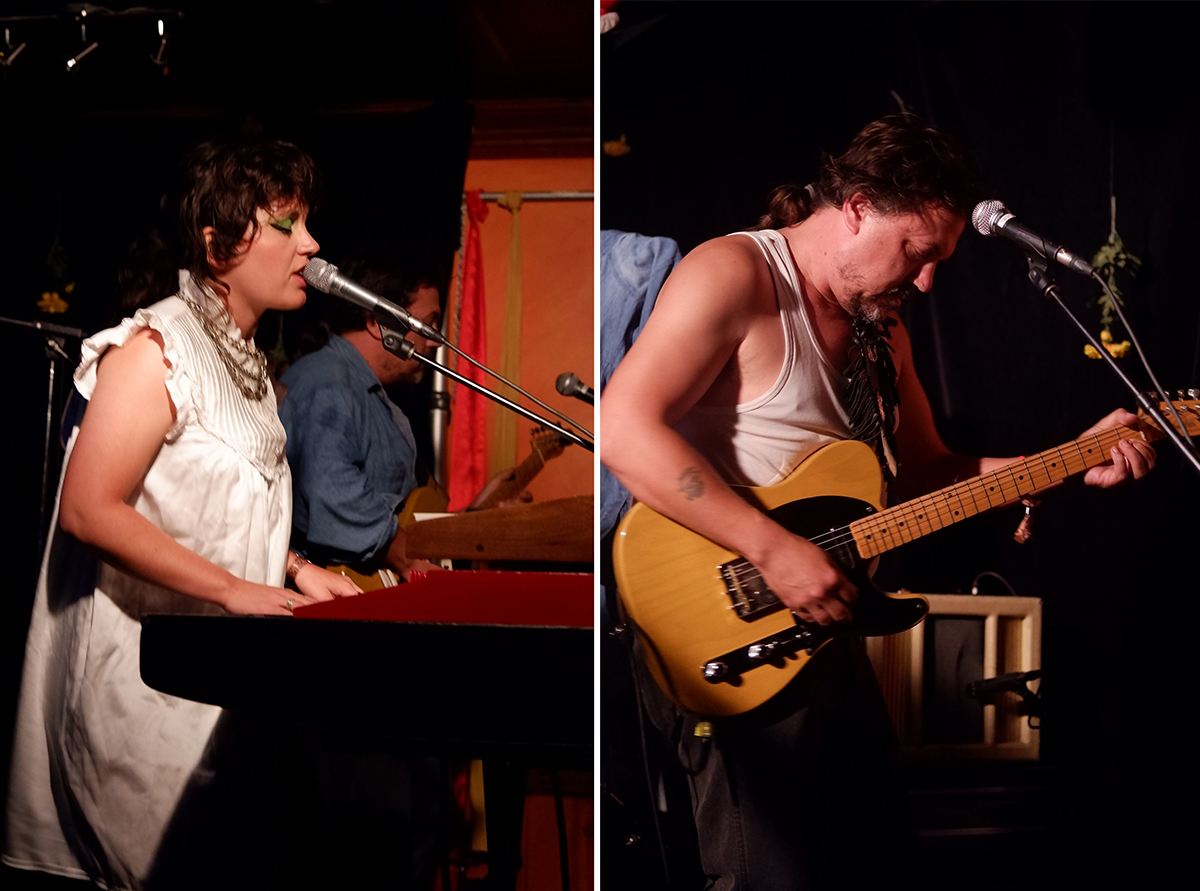 One of such bands was Ellemetue (above), Mingo the Indian and Nunu Metal, who played a packed room at the Cabaret – a staple venue at FME. The duo played a mix of experimental electronic rock with an occasional electric keys undertone; their music "rings out like a wild cry from the murky depths of an imaginary swamp" the band writes in the bio. At the opposite end of the festival were FET.NAT, a performance nearly everyone was looking forward to and no one could describe to me. What I've learned is FET.NAT (second last image) are experimentalists known for their bizarre strangeness and incredibly entertaining performances. It's a four-member psycho-jazz punk-funk band that played with the audience as much as with the music. The lead singer's voice is shockingly scratchy but between the rough vocals, an oddly melodic moment would come through to only be followed by an intensely challenging saxophone solo.
Admittedly, the above account of the festival covers a small portion of performances because it is simply impossible to see them all. As an average attendee, you dance, drink, party, and inevitably take daytime naps knowing that there is always a late-night street or house party you may want to attend. For at least the first two days most people's diet transforms into rounds of poutine and BBQ served with local brews and gin and tonic coolers. As the perpetual hangover begins to set it the weekend comes to an end, most likely at sunrise. When you get home, a quiet nostalgic reality replaces the music and crowd noise. Merci FME, till next year.