Canadian duo Megan James (vocalist/songwriter) and Corin Roddick (multi-instrumentalist/producer) are best known as Purity Ring. Over the course of the last decade, this dynamic electronic duo has released 3 full albums and a handful of shorter releases, including the latest EP Graves. This might not seem like much but James and Roddick are very careful and selective when it comes to creating music. Songs from their 2015 album Another Eternity are still hot tracks that will get your blood flowing (just listen to "Begin Again"… again and again).
A few days back Purity Ring got to finally play a live show at the Toronto's Phoenix Concert Theatre. This show, this entire tour has been on a steady two-year delay with 3 cancelations due to COVID. It is also the band's first major tour in 5 years so it was no surprise that they requested the audience to be masked as much as possible. A few minutes before the show began a personal message from Megan came through the speakers, pointing out that their health will not only affect the tour but also all the people, like ourselves, who have been waiting to see them performing in the coming cities for months. Megan and Corin were both masked the entire performance but that did not affect the sound or theatrics of it all one bit.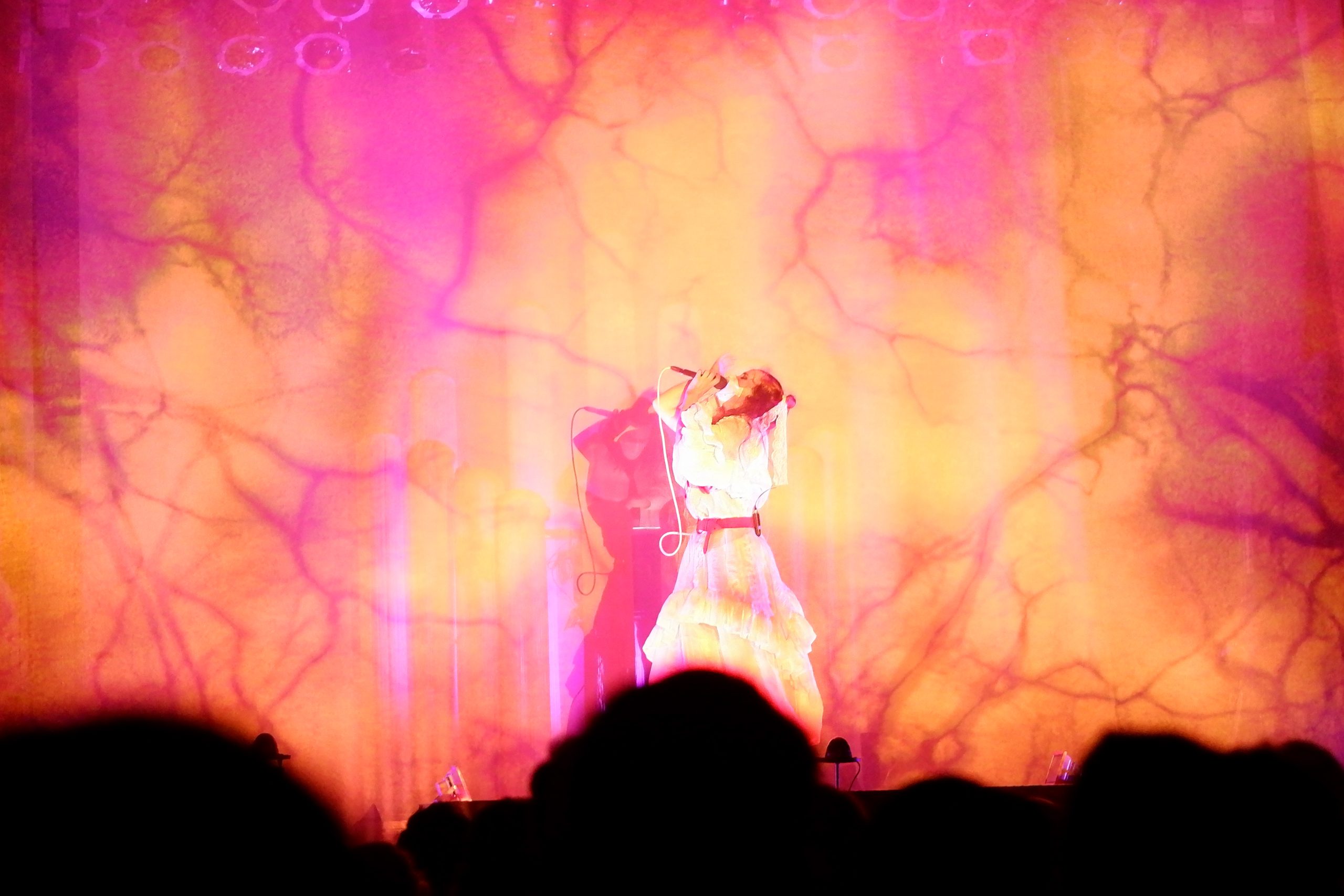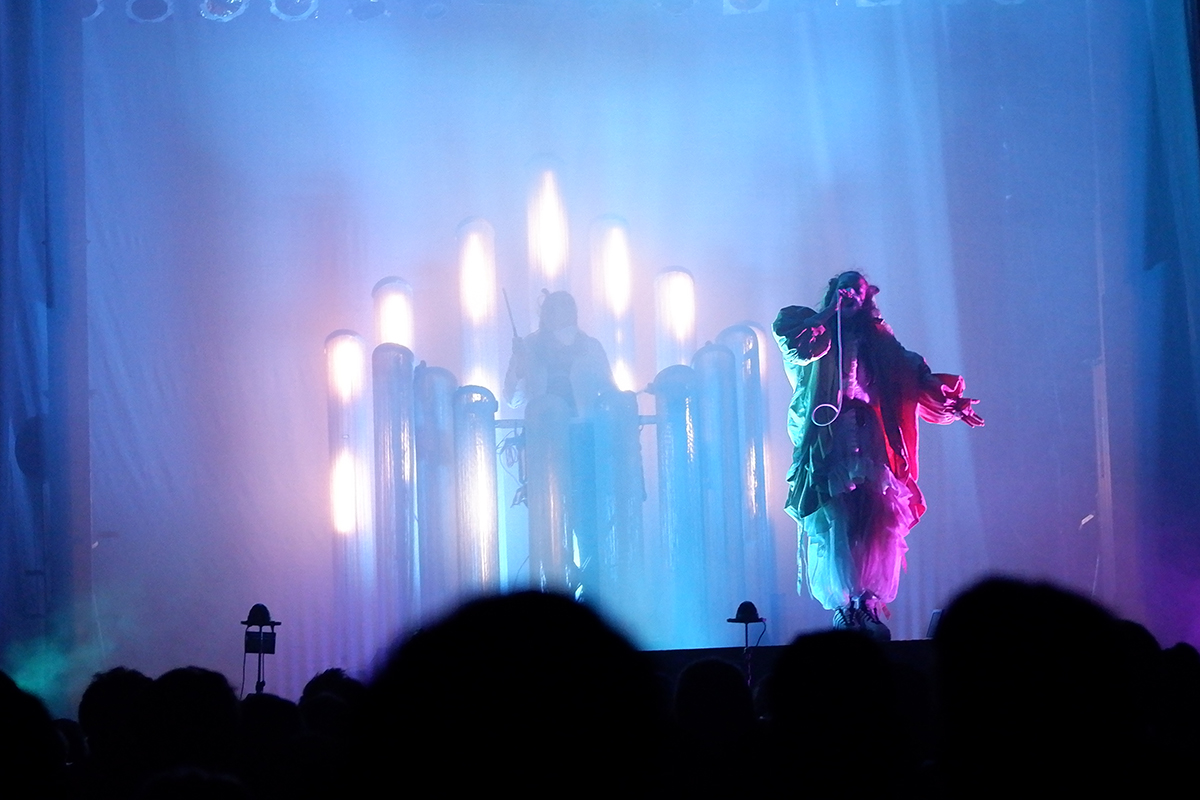 A thin veil hung across the center of the stage, separating Megan from Corin. She had an elevated stage, he had a pedestal made of glowing white tubes (Twinkies?), angled to show his upper body to the room. As Megan went through her songs, dancing across the stage, and stepping away to give the spotlight to her partner, mixed visuals were projected on the veil. Layering behind, through the stage in a very dimensional manner the abstract visuals created a multi-dimensional environment (shapes like plants, molecules, stars, and layers of Megan in a hood).
Naturally, the band played a handful of tracks from the latest release including the title track "graves," "soshy," and "unlucky" but the crowd went particularly wild for  "Lofticries" and some of the other well-remembered tracks like "Repetition" and "push pull".
It was great to see Purity Ring return to the city and finally get to play their impressively produced tour. Additional dates across North America are below, we hope you get to see them as well.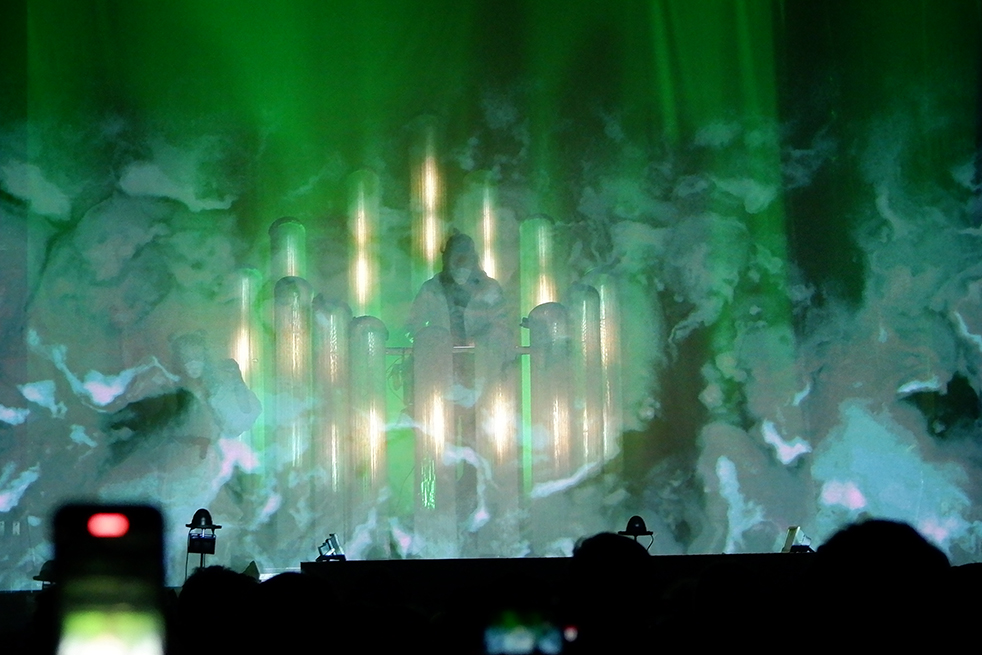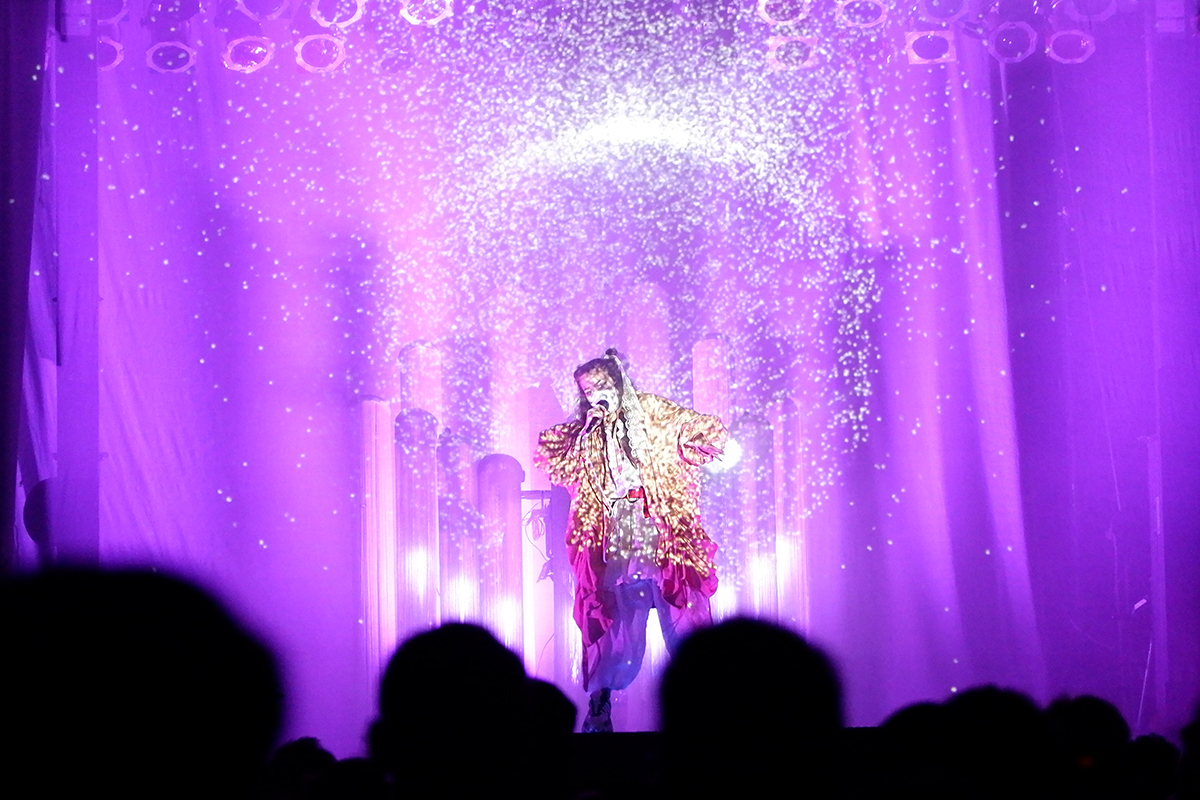 Upcoming tour dates:
6/24 – New Haven, CT – College Street Music Hall*
6/25 – New York, NY – Webster Hall*
6/26 – Brooklyn, NY – Brooklyn Steel*
6/27 – Philadelphia, PA – Union Transfer*
6/29-6/30 – Washington, DC – 9:30 Club*
7/1 – Raleigh, NC – The Ritz*
7/2 – Charlotte, NC – The Fillmore Charlotte*
7/3 – Asheville, NC – The Orange Peel*
7/5 – Nashville, TN – Marathon Music Works*
7/6 – Atlanta, GA – Buckhead Theatre*
7/8 – Orlando, FL – The Plaza Live*
7/9 – Fort Lauderdale, FL – Revolution Live*
7/10 – Tampa, FL – The Ritz Ybor*
7/12 – Birmingham, AL – Iron City*
7/13 – New Orleans, LA – The Joy Theater*
7/14 – Houston, TX – White Oak Music Hall*
7/15 – Austin, TX – ACL Live at The Moody Theater*
7/16 – Dallas, TX – The Bomb Factory*
7/17 – Tulsa, OK – Cain's Ballroom*
7/19 – Tucson, AZ – The Rialto Theatre*
7/20 – Phoenix, AZ – The Van Buren*
7/21 – San Diego, CA – The Observatory North Park*
7/22 – San Diego, CA – The Observatory North Park*
7/23 – Los Angeles, CA – The Wiltern*
7/24 – Oakland, CA – Fox Theater*
* w/ EKKSTACY