Round 2 of the Pitchfork Music Festival continued the battle of mind over matter as the heat refused to let up. While the first day was full of talent, the blistering sun made it difficult for performers and audience members to truly enjoy themselves. Saturday's sunrays continued beaming down relentlessly. Clouds provided partial cover and a sporadic cool breeze gave us a fighting chance. This is Chicago. We are born to survive bizarre conditions whether it is snow in May or paying ridiculous taxes. It will take more than 100-degree temperatures to ruin our good time.
To cool down early attendees, Chicago-based artists Lala Lala and Ric Wilson opened the show. Locals love artists that proudly represent the city, so large crowds gathered to show support, under the sun and in the shade of the trees. Lala Lala's Lillie West (guitar and vocals) has a rather mellow voice that sounds like a serenade for your ears, especially during "Destroyer." Her wavy vibes fused beautifully as the cool breeze swirled by. Closing your eyes, beer in hand, you could almost imagine lying on the beach instead of woodchips on the park ground. If you needed something with more boogie to it, however, Ric Wilson had you covered. The Southside rapper continuously asked the crowd throughout his performance to give him a "Hell Yeah!" like he was Stone Cold Steve Austin. Accompanied by a marching band, Wilson had everyone dancing with the vibrant track "Hang Loose."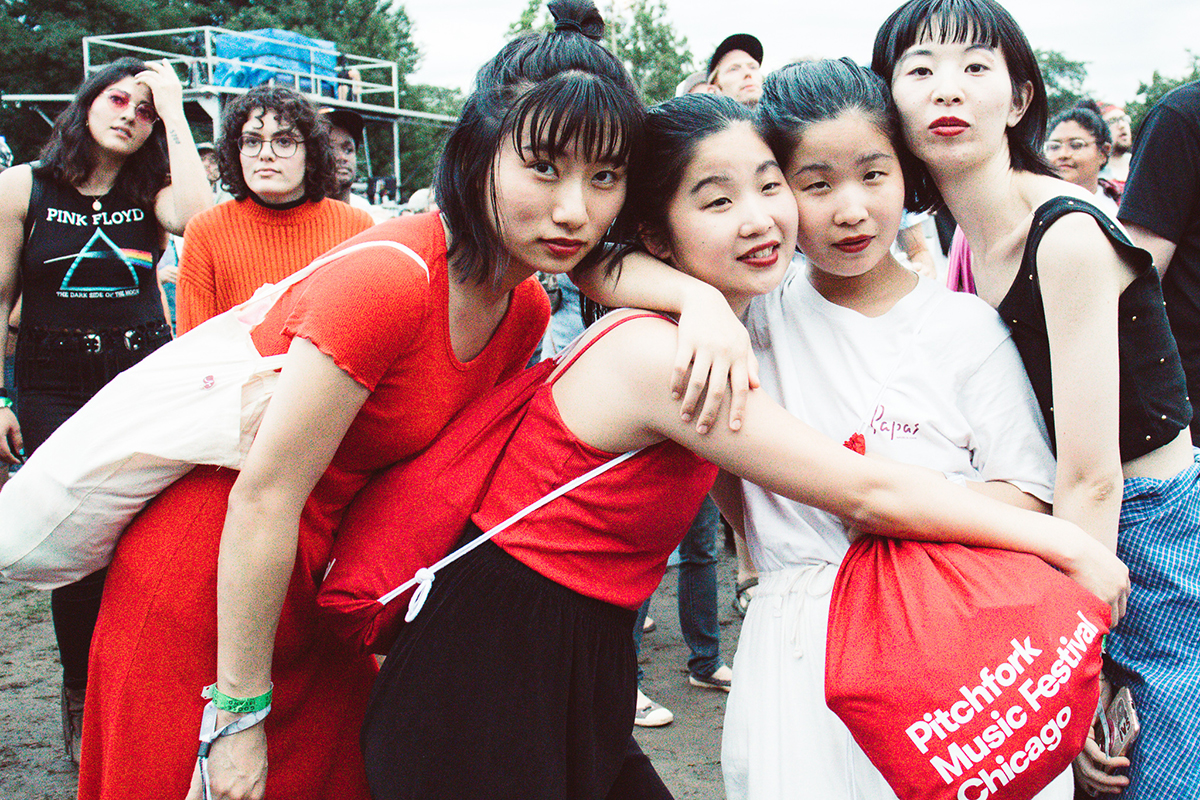 What makes Pitchfork Music Festival unique is its ability to showcase a large array of talent across different genres. Over the years, you expect to see the hottest rappers or indie bands. But what about a Japanese pop-punk band? Why not! Chai was the best surprise overall. Many weren't sure what to expect as the four ladies in pink stepped onto the Green stage. They certainly gained new followers once it was all said and done. Chai did an outstanding job introducing themselves with tracks like "N.E.O," "Family Member," and "Sayonara Complex." The adorable chipmunk sounding harmonies mixed with punk flare and distortion effects were crowd-pleasing. It doesn't matter if you couldn't understand the lyrics, music is universal. Chai swayed their hands side to side as they held their latest album Punk and sang Culture Club's "Karma Chameleon" in Japanese. During the breakdown of "Choose Go" the audio accidentally cut out, prompting the crowd to clap along to keep the tempo going before erupting once the sound came back. Lastly, the women did a synchronized dance routine dressed in blue onesies dancing off stage with our hearts.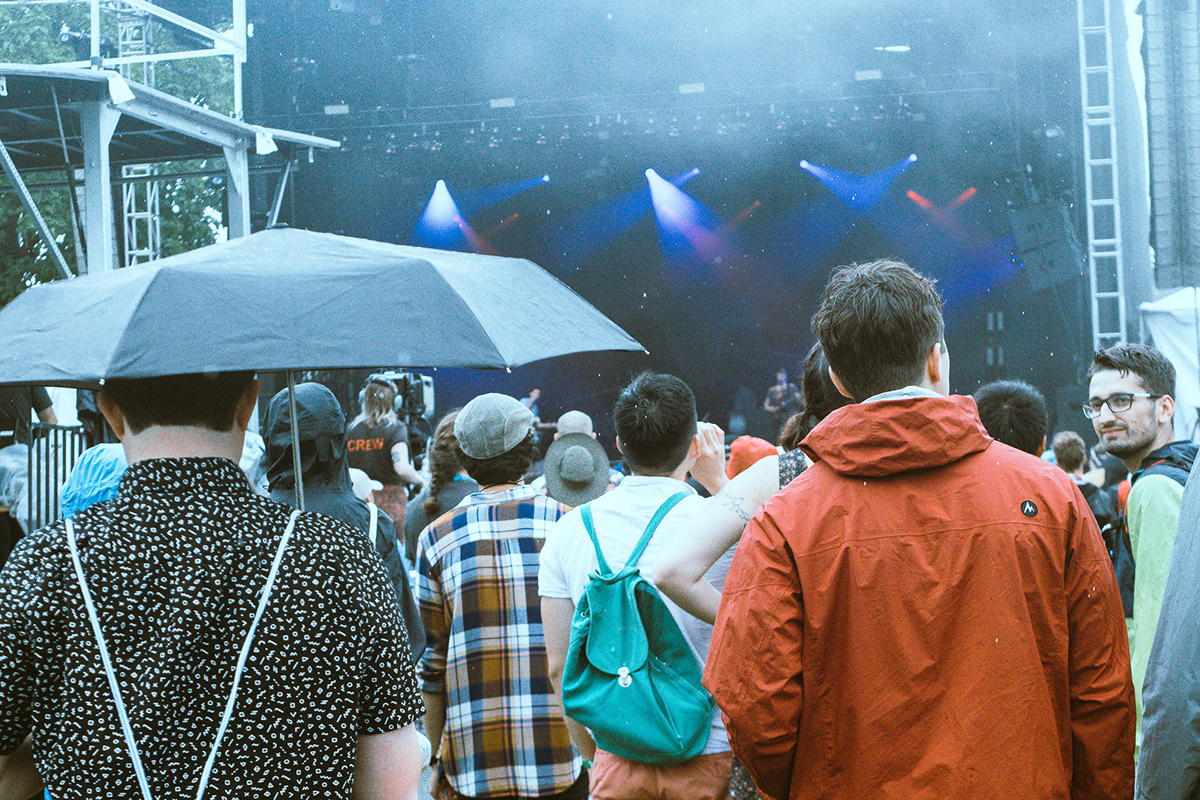 The Parquet Courts took over rock duties. Their sound jolted the crowd alive with "Freebird II", "Dust," and "She's Rolling." Parquet Courts put on one of the best performances for "Almost Had To Start A Fight." As the music got louder, the small clouds grew larger with a grayish hue. The wind went from a whisper to a thrust. The madness made a mosh pit break out as if the crowd was challenging the gods themselves. The sky looked as if doomsday was upon us and Parquet Courts were playing the anthem. Seeing the storm coming our way, Pitchfork officials cautiously evacuated the premises for everyone's safety. Not two steps outside the gate, thunder crackled causing a fierce storm. People ran for Uber rides or hopped on the "L" train. Plenty of us took shelter under the tracks trying to keep our valuables safe. (Clinging on to my backpack in fear my laptop would get soaked, I withered the storm for you dear readers!) Funny how we cursed the sun for burning us, only to beg for its return so that the festival may reopen. After an hour delay, the sky cleared up and we were back in business.
Unfortunately, artists Kurt Vile and Amber Mark were cut completely. Luckily though Freddie Gibbs was there to rally the crowd back. Fans eagerly marched through swampy grass to see the Gary, Indiana native. Dressed in all black and rocking a fat gold chain with a "G" medallion, Gibbs dropped bangers like "The Real G Money" and "My Boy." He boasted how his collaborative project with producer Madlib, Bandana, is currently the #1 rap album in the country even signing a fans vinyl copy. Gibbs tested the crowd's knowledge to see who were true fans with "Real." The ever so gully rapper consistently chanting "Fuck Police" as he waved his middle finger and splash the audience with water to make sure they were awake. Though he's a gangsta, Freddie is all about a good time as he has his entourage on stage for "Harold's." He ended his set with an encore performance of "Crime Pays" and "Westside Gunn."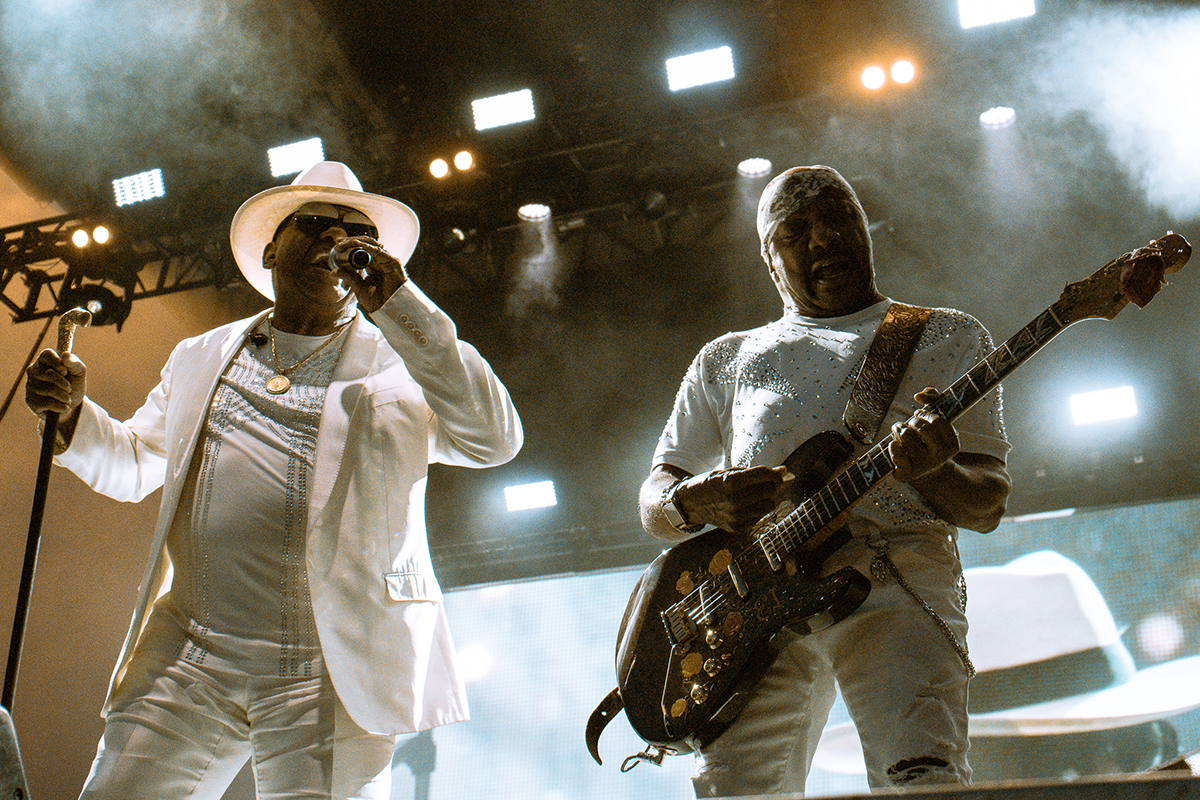 The honors of closing out the evening went to the legendary group The Isley Brothers. Their soulful sound has stood the test of time as both younger and older generations came together to celebrate. They showcased a plethora of classic hits such as "Fight The Power," "Twist & Shout," and "For the Love of You." If you grew up listening to 90's hip-hop then The Isley Brothers should be instantly recognizable. They inspired Biggie Small's "Big Poppa" (Between the Sheets), Bone Thug's "Buddah Lovaz" (Choosey Lover) and Ice Cube's "It Was A Good Day" (Footsteps in the Dark). Of course, being pioneers in the music industry, they have worked with some of the biggest names ever. Throughout their set, Ronald Isley paid homage to The Beatles, Aretha Franklin, and Whitney Houston before dedicating "Summer Breeze" to Prince. Ernie Isley played melting riffs with the guitar behind his back as they finished with party favorite "Shout."
The second day of Pitchfork was even better than the first. Part of that had to do with the fact that people were better prepared to face the heat. Sure the hour delay was a bummer right when the festival started revving up. But that gave everyone a moment to regroup and come back with high energy. Once the gates reopened the artists were able to pick things up where we left off. You got a little taste of everything: indie rock, Japanese pop, gritty rhymes and it all culminated in a jubilee of soul that everyone could get down with.
photos by Manny Diaz