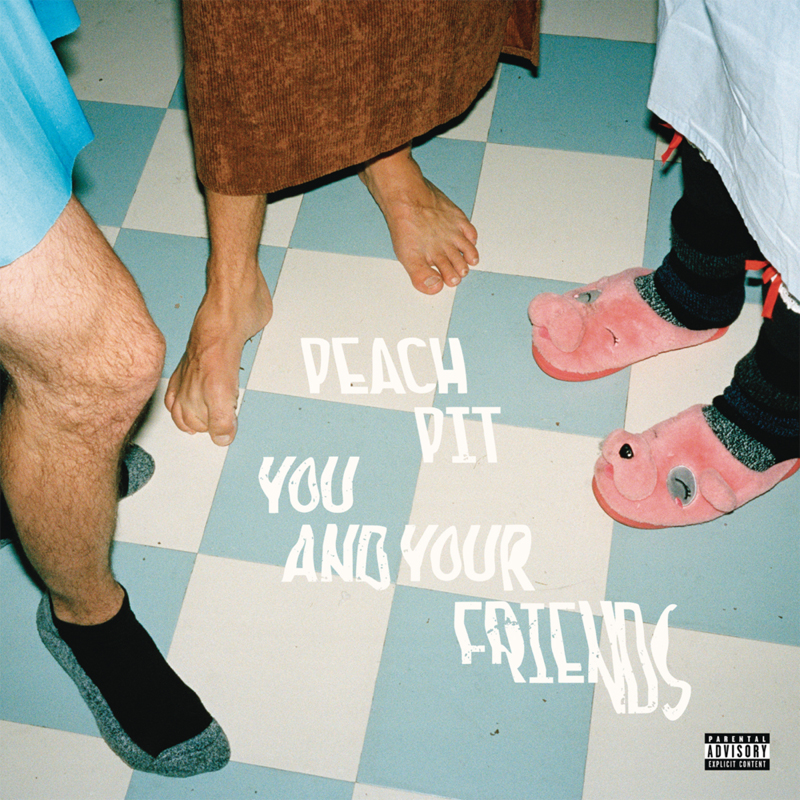 By Kiana Pontrelli
Peach Pit, the Vancouver, B.C.-based quartet is back with their sophomore album, You and Your Friends. The band, falling somewhere between surf rock and indie pop, is known for their detailed storytelling, with Neil Smith as their mellow-voiced narrator and brought to life by Chris Vanderkooy's funky guitar riffs. They're still singing their sad boy hearts out about hazy bedrooms, drunken stupors, and girls scrolling past their Instagram pics. But smoke clouds break for sunny days in this new record, as they have gravitated from their moody sound that was prominently held in their first album Being So Normal (2018).
They start out with a bang. "Feeling Low (F*ckboy Blues)," a title that could easily double as their style of music, is entirely ear-catching. This track was also released with a Lucha Libre inspired music video that compliments the quirky electricity that carries throughout the rest of the record. And in a well-organized album, "Feeling Low (F*ckboy Blues), is the perfect reintroduction and showcase of their talents as both individuals and a collective band.
They back this hit with another previously released single, "Black Licorice." It's a tone down from their first track but will likely become one of their classics. You'll find this style similar to the later "Shampoo Bottles," a clever story of the remnants of ex-partners, from missed feelings to their old toiletries. They have become pros at masking melancholy behind funny lyrics and swinging tunes. And matched with an upbeat chorus and intricate guitar work, these songs are quintessential Peach Pit.
"Figure 8" comes with a shift from their typical sound—featuring more the likes of a mainstream pop ballad. In this song, Peach Pit becomes our stoner boy band, and even with the cliches, there's something deep inside that still tugs at your heart.
"Puppy Grin" also takes a different turn, with an energy reminiscent of Panic! at the Disco. They toss between a controlled steady beat and twisting and turning reverb that mimics their lyrics of questioning feelings. Ultimately, it results in a controlled chaos that makes you want to dance out all that built-up tension.
Then we fade into the easy-breezy middle section of the album. "Brian's Movie" kicks it off with a conversational and groovy surf-pop tune. The easy listening continues with "Camilla I'm at Home" and "Second Life With Emily." They might be singing of broken hearts and lost love but they still come off as feel-good songs. Initially, this section is so relaxed it might come off as forgettable, but it proves itself to be the center of this jelly donut—pleasantly sweet and sticky.
When "Thursday" begins to play you might think you were listening to a completely different band. The addition of a synthesizer coupled with Neil Smith's soft vocals makes it especially ethereal. It has you feeling like you're floating through outer space and then quickly spinning back to reality with some fast drumming and guitar distortion. 
"Your Teeth" is sure to be a catchy standout. The oddity of the lyrics will catch you by surprise, but you'll likely get swept up in the flirty beat and will quickly find yourself crooning along.
The album finishes with its title track. All you can hope for is a safe landing, and "You and Your Friends" is that, but only that.
Peach Pit proves they are willing to experiment with some new tricks and sounds, but they still keep to the creative storytelling and impressive guitar work that makes them recognizable. With conversational and relatable lyrics, it's hard to remember they're not your actual friends filling you in about their latest crush or drunken night. And with You and Your Friends, it seems they've moved their kickbacks out of the hazy basement and onto the sunny front porch.