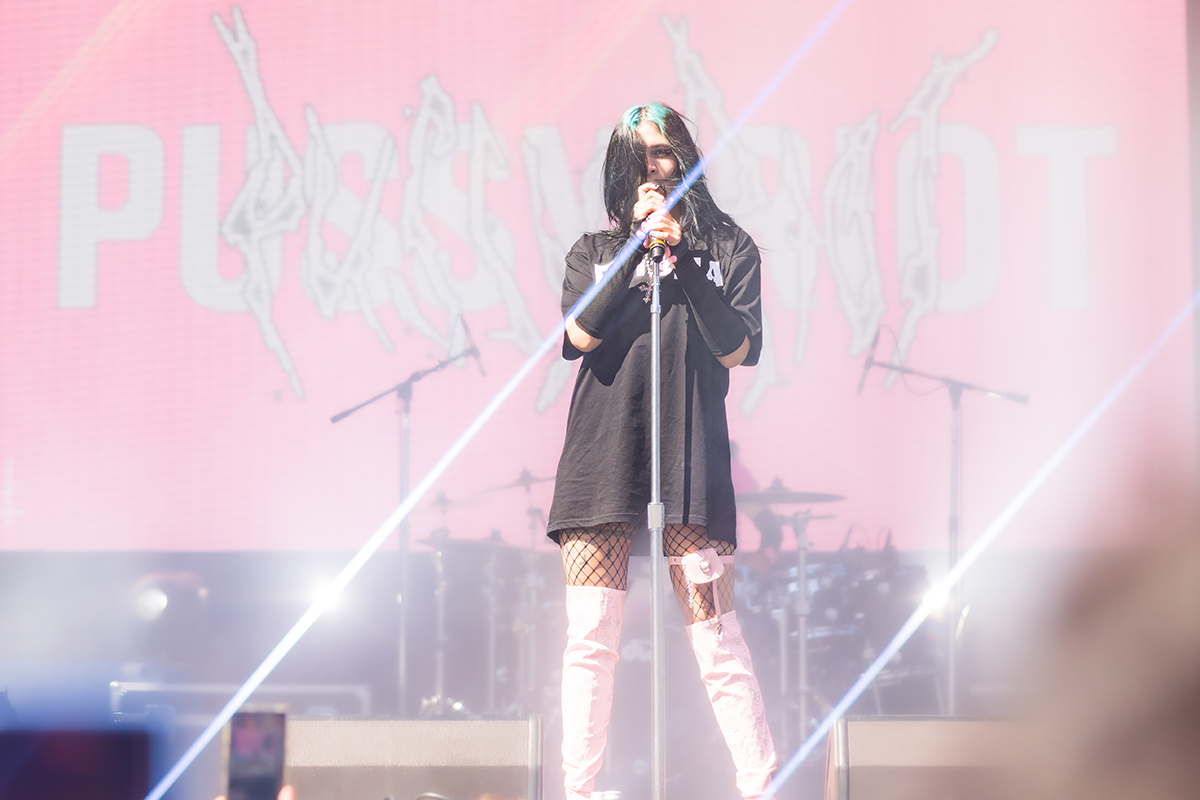 text by Audrin Baghaie
Outside Lands music festival (OSL) was a multi-genre morass of equally loud channels of overstimulation. The Quip experience in particular was a florescent ping-pong game between three main jam hubs: Land's End, Sutro, and Twin Peaks stages. Connecting them was an infrastructure built for the locomotion of 400,000 shoes scurrying towards the loudest noise, like rave-moths to a strobe light.
We first tumble serendipitously into Rostam's set on the Panhandle, a smaller venue for comfy indie artists. The former Vampire Weekend shredder hosted a lovely welcome for attendees, a quick and violent contrast from the upcoming nightmare awaiting us at Land's End.
Lil Uzi Vert fans are a scourge. For an artist that has a considerable affiliation with mental health awareness, I've never seen a fan base so miss the point completely. There was no humanity in that crowd, between people pulled over the fence for crying and our photographer Nate nearly getting his gear obliterated, it echoed sentiments of Travis Scott's infamous headline.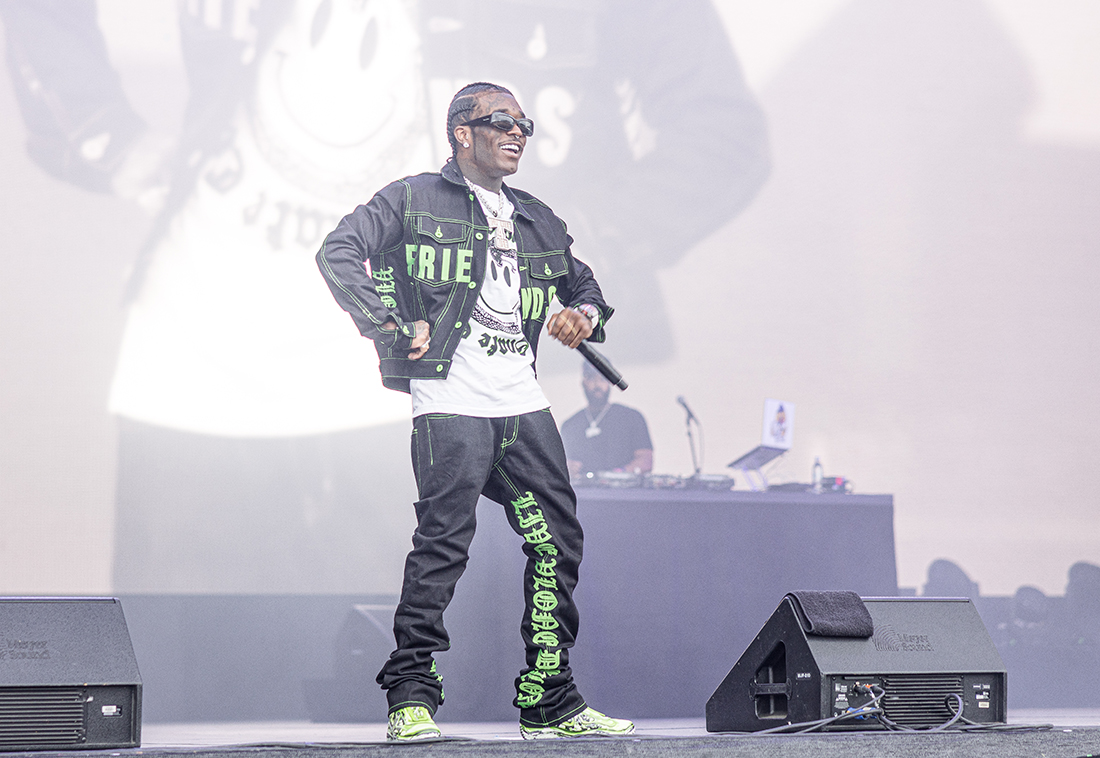 Jack Harlow was a toothless replica of Uzi although I'm still cross that I tolerated health hazards for such a bland act. Admittedly he was unlucky – placed between Mac DeMarco and Green Day, both of whom explored two ends of the sonic spectrum. Mac DeMarco's profound chill boat-rhythm bumps compared with BJ Armstrong just going complete apeshit on the American Idiot tracks was an epic contrast. There simply was just no room for Harlow, nor was there room for him to bring up some significant social updates in his hometown of Louisville. But I digress.
Pussy Riot did satisfy my expectations because a literal Russian designated foreign agent took her shirt off to reveal a "FREE BRITNEY GRINER" message. Nadezhda has functionally inherited the band at this point, with the other past 10 members forgoing a less mainstream role for a more actively political one. Not sure if the crowd was ready for her succubic death-pop screams, however. Personally, my favorite part was when she cracked a blood-red whip over and over again while the word "VASECTOMY" lacerated on the big screen.
One thing in particular OSL likes to flaunt is a section on the festival grounds where the purchasing/consumption of cannabis is safe and legal. Grass Lands comprises the southernmost section of the park, practically a carnival that folks use to get away from the Land's End aural blast zone. Ambulances and police were on standby, though much like previous iterations of the fest there was no urgent need for their intervention. It made for a lovely pit stop between stages.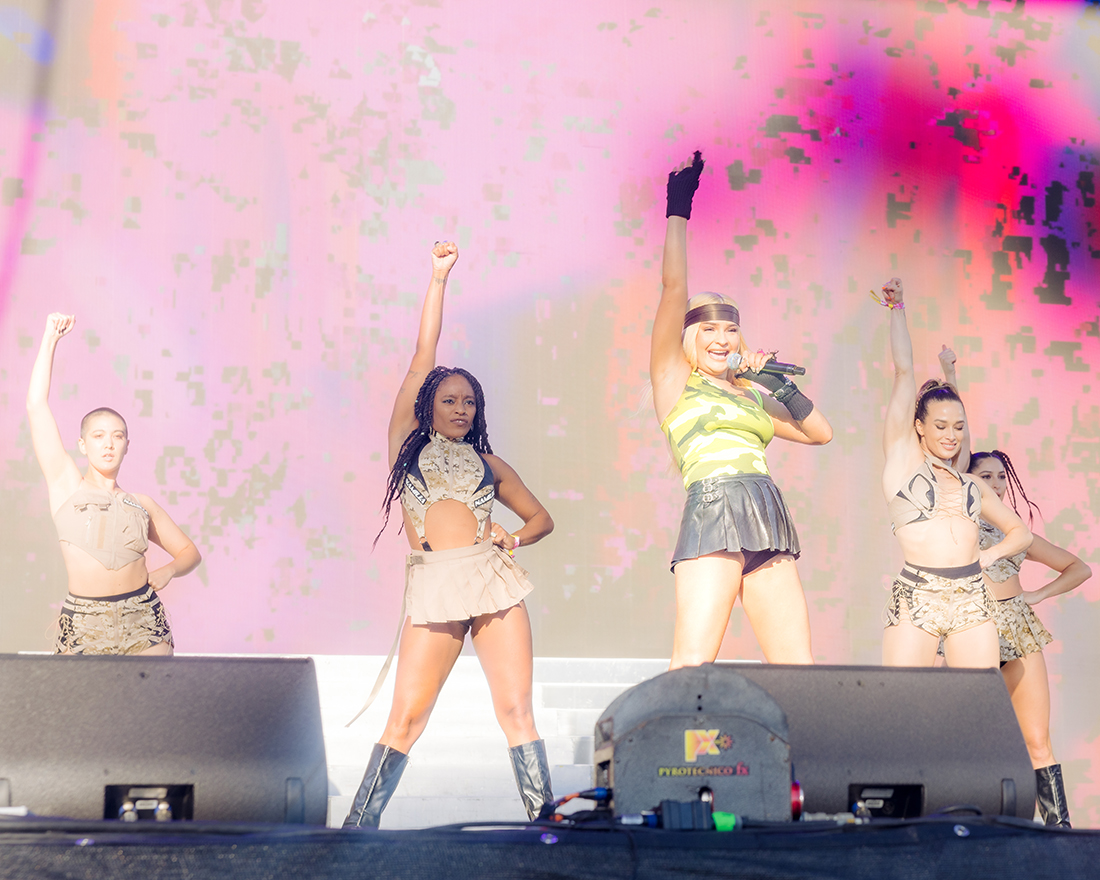 All hyperpop acts were backlogged into Sunday, so the Lord's afternoon was enhanced by palpable chaos. Glaive into 100 Gecs into Kim Petras is complete nonsense. 17-year-old Glaive's unreleased track "Florida" is a four-on-the-floor banger, a necessary moment for a shy crowd to get to know one another via slam jamming. Petras performed Slut Pop in its entirety, a staple for her latest shows and one the crowd was quite notably looking forward to. Gecs flew too close to the sun; their set was cut short although that seems appropriate for them to be honest.
With how quick each turnover was, every headliner was set for success before their gig even started. Polo & Pan's visuals were some of the best. Ani Kuni received a syllabic word-by-word visualization of the sampled Native American chant. Disclosure's latest track "Waterfall" is some of their best work since the Settle days, evoking a Mura Masa-esque production that sent the crowd in every direction. 
SZA was the only artist done dirty. She started off her CTRL-era ballad "Drew Barrymore" smoothly enough but her monitors cut out, knocking off a beautiful song in her repertoire. The sound team turned it around before the next track. As such the audience experienced a cathartic performance, one that concluded with SZA compensating for her vocal prowess in front of a gorgeous lighthouse-themed stage décor. 
It was smooth sailing the entire weekend. Major 3-day music festivals will take it out of you, they're an endurance test if nothing else. OSL at least attempts to streamline the experience into something less arduous. Straight up, I've never had better music festival snacks from any other concert experience. The scrumptious food almost made the inflated prices worth it.
It takes one thousand things at once to operate in tandem to make an event of this magnitude flow as well as it did. The lands beyond have proven themselves to be worth trekking to, a tall order considering the sheer number of fests on the west. In no uncertain terms:
Outside is the right side, man.