With a final gasp, Summer expelled a burst of sunny weather onto a packed SeatGeek Stadium in Bridgeport, Illinois. Labor Day weekend in the Chicago suburb held the buzz of a huge crowd not ready for the inevitable descent into winter. North Coast Music Festival, back for its 13th iteration, presented itself as an antidote for the end of summer blues. Featuring a relentless lineup of EDM artists, a lion's share of visual spectacle, and perhaps the friendliest festival crowd I've ever encountered, North Coast aka "Summer's Last Stand" did not go down without a fight. 
Here are our top moments from the festival! 
Aluna Had us Beggin'
Aluna took the Shipyard stage looking like a real-life little mermaid. Wearing an aquamarine net skirt with flowing green dreads, she appeared like a mirage in the sweltering heat. As one of the first acts of the festival, she was the perfect performer for a crowd just beginning to rev up. 
Her single "Beggin'" (co-released with Chris Lake) got the crowd gyrating with its slinky groove. In tandem with her effortless gravitas and confident vocals, her music wove a trance that brought your hips into the music. "I'll get you beggin', beggin'" she sang, "Cause I'm your weakness". It was a perfect appetizer for a long weekend.  
Elohim Stops the World and Melts 
Framed by the towering stands of the Seat Geek Stadium, Elohim appeared in a flowing white ensemble complete with white gauze to shield her face from the sun. "I'm just here to connect with you" the track whispered atop a rhythm that pulsed with affirmation and love. 
Elohim captures a feeling of sexy ache with a wide variety of styles that undulate between the tender and the ominous. Songs like "Hallucinating" invited the crowd into a lucid dream that blurred reality. The visuals behind her evoked both beauty and horror, with an unfolding view of what felt like internal skin. 
Midway through the set, Elohim removed the white gauze from her face. "Kiss me with your eyes open" she sang "so you can see me when I'm melting." As the sun beat down on her audience, the lyrics almost felt like reality.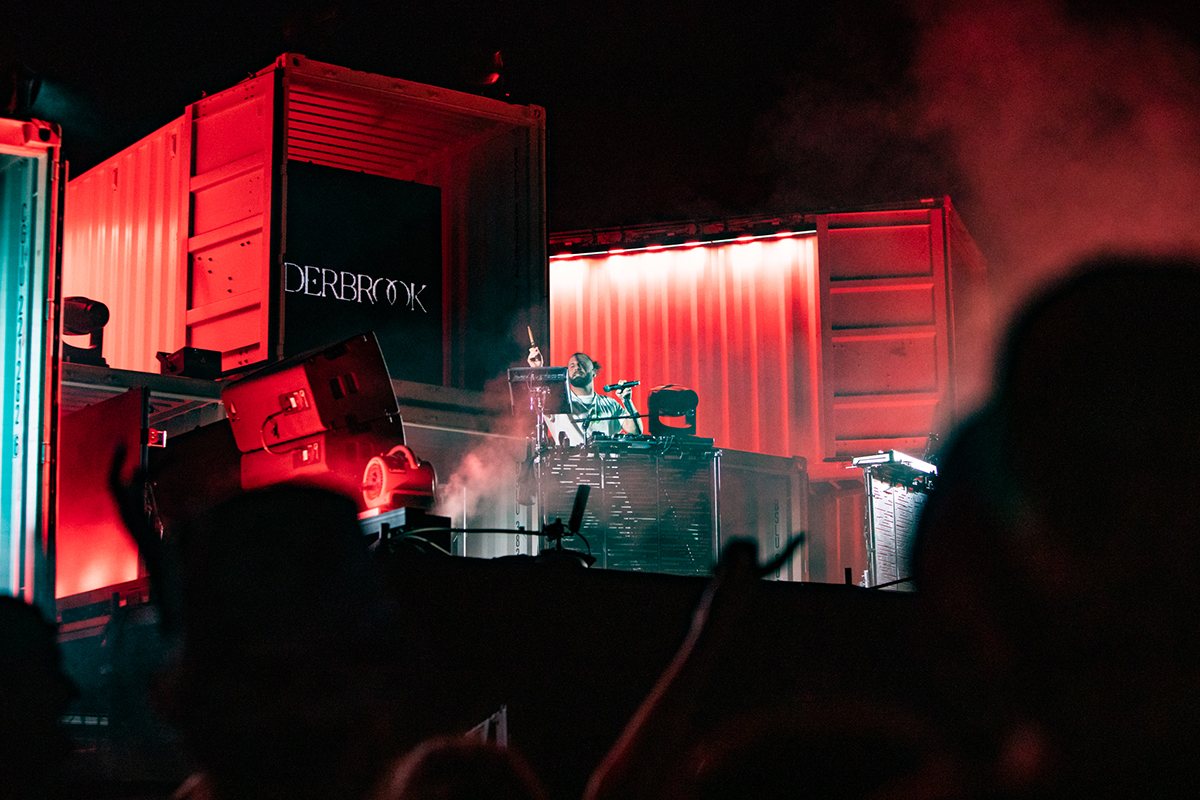 Image by Justin Montano for North Coast
Elderbrook's Unstoppable Energy 
Elderbrook isn't a DJ who stays in his booth. This Grammy-nominated producer has too much talent and knows it. Building a dynamic setlist to showcase his dynamism would be a feat, but Elderbrook wants us to engage in his music as fiercely as he does. With keening, soulful vocals that would make any pop star jealous Elderbrook reminds us that this is not a canned set. With that in mind, he launches his body across the stage with the bravado of a CrossFit trainer who can explain the workout while also doing it. His multi-tasking feels so slick and effortless like a basketball player completing a pass without looking. And while the showmanship could at times feel like a party trick, his songwriting is so ambient and heartfelt, that you can't help but go with him for the ride. 
A Wild Ride with Blond:ish
I was walking fast to catch the top of Blond:ish's set. I got flagged down to take a photo of the happiest construction worker flash mob I'd ever seen, when I heard Gene Wilder's off-kilter warble singing the opening lines of "Pure Imagination". I snapped the photo, handed the camera back to a yellow-vested cutie with a stop sign, and found my way to the Shipyard stage just as a thundering bass note erupted beneath the syrupy sweet melody. 
The rest of Blond:ish's set was exactly like its prologue suggested. A wildly diverse, unpredictable ride that felt like traversing the tunnel of terror with Willy Wonka himself. With horn-heavy grooves, and an encyclopedic sample bag, Blond:ish felt infused with a Caribbean rhythm that was trance-inducing and supremely danceable. 
Chill Dome = Chill Time 
Looming behind the shipyard stage was a massive dome that looked like the Michelin man had lied down for a nap. At five o'clock on Saturday, I felt like doing the same. I queued up in a small line while chugging a ubiquitous Liquid Death, hoping "The Chill Dome" would live up to its name. 
I was met by a gust of cool air and a soothing darkness. Across a soccer pitch of astroturf, hundreds of festival goers were spread out, basking in the shade and taking a well-earned moment off their feet. A laser light show projected onto the ceiling as a DJ played an ambient, nostalgia-heavy beat. The Chill Dome felt like sneaking under the bleachers during a high school game for a moment away from the crowd. In a festival all about spectacle and hype, it was the perfect respite.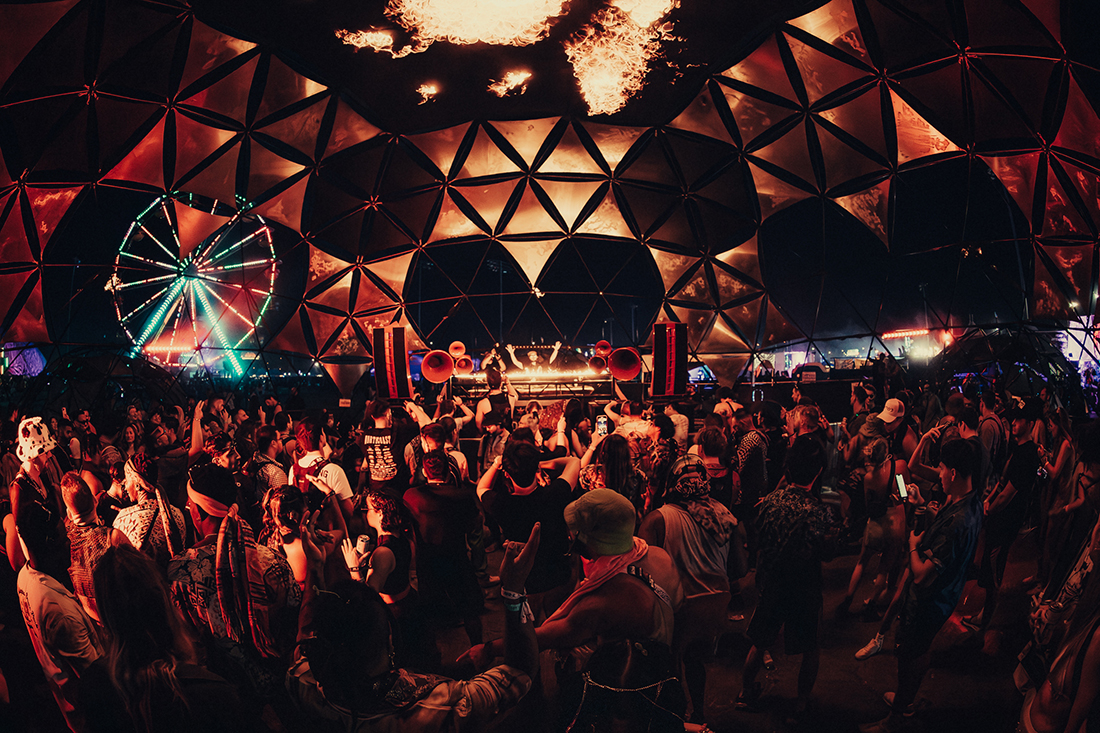 Image by THEMCDUB for North Coast
Dancing in Hell 
I passed by the Fire Pit several times on Friday afternoon without much interest. I saw the pyrotechnic rig secured to the top of a massive geodome climber and assumed that was where the name came from. It wasn't until the sun had set that I noticed the furling red flames that crawled underneath the dome's ceiling. That can't be real I thought as I strode closer. Yet packed tight with no more than a hundred people and a DJ, this was a party fit for the halls of hell (the hell where all of your friends are.)
In a festival known for spectacle, this small visual effect was the most jaw-dropping. From far away, it looked like an HD volcanic screen saver, yet from up close, there was no denying the reality of the flames that broiled above you. Its heat was palpable. As a pyrotechnic blast shot out into the night sky above, you could feel the temperature it expelled pressed down onto you. 
Close enough to watch your friends bleed sweat, while a series of DJs kept the party burning hot, this was an experience that had to be felt to be believed. I watched two partygoers lick the sweat off each other's skin and giggle. It was euphoria you could taste.
Cover image by Valeria Avalos for North Coast.