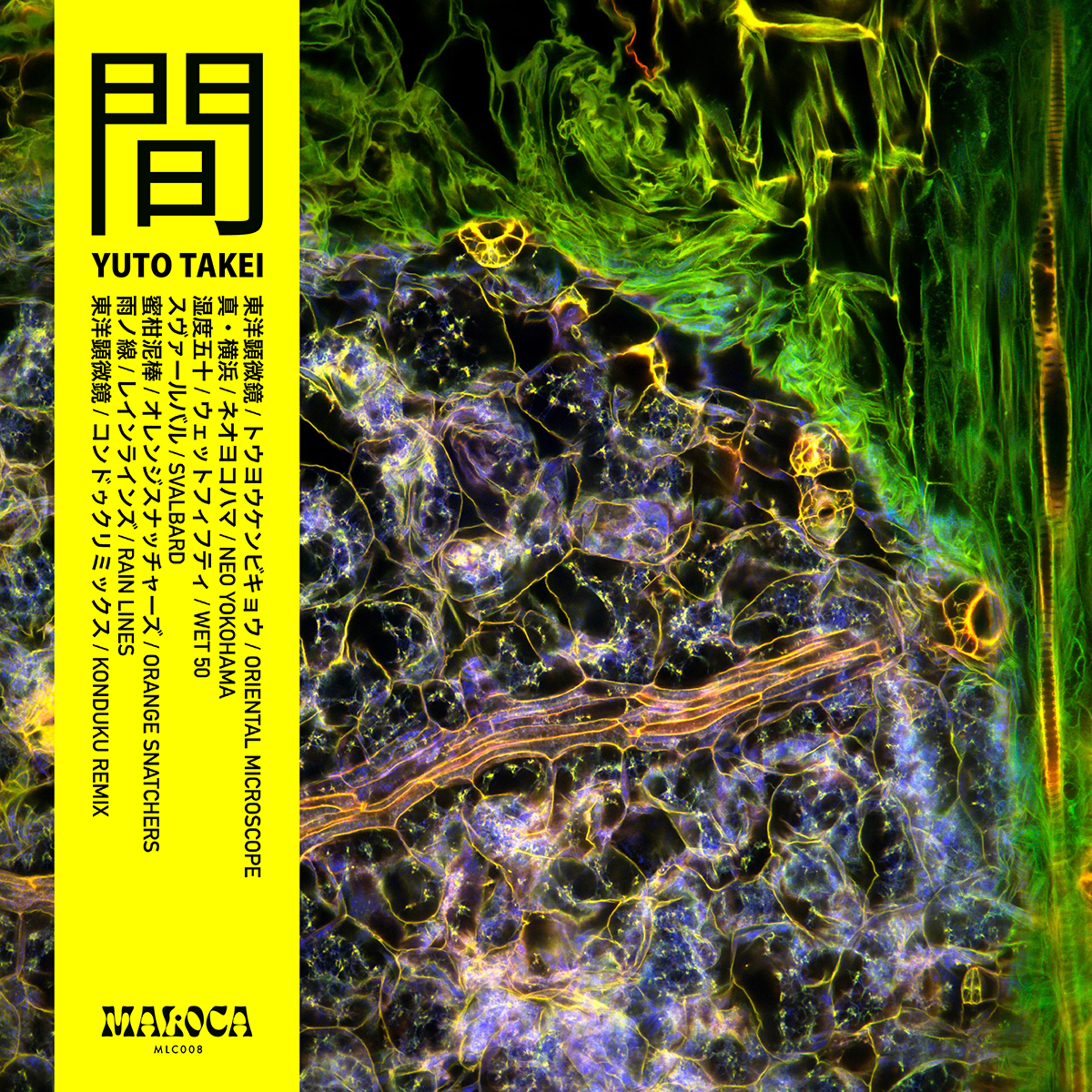 Not everything needs to have a direct meaning. Art History is full of instances of works where the experience is down to the audience. For a musical analog of Abstract Impressionism, with a fun cinematic flare, look no further than Yuto Takei.
Dividing his time between Tokyo and Amsterdam, both influences come through loud and clear in his compositions. Nowhere more than the first track, "Oriental Microscope". 
Clocking in at nearly nine minutes, there is lots of time for twists and turns. The overall impression is that of the soundtrack from an 80s action movie, with touches of 50s Sci-Fi. Including all the otherworldly clicks, tweets, and whistles flying saucers are given to. 
Less fun but still impactful is "Neo-Yokohama." Possibly taking inspiration from "New Tokyo" in Akira, things start out near-apocalyptic, complete with military-style drum-beats and whistling wind effects. The wasteland takes an industrial turn with the thump hiss of a drum machine worthy of "Closer" era Nine Inch Nails. A ray of light provided by light piano, arrival roughly halfway through, before everything winds back down to bongos and thump for the end. 
Those in the mood for something more meditative are provided for too, "Wet 50" keeping things low if not light. Alternating crystalline wind-chimes and drum-machine grinds, never stepping over the line of the ambient. 
"Svalbard" is even more of a guessing game, switching things up every few minutes. Impressive considering it is one of the shortest tracks on the list. From deep, dark analog orchestral drone, to crystal light overly, complimented with an upbeat bop and clap, still, with a somber backdrop, it can be quite a ride figuring out what might happen next. 
A return to form of a sort, track five, "Orange Snatchers" calls back to "Oriental Microscope" with digitized sounds from traditional Asian instruments, particularly the zither. Gradually increasing in both speed and intensity, finally reaching chase-scene proportions. 
More isn't always better, but at least there's something to be said for consistency. Clocking in at over ten minutes with impressively little variety or variation, "Rain Lines" lives up to its title. Meditative to the point of near-white noise, the primary sounds to be heard are a low drone with dripping rain. Bells and ominous chatter are somewhere in the distance if you listen close. Counter-pointing the instinctive calm with a sense of impending danger for the astute listener.