text by Laura Eley 
Montreal's Milk & Bone, the electropop duo who have delivered dreamy, synthed-out tracks for three full albums, arrived at The Drake for a cozy Thursday night show in Toronto. This marked the pair's return to the stage in a post(ish)-pandemic world, following the release of their third record, Chrysalism, in October. Earlier this month we did chat with the band about the makings of this record, see the full interview here.
The stage setup was cleverly designed with mics and equipment facing each other from two sides. This not only offered a balance between Lafond-Beaulne and Poliquin, but also let the crowd into the pair's onstage dance party, which they wonderfully maintained throughout their entire set. And, despite their latest album's somber tone, the set did feel like a sort of celebratory event—a return to the spontaneity and palpable energy of live music.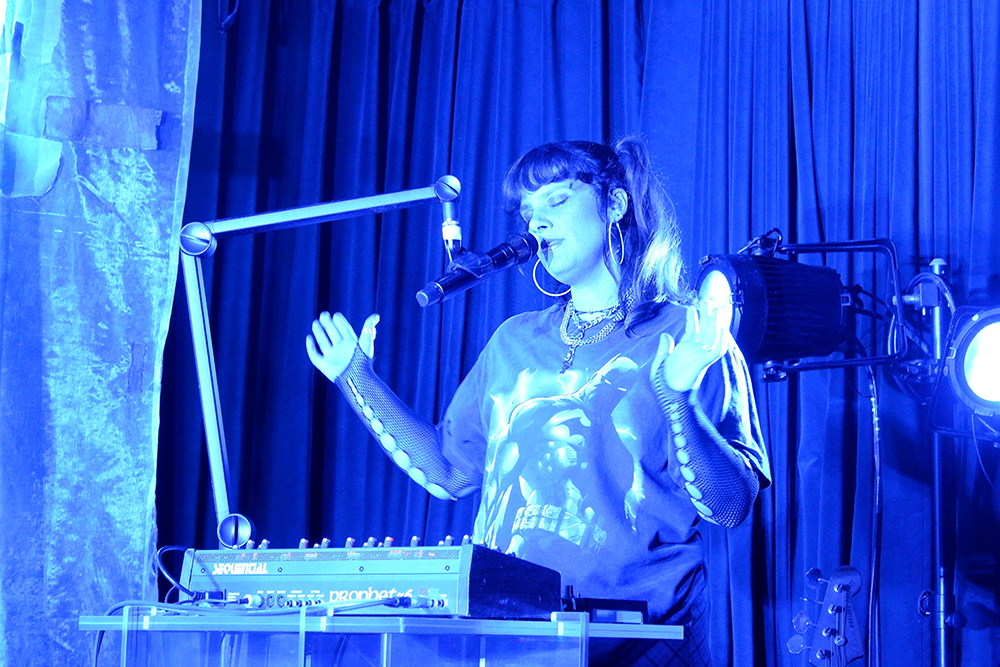 Opening with "Worst Year of My Life", ironically the last track on their album, the duo were quick to show off their powerful vocals—a complimentary, signature sound that was on display throughout the night. Moving into some older music, and undoubted crowd-pleasers, like "Coconut Water" and, later, "Pressure", there is a unique fluidity to a Milk & Bone show that may be rooted in the fact that you're not only watching two dedicated musicians perform. But the two friends have a deep understanding of each other as artists and are having a blast onstage. This hit especially strong in "Bigger Love" and "Movies", which got the crowd bopping just a bit harder. Offering slower, emotionally-charged moments in "A Little Better Every Time", which saw the pair change it up onstage by standing acoustics-style side-by-side with a guitar, the show delivered a range of emotions.
Consistently on-point aesthetically, the set shifted between blue, red, and rainbow. The pair's curated looks seemed to be a Gen Z nineties nod, featuring all-black wardrobes that are similarly present throughout their albums and videos. For Lafond-Beaulne and Poliquin, who have been working on Milk & Bone for eight years, the show was a snapshot in the evolution of their artisthoods, and felt approachable but perhaps more confident and gelled together when compared with previous performances. A delightful, dreamy, dance party.