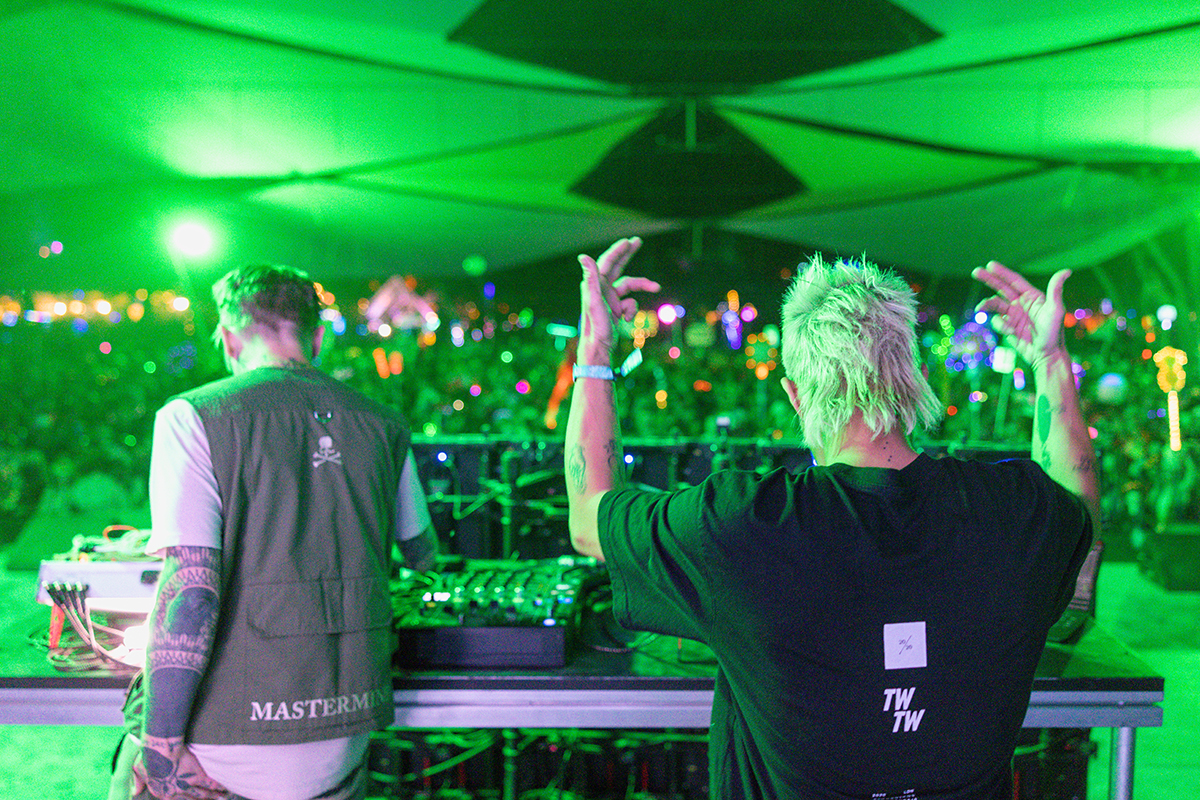 Images by Nathaniel Windisch
A year after their official return, the exalted Lightning in a Bottle festival reverberates once again at Buena Vista Lake, California. In 2022 we were given Four Tet, Glass Animals, Chet Faker, and Purity Ring woven between fire dancers, antique shops, and meditative experiences. We were spoiled last time, and it gave us a sweet tooth.
Now it's LIB's 20th birthday and sanity has thoroughly eclipsed. Long forgotten are the times when bass music didn't completely dismantle your brain. Rezz, Zhu, Glitch Mob, Mindchatter, Liquid Stranger, and Tokimonsta spearheaded the effort. Other artists like Phantogram, 070 Shake, and Ozomatli provided moments of respite between the chaos. Mind you, this is a five-day festival. There's enough time to experience everything, but the pace is the trick.
Lightning in a Bottle's geography compliments the lakefront. The Woogie stage is a northern star on the peninsula where typically more trance and house music is spun. Along the way there, you'll find a myriad of satellite stages, shops, quaint pockets, and at one point a nice warm communal fire to rejuvenate at. It's easy to get turned around, it feels like everything is always slightly off to where you last put it. It's Alice in Wonderland scored in halftime dubstep.
Thunder and Lightning stage wrap around the water until you get to the desert campsites. Most of the music is scheduled for Friday – Sunday, which is naturally when the lake becomes its most crowded. Be that as it may, LIB's stages for the last 2 years have never been as packed as other festivals. That's one of my favorite things about it – you can go to the front of the stage if you wanted, or easily find a spot elsewhere if you prefer better audio. It's meticulous and intricate, the vibrant atmosphere makes you forget how much effort goes into making it a smooth experience.
The number of solid Phantogram songs that I completely forgot existed is embarrassing. They've been jamming for more than a decade and in doing so stacked out their discography. "Fall in Love", "Mouthful of Diamonds", and "Run Run Blood" – the two-piece harbored a moody vibe that other acts failed to fly near. Rezz closed out on Sunday by taking that energy and clipping it. The Canadian glitch-bass alchemist launched remixes of Linkin Park's "One Step Closer" and RATM's "Killing in the Name Of". Sophisticated flips that echoed the original artist behind screaming distortion walls we colloquially know her for.
My favorite of the festival was Moore Kismet, an 18-year-old glitch-bass artist who is leagues ahead of their contemporaries. Kismet's music is an octahedron – it reflects an abundance of emotional electricity, in so many directions, and goes absolutely so needlessly hard. They are a master at micro editing, in producing music with thousands of different textures and paths that all flow down the same river. If G Jones is the darkness, Moore Kismet is the light. Both comprise the top of the game right now, and illustrate how intricate, emotional and connecting bass music can be. It's truly a privilege to be able to see where their music will go in the near future.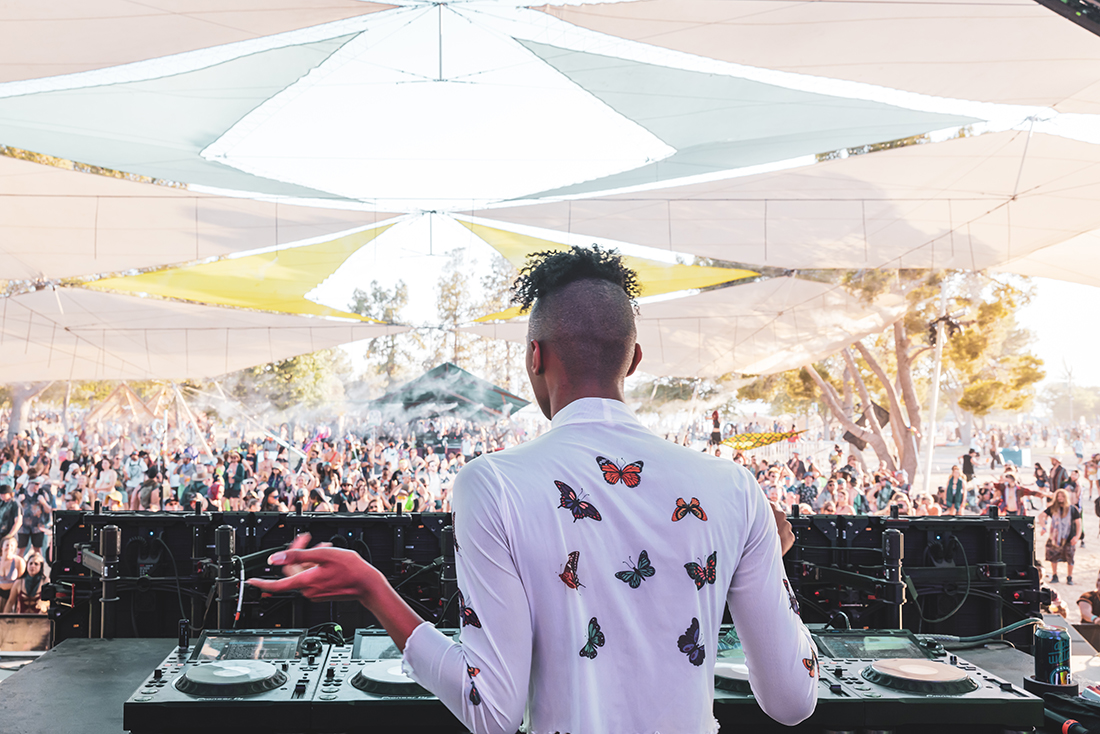 Ozomatli played with Chali 2na and Cut Chemist, and I'm curious to see if other EDM publications cover it. On one hand, it's not their wheelhouse. But will they oversee such a creative set? Frankly, the performance was a black sheep – Chemist only spun on vinyl, their instruments had playable frets and notes, and the rapping felt more like Kool & the Gang (Chali is getting old let's not kid ourselves). They were one of the best performances of the entire festival, no contest, perhaps in spite of the excess of electronic music? Cut Chemist weaved a narrative with his sample choices: "In the beginning.. the music was simple" queued Ozo to start a drum circle. "Then.. it became more complex.."
Zhu's set leveled up since his Countdown headline. Like literally, he's 20 feet in the air on a walkable platform above fire dancers. Fitting his mystique perfectly, especially since there hasn't been a Zhu performance before midnight in a healthy while. 070 played prior – it's interesting to see how she was able to fit her performance into a festival that's more or less already defined.
For example, and for the uninitiated, 070 Shake is the voice behind Fred Again's "Danielle (Smile on my Face)" (Danielle being her actual real name). The crowd went wild for that track, yet lukewarm for the songs bookending it. The result is an inconsistent set, but one I enjoyed nonetheless. She has a solid command of auto-tune and I'm a simple man.
In reality, LIB is more than the sum of its parts, and dear god there are a lot of parts. It's the only festival where the in-betweens are just as exciting as the main stages. I remember grabbing some lemonade adjacent to a small village where someone with a megaphone was playing Lego with an audience. Next to that, a perfect replica house from the 80s launching non-stop club music, immersed in drab wallpaper. Further down the road a large, trekking, fluffy beast was throwing a mobile rave – loyalists walking enticed and in tow. Campsites turn into boiler room sets. It never stops and in doing so feels like a census-designated area, if only for a moment.
It's a safe festival that continues to be worth your time. One to consider when planning out your schedule for next year. Until then, keep an eye out for our upcoming interview with Nala, or check out last year's coverage to compare and contrast the vibe. Lastly, lock into their socials, both for the main fest and the Do Lab to keep tabs on the forecast.